We know that deciding to get a pool is a stressful and difficult one. If it only ended there. Unfortunately, once you have a pool installed, there are many other things needed to maintain it and keep it safe for swimming.
Our team is dedicated to doing the research for you and collecting the latest products and tips for all concerning above and inground pools. Sit back, relax, and get all the facts from our pool experts. Don't miss out on the latest products, the most necessary equipment, and tips on how to select the best for your needs.
Spend more time enjoying your pool than stressing over what you need to maintain it. We will cover the most critical categories of pool cleaning equipment, treatment, and accessories. We won't leave things there either. We will take you through selecting each as well. You will get in-depth reviews of the newest and most trusted products on the market.
We cover topics such as pool tools and accessories and the different types of pool covers available. You will find all the different ways to maintain the quality and levels of pool water. We will share various means to make your pool safer and numerous pool options if you are in the market for one.
Check back often, will always be adding new topics and reviews as new products become available.
Pool Maintenance Tools and Accessories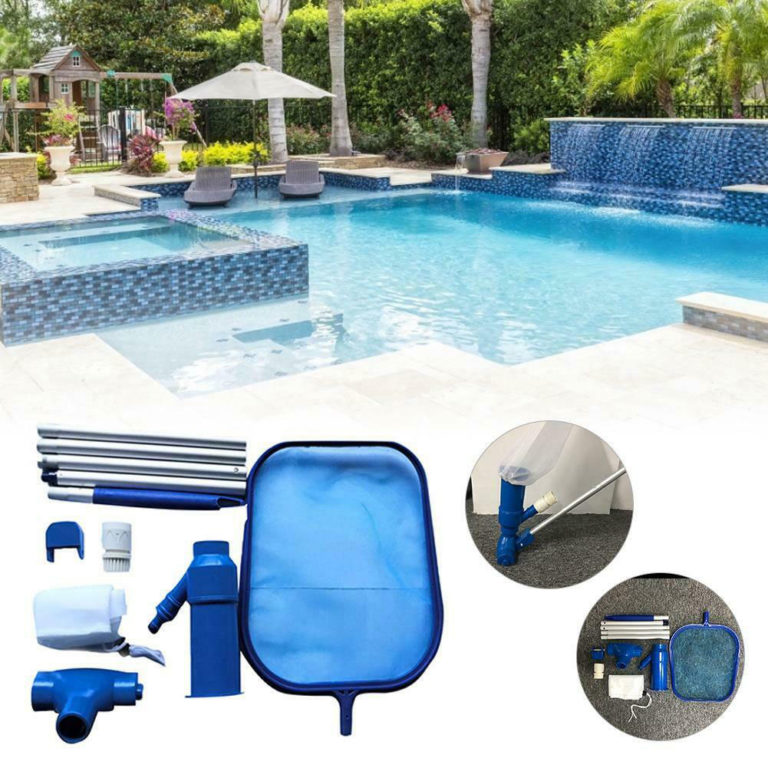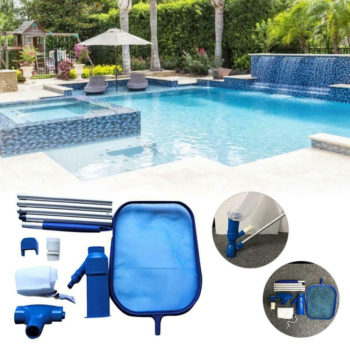 Proper pool maintenance of upmost importance if you want to have safe and clean water. There are many tools to accomplish this. Some are essentials, while others will make this chore much easier and faster. We will cover all of the available pool maintenance tools and accessories in our comprehensive buying guides.
When it comes to buying pool vacuums, there is a plethora of variety out there. Not only in models, but various types to select from. For more on-budget options, consider vacuum heads combined with the scrubbing power of a pool brush. All you need is a telescopic pool cleaning pole, and you are set.
A pressure side or suction side pool cleaners may be slightly more expensive, but do the cleaning for you by the power of your pool pump. For a higher budget, you can get one of the impressive robotic pool cleaners we've reviewed. They are the most effective and require the least amount of effort on your side. Just clean out the filter, sit back, and relax.
Don't forget that one critical essential for quality pool maintenance is a pool skimmer. Whether it's picking up stray toys in the pool or fallen leaves from the nearby trees, it's necessary. We'll share our findings on the top pool maintenance equipment and how to choose them based on your needs, budget, and pool size.
If you have a pool, there are absolute essentials that you must have. Our list will continue to grow as more new products and maintenance options become available. We will stay on track and present you with all of our findings as the list grows.
Water Treatment Products and Test Kids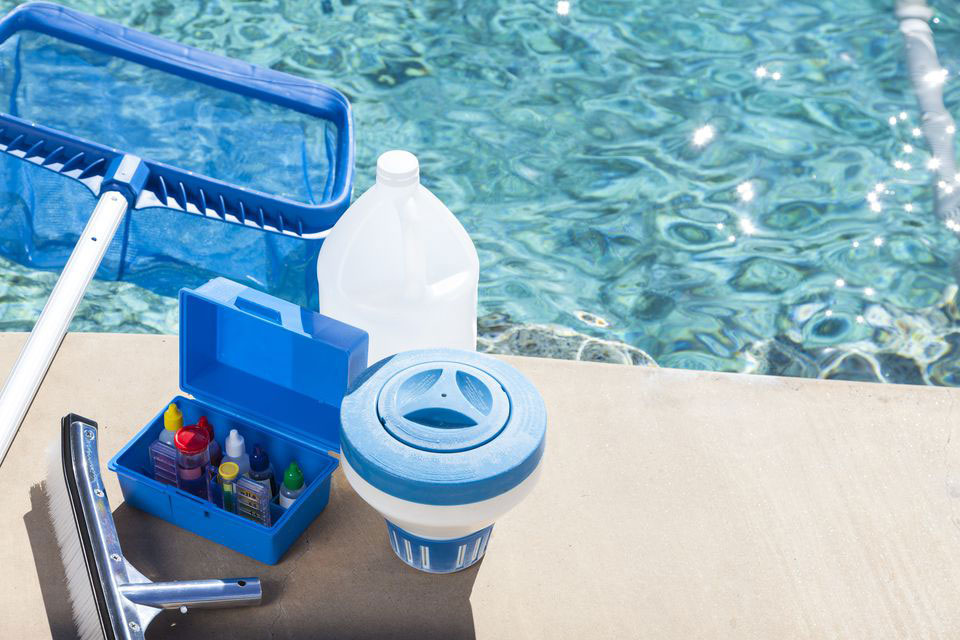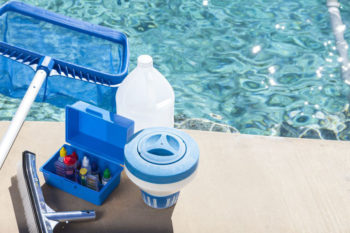 Unfortunately, you won't get by with regularly cleaning your pool. Even if you take care to pick up all debris, you must treat your pool to maintain swimming pool water chemistry. From pH test strips to shocking your pool, there's a variety of available options to ensure that the unseen cannot harm you or your family.
One of the most important things to have in your water treatment arsenal is a pool water test kit. This is vital to making sure your water is always safe to swim in. It will also help you determine whether more treatment is needed. Any good pool owner is prepared to battle these challenges:
Low pH levels
Heavily chlorinated water
Emergence of algae
Dealing with cloudy water
Once you know if treatment is needed, it's time to stock up on different means to maintain safe water quality. A very reliable option is the saltwater chlorinator system. It is easy on the eyes and skin as it works by chlorinating your pool with table salt.
If you don't have sensitive skin, a less expensive option is the standard chlorine tablets. Combined with regular pool shock, these are the ideal way to keep the invisible threats in check.
Don't forget that algae is the biggest pool threat. Even with proper water circulation and cleaning, algae can creep up on you. With the right algaecide for pools, you don't have to fight surprise algae attacks.
Usually, you won't see the threats in your pool, but they are always there. The more swim traffic there is in your pool, the possibility of algae and bacteria growth increases. Take the necessary steps to prevent the water quality from dropping to dangerous levels for you and your family.
Pool Protectors and Covers for Every Purpose and Season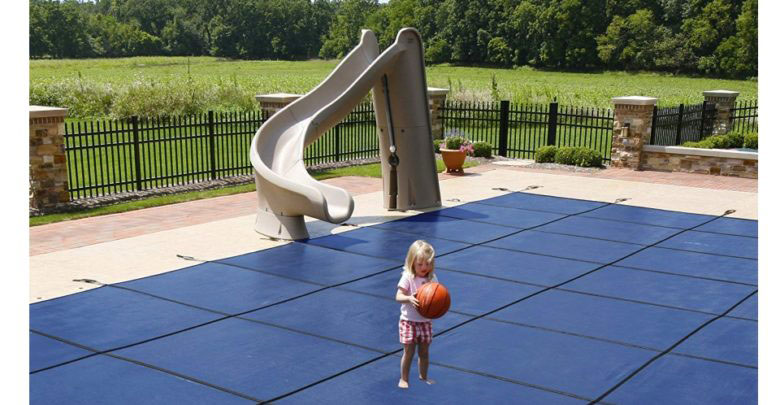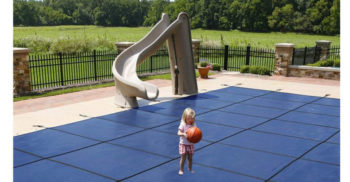 Another pool essential, regardless if you have an in or about ground pool, is a quality pool cover. There are many fantastic pool covers available, and you need to know the purpose of each to determine what type is most suitable for your needs.
There are leaf nets, safety covers, and winter covers available. In many cases, they can be combined to get the best results. Safety covers protect you, your family, pets, and wild animals from drowning in the pool when it is not in use. They are the ideal option if you have small children. Accidents happen in a split of a second, and a safety cover can save a life.
Winter covers are ideal if you don't plan to put the pool in storage out of the swim season. They are also great if you have a pool heater and would like to maintain pool temperature in colder weather. Don't empty out your pool and waste any water. A winter pool cover will keep the water clean so you and jump right in when the swim season starts again.
Swimming pool leaf nets are ideal in combination with winter covers or on their own to catch large debris. They are inexpensive and very effective in saving you time cleaning out leaves and sticks from the cover and the pool.
Of course, don't overlook reducing power use with a solar pool cover. Aside from retaining water heat, it has many other excellent benefits. There is a variety of thicknesses and features, but they all function more or less the same. Very inexpensive and effective, they will save you a lot of money in the long run.
Combine these covers with a quality gas or solar pool heater for added comfort year-round. Maintain a pleasant temperature, so jumping in your pool isn't stressful for you or your family. Don't forget the all-essential pool thermometer for continuous temperature monitoring.
Pool Pumps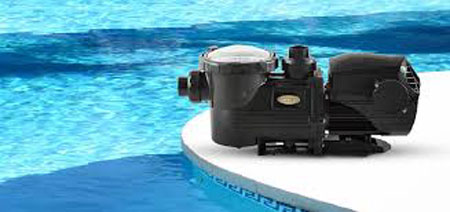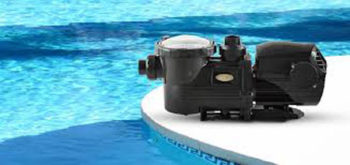 Water circulation is the key to quality water levels. Without a pool pump, you need to regularly change the water in the pool, even with added chemicals. This will end up costing you a lot more than investing in a pump and the electricity necessary to run it. Stagnant water is a breeding ground for algae and bacteria.
The pump is also what runs the filtration and heating system. So if you have anything bigger than a kiddie pool, a pump is an absolute essential. Now, the pump to buy is where it can get complicated. There's a wide variety of swimming pool pumps out there, and our pump reviews and buying guide will help you better understand them.
Whether a regular or variable speed pool pump, you will need filtration material or pool filter cartridges to catch all the debris that go through it. We will present you with the most-trusted options on the market.
Any pool more significant than a kiddie size pool requires a pool pump. Not just any pool pump either. You need to carefully select which would be the most suitable for your pool. There are pumps designed explicitly for inground and above ground pools, as well as pumps that are more energy-efficient than others. Consider your location as well, because some single-speed pool pumps are not sold in several states.
Pool Lighting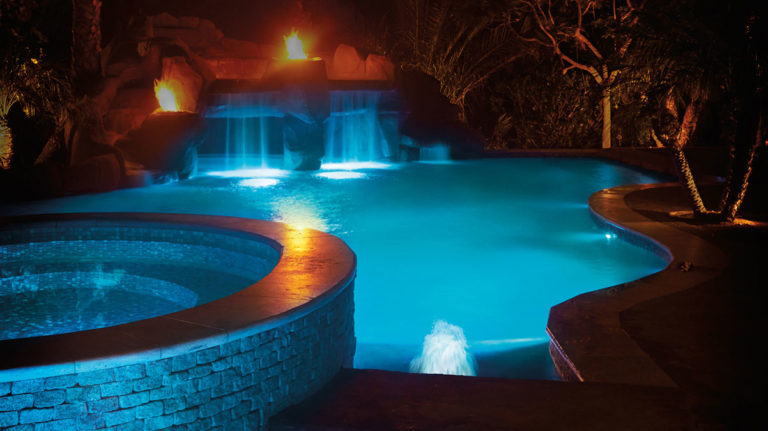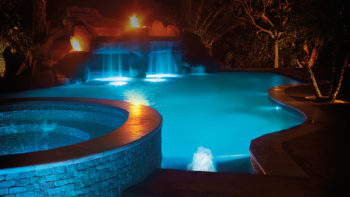 Accessorizing your pool with attractive lighting goes beyond pure aesthetics, but is essential for safety as well. There are numerous exceptional options when it comes to LED pool lights. You got plenty of options to get creative here:
Wireless Led lights
Underwater lights
Floating units
Outside of the pool lights
Don't waste time falling in love with the wrong lighting. Read up in our pool lights reviews and buying guide about your specific type of pool and what is most suitable. Aesthetics are important, but safety comes first, especially when it comes to putting lighting units in or around your pool.
There is a variety of options available for both inground and above ground swimming pools. You can install lights out of the water around your pool, or ones submerged in the water to completely change your overall pool experience.
Get the facts, learn about the most popular products, and learn from others' experience before you jump into an investment. We'll bring the information to you, all you have to do is select what fits you best.
Kids Pools and Safety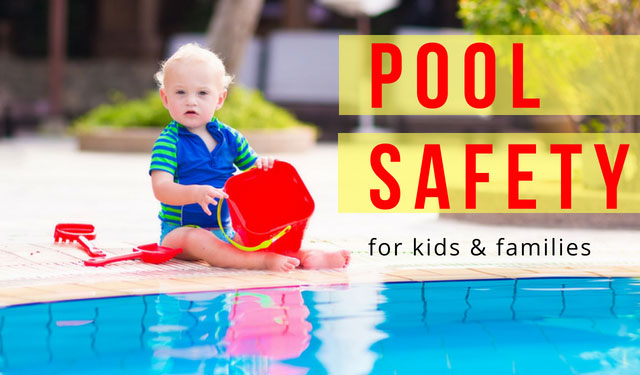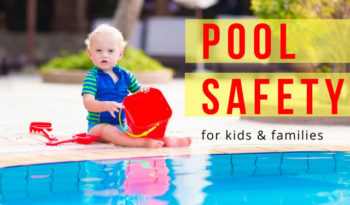 It's easy to say that kids are the biggest fans of pools and backyard water sports. They will be the ones that spend most of their time in the backyard pool. If you don't already have an above ground or inground pool, most likely, you will invest in a small kiddie pool. Most people stop at the nearest store and by just any kiddie pool they find.
However, did you know a kiddie pool could last longer than one season? There are a whole lot more things to consider when buying a kiddie pool than most people think. This goes beyond just the age of the child or how many children will be playing in it. You have to think about many other features concerning the kiddie pool.
Before anything, though, your children's safety is of the highest importance. Regardless if you are buying a small kiddie pool, a large above ground pool, or have an inground pool already in the backyard, safety comes first. We will present you with numerous ways to achieve this.
From quality fences to keep children away from the pool when you are not around to alarms, there are many options available. We will take care to guide you through all of the available safety accessories and options to keep your family safe. Don't let your family become a part of the statistic. A small investment can save a life.
The Biggest Investment – Buying an Above Ground Pool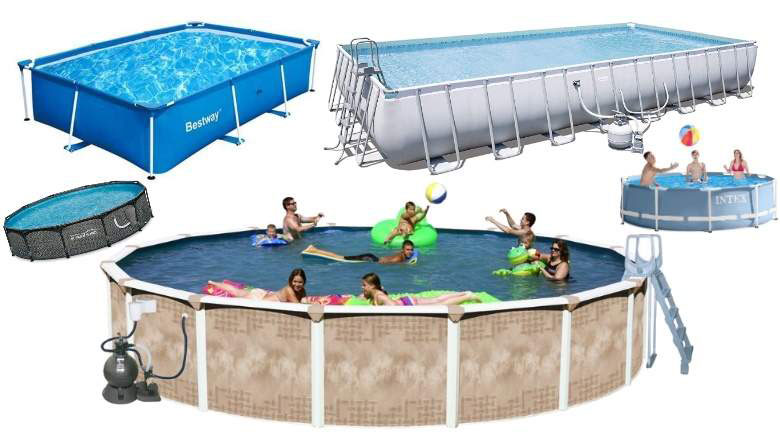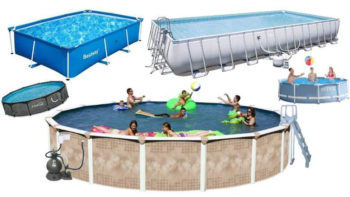 Without a doubt, one of the most significant online purchases that you can make in regards to your swimming pool endeavors is the actual pool. Our experts have focused heavily on the topic of finding the best above ground pool there is.
We will walk you through all the details of landing the most suitable unit for your back yard. We believe that such a buying guide is the ultimate cherry on top of the sundae because after you've gathered all the info regarding maintenance and safety, it's only fair if you treated yourself to a fantastic above ground pool for your whole family.
What we love about these products is the fact that they are literally installed in 1 day. Yes, the site will require electrical connection and possibly a water line but all of that can be taken care of by your local expert. We aren't going to give away any more secrets here because our team has put in a lot of effort preparing the article for above ground pools.
As always, you can count on us to bring you all the up-to-date information regarding the products, the processes and the tips that you ought to follow. We wish you a thrilling pool experience!