Did you know you could save a lot of money by investing in the best solar pool cover? It's impressive how such a small investment can save you so much money and energy. They are simple to use, have many benefits, and are very inexpensive.
As with all other pool products out there, you will find that choosing the right one for your pool can be stressful. Our expert pool team has put together this solar pool cover review to help you choose one that will suit your swimming pool, needs, and budget.
Having a pool can be expensive, so every small investment for reducing overall pool maintenance costs is always welcome. We've put together a great list of the highest-rated solar pool covers on the market. Here are our top choices in no particular order:
See The Quick Comparison Chart
What is a Solar Pool Cover and How Does it Work?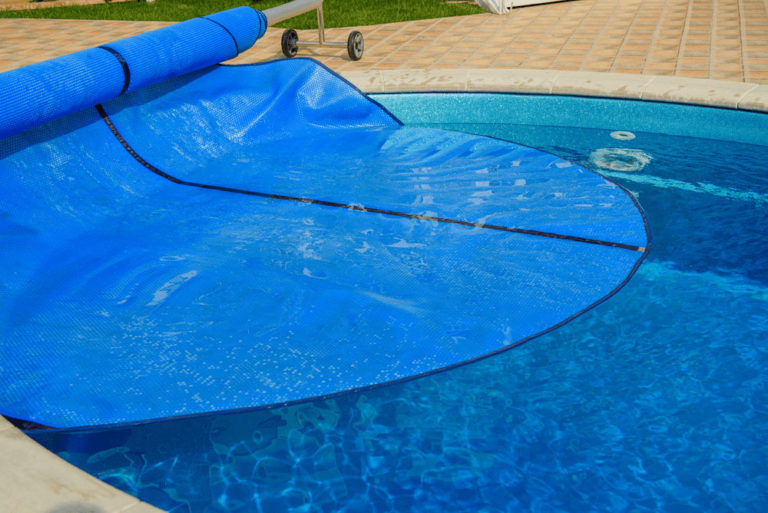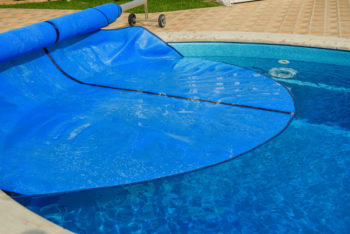 Don't confuse the solar pool cover with winter covers, safety covers, or leaf nets. Although they do a little bit of all of the above, they serve one primary purpose. This purpose is to warm your pool and maintain temperature. Understanding how to use a solar pool cover properly and how it works is the first step to deciding if it's suitable for your needs.
The solar covers effectively raise the water temperature of the pool. They also retain the temp during cold nights. This, in turn, helps reduce chemical use. They also reduce the need to add water. You will use less electricity to heat the pool.
It's possible due to the barrier created between the surface of the water via air bubbles and the sun. By covering the pool with this thin cover, you prevent excessive evaporation and conserve up to 40% of water. As less water is added to the pool, you will use up to 40% fewer chemicals.
The principal goal of this cover is to warm water. Depending on the thickness and design, it can increase water temperature up to 18 degrees. You will conserve energy by using your pool heater less. This reduces heating costs by up to 80%.
These pool covers are either completely clear, or transparent with a blue tone, to allow sunlight to pass through. They feature thousands of small air bubbles that face the water. They get warm by the sunlight, thus transferring heat. Then when the water starts to evaporate, it gets trapped under the cover. The water then returns to the pool.
Why Purchase a Solar Pool Cover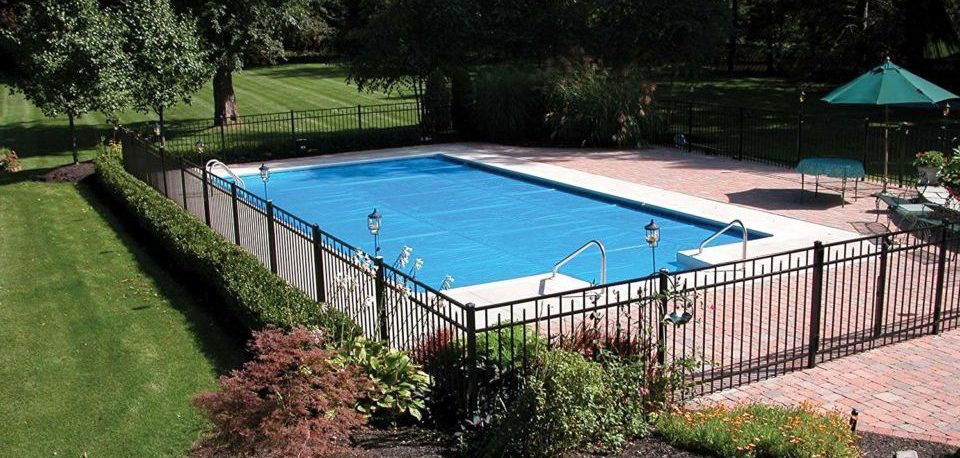 Going further into the benefits, we would like to break down each benefit to better understand it.
Retain Heat – The covers can raise and retain water temperature up to 18 degrees higher than without. Water temperature drops when the heat is evaporated from the surface of the pool. The cover helps slowly rise temperature like putting a lid on a pot.
Shade, cloud cover, and intensity of UV rays affect its effectiveness. If there is shade blocking the sun from hitting the pool, it will not be able to increase the temperature. Still, the cover will have an effect on reducing water evaporation.
Reduce Evaporation – Evaporation is reduced up to 95% by trapping water under the cover. It warms it and returns it back to the pool. This is great for the environment and for your pocket, as you will be saving money on water.
Reduce Chemical Use – Less water needs to be added to refill the pool. So, fewer chemicals need to be used to balance it for safe swimming. It also has the same effect on saltwater pools. Also, they retain potency and mix better in warmer water.
Keep Debris and Bugs Out – The cover cannot handle heavy objects. It does protect from leaves and dirt, reducing the strain on your filtration system. Just don't let them pile up.
Did you know that some pool lights can also be solar powered? Check out our complete guide on the top above ground pool lights and see which ones will fit your setup.
Best Solar Pool Cover Comparison Chart
PRODUCT
DETAILS

Sun2Solar Solar Pool Cover – 1600 Series Style

Price:

$$

Size:

8′ x 8′ Square

Thick:

16 mil

Made:

Double resin material 

View On Amazon

Intex Solar Cover for Round Pools

Price:

$

Size:

9.5ft

Thick:

8 mil

Made:

8 holes Design

View On Amazon

Sun2Solar Blue Solar Cover – 800 Series Style

Price:

$$$

Size:

12′ x 24′ Rectangle

Thick:

8 mil

Made:

Durable resin material

View On Amazon

Thermo-Tex Solar Pool Cover

Price:

$$$$

Size:

16′ x 32′

Thick:

6 mil

Made:

UV stabilized polymers

View On Amazon

In the Swim Solar Blanket

Price:

$$

Size:

8 x 8 Foot

Thick:

15 mil

Made:

Durable polyethylene

View On Amazon

Midwest Canvas Solar Spa Cover

Price:

$$

Size:

6'x'6′

Thick:

15 mil

Made:

Two attached pieces design

View On Amazon

Steinbach Round Solar Pool Cover

Price:

$$

Size:

10-Foot

Thick:

N/A

Made:

Stronger plastic material

View On Amazon
Best Solar Pool Cover Reviews – (Recommended Picks)
1. Sun2Solar Solar Pool Cover – 1600 Series Style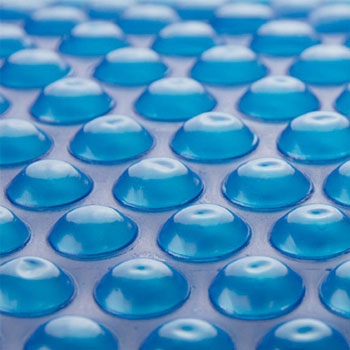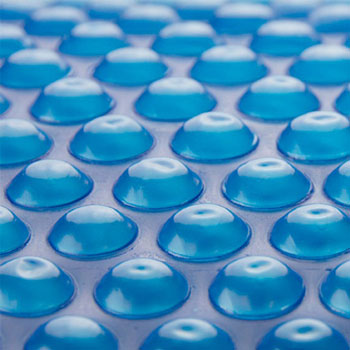 This solar pool cover is available in several different square and rectangle sizes. Don't let this throw you off if you have a round or oval pool though. The material is easily cut to the shape of your pool. All you have to do is make sure you purchase the size that will cover your pool at its widest points.
This 16 mils solar pool cover is the perfect choice if you live in an area where there are strong winds. This heavyweight and durable cover will last longer and not flap in the wind. It may be more challenging to put on and take off, but it is worth it if it gets the job done.
Its double resin material minimizes water evaporation. This is what helps reduce the use of chemicals and the regular refilling of water. By preventing water from evaporating, heat is also maintained. The cover also helps keep dirt and debris out of the pool.
Pros
10-year pro-rated warranty and a 3-year limited warranty against delamination and seam separation
Cutting the cover does not affect the warranty
16 mil thick
Cons
Difficult to put on and take off because of weight
2. Intex Solar Cover for Round Pools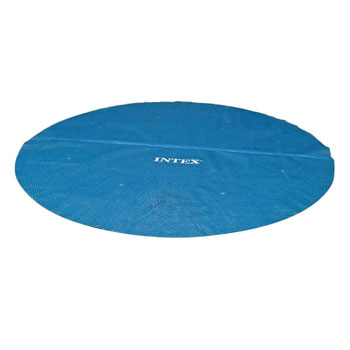 Although designed specifically for Intex above ground pools, this cover is a perfect choice for pools from other manufacturers as well. The Intex Solar Pool Cover comes in several different sizes for round pools. It will help maintain the pool water warmer and reduce evaporation by 95%.
It comes with a reusable carry bag that makes storage at the end of the season simpler and faster. This cover features 8 holes throughout. This prevents water accumulation by allowing water to drain. These holes are also helpful in keeping the cover on the surface.
The cover is 8 mils thick and features air bubbles that will absorb and transfer heat to the pool water by preventing evaporation. It's a great inexpensive option that is easy to put on and take off. But due to it being so lightweight, it may be blown away by strong winds.
Pros
Variety of sizes for round pools available
8 holes to prevent water accumulation
Easy to put on and take off
Cons
Only 8 mils thick
Easily kicked up by the wind
3. Sun2Solar Blue Solar Cover – 800 Series Style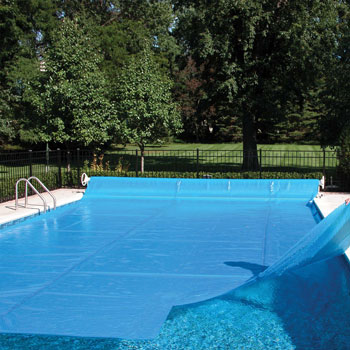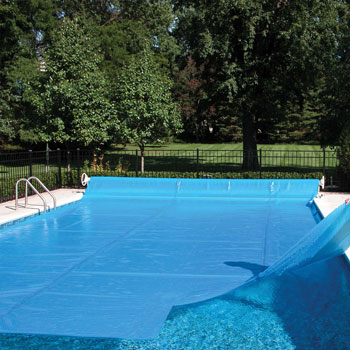 This Sun2Solar Solar Cover is lightweight and only 8 mil thick. Because of this, it is easier to put on and take off the pool. The thickness of the cover also means that it may not increase pool temperature as the thicker option.
The weight of this cover makes an excellent choice for areas that don't get heavy winds. It is still very effective in protecting your pool from heat and water evaporation. This, in turn, helps reduce the use of chemicals and adding water.
The attractive blue design of the cover will not cloud over time as clear covers do. While the double resin material is still durable. As with all similar bubble covers, this one will help keep dirt and debris out while heating your pool.
Pros
10-year pro-rated warranty with a 3-year limited warranty for delamination and separation of seams
Lightweight, so it's easier to put on and take off
Various sizes available
Cons
May not stay in place due to it being so light
The material is thin so the product may rip
4. Thermo-Tex Solar Pool Cover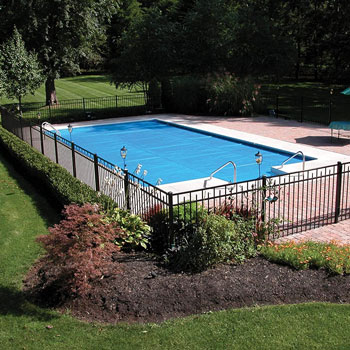 This next product we will review is a thinner, but durable option for heat retention by preventing evaporation. The Thermo-Tex cover is a 6 mil thick cover. It is made of high quality, UV stabilized polymers. This makes it withstand sun and chemical damage from your pool.
The lightweight design is easy to put on and take off the pool. It is most suitable to be used in areas that don't have excessive wind, though. Made in the US and Canada, this product comes with a 3-year manufacturer's limited warranty. This warranty covers the separation of seams and delamination. As with other similar products, it doesn't cover damage to air bubbles.
Although thinner than the standard solar pool cover, it still gets the job done just as well. It helps retain heat during cold nights and increases pool water temperature when in direct sunlight.
Pros
3-year limited warranty
UV stabilized polymers
Lightweight and easy to set up
Cons
Not as durable as thicker covers
May not stay in place in high winds
5. In the Swim Solar Blanket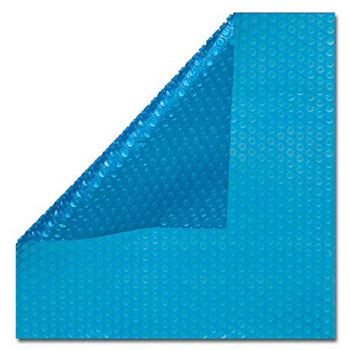 When it comes to effectiveness and durability, the thicker the cover, the better. With the In The Swim Solar Blanket, you get a full 15 mils thickness to get the best results. This allows for a faster and easier increase in pool water temperature and reduced evaporation. It will help transfer solar heat faster via its air bubbles.
Keep in mind that due to its thickness, it will be more challenging to put on and take off. It may require more than one person. The blue color is attractive. While the ability to trim it down if necessary makes it versatile for smaller pools and spas.
The only downside that we've found is that the cover consists of two pieces. Although they are well attached to each other, it may not be as attractive as most would like. Of course, the most important thing is for it to be effective. The weight makes it great if you have a lot of wind in your area.
Pro
15 mil thick material
More durable than thinner options
30-day warranty
Con
Consists of 2 separate pieces attached together which reduces durability
6. Midwest Canvas Solar Spa Cover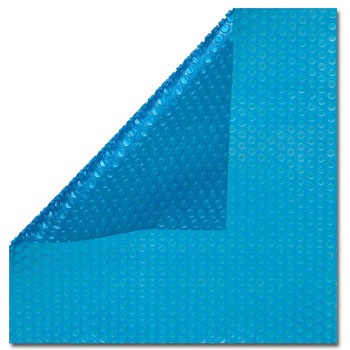 Due to its size, this unit is more suitable for SPAs than pools. The Midwest Canvas cover is a square 6 x 6 feet. It can be cut down to any shape to fit your individual needs.
What makes this a fantastic option is that this solar cover for the swimming pool is 15 mils thick. This means that it is stronger and more practical than most thinner options. It will effectively protect from water evaporation. This dramatically reduces chemical use. Also, due to its added weight, it will add more heat to your pool during the day when in direct sunlight.
Of course, due to its weight, this cover isn't simple to use. It will be more challenging to put on and take off and might be a two-person job. We have found that some, not all, of these covers, are not made of one piece of material, but two attached pieces. Though not aesthetically pleasing for some, it does not affect its ability to heat your pool.
Pros
15 mil thickness for durability and added heat
Suitable for smaller pools and spas
Cons
Two connected pieces rather than one whole piece – it is possible for the product to break in the middle.
7. Steinbach Round Solar Pool Cover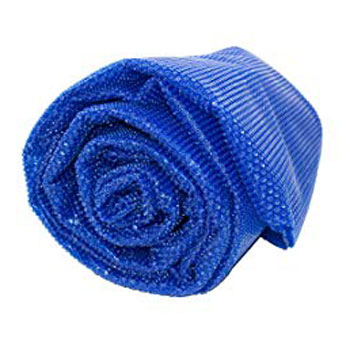 This is a great inexpensive option if you are looking to experiment with a solar pool cover. Thinner than most, the Steinbach Pool Cover is perfect for everyday seasonal use. As it is lighter, it is easier to put on and take off the pool when you want to go for a dip. Still, it does offer the promised effect of reducing evaporation and increasing temperature.
The Steinbach cover fits all 8 to 10 foot round swimming pools but can be cut down to fit smaller pools and spas. The cover features holes that allow water on top to drain and let trapped air out. They also help weigh the cover down, so it doesn't get blown away by the wind.
The blue color makes the pool attractive when covered. Unlike clear covers, it will not cloud over time. The top of the cover features a stronger plastic material. The bottom has thousands of delicate air bubbles that trap and transfer heat to the water.
Pros
Lightweight for easy use and installation
Holes in the cover allow trapped air out and help weigh it down
Reusable carry bag for storage included
Cons
Benefits and Drawbacks of Using a Solar Blanket for Pools
The benefits of using a solar blanket for pools outweigh the drawbacks, by far. They are handy and have many uses, all the while being very affordable. These are some of the great benefits:
Reduce the need to refill the pool due to less water evaporation
Retain heat in water during chilly nights
Raise and maintain water temperature
Save energy due to reduced water heater use
Reduce the use of chemicals due to less water needed to be added
Protect pool from debris and dirt
Inexpensive
There are only a few drawbacks, that can't really be called drawbacks at all. They are rather differences from other types of covers:
Not as a replacement of safety or winter cover
A delicate material that requires extra care
Most last no more than 2-3 seasons maximum
Choosing the Right Solar Pool Cover

There are several things to take into account when it comes to selecting the ideal cover for your pool:
Size and Shape of Pool – Make sure you purchase one that covers your entire pool. It doesn't have to be the precise shape or size, but it must not be smaller. These covers can be cut to the size and shape of the pool. You need to know the exact size of the swimming pool, so you don't get one that is too small.
Material and Thickness – The covers are relatively thin to allow sun rays to pass through and warm water. Light covers are more fragile but more straightforward to put on and take off. Thick covers are more durable but difficult to maneuver. Thickness is classed by mil, thousands of an inch. Here are the most common options:
8 mil and below – The thinnest and most lightweight. Usually, it's the least expensive. They increase the temperature by about 10 degrees.
12 mil – This is the happy medium. It is not too light or heavy. It's easy to put on and take off, but still durable. It increases and maintains temperature by 15 degrees.
16 mil – This is the thickest available and most durable. It is heavy and most challenging to put on and take off. It increases and maintains temperature by 18 degrees.
Consider the thickness not only regarding its durability and ability to raise the temperature. Also, consider if you will be putting the cover on by yourself or with help. The thicker it is, the heavier it is. This makes it more challenging to put on and take off.
Design and Color – Although it's essential to choose one that is aesthetically pleasing, keep in mind that not all are made the same. Usually, you will see them in blue and clear. Clear covers will get cloudy and unattractive over time.
Warranty – Turning to a trusted company that offers a warranty means they believe in the product they are offering. However, most warranties for these types of covers cover only seam separation and delamination. Damage to bubbles from the sun or chemicals is rarely covered.
Price and Brand – Turning to a trusted manufacturer is usually the way to go. However, several less known manufacturers have great products. In general, you get what you pay for. So if you can afford it, spend more. Still, keep in mind that as they are very delicate, the covers usually don't last more than 2-3 seasons.
Proper pool maintenance comes with adequate pool protection. If you are seeking other ways to improve your above ground pool, visit our buying guide for above ground pool covers. Find a great selection and a full buying guide.
Installation of Solar Pool Covers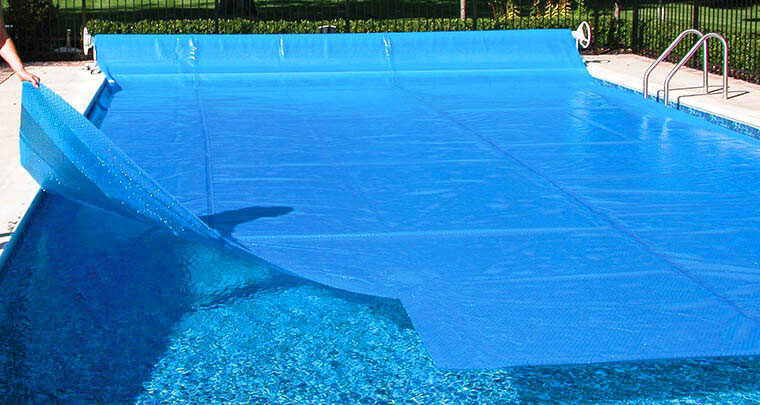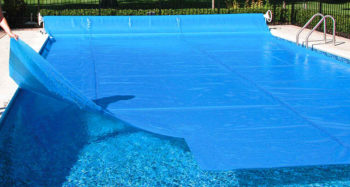 The steps to install a new solar cover are very simple. You may need to cut it at least 2 times about 2-3 weeks apart. The cover relaxes, and the folds flatten out, so it needs time. Also, it may lose about 10% of its length in the first few weeks. Don't overcut it the first time. Follow these 4 simple steps:
Unfold the cover and spread it over the pool surface with the bubbles facing down. Allow it to relax for a couple of hours.
Smooth the cover over the pool. Remove any air pockets and wrinkles. You may want to use a broom or pool brush to do this.
Using sharp scissors cut it a little larger than the shape and size of the pool. By cutting it slightly larger than the pool size, you allow for shrinkage of the next few weeks. Also, allow 10-15 centimeters extra material. This way, it can further protect from debris falling in. At the skimmer box cut a small tongue that will go inside the box.
Repeat this in 2 or 3 weeks when the cover has relaxed, still allowing for a little material to overlap.
For the cover to be effective, it needs to be in the sun. Areas that are in the shade will not be able to work appropriately and increase the water temperature. They will still protect from evaporation. Use the cover when the sun is brightest, and when the pool is not in use. Put it on your pool at night to prevent heat from escaping. This will reduce the use of a heater for your morning swim.
Still, a solar pool cover will not completely eliminate the use of a heater. Especially for those cloudy days. If you don't already have one or are looking to buy a new one, visit our expert pool heater buying guide for more details. There you will find not only solar heaters but gas ones also.
Solar Pool Cover Maintenance and Tips
Very little maintenance is required, as long as you properly store and use the cover. Generally, the biggest issue with these covers is the deterioration of the air bubbles from chemicals and the sun. Here are some maintenance tips to make your solar pool cover last.
Wait at least 8 to 10 hours after shocking your pool. Also, at least 2 hours with other strong chemicals before replacing your cover. Strong chemicals will damage it.
When not in use roll or fold it and store out of the sun. Exposure to direct sunlight on the bubble side will deteriorate the bubbles.
Keep your pool water well balanced. Low pH and alkalinity will damage the cover. Also, low calcium levels will ruin the elasticity. This makes it prone to cracks and shedding bubbles.
For inground pools, a solar cover reel is recommended for storage. There are storage options for above ground pools as well. Frequent handling of the delicate cover will damage it faster.
Before storing the cover for the winter hose it off and brush it gently. Let it dry in the shade and store out of the elements. Leaving chemical residue and dirt will damage it for the following season.
Wrap Up
Due to their ease of use and copious benefits, solar pool covers are a great addition to any pool. Finding the best solar pool cover requires knowledge of how they work. The way they differ from one another and understanding what your pool needs is also crucial. This is why we've put together this detailed solar pool cover review.
Our experts put their knowledge and experience to work to help you better understand what buying a new solar cover entails. Although inexpensive, no one wants to waste time buying the wrong product. With the right information, this can be avoided.
We hope you've enjoyed our review and have found it helpful. Share your questions in the comments below. We'd love to hear from you. Moreover, be sure to check out our general quality pool covers guide.
Thanks for reading and as always – stay put!