Your above ground pool requires effort to maintain. By finding the best above ground pool pump to maintain proper circulation of your pool, you ensure the water is safe and clean. The job of your pool pump is to circulate the water through the filtration system, the heater, and any other swimming pool features. This prevents algae buildup, properly mixes pool chemicals, and removes debris.
Choosing a proper pump is easier said than done. You'll find many pool pumps available on the market, and not all are made the same. You must select a pool pump that is strong enough to get the results you seek but doesn't waste excessive energy.
We've put together a fantastic above ground pool pump review to help you understand how to choose the best for your pool. Get acquainted with some quality options available also. Our experts have worked extra hard to gather useful information and a variety of products to help you along the way.
See The Quick Comparison Chart
How to Choose the Ideal Small Pool Pump for Your Above Ground Pool
If it's time to replace your pump, or if you've just purchased a pool and are shopping for one for the first time, sizing is essential. The right pool pump will guarantee that you get the best results, but don't waste money on your energy bill.
The wrong pump will result in nasty, green, and cloudy water filled with bacteria and algae. Oversizing means you will get fantastic results, but waste a lot of energy. So choosing one to fit your pool is critical.
Sizing a Pool Pump
It is much easier to size an above ground pool than an inground pool. This is because pumps for above ground pools are usually below the waterline. This means they are gravity fed. You don't have to worry about calculating plumbing into the sizing, as minimal plumbing is needed.
Round Pools – 1/3 HP for 8 foot to 15 foot ; 1 HP for 15 foot to 24 foot ; 1-1/2 HP for 24 foot to 36 foot pools.
Oval Pools – 3/4 HP for 12 x 17 foot to 12 x 24 foot ; 1 HP for 12 x 24 foot to 15 x 27 foot ; 1 – 1/2 HP for 15 x 27 foot to 18 x 33 foot pools
Keep in mind that with round and oval pools, the sizes overlap. If your pool falls in the overlap area, take into consideration the swimming traffic in the pool. If light pool traffic, go for the lower horsepower if higher traffic go for the higher.
Other reasons to step up in horsepower are due to longer than standard plumbing lines, or if you have separate pool features that the pump will run water through. Knowing how to select an above ground pool pump will save you time and possibly a lot of money on replacement and electricity.
Features of Above Ground Pool Pumps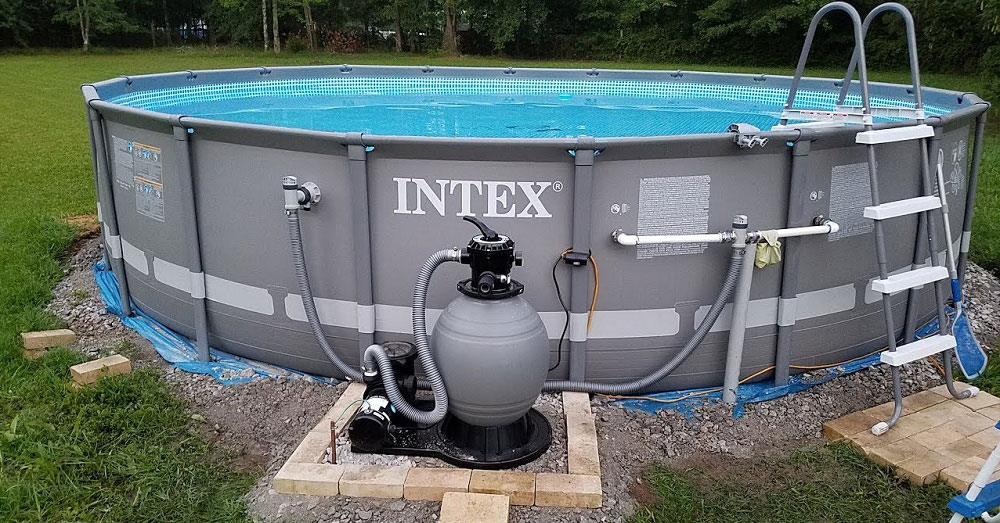 Though sometimes it's challenging to get all of these features in one pump, they are vital things to look for when purchasing. Find the ideal combination for the best results.
Energy Consumption – You must choose a pump that fits your pool to reduce power usage to a minimum. There are some very energy-efficient pumps out there that have unique features to get results while using less energy.
Construction Materials – If you don't want to buy a new pump every swim season, find a pool pump that is built of high-quality materials. The cheaper pool pumps tend to end up costing you more in the long run. Find a pool pump with plastics that resist heat, sunlight, chemical, and impact damage. Look for thermoplastics or other materials listed as UV and heat resistant.
Safety Features – Don't forget that your pump will be plugged in, and pumping water. Overload breakers and surge protection are essential in case a wire is exposed, or the pump is overloaded. This protects the pump from being damaged, as well as you and your family from harm.
Ease of Installation – Generally, above-ground swimming pool pumps are simple to install and don't require a professional. To ensure this, make sure the pool pump you purchase has a three-prong electrical cord. Also, check the intake and drain ports to be 1.5 inches. Otherwise, you will have to buy adaptors. Not to mention that you may have to call a professional.
Filtration Type – There are two types of filtration options. The Cartridge Filter is beneficial but can get expensive. You have to clean it frequently and buy new filters. A Sand Filter is more cost-effective. Sand isn't costly and requires replacement about once a year. Some don't need a replacement for up to 5 years, though we recommend changing more often.
Best Above Ground Pool Pump Comparison Chart
PRODUCT
DETAILS

Intex Krystal Clear Sand Filter Pump

Price:

$$$

Power:

0.75 HP

Volt:

110-120V

Dimensions:

27.1 x 17.6 x 25.5"

Features:

6-way Valve – 75% efficiency

View On Amazon

Intex Krystal Clear Cartridge Filter Pump – 28633EG

Price:

$$

Power:

N/A

Volt:

110-120V

Dimensions:

13.8 x 18.5 x 16"

Features:

Sediment flush valve – Double insulated pump

View On Amazon

Hayward SP1580X15 Power-Flo LX Series Pool Pump

Price:

$$$$

Power:

1-1/2 HP

Volt:

115V

Dimensions:

8.5 x 10 x 22.5"

Features:

100% drip-proof – Thermal Overload Relay System

View On Amazon

Harris H1572730 ProForce Pool Pump

Price:

$$

Power:

1.5 HP

Volt:

115V

Dimensions:

22 x 8 x 10.8"

Features:

Constructed with a reinforced thermoplastic body

View On Amazon
Best Above Ground Pool Pump – (Newest Models)
There are pumps designed especially for above ground pools, while there are some that are simply smaller pumps that are suitable. The following pool pumps, in no particular order, are some of the highest-rated and most sought after products on the market. If you would like to see all pump options available, check out our broader review and buying guide for pool pumps.
1. Intex Krystal Clear Sand Filter Pump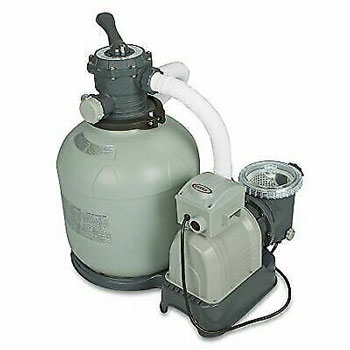 This is a pump designed specifically to work with Intex pools, although you can buy adaptor hoses. The pump is a 16 inch, 110 to 120 volts, but is also available in 12 inches and 14 inches. You can also purchase a maintenance kit, a saltwater system, and a surface skimmer.
This sand filter pump is very cost-effective. The sand in the filter needs replacement every 5 years, though some choose to do so as often as every season as it is so inexpensive. It requires little to no maintenance but is very useful in keeping the water crystal clear.
The pump has six different functions to keep water circulating and clean. The features are to drain, re-circulation, rinse, close the system, backwash, and filter. It features a 24-hour timer that has 2 to 12 preset cycles that allow smooth automatic operation.
The Intex Krystal Clear Pump comes with two 1 ½ inch connector hoses and one Hydro Aeration Technology inlet fitting. It features a built-in ground fault circuit interrupter and meets the UL/CSA standards of safety. The 0.75 HP motor has a turnover rate of 2,450 GPH, making it a fantastic choice for 16 foot and above pools.
Pros
75% energy efficient
Very effective with little maintenance
Very quiet
Cons
Filter media (sand) not included
Manual difficult to follow
2. Intex Krystal Clear Cartridge Filter Pump – 28633EG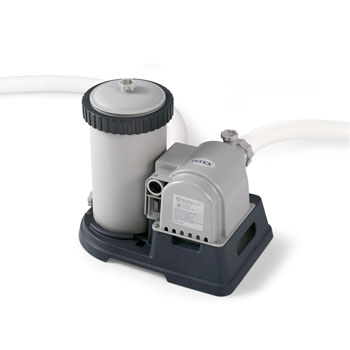 The next product is also an Intex pump, but it has a cartridge filter. The Intex Krystal Clear Cartridge Filter Pump uses and comes with a B cartridge. This very user-friendly pump makes installation and cleaning a breeze. Also, it is easily the quietest pool pump on the market.
It features an auto timer that allows you to be preset 2 to 12-hour cycles. The pump conforms to the UL/CSA standards of safety and comes with a 2-year manufacturer's warranty. It includes two 1 ½ diameter hoses with clamps and a sediment flush valve. This pump features a convenient air release valve that makes pumping and removing trapped air in the filter chamber easier.
With a turnover rate of 1,900 GPH, this pump is ideal for pools from 4,000 gallons to up to 15,200 gallons. It is suitable for a 15 foot Easy Set, 15-foot Metal Frame, or oval frame 18 foot by 10-foot pools. Adaptors can be purchased if your pool is different from the listed above. It includes a Hydro Aeration Technology inlet filling and a 25-foot power cord with advanced built-in GFCI.
Pros
Super quiet
Simple installation and maintenance
Can be used with a saltwater system
Con
Change filter cartridges every 2 weeks
3. Hayward SP1580X15 Power-Flo LX Series Pool Pump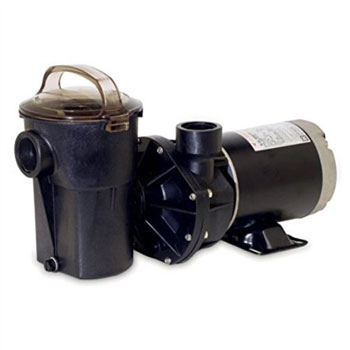 This 1 ½ horsepower single speed pump is designed for high performance and durability. The Hayward swimming pool pump is made 100% drip-proof and heat resistant to withstand regular use and the elements. The high-performance impeller allows for more efficiency and power.
Quickly see if the extra-large filter basket needs cleaning through the transparent cover. The drain plug makes maintenance of the pump fast and straightforward. Housing is corrosion-proof reinforced thermoplastic that allows for quiet operation and all-weather performance.
The pump connects to 120 volts and comes with a 6-foot power cord. The rigid construction allows for heavy debris loads through a free-flowing operation. You don't have to lubricate as it features self-lubricating shaft seals and motor bearings.
The Hayward Power-Flo LX Series features automatic thermal overload protection and will shut the motor off if it overheats. Once cooled off, the pump will automatically start up on its own. Remember that single-speed pool pumps cannot be sold in California or Florida.
Pros
Thermal Overload Relay System for added protection from overload/overheating
Easy installation and maintenance
Very durable
Cons
Only one speed with no on/off switch
4. Harris H1572730 ProForce Pool Pump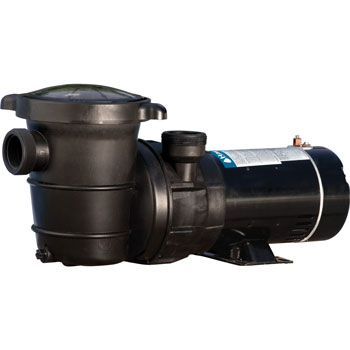 A good product on our list of specialized above ground pool pumps is the Harris ProForce Pump. This is a 1 ½ HP pump that works on 115 volts. As it is a single-speed pump, it is not sold in the state of California.
The pump features a stainless steel motor shaft constructed with a reinforced thermoplastic body to ensure durability and longer life. The advanced engineering of the pool pump offers higher efficiency and reduced operational noise. Ultra-safe, it meets or exceeds all of the ETL and CSA requirements.
With 1 ½ inch internal threading and 2 ½ inches external threading, it doesn't require adaptors to work with standard pools. The pump comes with a 3-foot power cord with a three-prong plug. The large basket is easy to clean with a transparent twist lock lid.
Pros
Very affordable and effective
Easy maintenance and installation
High motor performance
Cons
Single-speed with no on/off switch
PRODUCT
DETAILS

Intex Krystal Clear Cartridge Filter Pool Pump

Price:

$

Power:

N/A

Volt:

110-120V

Dimensions:

10.6 x 10.6 x 15"

Features:

Air Release valve – One Hydro Aeration Technology inlet fitting included

View On Amazon

Hayward Diatomaceous Earth Filter Pump System for Above-Ground Pools

Price:

$$$$$

Power:

1 HP

Volt:

120V

Dimensions:

25.9 x 16.4 x 28.9"

Features:

Patented Flex-Tube design gives longer cycles

View On Amazon

Hayward XStream Pool Filter Pump System

Price:

$$$$$

Power:

1.5 HP

Volt:

120V

Dimensions:

27.6 x 19.6 x 35.3"

Features:

Easy-Lok ring design 

View On Amazon

Little Giant APCP-1700 Submersible Pool Cover Pump

Price:

$$

Power:

1/3-HP

Volt:

115V

Dimensions:

11.8 x 12 x 9.5"

Features:

3/4″ garden hose connection – 25′ power cord

View On Amazon
Small Pool Pump Reviews – (Newest Models)
Some pumps are designed specifically for smaller pools. They have lower horsepower but still pack many features to get the desired results.
1. Intex Krystal Clear Cartridge Filter Pool Pump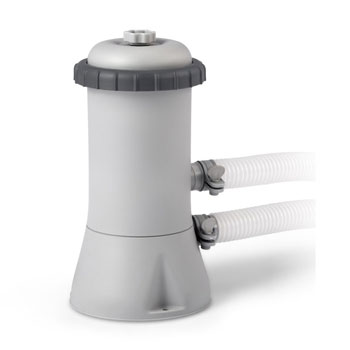 This product on our small pumps list is an Intex Krystal Clear Cartridge Pump. This pump works with a filter cartridge A or C and comes with a cartridge included. The cassette is very simple for cleaning and replacement. It needs replacement every couple of weeks to maintain clean water.
The pump is effortless to install and takes little to no time. Just attach the hoses and plug it in. It includes two 1 ¼ inch diameter clamp hoses and a 25-foot power cord with GFC built-in. It features one Hydro Aeration Technology inlet fitting and plugs into 110 to 120 volts. The featured air release valve allows for easy priming of the pump. Most importantly, it conforms to CSA and UL safety standards.
The turnover rate of the system is 750 GPH and is suitable for 6,000-gallon pools. The pump is designed to work with 18 foot by 10 boot oval frame pools. This is a double insulated pump, but it isn't recommended that you run it more than 8 hours a day.
At the bottom of the filter, you will find a sediment flush valve. The pump features 1 ¼ hose, so if your pool isn't an Intex one, you may need an adaptor. With this pump, you also get a 1-year limited manufacturer's warranty.
Pros
An inexpensive option for smaller pools
Easy filter access and maintenance
Simple installation
Cons
Need adaptor if you don't own an Intex pool
GFCI plug not waterproof and shorts out easily
2. Hayward C4001575XES EasyClear Pool Filter Pump System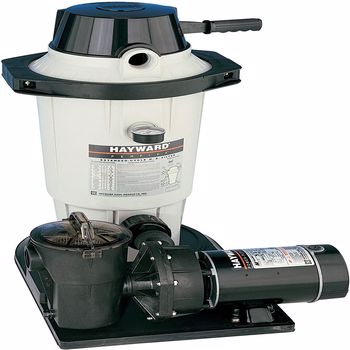 This pump features an Easy-Lok system for straightforward and fast entry to change and service the filter cartridge. The pump features a built-in check valve that protects from loss of pool water while you remove the cartridge for cleaning. The filter cover also features a unique safety-catch that prevents unwanted entry and overtightening. You can expect a long life and high flows from the cartridge element due to its uniquely designed reinforced polyester and a molded center core.
This system pumps 50 gallons per minute and is suitable for all size pools. It can turn over 24,000 gallons of water in 8 hours. This means it can easily handle any round pool up to 24 feet.
With the pump you will receive a filter and features a nearly 5-foot three-prong power cord. The 1 HP pump offers robust circulation, while the filtration ensures a crystal clear pool. It may be more expensive, but the combination of high-quality design and materials provide better quality results that last.
Pro
Well-made and durable
Lightweight and easy to handle and store
Powerful circulation and filtration
Cons
Expensive but worth the money
No on/off switch
3. Hayward XStream Pool Filter Pump System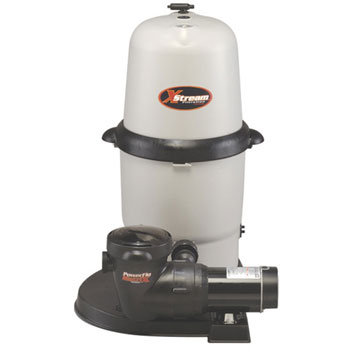 This is a 1 ½ horsepower pump, but there is a 1 horsepower option available also. It features a non-corrosive, glass-reinforced, filter tank that ensures durability and longer life. The filter is protected by a unique safety catch lid to prevent overtightening and unwanted access.
The pump also features a quick-release air relief valve and a flush-mounted pressure gauge. With the pump you will get two 1 ½" lengths of hose that are 6 foot long. With them you will also receive union connectors, hose clamps, and hose adaptors.
Keep in mind that this is a single-speed pump, so if you are in California or Florida, it will not be suitable. It is ideal for pools with up to 57,000 gallons. The larger and longer body of the filtration system allows for equal distribution of debris and dirt over the filter element. This prevents debris accumulation in one spot and allows for longer filter life.
Pros
Durable body and design
Very easy to use and install
Practical and powerful pumping and filtration
Cons
Single-speed pump
Expensive but worth the money
4. Little Giant APCP-1700 Submersible Pool Cover Pump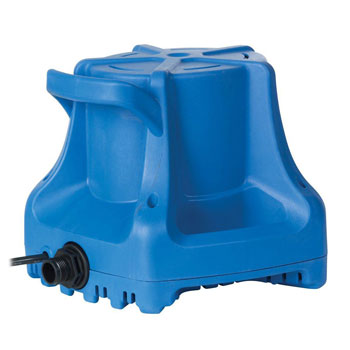 We thought it might be a fantastic idea to throw in a pool cover pump in the mix, as this is an absolute essential if you don't store your pool out of season. This is an ideal pump if you live in areas with heavy snow or rainfall. This little pump does wonders when it comes to tackling puddles on your cover.
The built-in handle makes this pump very portable and easy to maneuver, depending on where you need it. Just connect the pump to a ¾" garden hose and power up with the 25′ power cord, and you are set. It features an integrated float switch that turns pump on automatically when submerged in more than 2″ of water.
The broader base design offers stability, while the glass-filled polypropylene housing in the 115-volt power cord provides security. It is ideal for removing water from any type of pool cover.  Proper installation and placement of hose ensure the highest performance. It offers a 17 GPH performance through the 1-inch tube without friction losses. The longer the garden hose, the more friction.
Pros
Powerful if appropriately placed with a shorter hose
Long power cord
Very durable and easy to handle
Cons
Lager than most other pool cover pumps
Take a look at the most sought after covers for above ground pools to help you select the one most suitable for your pool. If you don't already have one, we highly recommend it to protect your pool from the debris and freezing temperatures in the winter.
Advantages and Drawbacks of Using an Above Ground Pool Pump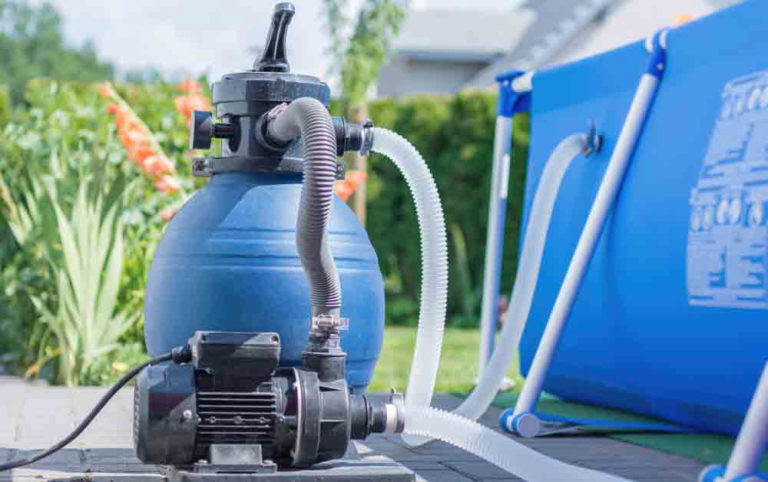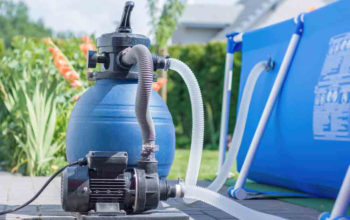 As with everything, there are advantages and drawbacks. The facts are that your pool and water need to be safe for swimming, and that requires a lot of effort. Without a pump the water will be stagnant, making it susceptible to algae and bacteria buildup.
The pump has other benefits as well, pumping water through your heater system to warm your pool, as well as powering any other pool features.
The pump itself, will not filter out the water inside the pool but a good pool filter will. Check out our reviews on the top pool cartridges out there and select the one that suits your needs.
Advantages of a Pool Pump
Allows water flow through your entire pool system
Filter basket catches debris such as leaves and bugs that have fallen in the pool.
Motor sized for the pool to reduce power use
Low maintenance – clean the basket of debris, and that's it.
Disadvantages of a Pool Pump
If not appropriately sized, it will either not move water well or may use up excessive electricity.
Needs replacement every couple of years.
You still have to use chemicals and clean your pool regularly.
Whatever your pool size, a pump is necessary. There is no way to properly maintain it without a well-sized pump, even if you regularly clean it and use chemicals. Stagnant water breeds bacteria and algae. Who wants to swim in that?
Above Ground Pool Pump Installation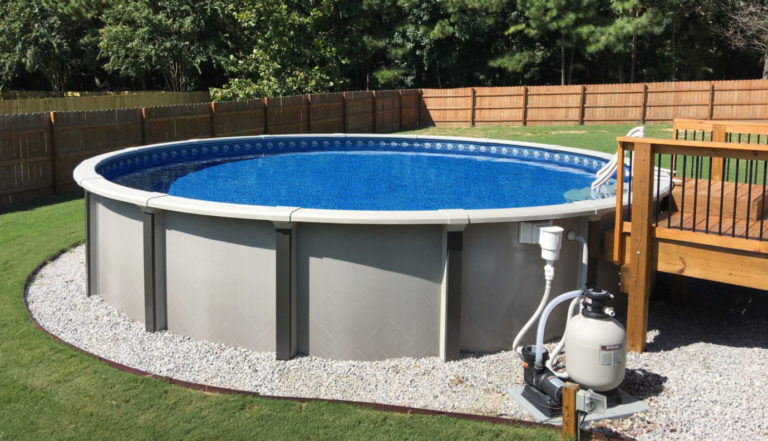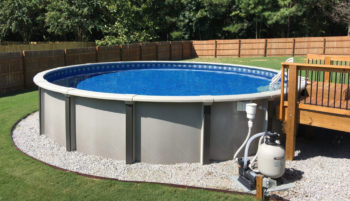 You will be surprised how straightforward it really is. Generally, most people can do this on their own without professional assistance. Unless, of course, they've purchased a pump that requires adaptors or doesn't have a three-prong cable. Simply do the following:
Before all else, follow installation instructions.
Ensure the pump is on a level surface. If necessary, place concrete slabs or paving stones.
Connect hoses to exhaust and intake ports.
Ensure hose seals are snug, and filter basket systems are closed before turning on.
If on/off switch on the pump, make sure it is off before turning on.
Let the pool pump run and observe whether it works correctly.
Set up timers. If no built-in timer, we recommend you purchase one that fits your pump amps. This will reduce energy costs dramatically as the pump won't be working continuously throughout the day.
How to Pump Water Out of Pool Safely
Aside from taking the necessary safety precautions when it comes to pools in general, there are several concerning above ground pools and their pumps specifically.
Keep the cord away from the pool and ensure it's well insulated.
Only buy pumps that meet or surpass UL standards. Regularly look wiring of pump for wear and damage.
If there is damage to wires immediately replace. You may need an expert if you don't have experience with wiring.
Maintenance of your Above Ground Pool Pump
Very little maintenance is necessary for these above ground pool pumps. The key thing that you need to take care of is cleaning its filtration system regularly. You will also have to replace filters or filtration material such as sand when necessary. When changing filters, it's good to look over the pump connectors and cables for wear and damage. Replace if necessary.
Winter Storage of your Above Ground Pool Pump
Not everyone keeps their above ground swimming pool pump out all year. And if you want it to last for several seasons, we recommend you store it. Unless it has special anti-freeze features that allow it to continue pumping throughout the year to prevent the pool from freezing. Here is how to store your pool pump in the winter:
Remove hose clamps and hose.
Tilt pump upside down to drain water from it.
Remove debris from the pump by opening the housing.
Wipe down with a clean and dry rag. Focus on removing gunk and debris around the motor.
Replace the housing of the pump.
Store your pump indoors away from freezing weather and the elements.
Wrap Up
An above-ground pool pump is an absolute essential for safe and clean swimming all season long. Don't forget that sizing is everything, and finding the best above ground pool pump depends entirely on your pool size and additional pool features. Don't waste money on power bills or running your pool pump excessively due to not sizing it appropriately.
Our above ground pool pump review has been put together by the top pool specialists to assist you in selecting the ideal pump for your pool. Don't waste time and money on buying the wrong pool pump. Follow our buying guide and review our selection of the highest-rated options on the market.
If you found the ideal pump for you and would like to upgrade your pool to match, we've put together a fantastic above ground pool buying guide. Who says the swimming pool has to come first?
Thanks for reading and as always – stay put!