Keeping your pool clean needs more than just chemicals. Finding the best tools for the job is key to it looking good and keeping it safe to swim in. One of the ways to do this is by finding the best pool brush that has the perfect balance of durability, strength, size, and comfort of use to do this daunting job.
Pool brushes are one of the most essential tools to have in your pool maintenance arsenal. If you're tired of pool brush reviews pushing useless products on you, you've found the experts ready to help. We've done the legwork and collected our research findings of the top products on the market. Find the ideal brush to get the job done faster, easier, and more effectively.
Here are the top 12 best-reviewed brushes on the market in no particular order:
See The Quick Comparison Chart
What to Look for in Pool Brushes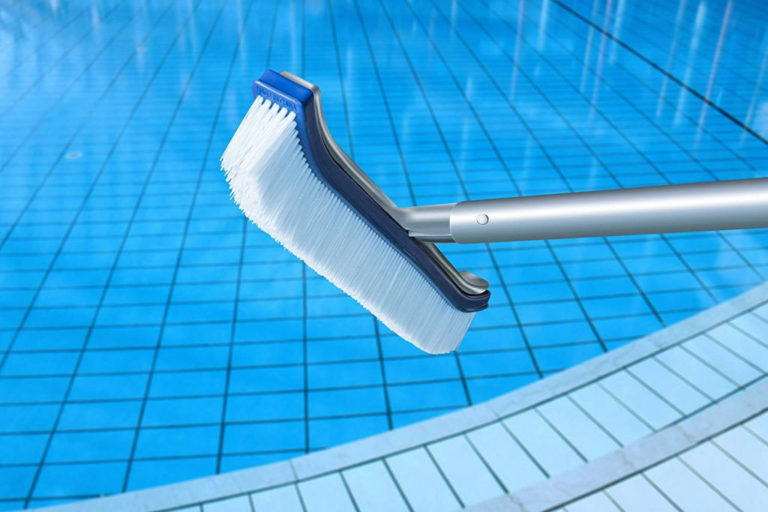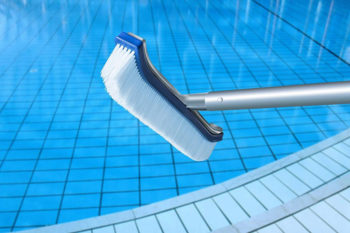 There is as much variety of pool brushes as there are types, sizes, and shapes of pools. Every day new features are designed to make cleaning easier. However, here are some of the 10 features to look for to make your life easier.
For every day, cleaning look for a bigger brush. The larger the brush, the faster you will be done.
For spot-cleaning, consider where you will be cleaning and choose a brush size that will maneuver best around your pool. Look for the most robust bristles your pool can take. The smaller the brush, the less effort to spot clean.
Curved sides on more full brushes are essential for cleaning corners.
The brush holds bristles in place.
Built with UV materials to prevent sun damage, thus making it more durable.
Metal backing is preferred over plastic because of the pressure you will be applying while cleaning.
A spoiler is a great feature that makes keeping the brush stuck to the surface you are cleaning easier.
Easy release mechanism on the brush makes it easier and faster to change tools on your telescopic pole.
Multi-use brushes that come with a vacuum attachment option combine two tedious jobs.
A lightweight brush combined with a light pole will make cleaning much more manageable.
Not all are made the same, and it's difficult to find all of these features packed into one. Still, try to tick off at least most while searching.
If you want to up your pool cleaning a notch look at our high-end robotic vacuum cleaner reviews and buying guide.
Types of Pool Brushes
To choose the right brush, it's essential to know your pool and precisely what you're looking for. All brushes attach to a pool pole. Check out our telescopic pool cleaning poles review to find one that suits your needs.
A few things to keep in mind when choosing a brush:
Size – Several factors will help you determine what is best for you. The bigger the brush, the faster you will get the work done. For odd-shaped pools, a smaller brush may be better. This is because a large one will make brushing your pool walls and steps harder.
Spot Cleaning or Everyday Cleaning – We recommend you have a brush for both. Everyday cleaning brushes are more prominent and are softer. Spot cleaning brushes are much smaller, and if your pool surface allows it, have wire bristles.
Bristles – There are three types, nylon, wire, and a combination of the two. Nylon is for delicate materials such as vinyl and fiberglass, and for everyday cleaning in cement pools. The wire is for spot cleaning and for harder material pools like cement. The combination brushes offer power and everyday use but aren't for nylon pools.
Handle – If you already have a telescopic pole, make sure you choose a brush that will fit it. Either way, we recommend a universal pole and brush. This will give you a broader spectrum of choices for additional tools. Look for one with a quick-release mechanism and a proper 45-degree angle for easy use.
Best Pool Brush Comparison Chart
PRODUCT
DETAILS

Greenco Pool Brush

Price:

$$$$$

Size:

20″

Made:

Aluminum reinforced back

Suitable for:

All pool types 

Fits:

All standard pool poles

View On Amazon

AquaAce BR301 Combo Bristle Pool Brush

Price:

$$$

Size:

17"

Made:

Nylon / Stainless Steel bristles

Suitable for:

All pool types except for Vinyl or Fiberglass pools

Fits:

All standard pool poles

View On Amazon

Milliard Algae Pool Brush

Price:

$$

Size:

17.5"

Made:

ABS plastic handle – Stiff nylon bristles

Suitable for:

Mostly above-ground vinyl pool liners

Fits:

Standard extension pool poles

View On Amazon

Poolmaster Deluxe Pool Brush

Price:

$$

Size:

18"

Made:

Polypropylene

Suitable for:

Above or In Ground Pools

Fits:

All standard pool poles

View On Amazon

U.S. Pool Supply Pool Brush

Price:

$$

Size:

18"

Made:

Aluminum reinforced back, body, and handle

Suitable for:

All types of pools

Fits:

All standard 1-1/4″ size pool poles

View On Amazon

Milliard Wire Pool Brush

Price:

$$

Size:

10"

Made:

Aluminum and ABS

Suitable for:

All pool types except for Vinyl pools

Fits:

All standard pool poles

View On Amazon

Swimline HydroTools Pool Brush

Price:

$

Size:

18″

Made:

Aluminum

Suitable for:

All pool types 

Fits:

Every telescopic pool pole

View On Amazon
Best Pool Brush Reviews – (Recommended Picks)
1. Greenco Pool Brush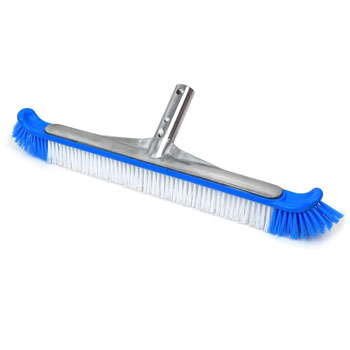 The first brush made our list due to its extra width and high quality. The Greenco 20" Pool Brush may not be a well-known product, but as it turns out, it's among the top when it comes to high quality built.
Slightly more expensive, it features a well-built 20" body for faster cleaning. As with most brushes, it features curves on both sides to make reaching corners and hard to tackle areas easily. Its extra width and length gives you the upper hand in cleaning faster. They are nylon, so it is suitable for all pool types including vinyl lining, but can tackle algae stains without a problem.
What impressed most users is the fact that the bristles stay in place, a problem we've seen all too often with most other brushes. It may be slightly more expensive, but it's worth every penny.
Pros
Bristles do not fall out
Durable high-grade material
Extra-wide at 20" for faster cleaning
Cons
More expensive than most other brushes on our list
Maybe too gentle for set-in stains
2. AquaAce BR301 Combo Bristle Pool Brush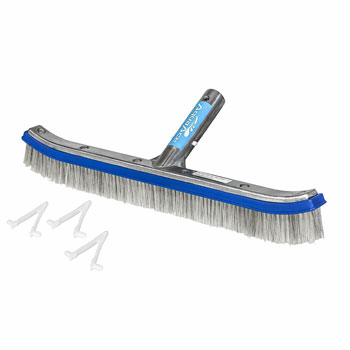 Our second product is ideal for everyday use and any necessary light cleaning you may need to do in the pool. The durable AquaAce BR301 Combo Bristle Pool Brush features a premium combination of nylon and stainless steel wire bristles for added cleaning power.
The 17" design covers more ground than the smaller wire brushes. Still, it is well designed to reach all the necessary spots in the pool. It comes with three replacement V clips, which adds value and longevity to the tool.
As it features stainless steel wire, it is not recommended for vinyl or fiberglass pools. Also, if you have set-in stains or need to do more in-depth cleaning, you may need an all wire brush. This is just for everyday brushing and cleaning. The durable aluminum handle fits all standard pool poles.
Pros
Combination of stainless steel wire and nylon for light stain cleaning
Bristles do not fall out
Very lightweight at just over half a pound
Cons
Few wire bristles and very soft – not suitable for set-in stains and heavy scrubbing
3. Milliard Algae Pool Brush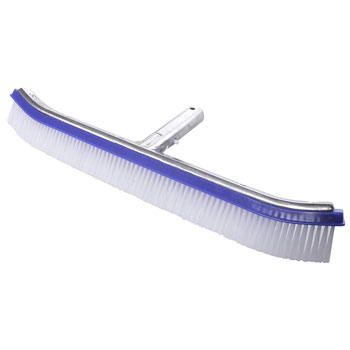 The third product on our list is a great inexpensive option that offers many features for the price. Extra-wide, the Millard Hybrid Brush extends 17.5" in width with curved edges to make cleaning those hard to reach areas like corners and steps.
What sets this particular brush apart from the rest is the stiff nylon bristles. The nylon ones are strong enough to brush stubborn algae buildup, while the wire ones give just enough strength to really get in deep and make cleaning faster. They are strong enough to get the job done but still gentle, to prevent damage to your pool.
ABS plastic handle is angled at 45°  to make cleaning easier and reach every part of the pool. Attach to any universal pool pole. Although designed durable and the bristles last, they do wear down on the sides over time. Do not use this brush on a nylon pool. Also, keep in mind that nylon ones will be damaged faster if used in a saltwater pool.
Pros
Extra-wide brush at 17.5" with curved edges
Durable and inexpensive
Cons
Bristles wear down quickly on sides
4. Poolmaster Deluxe Pool Brush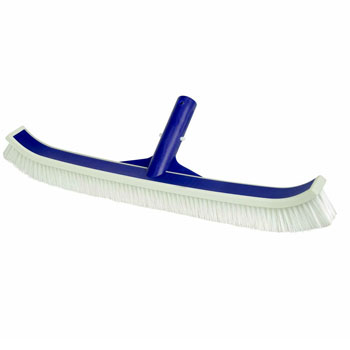 The Poolmaster Deluxe Pool Brush is a perfect brush for vinyl pools and spas. It features an 18-inch width with polypropylene curved body. Designed to withstand high temperatures, it will last longer even if left out in the sun.
The soft non-abrasive bumper protects your spa and pool walls from scratches but still offers good cleaning ability. If you have an above-ground pool, this is an excellent brush to keep it clean of algae and brush clean before use.
It is designed to fit all standard pool poles via its double clip connector. However, we have seen complaints about the clip being plastic and prone to breaking if excessive pressure is used while cleaning.
The 5 rows of bristles are designed to last the standard 6 months that users have experienced with most other brushes. After they tend to start falling out and may cause clogging if not cleaned out of the pool.
Pros
Non-abrasive bumper to protect delicate vinyl
Lightweight at only half a pound
Ideal for above ground pools and spas
Cons
The plastic connector may break easily if too much pressure is used
Sheds bristles after about 6 months use
5. U.S. Pool Supply Pool Brush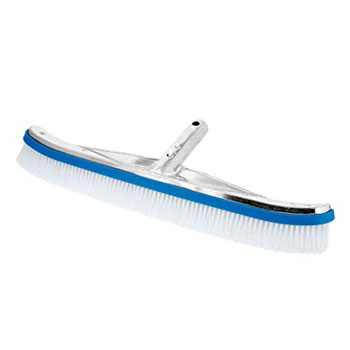 The fifth product on our list is by a leading manufacturer of quality pool supplies. The U.S. Pool Supply Pool Brush is a heavy-duty, durable, and handy brush in maintaining your pool algae and dirt free.
Featuring a full 18" width, the brush is made of durable aluminum reinforced back, body, and handle. It offers the popular U.S. Pool Supply EZ Clip system on the handle, which makes attaching and removing it simple. The only issue we have seen is that this system works best if combined with one of their quality telescopic pool poles that also feature this system.
The brush has 5 rows of nylon bristles that have a slight curve on the ends. This provides exceptional continuous contact with the surface, making cleaning faster and easier. Weighing at only 12.8 ounces, it is easy to maneuver and very lightweight.
Pros
1 Year 100% Satisfaction Guarantee
Safe for all types of pools
Lightweight at only 12.8 ounces
Cons
EZ Clip system works best with U.S. Pool Supply Pool Poles
Not suitable for saltwater pools
6. Milliard Wire Pool Brush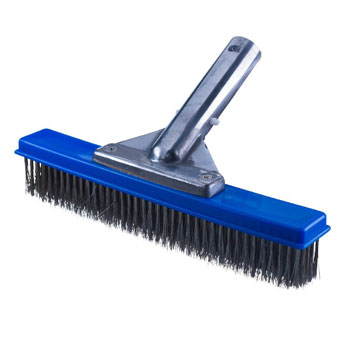 For a gunite or concrete pool that needs a bit of extra attention the Milliard 10 in. Wire Pool Brush is the way to go. This concrete pool brush is specially designed to target hard to clean spots that other brushes just cannot manage. In addition to using it inside your pool, it is also an excellent choice for cleaning walkways and areas around the swimming pool where algae may have grown.
Its durable aluminum handle fits all standard pool poles and features a 45-degree angle for a more comfortable position while cleaning. This small shift allows you to get a better grip for more comfortable pushing and scrubbing. At 10 inches, it isn't as big as most other brushes, but this is because it is primarily for spot stubborn cleaning rather than regular full pool brushing. Do not use on vinyl pool lining as it may rip.
Pros
Top pool brush for black algae
Heavy-duty stiff bristles and durable aluminum body
Smaller size allowing for more on-point spot cleaning
Cons
The design doesn't allow for proper cleaning of corners
Wash before use as it may have residue from the manufacturing process
7. Swimline HydroTools Pool Brush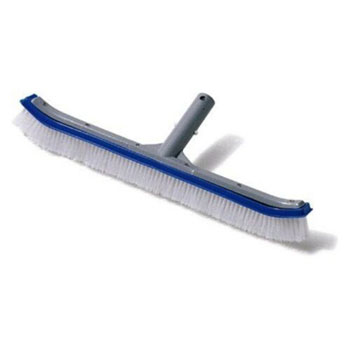 The Swimline HydroTools Pool Brush comes from a long line of Swimline products that have been trusted among pool owners for many years. This inexpensive brush is an excellent choice for regular pool cleaning, but not necessarily harsh scrubbing. It is made durable and very lightweight.
It is ideal for every type of pool as it has long enough nylon bristles to get light dirt out, but gentle enough on surfaces like vinyl. At 18" the brush covers more ground faster and features a curved design at each side for cleaning hard to reach areas such as corners. The die-cast aluminum back reinforces the plastic molded frame holding the nylon.
The brush features a Snap-Adapt quick-release handle that is claimed to fit every telescopic pool pole. However, some have found that the connectors don't always line up and fit on all poles snugly. An inexpensive option for everyday light cleaning, you do get what you pay for, so don't have professional quality expectations.
Pros
An inexpensive option that may last past one season with proper care
Snap-Adapt quick-release handle for easy attaching and detaching to pole
Lightweight to reduce arm fatigue
Cons
May not fit all poles snuggly
8. Aquatix Pro Heavy Duty Pool Brush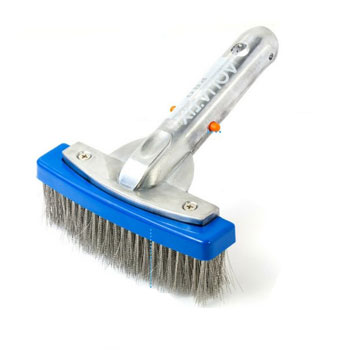 The ninth product is the durable and robust Aquatix Pro 5" Heavy Duty Pool Brush. This little brush is designed to give you more pushing power when scrubbing, allowing you to tackle hard to clean spots. It's a fact that the smaller the brush, the easier it is to control, thus cleaning stains faster and easier.
This little, but impressive, brush features stainless steel wire bristles that are strong enough to take on even the toughest stains. It features a 45-degree handle and offers premium built quality for added durability. The brush fits almost all standard size 1 1/4" pool poles snugly.
If you have a concrete or gunite swimming pool, this is a must tool in your pool maintenance arsenal. It does a great job on pool floors, walls, corners, steps, and ladders, as well as on pathways around the pool. Do not use on the vinyl lining or delicate material pools. With this purchase, you also get a digital copy of the Aquatix Pro Pool Maintenance Planner.
Pros
Smaller size for more spot-on cleaning
Stainless steel wire bristles for tackling set-in stains
Premium quality aluminum handle that fits most standard pool poles
Cons
Wires fall out easily
Not suitable for delicate surfaces such as vinyl
9. Daveyspa Wire Bristle Brush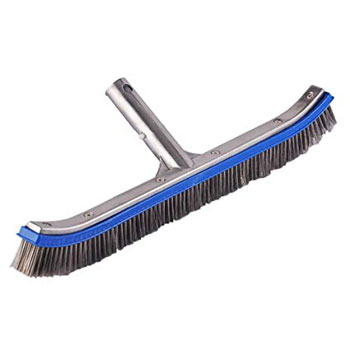 Here we have a full 18" width stainless steel wire bristle brush to tackle the hardest to clean stains and algae buildup. It features a hardened mold plastic frame that holds the bristles permanently in place. Completed with a stainless steel body and holder, it is a durable and long-lasting choice.
It offers curved edges as most brushes of its size, allowing for more in-depth cleaning in hard to reach spots. Although weightier than most due to its materials, the brush gets the job done. Most importantly, if properly maintained, it will not rust or fall apart after heavy use as with many other products on the market.
This is a brush designed only for hard surfaces, so do not use it on vinyl pool linings as it may cause damage. Still, it is gentle enough for everyday use for cleaning and brushing. The brush fits most standard telescopic pool poles.
Pros
Full 18" stainless steel wire brush
Bristles stay in place permanently
Inexpensive and durable
Cons
Not well-weighted and designed making it challenging to reach the bottom of the pool
10. Aquatix Pro Step & Corner Vacuum Brush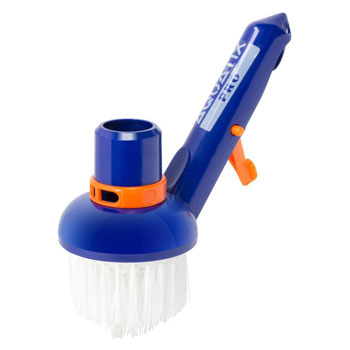 The next product made the list because of its super low price, and bang for the buck. This small brush offers many features suitable for both above and in-ground pools, spas, and even hot tubs. With gentle bristles and universal vacuum attachment, it's an excellent investment.
The extra-fine brush is designed in a cone shape to make spot brushing easier. This larger and improved design from previous models allows for cleaning in tight spots and odd-shaped pools. It is very compatible with a 1-1/2" hose and 1-1/4" pole connectors. Its EZ clip system makes attaching and removing the tool fast and easy.
Very easy and lightweight, it is easy to use and maneuver. Also, it features an adjuster of suction from the vacuum line. Though it may not be something you will use daily, at this price and ability to reach hard to tackle areas, it's a great tool to have.
Pros
Small enough to reach the tightest spots
Adjust suction from the vacuum line
Inexpensive but packs a lot of features
Cons
Does not have a lot of scrubbing power
Vacuum holes are too small and bristles too dense – only picks up small particles
11. Milliard Heavy Duty Algae Brush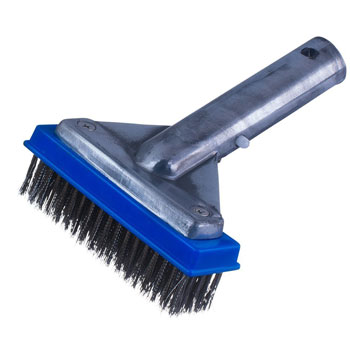 Our next brush is similar to the 10" one, but this one is even more concentrated on deep cleaning. It is no secret that the smaller the width of the brush, the more pressure you can put on specific spot cleaning to get the job done. It may not be ideal for cleaning large areas, but if you have difficult-to-clean black algae, this is the brush for you.
Created for concrete and gunite pools, this heavy-duty pool brush gets adamant stains out where more effort will be needed with a big brush. The refined aluminum bristles can take the abuse while scrubbing dirt and algae buildup along walls and crevices.
Due to its size and design, it is very lightweight, yet still durable. It's designed to be very tough, and not suitable for vinyl or fiberglass pools. Although made to last and take cleaning to the next level, some have experienced its stainless steel wires coming out.
Pros
Smaller width for less effort in cleaning tough stains
Stainless steel wires tackle black algae and dirt buildup
Very lightweight for easy maneuverability
Cons
Wash before use as it may have oily film from manufacturing
Bristles may start falling out after several times
12. SilkRd Swimming Pool Brush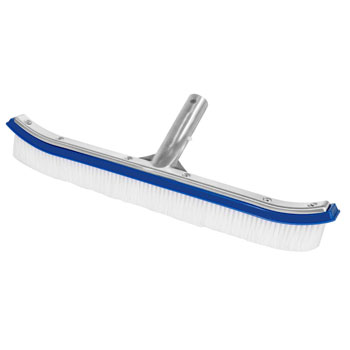 This pool brush made our list due to good quality in comparison to its low price. This is a standard 18" broad pool brush that is designed to make everyday light cleaning faster and easier. The nylon bristles are designed for everyday cleaning and brushing, yet delicate enough so as not to damage vinyl and fiberglass pools.
Bristles are attached to a plastic lining that is attached to a durable aluminum back and handle that fits all telescopic poles. It features a single fastening clip in the middle of the handle. It also has an angle adjustment from a right angle to 45 degrees. Weighing at only 290 g. it is very light and easy to use.
Pros
EZ-Clip attachment for telescopic pool poles
Fits all standard pool poles
Adjustable angle on the handle
Cons
Bristles are mounted straight rather than at an angle at edges
Bristles may start to fall out after regular use
Benefits and Drawbacks of Using a Pool Brush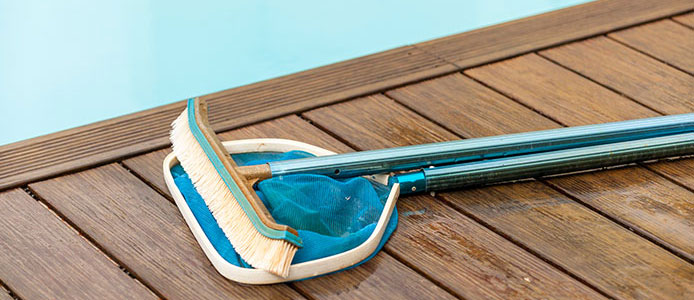 Well, the benefits of using a brush outweigh the drawbacks, and that's a fact. Using a brush is part of basic pool care, whether above or in-ground. Disadvantages may come if you choose the wrong type of brush as it may damage the pool, not work correctly, or be challenging to use.
The main benefit of using a pool brush is that it helps you clean debris, algae, and bacteria buildup, and wipes out chemical residue. With an adequately weighted brush at the right angle, cleaning is more comfortable and faster. You will be able to wipe down the walls and floor of the pool, spot clean, and prevent slippery and ugly algae.
Although chemicals are essential to keep the pool clean and safe, they can also damage it. They cause buildup on the floor and walls causing discoloration and ruining the surface. With regular brushing, this can be prevented. So never rely entirely on chemicals to get the job done.
A drawback with brushes is if you choose a cheaply made brush the bristles start to fall out. They not only dirty the pool, but can block your filter as well. Metal wires can be dangerous as they fall to the bottom and can stick in your feet. Also, choosing the right brush for your pool is essential. The wrong brush can damage the lining. This takes us to the next part of our guide, types of brushes.
Brushes will also not provide you with a thorough cleaning. If you got an over-ground pool that requires a lot of cleaning, we suggest you visit our above ground pool vacuum cleaners guide and select the product that will help you the most.
Installation
Installation of your pool brush is straightforward, especially if it has an easy release system. Though every brush is different, they generally all have simple clip-on holes where they will attach to your telescopic pole.

Maintenance of your Pool Brush
As with all tools, they get damaged over time. With correct maintenance, you will be able to make your brush last longer.
Always rinse a new brush before using it for the first time. Sometimes there is residue left on the brush from manufacturing.
Rinse the brush from chemicals after every use to prevent damage and corrosion.
Store the brush out of the sun even if it has UV protection.
Don't put more pressure than necessary on the brush while cleaning. This will cause the bristles to deform.
If you see bristles falling out of the brush, it's time to replace it.
Safety Tips to Using your Pool Brush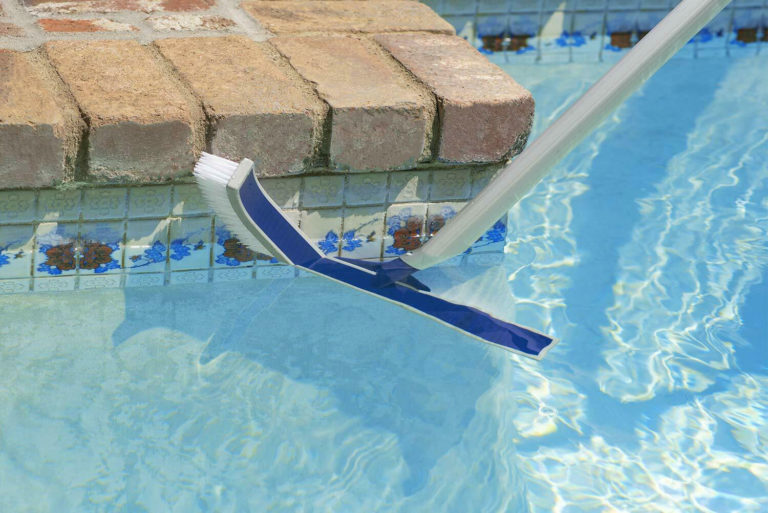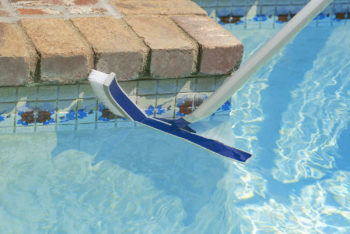 While using your brush, it's essential to follow instructions for proper pool cleaning. There isn't much involved with brushing, but there are still some points to consider.
Never overreach while brushing – better go around to reach the other side rather than reaching over the pool with the possibility of falling in.
Pool tools are not toys, and children should not be encouraged to play with them. If brushing is a chore they must do, it should be under adult supervision.
In case bristles fall out of the brush toss it as they may get stuck in the skin, damage filtration system, and merely dirty the pool.
If metal parts of brush begin to rust or show signs of corrosion toss it.
Why and How Often to Brush?


Proper pool maintenance isn't only about your pool looking beautiful, but for health as well. If not correctly cleaned regularly, bacteria, algae, and chemicals will begin to buildup in the pool. This is why brushing your pool is essential.
By brushing you will keep walls and floor clean, in turn, maintaining the water cleaner. With regular brushing, you can also save money on pool maintenance, as fewer chemicals will be necessary.
How Often?
If you have a new plaster pool, it's good to brush it two times a day for at least the first two weeks. This will help the cement cure better and removes any loose particles. For older pools, it's recommended to brush it once a week. If you use your pool daily, it's recommended you clean more often.
Brushing should take no more than 20 minutes depending on the size of your pool. Shape and design are also significant as they may require a change in brushes mid-cleaning for the hard to reach places. If you get a routine and brush regularly, you can prevent much more time-consuming spot cleaning in the future.
Wrap-Up
Buying the best pool brush is an essential part of your pool maintenance. Although we've found some inexpensive options that get the job done, a quality brush usually comes at a price. Investing in a brush that makes your job easier and faster is one of the critical elements of proper pool maintenance.
We hope you enjoyed our pool brush review and have found it helpful. Please share your thoughts, feedback, and anything you'd like to add in the comments below!
Thanks for reading and as always – stay put!