All kids enjoy playing in the water, especially when they can cool off during the hot summer days. A well-sized kiddie pool is the best way to do this. You must choose the best kiddie pool to fit your family, children's age, and space you have available. Safety comes first, so you want to make sure you don't overshoot with a pool too large for your small child.
Our pool experts have put together a fantastic kiddie pool review and buying guide to help you select the ideal pool to fit your family needs. There are lovely small units suitable for babies and toddlers but also larger pools that parents can enjoy with their children. It's all a matter of how you intend to use the pool, your needs, space, and budget.
Here are our top choices of kiddie pools in no particular order:
See The Quick Comparison Chart
How to Buy and Features to Look For in a Kiddie Pool

Rarely do people actually do much research when buying a kiddie pool, and they are missing many essential factors. In the end, they are usually disappointed with their purchase. Many factors are of high importance when buying and knowing how to choose will save money and frustration.
What to look for:
Safe and durable materials – Look for pools made of high-grade BPA plastics and quality PVC vinyl materials. There are many inexpensive pools out there that simply will not last. Finding a durable plastic material will extend the pool life and survive throughout the summer and seasons ahead.
Inflatable floor – This is especially important for the smaller kiddie pools. Younger children are more prone to fall and be unstable maneuvering in the water. If the pool is on a hard surface, this could cause injury, as well as possibly rip the pool. Also, it most certainly adds to the comfort of the kiddie pool.
Easy drain plug – Though not of high importance for the smaller pools that can be drained quickly, but ones for toddlers or multiple children, it will save you a lot of time. This will reduce packing time and replacing the freshwater.
Individual part inflation – This may seem like added effort and time, but by having separate parts inflated individually, you can easily find rips and holes, and the entire pool doesn't get damaged if one appears. This makes it easier to patch up and more sturdy and durable.
Size and water height – This depends entirely on the use of the pool and the age of the children that will be playing in it. Too small a pool will be uncomfortable for bigger children, while a pool that is too large may be dangerous for smaller kids and babies.
Reflective top surface – As the pool will be placed in the sun, having a reflective light surface on the top of the wall will prevent it from getting too hot for comfort. This will ease getting in and out of the pool and allow you to relax against the walls.
Budget – Generally, the kiddie pools are relatively inexpensive. They are available in all price, shape, and size ranges, but don't let that fool you. Usually, the best way to go is to spend a little more for added durability, comfort, safety, and ease of use then to waste money on a pool that you will have to replace.
Look for a pool that matches your needs and whether you will want to use it out of season indoors. There are many essential features to consider when buying, and though you can live without most, they are a great addition to the safety and comfort of the pool.
Ways to Use your Kiddie Pool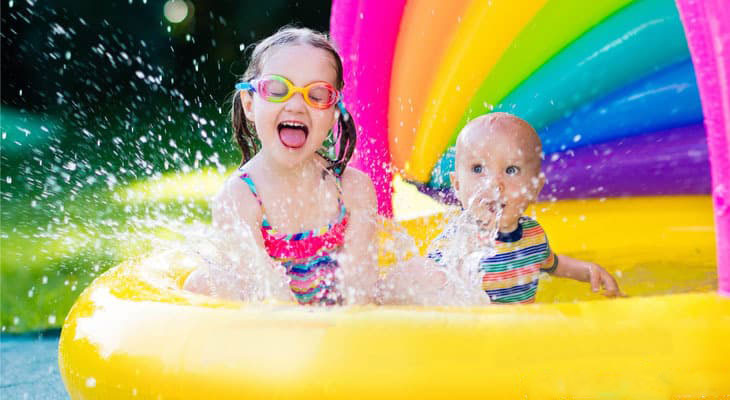 An inflatable kiddie pool offers a lot more fun than just water activities in the back yard. There are many great uses and plenty of fun games to play. Here are some exciting ways people have used these types of pools:
Baby play area indoors
Ball pit
Small toy containment area for when kids play (i.e., Legos, blocks, etc.)
Backyard cooler for parties
Doggie pool – just make sure you cut their nails
Many, many, more.
Enjoy the many pool games for fun kiddie pool playtime that are fantastic for both young and old. There are plenty of creative ways that you can put it to use and encourage the kids to spend more time outdoors and away from their games and phones.
Best Kiddie Pool Comparison Chart
PRODUCT
DETAILS

Intex Sunset Glow Baby Pool

Price:

$

Size:

34 x 10"

Capacity:

22 gallons

Age Grade:

1-3 years

Includes:

Soft inflatable floor. Repair patch

View On Amazon

Crystal Blue Inflatable Pool

Price:

$

Size:

45 x 10″

Capacity:

up to 62 gallons

Age Grade:

2+

Includes:

Repair Patch

View On Amazon

Intex Swim Center

Price:

$$

Size:

103″ x 63″ x 18″

Capacity:

169 gallons

Age Grade:

3+

Includes:

Repair patch and a shelf box

View On Amazon

BigMouth Inc. Inflatable Kiddie Pool

Price:

$

Size:

63″ x 58″

Capacity:

up to 50 gallons

Age Grade:

3+

Includes:

Patch kit

View On Amazon

Sable Inflatable Pool

Price:

$$

Size:

118″ X 72″ X 20″

Capacity:

312 gallons

Age Grade:

3+

Includes:

User Guide

View On Amazon

OlarHike Family Inflatable Pool

Price:

$$$$

Size:

85″ x 22″

Capacity:

400 gallons

Age Grade:

3+

Includes:

N/A

View On Amazon
Best Kiddie Pool Reviews – Editors' Choice
1. Intex Sunset Glow Baby Pool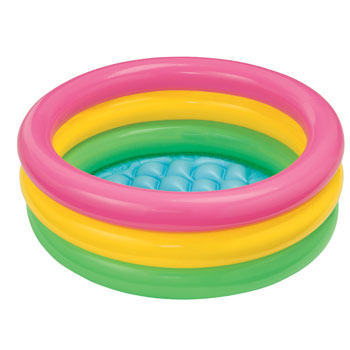 Here's one inexpensive option. This kiddie pool is the ideal one for traveling with a baby or simply put in the backyard for endless water fun. It is only 34 inches in diameter on the exterior, with 10-inch high walls. This makes it an ultra-safe option and a perfect fit for babies that can sit on their own.
The pool features a colorful and fun design with a soft inflatable floor. The inflatable floor of the inflatable kiddie pool makes it more comfortable and safer in case of falls. Each of the side sections and the bottom are inflated separately through one-way valves. Making inflation more straightforward, and when appropriately squeezed, deflation as well.
As it is so small, it is very portable and easy to take with you on your vacation or to the beach. It also offers an excellent alternative for play indoors as well or as an added cushion in the bathtub. The pool comes with a repair patch included and can easily be inflated using an air pump (not included).
Pros
Inexpensive and durable
Inflatable cushion floor for safety and comfort
Repair patch included
Cons
Unattractive warning text around outside of the pool
2. Crystal Blue Inflatable Pool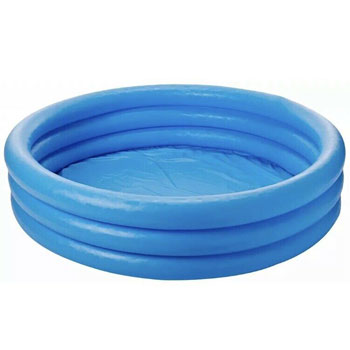 This is a relatively big product with its 45 inches in diameter. It also features 10-inch high walls as the last one. You can purchase the pool alone, or select the option that includes an air pump if you don't have one. Each pool comes with a repair patch, as well.
This pool is recommended for children 2 years and older and water depth of no more than 6.5 inches. The pool can hold up to 62 gallons of water and is suitable for backyard use as well as indoor play.
It is made of high-quality, durable material and comes in an attractive blue color. The floor of the backyard kiddie pool is not inflatable, so it's recommended you place it on grass or a soft mat to prevent injury if the child slips.
Due to its small size, you can take it on vacation to the beach, use it in your backyard, or use it as a ball pit or play area at home. It has proven to be very durable and easy to set up and deflate as well.
Pros
Small portable design
Includes repair patch
Attractive, simple blue design
Cons
3. Intex Swim Center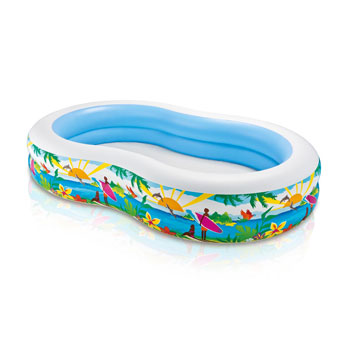 The fun design of the Intex Swim Center makes it an excellent backyard choice for big and small. It is 103 inches wide by 63 inches and has 18-inch inflatable walls that are white on the top to reflect the sun. It features two separate air chambers that have a double-valve intake for easy pumping and free-flow exhaust valve for fast storage.
The pool allows for 12 inches of water and has a 169-gallon water capacity. This vinyl pool is suitable for 4 to 5 little kids or up to 3 adults. This makes it a suitable backyard kiddie pool for the whole family to relax in the summer.
The pool features a fun beach design to transfer you to your favorite vacation spot. Keep in mind the pool does not have an inflatable bubble floor, so it is recommended to place on grass or a soft mat for added safety.
Pros
Includes air patch and storage box
BPA free vinyl material
Less expensive than others this big
Cons
Intake valve caps challenging to keep on
4. BigMouth Inc. Inflatable Kiddie Pool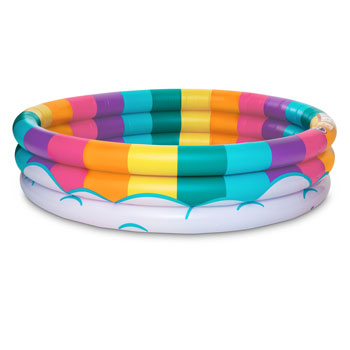 What makes this pool special is its unique exterior design. It features four fun designs that the kids will surely fall in love with. Choose between a watermelon, strawberry donut, rainbow, or hamburger design.
Made of durable thick vinyl, this pool can withstand the pressure and weight of regular use. It has a round, 5-foot diameter and has 15-inch high inflatable walls. This is a suitable pool for young children and would be comfortable for 2-3 small children to enjoy.
The pool doesn't have an inflatable bottom, so it is best to use it on grass or place it on top of a soft mat for added safety. It features a standard air valve for inflating and deflating either manually or using an air pump. The fun design gives it plenty of other great uses such as outdoor games, parties, and even indoor ball pits and play areas.
Pros
Fun design options the kids will love
Easy to set up and inflate
Cons
Doesn't have an inflatable bottom or plug to drain
5. Sable Inflatable Pool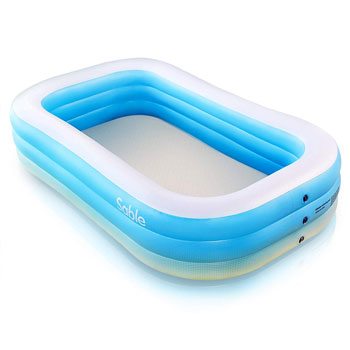 This is one of the largest pools on our list, hence the higher price. It is a 118 inch by 72-inch pool with inflatable 20-inch walls. This is a great family pool that every member of the family can enjoy. It can fit up to 2 adults and 4 kids comfortably, allowing for many wonderful family memories together.
The blue and white design is very eye-catching, with the white placed explicitly over the top of the walls of the pool to prevent overheating. You can comfortably get in and out and also lean on the walls without being burned by warmed material.
This is a very durable pool manufactured of a 50% thicker PVC puncture-protected hull. This keeps the air in and reduces the chances of punctures. Using a pump (not included), this pool is inflated in less than 5 minutes, and the two water valves make draining it faster. The kiddie pool takes 312 gallons to fill and is suitable for indoor and outdoor use.
Designed with 3 individual air chambers, the pool withstands more pressure and weight. This is backed by a 12-month warranty that can be extended by 30 months by registering the pool. They stand behind the quality of their pools and will extend any necessary help or if needed, replacement.
Pros
Has a plug on the bottom of the pool for draining
Durable, 50% thicker, PVC material
12-month manufacturer's warranty with 30-day extension available – Great customer service
Cons
6. OlarHike Family Inflatable Pool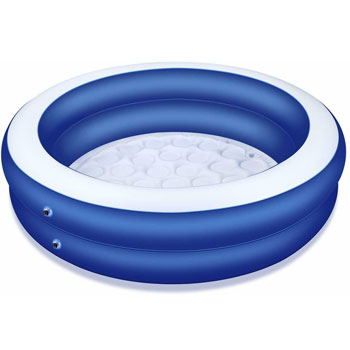 The OlarHike Inflatable Pool is 85 inches in diameter with 22-inch high inflatable walls and has a 400-gallon water capacity. It features an attractive blue and white design. The white on the top of the inflatable wall reflects the sun's rays, preventing it from getting too hot to the touch.
This pool is easy to install and store with its simple three-step setup. The food-grade material is high standard PVC that doesn't irritate skin and doesn't have the typical toxic smell that most inflatables have. It is environmentally friendly, ultra-thick, non-toxic, and airtight to ensure durability and safety.
Each of the sections of the pool inflate individually, and each valve can withstand the weight and pressure of regular use. The swimming pool has an inflatable bubble bottom that prevents slipping, adds a safety barrier in case of falls, and adds to comfort.
The OlarHike pool is ideal for 4 to 6 people and comes with a 2-year manufacturer warranty. Get a return and refund if not satisfied and high-quality lifetime after-sales services.
Pros
High-quality food grade PVC material
Bubble bottom for comfort and safety
2-year manufacturer warranty and excellent customer service
Benefits and Drawbacks of Inflatable Kiddie Pools
The kiddie pools are a great way to cool off in the summer and have plenty of other great uses indoors and outdoors, as well.
Benefits
Multi-use for indoors and outdoors, with or without water, for kids, adults, and even pets.
Inexpensive backyard alternative to an expensive above ground pool.
Easy to set up, clean, and store.
Drawbacks
Don't really last more than one or two seasons.
Many don't have drain plugs, so removing water can be difficult.
Require daily maintenance for daily use as you must replace water and clean regularly.
Kiddie Pool Safety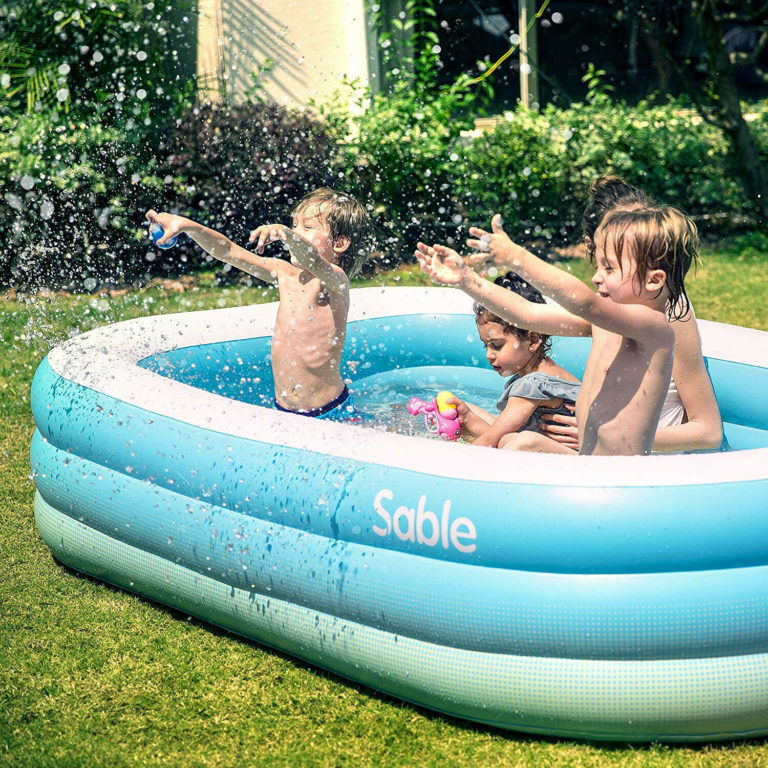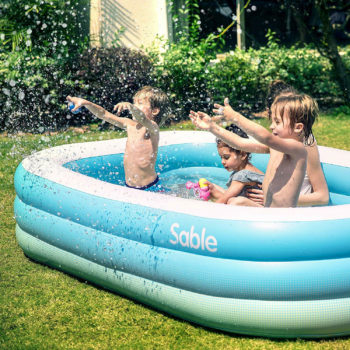 Unfortunately, swimming pools for toddlers can also be dangerous, and drownings are not uncommon. This isn't necessarily due to the design or the backyard kiddie pool itself, but rather the comfort level they give parents, which lead to dangers being overlooked. Children can drown even in the shallowest water, and need to be supervised at all times.
Here are some safety tips to setting up a kiddie pool in your back yard:
Never leave a child unsupervised in a kiddie pool regardless of how well they can swim or their age.
When the kiddie pool is no longer in use, always drain it to prevent a child from going in without parental supervision.
Place the pool upside down when not in use to prevent rainwater from collecting in it. Parents tend to be more comfortable, knowing the pool is empty. However, a brief rainfall can easily refill it again.
If the pool is more significant and you do not empty it after every use, we recommend a fence or pool alarm to be placed. We've put together a useful pool alarm review and buying guide to keep pool safety in check.
Know CPR and simple first aid just in case. This is essential not only for pool safety but in general if you have children. Accidents happen, and being prepared is always better than not.
Keep the pool on a flat surface and place it on a grassy area. If the pool is set on pavement or hard surface, put a soft mat under it to soften the surface. This will catch the fall, preventing injury and reducing the risk of rips and holes. Children are unstable in water, and falls are frequent.
Though generally safe, there are still dangers of kiddie and inflatable pools. Even if you take all the necessary safety precautions, it's vital that you always keep an eye on the kiddie pool, talk to your children about the dangers, and never leave them unattended in the water.  A product that will help you greatly with any pool have is a pool fence. Take a look at our guide for the top pool fences to keep curious kids away from the pool when not in use.
Inflatable Pool Setup and Installation
Setting up your inflatable pool is relatively straightforward. However, allow us to share some helpful tips to getting it done faster and preparing your backyard kiddie pool, so it lasts longer.
Choose the area that you intend to place your pool. We recommend you choose a sunny flat spot in the grass in your backyard.
If you've chosen to place it on the grass, make sure there is no debris or sharp objects in the crass that could damage the pool. If on a walkway or patio, place a thick, soft mat under it for comfort and safety. Whether on the grass or hard surface, always use a tarp for added protection.
Once the spot is selected, spread the backyard kiddie pool out in the place you have chosen.
There are several ways to inflate your pool. The most difficult and time-consuming is the manual inflation with your mouth. There are many pumps available, hand and electric, which can make this much faster. Inflate the pool to your liking. It should feel sturdy. It's easy to overinflate with an electric pump, so keep an eye on the seams.
Before you start filling your pool, give it a wash and scrub with a soft brush. Although new, there could be chemicals or residue from manufacturing, and you don't want your children swimming in that.
Add chlorine or another chemical of choice. This isn't a necessary step, but many choose to do so if they have a larger pool and intend to use it every day. If this is the case, you must take extra safety precautions when the pool isn't in use.
Fill the inflatable swimming pool to your liking, but without surpassing the max fill line as per pool instructions and markings.
Let the water sit in the sun to warm up, and you are all set for play!
All pools come with their own installation instructions. Follow these carefully to prevent damaging the pool. Although kids enjoy jumping in the pool and on its sides, if you want it to last throughout the season, it should be used exclusively for swimming and playing inside rather than jumping.
Maintenance of your Inflatable Kiddie Pool
Many people think that maintaining a kiddie pool is a simple task, and though for the most part, it is, there are some essentials to remember.
Change the water of the kiddie pool every 48 hours, if not daily. Don't let water sit longer than that or bacteria, and algae will begin to grow, making the water unsafe for swimming.
When changing the water always do a quick scrub of the pool. We recommend using a mixture of bleach diluted in water or a disinfectant to remove any bacteria that may have gotten in the pool.
You can use chlorine tablets or bromine in the pool if you don't want to replace the water as often. Make sure you calculate the amount accurately.
When it's time to store your pool drain, scrub it with disinfectant or diluted bleach, and rinse with clean water. Place it upside down to drain and dry properly. Carefully fold and roll it up, place it in a closed container, and store it in a dry place.
Preventing Your Kiddie Pool From Damaging Your Lawn:
One of the most noteworthy issues that people face when setting up a kiddie pool in their yard is the damage that it causes to their grass by the end of the season. The weight of the pool and PVC cover damages grass, resulting in large yellow patches.
Here are some tips on how to keep the kiddie pool from killing your grass:
Place it on the patio rather than on the grass. This will protect the grass, but may be damaging to the pool and can cause injury while the children rough play in the pool. This is why it's crucial to place a thick mat under the pool for added padding. This will prevent the pool from moving around and give children a softer surface to play on.
Empty the pool daily and immediately after use. Although the kids will surely spend hours playing in the pool, they won't be there all day long. Don't leave it on the grass when it is not in use. Set up no more than 1-2 hours in advance (to allow the pool to heat from the sun) and immediately empty it and remove it from the grass when the kids are done.
Don't place the inflatable swimming pool on the same spot every day. This will prevent the same area from being damaged every day and allows the grass to refresh after being under the pool a whole day.
It might seem like a pain, but it will help you down the line when the kids are tired of playing in the pool, and you are left with a big yellow patch of grass in your yard.
Wrap Up
Swimming pools for toddlers, older kids, and adults go far beyond just fun in the backyard. They are an excellent way to enjoy the summer without leaving your home and offer numerous other entertaining uses. Find the best kiddie pool to fit your child's age, needs, and uses at a price the fits your budget.
We hope our kiddie pool review has helped you select the ideal pool for your needs. You can find many more such reviews and buying guides for pool products on our website for all your pool needs.
We work hard to inform and are always striving to provide you with the latest pool products and information. So, share your thoughts and feedback in the comments below. We look forward to hearing from you!
Thanks for reading and as always – stay put!