There is only one thing superior to having fun and spending a day in your home pool, and that thing is making sure you are safe while enjoying yourself. It might sound boring, but it is actually one of the first things you need to consider, especially if you have children or pets. There is a one-off thing you could do and forget about your worries – purchasing the best pool fence.
We know it can be stressful to go out there and look for a product you know little or nothing about. Our team would love to help you out and make the experience as hassle-free as possible. In our article, you will find reviews of pool fences, which compliment a whole set of information on installation, maintenance, pros & cons, and solutions. So take your phone, sit by the pool under the sun, and enjoy this guide.
See The Quick Comparison Chart
Types of Pool Fences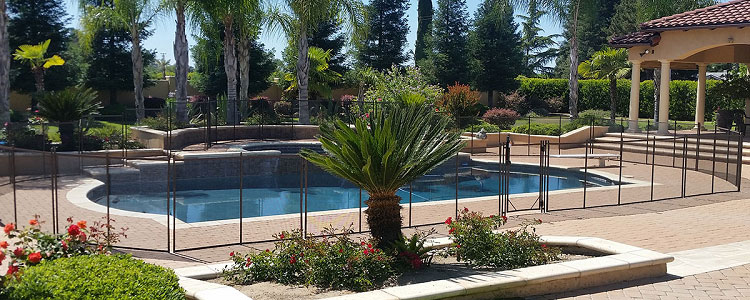 When we say pool fence, what do we mean? In this article, specifically, we are looking at mesh pool fences. However, there are two other popular pool fences types, which people also find convenient to use depending on the space they have to work with and the look they want to achieve.
We dedicate this section of our article to the small but noteworthy diversity of pool fences so that nobody is left behind.
Removable Mesh Pool Fence
You could already say that you are quite familiar with this type of pool fence. However, we have realized that you might know how to install a removable mesh pool fence, and you also know the benefits and drawbacks of it, but we have not told you what it is exactly.
A mesh pool fence can come in different sizes and sections, as well as a variety of mesh pattern, but it always is one of the most popular picks amongst parents. The reason for this is that the mesh fencing must meet or exceed the approval standards of the American Society for Testing and Materials (ASTM), making it one of the safest options available for parents and children.
Glass Panel Fencing


Tempered glass panel fencing, to be precise here. This material gives the fence a modern look and a matte finish that would not shine when it is sunny outside. Thus, it provides your pool with a classy appearance, which is probably the reason why some people go for this type of fencing. While the mesh of the previous kind might displease the aesthetic eye, the glass fence adds a nice touch, almost like an accessory. Of course, a glass fence would only look good if the pool is clean, so you might be interested in purchasing a pack of high-end chlorine tablets for pool. Read all about the best pool additives in our guides.
However, it is not all wonderful when it comes to maintaining tempered glass. It needs regular wiping and rinsing to clean the spots from water splashes and sun exposure. Glass panels are also significantly more expensive than other pool fences.
Vertical Bar Fencing
If there is a fence that can make use of a variety of materials to be made, that is the vertical bar fence. Its construction method is suitable for wrought iron, vinyl, wood, and aluminum, each carrying its own benefits and drawbacks when it comes to appearance and maintenance. On the one hand, iron does not hide the entire pool, but it rusts, while wood is customizable.
Best Pool Fence Comparison Chart
PRODUCT
DETAILS

Life Saver Pool Fence Kit

Price:

$

Size:

4 x 12-Feet

Include:

12-foot section of fencing, 5 poles, deck sleeves/Caps, safety latch, and template

Made:

Glass-fiber reinforced polymers – Mesh fence – aluminum post

Features:

Non-corrosive latching system without sharp hooks or points

View On Amazon

WaterWarden WWF200 Pool Fence

Price:

$

Size:

4 feet x 12 feet

Include:

Hardware, measuring template, instructions, and a free installation video

Made:

Heavy-Duty Reinforced Posts – Polymer Sleeves

Features:

Fully adjustable, Available in 4′ Or 5′ Height

View On Amazon

Giantex In-Ground Swimming Pool Fence

Price:

$

Size:

4'X12′

Include:

1 Set 4'* 12′ In-Ground Swimming Pool Safety Fence Data Caciques

Made:

Lightweight And Durable Aluminum Foot Tube With Fabric

Features:

Climb-Resistant Surface – Can Easily Be Removed And Reinstalled

View On Amazon

Sentry Safety DIY Pool Fence

Price:

$

Size:

4′ tall and 12′ wide

Include:

5 pre-attached poles, deck sleeves, deck caps, hook and eye, and template

Made:

Stainless steel core, a PVC insert, and a powder-coated finished aluminum

Features:

Can be easily removed and re-installed – Customizable design

View On Amazon

GLI Pool Products Above Ground Pool Fence

Price:

$$$

Size:

Each fence section 64.5″ W x 1.5″ D x 24″ H

Include:

All fencing, fence posts, installation instructions, & required hardware

Made:

Rigid vinyl construction

Features:

UV protected

View On Amazon

Sentry Safety Pool Fence See-Thru Pool Fence

Price:

$$

Size:

4′ Tall 12′ Long

Include:

5 rust proof poles, deck sleeves, deck caps, hook & eye, and an installation template

Made:

Stainless steel core, a PVC insert, and a powder-coated finished aluminum

Features:

Rust-proof with its three-layer design

View On Amazon
Best Pool Fence Reviews – (Newest Models)
We shall start by listing reviews of some quality pool fences in case you want to have a look at chosen products. We aim to make you as informed as possible; therefore, we will be honest and objective when describing the units. Note that they are not put in any particular order, which leaves the last say to you.
1. Life Saver Pool Fence Kit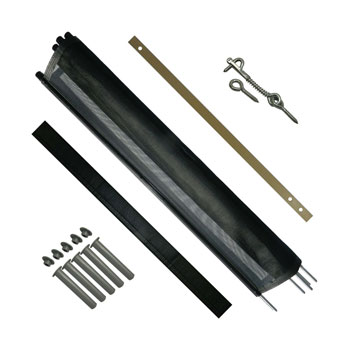 Life Saver is the company that has designed the first product on our list. Their pool fence kit comes with the hardware necessary for installation. The other instruments you will need are a ½ inches minimum rotary hammer drill and a standard long shaft masonry bit. Unfortunately, the kit does not include the hardware you would use to attach the fence to a wall or another existing fence.
The construction consists of 5 poles per 12 feet, which need to be drilled in a concrete surface. It is not advisable to drill it to the ground because the fence would need strong support that only a cemented surface could provide. The installation process itself is relatively easy and straightforward, thanks to the clear instructions. If you want to remove the fence, you could add a couple of drops of oil to help it out.
This product does an excellent job of keeping children away from the pool. However, since the material is simple nylon mesh, a dog would be able to chew it and get through it. The manufacturer does not include a gate.
Pros:
Quality hardware
Clear instructions
Successfully prevents children's access to the pool.
Easy to remove.
Cons:
No self-latching door.
No hardware to attach to a wall or an existing fence
2. WaterWarden WWF200 Pool Fence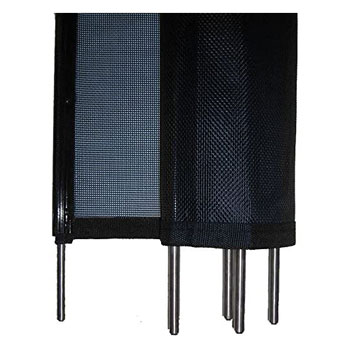 For our next review, we will look at one of WaterWarden's Pool Fences. To begin with, we would need to inform you that the product does not include the drill guide or the safety gate. However, you will receive the hardware required for the installation.
Overall, it is not hard to put the construction up, but we recommend that you have somebody assisting you in holding the poles straight. You must put the poles vertically at precisely 90 degrees so that the fence can be durable and sturdy. Use a high-quality drill bit to create the holes to keep the construction tight. The same instructions matter for both cement and wood decks.
Note that the distance between the posts is not adjustable. Although the product does not include a self-latching gate, you can pop out one section when you want to access or exit the pool. A good advantage of this model is the thickness of the mesh. Overall, this fence makes for a solid construction if installed correctly, and it will keep the children away from the pool.
Pros:
Includes hardware
High-quality mesh
Easy to install, but two people would be necessary.
Cons:
The distance between the posts cannot be adjusted.
3. Giantex In-Ground Swimming Pool Fence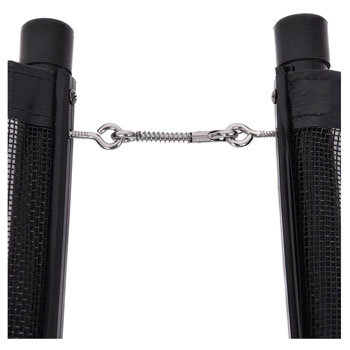 Our next pick is the Giantex In-Ground Swimming Pool Fence. What we liked about it is that it can be easily rolled up when not in use and then put back up again. The installation is easy, but the instructions, however, could be a bit clearer for reference. You would need a quality drill to make the anchor holes.
The kit includes the plastic inserts to go into the cement. Note that, once again, you would need to create cement blocks if you only have grass around your pool. Otherwise, the construction will be elastic and not sturdy enough. When the installation is performed correctly, the poles will be able to withhold encounters with storms and running children.
The poles, however, are hollow inside. Put them close enough together to prevent tipping over. The product comes in 8-ft sections, each section containing 5 posts and 4 panels. Again, no door is included. What you could do is use one of the two ends as a gate.
Pros:
Hard mesh is difficult to chew for dogs.
Durable, sturdy construction is able to withstand storms.
Easy to roll up when not used.
Cons:
No gate included
Poor installation instructions
Hollow poles
4. Sentry Safety DIY Pool Fence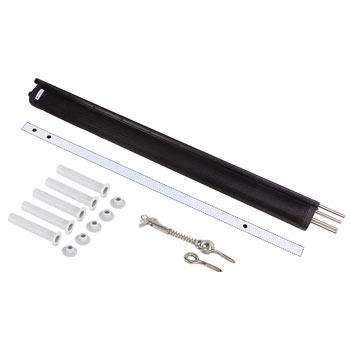 Here is the Sentry Safety DIY Pool Fence. Easy to put up without professional assistance, the product will save you money on installation. However, neither the instructions that come with the unit nor the ones on the website are clear. The lack of written instructions is inconvenient because the hole drilling needs to be precise. Depending on the surface you want to cover, you can connect two or more fence sets as long as you cut one end off to custom fit.
Note that, although the manufacturer states so in the description, the kit does not include hooks necessary to connect it to an existing fence. This type of fencing can be installed on a wood deck if done correctly. If you don't have access to the underside, you need dirt spikes that will be hammered in flush with the top of the deck and penetrate the ground at least 16inches. You can remove the screen holes from the ground and roll the screen to the side for an entry/exit access.
Pros:
Straightforward installation saves you money on a professional.
Screen holes can be rolled to the side for entry/exit access.
Cons:
Lack of instructions
No hooks included
5. GLI Pool Products Above Ground Pool Fence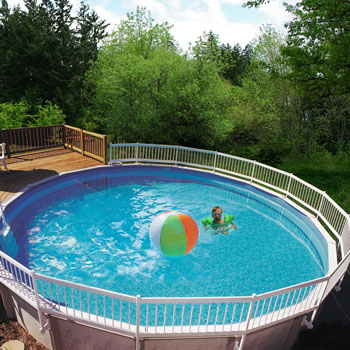 The GLI Pool Fence is substantially different from the previous models because it was specially designed for above ground pools. The fence stands a few feet above the pool, and it successfully prevents balls and floaties from flying out. It will prevent children from getting in or out, but keep in mind that the construction is slightly flimsy and very lightweight.
Thus, it is not advisable that you lean on it or push it or that you put a pool cover above it. Yet the product is durable and relatively easy to install. However, note that you would need to custom fit each section by cutting the horizontal pieces to length. Measure one part of your pool and make sure the fence section is long enough. Thanks to its versatility, the fence is compatible with different above ground pool shapes. It might be better if you used self-tapping metal sheet screws rather than the screws that come with it.
Pros:
Durable
Versatile – fits different shapes.
Easy to install.
Keeps objects inside the pool.
Finishes the look of the pool.
Cons:
Lightweight and flimsy
Measuring and cutting each section takes time.
Cannot put a pool cover above it.
6. Sentry Safety Pool Fence See-Thru Pool Fence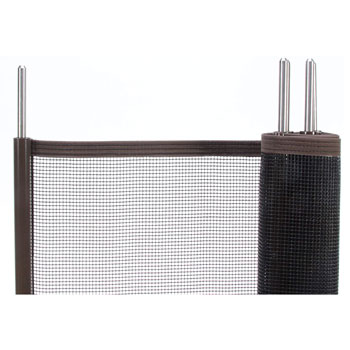 Now we will review the Sentry Safety See-Thru Pool Fence. As with the previous products, this one is designed to be used either on concrete, thick pavers, or a modified wood deck. If you want, you could put a small section of it through dirt or grass, but the majority of it still needs to be installed in something substantial.
The holes are fixed, but you can cut the mesh and reposition the poles with a screwdriver. Note that the installation process may take a while. Unfortunately, the instructions are not very clear. Once you get the hang of it, however, it will be easy to install the construction.
The primary advantage of this model is that you can remove it from the holes and move it to another spot. At the same time, if you drill straight holes, the poles will stay tightly enough for a child to not be able to lift them. Overall, the product is durable and sturdy, but you may notice damage on the top layer of the trim with age and sun exposure.
Pros:
Easy to remove, yet stable enough to prevent a child from push it.
Straightforward installation
Hardware included
Cons:
Takes a while to install.
Susceptible to damage.
Upsides and Downsides of Owning a Pool Fence


A pool fence could be particularly useful to families with little children who still cannot protect themselves as well as for those who own small pets. However, they could be beneficial for other purposes as well. At the same time, there are some downsides to installing a pool fence about which even the nicest pool supply manufacturer might not warn you. And so we step in to inform you of the benefits and drawbacks of this type of product before your dog chews it.
Benefits
Keeps the wild ones away – It is not only normal but also healthy for a growing child to be curious and run around. However, sometimes, parents get tired when they have to keep their eyes on the child at all times. A pool fence will prevent your little ones from getting too close to the pool when they are not being supervised. If you want to chill in the pool and let your child also have fun, you could purchase a separate top-class kiddie pool and make everybody happy.
But it keeps other objects in – Whether it is an in-ground or above the ground pool fence, the construction presents an obstacle for flying inflatable balls, frisbees, and toys. Thus, you will not need to run too far to retrieve them.
Removable when not needed – Even if you don't want to have the fence up at all times, you can easily roll it to the side and put it back up when needed. That matters for mesh fences, however.
Transparent – The mesh material is see-thru according to safety guidances so that you can see what is happening inside the pool when your kids are there. Moreover, transparency does not change the landscape too much.
Drawbacks
Fences require meticulous installation for proper safety – You will need to make sure that the poles stand straight and tightly into the ground. This will take some time for measurements, drilling, and constructing. For maximum safety, you can check out our quality pool alarms to notify you when somebody is near the pool.
Access to the pool – You could always undo the construction, but it would create too much hassle to do that every single time. Most fences do not come with a self-latching door, which means that you would need to either purchase one separately or create an opening by cutting part of the fence.
Aesthetically unpleasing – Depending on the type of fence and your preferences, the mesh might seem to you like an ugly addition to your backyard. In-ground pool fences are more visible because they need to be tall enough for children not to climb over them.
Deterioration – The mesh fabric will get damaged over time due to sun exposure and weather changes.
Is It Really That Difficult? (Installation of Pool Fences)


If you are reading this, that means that the drawbacks of pool fences have not changed your mind on purchasing. This is great because, firstly, it means that you take firm decisions, and, secondly, it shows that you are already prepared in a way for the installation process, which we will describe in this part of the guide.
As we have already mentioned, putting the construction together might take a while, but at least you know the problem is not in you if it goes on for longer than you have imagined. Our steps and tips will make you feel comfortable to turn on the music and enjoy the process as if you are constructing a lego house.
The Steps:
Locate the spots for the pole holes. It is essential to find the right places because the tension on the fence needs to be correct.
Drill the openings into the concrete paver with a proper, sturdy drill. Read the instructions of your product to find out how wide and deep the hole must be for the particular model.
Put the posts in the openings.
If the fencing requires an angle different from 90 degrees, you will have to cut the panel rail ends. This can be done using an angle grinder and cutoff wheel. The cut ends can be smoothed out using paint.
The fence will usually go all the way around the pool for maximum safety.
At the top of the sections, you will have the connectors that bring the separate pieces together. They allow you to unlatch sections if you want to take them off to gain access to the pool. This is also the way to take the entire fence off if, for whatever reason, you don't want it around the pool.
If the set comes with a gate, you will have to secure it with screws. Make sure that the gate opens away from the pool.
One aesthetic piece of advice that we can give you is that you can use the fence to attach your LED pool lights on it. Check out how to obtain and install them in our thorough guide.
Pool Fence Safety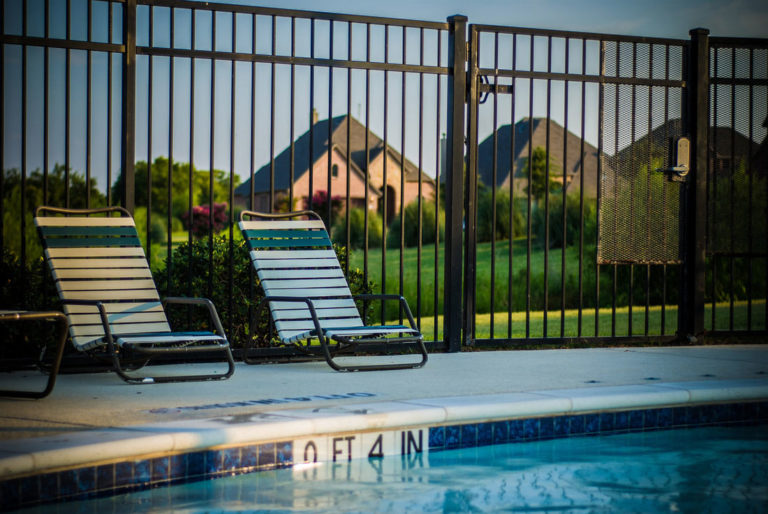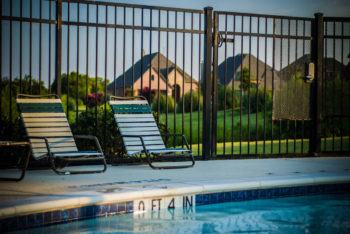 It becomes ridiculous to start talking about the safety measures you need to be cautious about when it comes to pool fencing. This type of installation serves as a safety measure in the first place, and this is its only purpose.
Nonetheless, we could not stress enough the benefits of mesh fences in particular. They differ from glass fences because they are just the right height not to allow a child to climb over them. The material gives you a view of the pool, and it does not threaten the safety of the child or pet with sharp edges.
Another smart thing to do is pair your fence with a  pool alarm and make sure your poolside is as safe as ever. See which are the top-notch pool alarms in our review article.
Q&A
Since we are at the end of our presentation, we thought you might still want to ask some commonly asked questions about pool fences. For that reason, our team went on a hunt for the spiciest questions on the web. Of course, they come to you with even tastier answers.
How Much Will a Mesh Pool Fence Cost Me?
The price of a mesh pool fence is not fixed because it depends on the size of the area you would want to cover, e.g., the size of your pool usually. Other factors, such as the number of gates, elevation, ground material, also matter a lot.
Can I Perform the Installation Myself?
As noted before, the installation of a mesh pool fence might be straightforward, but it is not a quick and easy task. The difficulty is mostly caused by the precision with which you would need to drill holes in the concrete ground and place the poles. However, you should be discouraged, only slightly more cautious and careful because there are no compromises when it comes to safety. If you are unsure, contact a professional.
Is a Mesh Pool Fence Enough to Prevent a Dog from Accessing the Pool?
A mesh pool fence is a great way to protect both your children and pets. The height of the construction is enough to prevent them from jumping or climbing over it. Nonetheless, dogs come in different sizes and behaviors. Thus, if your dog is strong or likes chewing, then the mesh might not be able to stop it from reaching the desired destination – the pool.
How Much Time Will It Take Me to Take the Fence Down?
No more than five minutes is the answer to this question. Even if your pool is huge and requires a lot of fence sections, it should still not take too long since you will only need to pull the poles up and fold the construction.
Wrap Up
We feel like we have covered the pool of ignorance with a protective fence of knowledge and information now. We hope that you have learned enough to spot the best pool fence immediately when you see it waiting for you. The purpose of our reviews of pool fences was to familiarize you with some of the brands on the market, but you have a whole world to explore, so go ahead and do it!
Let's say you are still unsure of the size of the drilling bit, or the number of posts you would need, or some other part of pool fencing you, you can always drop us an email and ask. We would make sure we are competent enough to give a satisfying answer. Spread the word, take care of your friends' kids, and forward this article to them.
Thank you for reading, and as always – stay put!