Did you know that in 1910 people in the US were the first to find a new way to cleanse pools water? And after more than 100 years, we are literally blessed with advanced technologies that allow us to use fewer chemicals and more mechanical power.
Automatic inground pool cleaners are a must these days, especially when you want to cut down your pool's upkeep expenses while saving your time and energy. This is the reason why our expert team has come up with the best pressure-side pool cleaner buying guide.
We have thought of everything that you need to know – from the pros and cons of owning such a unit to the essential features which will make your cleaning sessions labor-saving and trouble-free.
Also, make sure to read our reviews on the pressure side pool cleaner to check the most functional units on the market. We believe that after reading everything we have prepared for you here, buying a pressure side pool cleaner will no longer be caught in a predicament.
See The Quick Comparison Chart
A Pressure Side Pool Cleaner?
Yes, we know that there a plenty of manufacturers offering different types of products and ways to upkeep your in-ground pool. But let us tell you something – our team is focused on your convenience when it comes down to automatic cleaning units for your pool.
And to be in your service, we want you to get a better idea of what pressure side pool cleaners can do for you and your in-ground pool.
What Exactly Is A Pressure Side Pool Cleaner?
This is a unit for cleaning the bottom and the walls of your in-ground pools. Some products can scrub and climb, but what they are best at is picking large debris like big leaves, acorns or pebbles.
Pressure side pool cleaners have a very unique operating mechanism. They have to be connected to a booster pump or a return line. The reason for this is that this extra pump is used to provide high-pressurized water to the pressure side pool cleaner in order to move the unit.
How Does It Work?

As you may have guessed already, pressure-side cleaners need the pressure to operate. The main amount of water from the pump returning from the pool comes from the line and propels the unit. You also need to have threaded wall fittings for the unit to work.
Pressure side pool cleaners run by having a large quantity of pressurized water propel the cleaner. The skimmer should be open to collect debris on top. Then it redirects the return line pressure to the jet to force the pressure side cleaner to move in your pool's bottom.
There are pressure side pool cleaners that do not need a booster pump. However, you have to hook them in the return line of your pool system. Still, in-floor pool cleaning technologies differ, and if you do not have a dedicated return line, then you may wish to check out our best suction pool cleaner buying guide for automatic units that run off your pool pump.
Best Pressure Side Pool Cleaner Comparison Chart
PRODUCT
DETAILS

Zodiac Polaris 280 Pressure Side Pool Cleaner

Price:

$$

Dimensions:

20 x 23 x 10"

Hose Size:

31-foot

Weight:

6.2 pounds

Special Features:

Palletized in multiples of 16 units – Ready to connect

View On Amazon

PENTAIR Kreepy Krauly Letro Legend Pressure Side Pool Cleaner

Price:

$$$

Dimensions:

24 x 23.5 x 11"

Hose Size:

30-feet

Weight:

22.7 pounds

Special Features:

Large intake throat – High-capacity bag

View On Amazon

Zodiac Polaris 3900 Sport Pressure Side Pool Cleaner

Price:

$$$$

Dimensions:

24 x 11 x 24"

Hose Size:

31-foot

Weight:

10.1 pounds

Special Features:

40 GPM additional pool filtration – Enhanced chain system

View On Amazon

Zodiac F5B Polaris 280 Black Max Pressure Side Pool Cleaner

Price:

$$$

Dimensions:

9.7 x 19.6 x 24.7"

Hose Size:

31-foot

Weight:

16.3 pounds

Special Features:

Ready to be connected to your pool's booster pump – Straightforward vacuuming, sweeping and scrubbing

View On Amazon

Pentair Kreepy Krauly Racer Pressure-Side Inground Pool Cleaner

Price:

$$$$$

Dimensions:

28 x 11.5 x 22"

Hose Size:

N/A

Weight:

22.2 pounds

Special Features:

LED lights for night cleaning sessions – Front rotating brush

View On Amazon
Best Pressure Side Pool Cleaners – (Newest Models)
Getting to know our top picks means that you will get a brief, but in-depth overview of the most efficient and practical products on the market.
We have also listed their advantages and disadvantages because our team knows how important it is to be fully informed about what to expect from a unit. And there is one more thing – our experts have arranged the products below randomly.
1. Zodiac Polaris 280 Pressure Side Pool Cleaner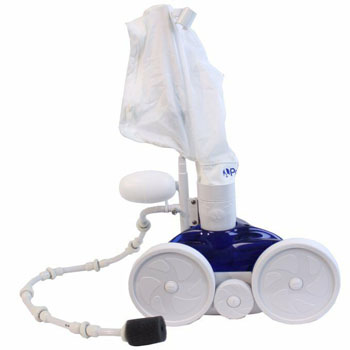 The first choice for our review selection is a well-known trademark on the market. The Zodiac Polaris 280 comes with all the needed equipment to leave your pool spotless. The package includes a 31-foot hose, a large filter bag, and a comprehensive manual.
This pressure side pool cleaner will be ready to connect to your 1.5-inch dedicated pressure cleaner line and vacuum your pool bottom in about 3 hours. However, with this unit, you really need to have the Polaris booster pump, and this will add up some extra money to your pool cleaner's expenses.
Nevertheless, this unit will move smoothly while sucking up and trapping debris. We really liked the sizeable 2.25-inch opening that allows this unit to capture big leaves, acorns or pebbles. And in case you wonder – bulky contaminants will not get stuck inside the unit. There is an in-line back-up valve which will guarantee the continuous cleaning process.
Overall, the Polaris 280 does a great job in vacuuming, sweeping and scrubbing your in-ground pool's bottom and walls.
Pros
31-foot feed hose
3-wheel design
3-hour cleaning session or less
Perfect for all in-ground pools
Cons
A bit overpriced
Not that functional for fine debris
Requires a booster pump
2. PENTAIR Kreepy Krauly Letro Legend Pressure Side Pool Cleaner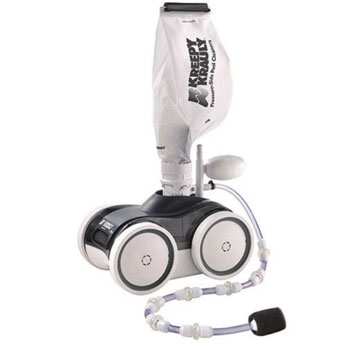 Here we have a unit intended for cleaning dark-colored pools, but we have also found out that it is perfect for hue. The PENTAIR Letro Legend comes with a 4-wheel design and some great features to ensure fast and labor-saving operation.
Thanks to the extra 4th wheel, the chances of the unit tipping over almost come down to zero. Besides, the product does a perfect job of picking large debris and leaves. And the high-capacity bag that comes with the Letro Legend cleaner will not only keep your pool's contaminants inside but will also be easy to maintain.
In addition, the 30-foot hose is sufficient to provide full coverage of the bottom. This unit is an excellent helper for any busy pool-owner. However, you will have to clean and scrub the walls and the sitting area. Also, your variable-speed pump will not supply enough pressure for this side pressure pool cleaner. And you will have to pony up for a booster pump.
Pros
4-wheel design
Large intake throat
30-feet grey hose
High-capacity bag
Cons
You need a booster pump for more pressure
Does not pick fine dirt or sand very well
3. Zodiac Polaris 3900 Sport Pressure Side Pool Cleaner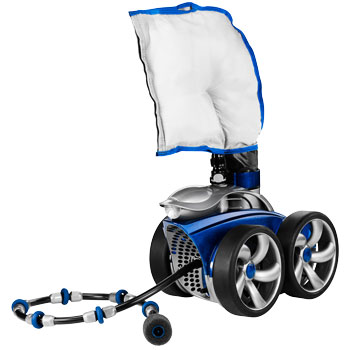 If you are looking for a more advanced unit with a better design and features, then Polaris 3900 Sport might be the right one for you.
Zodiac's product is capable of vacuuming every piece of dirt without spraying water outside of your in-ground pool. This is because the pressure side cleaner comes with an improved hose system. Moreover, the annoying debris will be blown out of y cur pool's corners.
Another feature that we liked about this product is the enhanced chain system. The manufacturer has added a chain guard to prevent the chain from derailing from the drive. This is extremely practical as it increases the twisting force of the unit. Hence, your pool will be cleaned faster and better.
Yet, we have to mention that you will have to install a booster pump for this unit. Also, as the filter bag is a bit long, it may constantly get stuck in the product's wheels. That said, the 3900 Sport will need your constant attention.
Pros
Stainless steel drive chain with a chain guard
Ideal for all in-ground pools
31-foot hose kit
40 GPM additional pool filtration
Cons
Filter bag tends to get stuck in the wheels
Stays mainly in the deep end of the pool
4. Zodiac F5B Polaris 280 Black Max Pressure Side Pool Cleaner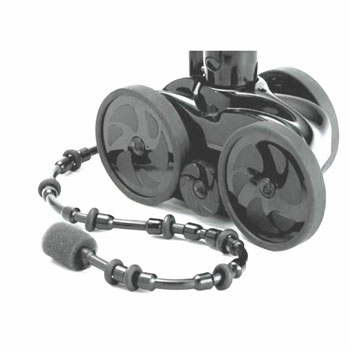 You may have already noticed that we have included another Polaris 280 in our list. But this time we will review the 280 Black Max. Although it may look the same as its blue counterpart, some characteristics make it different.
This Black Max comes with a sleek black design and black tires. In case you are wondering why we mention colors so much, let us tell you that black tires are less likely to leave scuff marks on your pool. Apart from that, the black cleaner will blend with your dark-colored in-ground pool, which is totally classy.
The appearance of this unit simply adds up to its performance. We can assure you that this product sweeps, scrubs, and sucks up debris quite expertly. And the cleaning process will be over for less than 3 hours.
You should be careful, though, if the water in your pool is salty. Some of the unit's parts can start fading away due to the degradation.
Pros
Black tires
Comes ready to be connected to your pool's booster pump
Better appearance
Straightforward vacuuming, sweeping and scrubbing
Cons
Not appropriate for in-ground pools with salty water
Cannot free itself when stuck
5. Pentair Kreepy Krauly Racer Pressure-Side Inground Pool Cleaner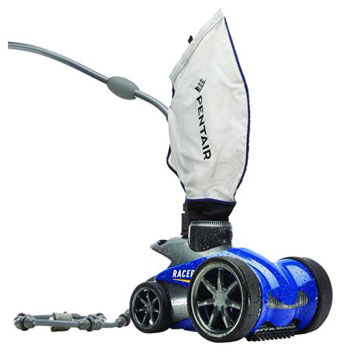 The last product in our pressure side cleaner review list comes from Pentair once again. The Kreepy Krauly series have really quality products and this Racer surely worths its place here.
It comes with a convenient feature that will make possible cleaning your pool in the night. There are LED lights installed in the unit which will light up your pool's surface in blue. This is very convenient as you can actually watch the cleaning process even when it is dark.
Another significant characteristic of the Racer is the rotating rubber brush. That said, your unit will easily scrub and scour the bottom as well as the walls of the pool. Moreover, finer debris will be better brushed up. Hence, if there is a sandy environment around your in-ground pool, the Pentair's unit will be a hit.
However, there are some drawbacks that we need to mention. The filter bag does keep all the debris inside. In fact, it does this so well that you will find it difficult to perfectly clean the container.
Pros
LED lights for improved night cleaning sessions
Front rotating brush
Suitable for all types of in-ground pools
40% larger intake bag
Cons
Intake bag is not easy to clean
Strut for the front wheels may break
Benefits and Drawbacks
In this section, you can read our pros and cons checklist based on pressure side pool cleaners' overall performance, maintenance, and other specifications. Our expert team has a lot to say, so you will find not only the main points to consider but also explanations. We always suggest that getting the right info for your pressure-side pool cleaners is absolutely essential.
What Makes Pressure Side Pool Cleaners A Good Choice: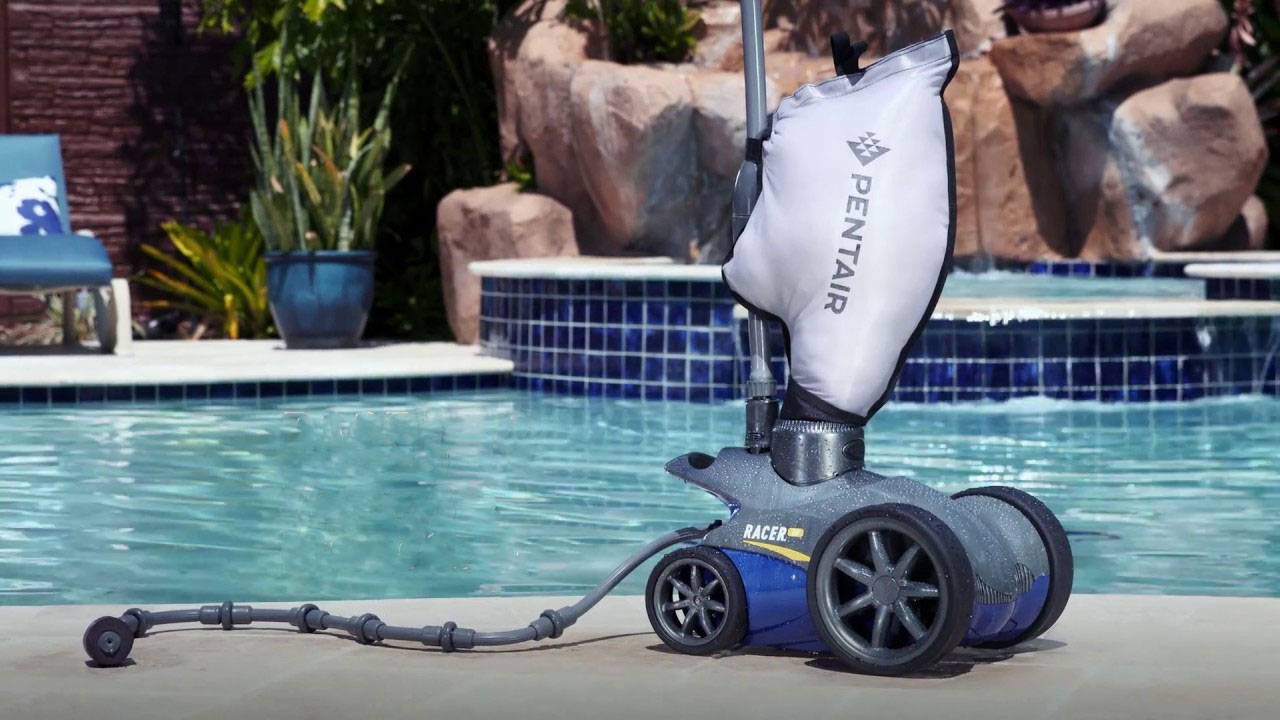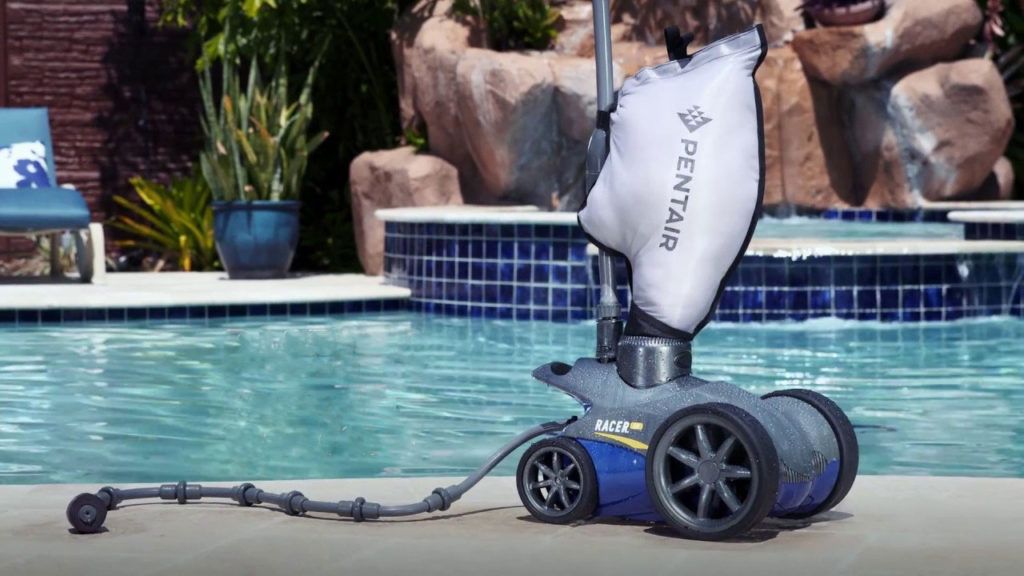 · The Unit Is Not Expensive
You will like these units' prices. They are totally not a rip-off, and moreover, such cleaners will save you money as their repair parts are also pocket-friendly.
· Can Pick Up Large Debris Effortlessly
If you have a lot of trees around your pool, you should invest in a pressure-side cleaner. It is excellent at picking up large debris. There are large openings at the bottom for vacuuming big leaves, for example. This way, your pool filter will stay clean for longer and will not need much maintenance.
· Big Filter Bags
No matter how much debris you have in your in-ground pool, such pool cleaners will not only pick it but also keep it inside their large filter bags. Therefore, you will not have to turn off and clean the pressure side cleaner every time it sucks up a handful of leaves.
· It Will Clean Fast
Most pressure side pool cleaners can remove unwanted contaminants from your pool for less than 3 hours. Of course, this depends on the size of your pool, but in any case, the time for one cleaning session will take less. Moreover, some units come with LED lights to be run during the night so that your pool is ready for an early morning swim.
· Perfect For All Types of In-ground Pools
You should not worry about these units performance – they do clean. But there is another thing you will like – pressure side cleaners can clean in all in-ground pools.
· Do Not Get Stuck in Difficult Places
Most units have a back-up valve which will ensure that the pressure side cleaner does not get lodged against the stairs, for example.
Consider the Following Before Buying:
· You Need a Booster Pump
Pressure side pool cleaners require booster pumps. That means more investments in your pool cleaning system despite the low prices of pressure side cleaners.
· Fine Debris May Stay in Your Pool
While the large openings at the bottom of these pool cleaners are perfect for large debris, they may not be useful with sand or fine dirt. In most cases, you will have to remove these small particles by hand. Or, you may wish to look for an alternative product for picking up any types of debris from your in-ground pool and check our best robotic pool vacuum cleaner.
· Not Energy Efficient
Since you need to run a booster pump to make the pressure side cleaner work, your power usage will increase. This means that every time you let the unit clean your in-ground pool, you will add up to your electricity bills.
· Cannot Be Left In The Pool All Day
The chemicals you use to purify your water can affect the pressure side pool cleaner. Chlorine tablets, for example, can break down the unit's parts since they are mainly made of plastic and rubber.
· Maintenance Is Necessary
You know well that every piece of machinery requires regular upkeep. This goes as well for the pressure side pool cleaner. You will need to check and replace the tires, wear rings on the tail and tail scrubs, too. This means that spending extra money on maintaining is something that cannot be left out.
Characteristics And Features To Look For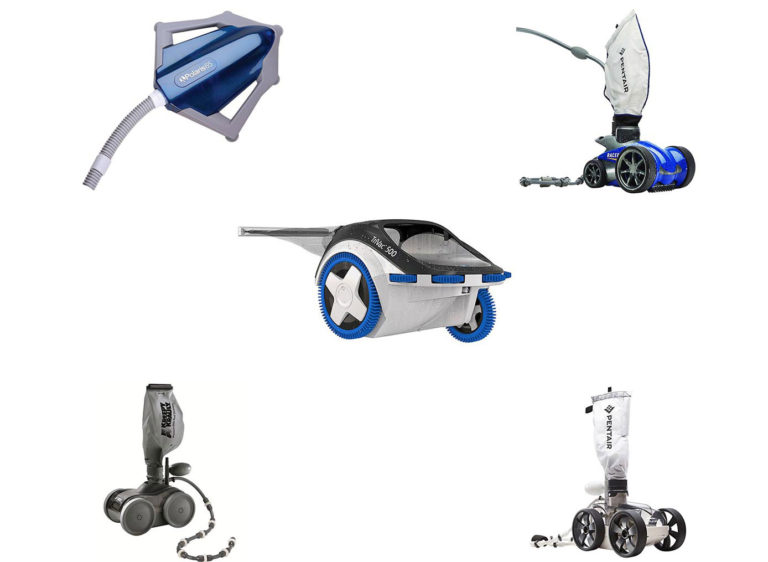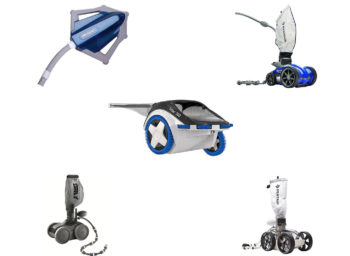 The advice you will find in this section is an essential step as it will give you a thorough explanation of the different aspects and features available in pressure-side pool cleaners. Our team has a lot of practical experience with such units, so you can trust us.
· Your Pump
Your pool pump should be able to work efficiently in order to provide the needed power for the flawless performance of your pressure-side pool unit. Also, when choosing the cleaner, make sure that it can operate with a ¾ hp pump.
· Back-Up Valve
It is really annoying to babysit a pool cleaner and ensure it does not get stuck in corners, deep ends or around the stairs of your pool. That is why we recommend picking a reliable pressure side pool cleaner which comes with an in-line back-up valve.
This feature is in the feed hose and will prevent the cleaner from getting trapped. When your automatic pressure side product is cleaning around tricky areas, the valve will often change the direction of the water flow going through the cleaner. And this is how the cleaning pattern changes which will result in avoiding possible obstacles.
Another thing to consider is the material of the in-line back-up valve. Plastic or prone to rust metal, for example, may leave you with a badly-damaged unit. If your valve breaks, then your cleaner will get stuck all the time.
· Weight
Do not forget to think about how heavy your unit is. However, the right weight of a pressure side pool cleaner can be a tricky thing. On the one hand, being lightweight is excellent since the unit will move smoothly along the bottom of your pool. Moreover, climbing the walls will be more productive and cleaning results more satisfactory.
But there is a catch – if the unit is too lightweight, the wheels may not touch the bottom. Hence, dirt and debris will stay since the suction process will not happen in the right place.
On the other hand, heavy units will move very slowly and inefficiently. The provided pressure from the booster pump will not be enough to make the cleaner move. As a result, the unit will be stuck in one place, usually in the deep ends. And this can harm your liner.
· Strong Suction
Your unit has to provide excellent suction to be efficient. This means that the pressure should be strong enough to both move the unit and suck up debris. Our team of experts recommends looking at your chosen unit's parts. Make sure they are made of reliable and robust materials that are not too heavy.
· Sweeper Tails
Sweeper tails are essential features of any model of pressure side pool cleaner. They are usually made of lightweight material like foam so that they do not harm your liner. Besides, sweeper tails are one of the features that have to be regularly checked because they wear out. And since they are responsible for picking up fine debris, maintaining them often is a must.
· Filter Bags
Investing in a spare bag for your pressure-side pool cleaner is an efficient idea. Those of you who have trees around the pool would notice the difference with 2 leaf bags. The cleaning sessions with your pressure-side pool cleaner will be faster. You will no longer waste time cleaning one bag while the cleaner is put on hold. Having an extra one in-store will let you switch the bags and continue.
· Extra Features
There are some add-ons that can really improve the performance of your unit and take all the hassle out of you.
It is a good idea to buy some hose floats and weights to modify the hose according to your needs. It should not interfere with the unit's work but at the same time, follow the cleaner around the pool. Installing floats and weights at the right places of the hose can make a huge difference to your pressure-side cleaner's performance.
The hoses that come with every pressure side pool cleaner are usually too heavy or not flexible enough. And this may lead to frequent tangling or poor turning and backing up. Moreover, if your hose is stiff, it can easily overturn the cleaner.
So, getting extra hose parts for your automatic cleaner is a good option. Just make sure that the extensions are lighter and come with thinner walls.
5 Ways about How To Clean Pool Tile
Your pressure side pool cleaner will do all the dirty job for you when it comes to picking debris, leaves, and dirt from your pool. However, the unit will not be able to scrub the stains, especially those who are left by the calcium build-up, chemicals, or hard water.
And since this is an issue for all in-ground pool owners, our team has prepared this section for you. We will give you some tips and advice based on our real-life experience in dealing with white water lines. Make sure to apply them to your pool tiles before letting your pressure-side pool cleaner do the rest.
Before You Begin

An essential step before cleaning the pool tiles is putting protective gloves. This way, you will not risk harming your skin.
Method #1: Chlorine Tablet
Take a chlorine tablet and divide it into two.
Use the sharp edges of the broken tablet to scrub the grout lines wherever algae can be located.
Wait for more than 12 hours before you scrub the chlorine with a brush.
Finally, let your pressure-side pool cleaner circulate the water and pick any debris left in the water.
Method #2: Sand Paper
Pick a sand grit that will not scratch the tiles like the 220- sand grit. It is a good option and will not damage the glossy coating of your tiles. Gently scrub the tiles until all the build-up, mildew or hard water deposit are removed. You can use sandpaper on any types of in-ground pools before you turn on your automatic pressure side cleaner.
Method#3: Pumice stone
Pumice stone is a really safe and inexpensive way to get rid of the white marks on your tiles. Also, you can buy it from literally anywhere. It is excellent for scrubbing your concrete or plaster pool. However, fiberglass and vinyl pools can be damaged by the pumice stone, so if this is your case, look at our other methods.
Method#4: Chemical solution
You can make or buy a ready-made solution for softening the calcium from the pool's tiles. Usually, these releasers are non-toxic, and therefore you will not have to drain your pool. That said, with this method, you will both easily remove the calcium, and will not have to empty your pool.
Method#5: Pressure Washer
This is a very convenient and quick way of cleaning your pool tiles. You can either buy or rent a pressure washer, but the most important thing is that your tiles do not need to be treated with any extra chemicals or detergents. And this goes for the whole cleaning procedure.
Make sure to clean the pool's water first using your pressure-side pool cleaner. Also, the area around the pool should be cleared away. If there are some floating leaves or branches on top of the water, remove them as well.
Be careful with your pool lights. While most of them can withstand the water pressure, you may end up damaging a unit or two if you aren't careful. In order to obtain the top LED pool lights, just head to our review article and see which products are good for you.
Wrap Up
Now that you have reached the end of our buying guide, we are more than certain that you will know what the best pressure side pool cleaner will be for your in-ground pool. With so much extensive information and explanations on the purpose, mechanism, and features, you will surely pick a product with low maintenance and high productivity.
As always, we are open to your feedback and would appreciate any comment left by you. If you liked the article, show it to your friends or share it online. Let us know if anything can be changed or improved. Thanks for reading and as always – stay put!