There are many things to buy when you have a pool, but don't overlook finding the best pool vacuum head to save money on overall maintenance. With proper and regular vacuuming of the swimming pool, you will prevent hard to clean algae and damage to the pool filtration system from various debris and dirt.
In our pool vacuum head review, we have collected some of the highest-rated vacuum heads. We will share our findings, the good and the bad, and help you pick the right one for your needs. Here, in no particular order, are the highest-rated eight pool vacuum head comparison picks based on our research and customer feedback.
See The Quick Comparison Chart
Types and Features of Vacuum Heads
Although the idea is generally the same for all heads, there are plenty of added features and different types that you need to consider before buying.
Size – You have to consider the size and shape of your pool. A larger pool requires a more prominent head to reduce cleaning time. However, that means it may not maneuver very well and clean steps and hard to reach places. Smaller heads are easier to work with but don't cover much ground, so cleaning takes a lot longer, especially with a bigger pool.
Shape – From round, rectangular, triangular, moon-shaped, and many more, they come in all shapes and sizes. A rectangle head is suitable for larger standard shape pools. Triangle ones are great for smaller swimming pools with odd shapes as it allows for effortless corner cleaning.
Wheels/Brush/Both – Choosing a head with a brush is a great way to cut your work in half, as you will brush while you vacuum. The drawback is that brushes don't usually last very long, and maneuvering is more complicated. Wheels are a great alternative, but you will have to brush before you start vacuuming. Best way to go is a combination of both if possible.
Weighted – There are unique heads that are designed to have good contact with the pool floor even without weights, but this is not always a guarantee. Usually, the head should be adequately weighted just enough to maintain proper suction and continuous contact.
Choosing a vacuum head to fit all your needs is very important if you want to avoid disappointment, waste of money, and time. Unfortunately, there are very cheaply made products out there, so choosing one that is durable and fits your pool size and shape is vital.
Extra features to consider: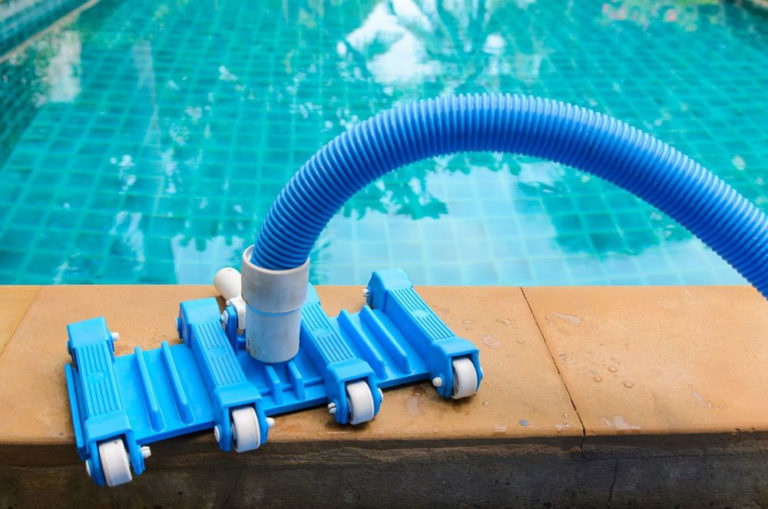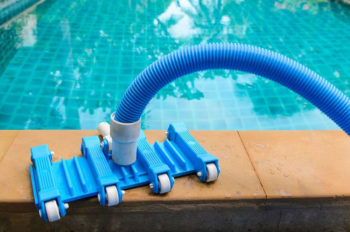 These may not be necessary but are a great plus. Each of the features adds to the ease of use and speed of cleaning.
Clear body – allows you to see what you are cleaning and make sure you pick everything up.
Flexible – some rectangular heads are of flexible plastic that allows them to form to pool curves and not lose suction.
EZ Connector – this allows for fast change of tools, so you don't waste time.
Air valves – this is a great feature that prevents too much suction that causes the head to get stuck to the pool floor.
Universal connectors – this is key if you have a universal pool pole. Also, consider the vacuum hose size.
You may not find a vacuum head that has all of these extra features, but the more, the better. They will help you spend less time cleaning and more time enjoying your pool.
How to Choose a Vacuum Head
The key to quality pool maintenance is choosing the right pool tools. They are as diverse as the pools they clean, and knowing how to choose the right vacuum head will save you time and money.
Pool Size – know your pool size and consider the shape when choosing. Large pools require bigger heads, while small ones can benefit from smaller odd shaped ones. A triangular head is usually preferred due to its exceptional ability to reach corners.
Material – to keep weight down most heads are made of plastic. We recommend choosing one manufactured of ABS high-grade plastic that can withstand the harsh chemicals and everyday use. Make sure the metal parts are stainless steel to avoid rust stains.
Quality Bristles – if you choose to purchase a vacuum head with a brush, make sure the bristles are top quality. Once the brush starts to fall out, the vacuum head becomes useless and will require replacement.
Fits Pole and Hose – before shopping check your telescopic pole and hose sizes. Nothing is more disappointing than finding the ideal product only to find out it doesn't fit your equipment.
Best Pool Vacuum Head Comparison Chart
PRODUCT
DETAILS

Milliard Flexible Pool Vacuum Head

Price:

$$$

Dimensions:

14 x 1.5 x 7.5"

Fits:

1.5" vacuum hose

Made:

ABS plastic

Weight:

3.13 pounds

View On Amazon

Swimline HydroTools Half Moon Pool Vacuum Head

Price:

$

Dimensions:

10 x 5 x 2"

Fits:

1-¼" & 1-½" hose neck

Made:

Strong Plastic

Weight:

2.01 pounds

View On Amazon

U.S. Pool Supply 12 Inch Vacuum Head

Price:

$

Dimensions:

12 x 6.2 x 3.9"

Fits:

1-1/4″ and 1-1/2″ vacuum hose

Made:

Durable flexible weighted – Nylon Bristles

Weight:

1.4 pounds

View On Amazon

Millard Sea-Thru Triangle Vacuum Head

Price:

$$

Dimensions:

13.4 x 3.9 x 13"

Fits:

1½ and 1¼ inch standard vacuum hoses

Made:

ABS plastic – Nylon bristles

Weight:

3.25 pounds

View On Amazon

Milliard Pool and Spa Vacuum Head

Price:

$$

Dimensions:

13.5 x 5 x 3"

Fits:

1.25" and 1.5" vacuum hoses

Made:

ABS plastic

Weight:

1.95 pounds

View On Amazon

U.S. Pool Supply Transparent Triangular Vacuum Head

Price:

$

Dimensions:

11.5 x 11.5 x 3.9"

Fits:

1-1/4″ and 1-1/2″ hose

Made:

Weighted vacuum head with nylon bristles

Weight:

1.85 pounds

View On Amazon

Poolmaster Deluxe Pool Vacuum

Price:

$$$

Dimensions:

2.5 x 1.25 x 1.25"

Fits:

1.25-inch and 1.5-inch vacuum hoses

Made:

Deluxe nylon bristles , Stainless-steel tension spring handle

Weight:

2.35 Pounds

View On Amazon
Best Pool Vacuum Head Reviews (Updated List)
1. Milliard Flexible Pool Vacuum Head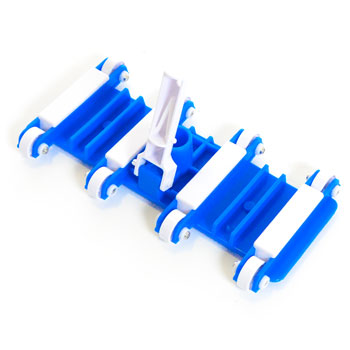 The first product on our list is also by Milliard. Their 14" Flexible Spa and Pool Vacuum Head offers broader cleaning, making it suitable for larger pools. Also, as it features wheels, it's much easier to maneuver than those with bristles. However, the lack of a brush means that you will have to first brush the pool before vacuuming.
It features adjustable and removable spring-loaded locking clips to fit all extension poles. The flexible body and wheels allow it to move along the curves of the pool floor all the while maintaining good suction to the bottom. The wheels allow for maneuverability, but still being gentle enough to prevent scratches and scrapes.
Featuring ABS plastic and quality connectors, it is made durable. The only thing to consider is it has a 1.5" vacuum hose connector, so it may not fit all standard pool vacuum hoses. Although the wheels make cleaning easier, their screws and bolts are not stainless steel, so may need to be replaced to prevent rust in the pool.
Pros
Adjustable spring-loaded locking clips to fit all telescopic poles
Maintains good suction and extra width for larger pools
Easy to use and maneuver
Cons
Fits only 1.5" vacuum hose
No brushes so brushing will be necessary before vacuuming
2. Swimline HydroTools Half Moon Pool Vacuum Head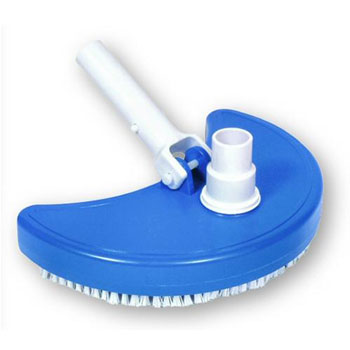 This next product is an excellent buy for the money due to its incredibly low price, yet decent quality. If you are seeking a simple pool vacuum head featuring a brush, it's a great choice. It has a 10" cleaning width, making it more suitable for smaller pools.
The head has a durable yet gentle brush. They do wear down over time, but they offer inexpensive replacement brushes. It fits all 1-1/4 and 1-1/2" vacuum hoses and the quick snap adaptor fits all standard extension poles.
The vacuum head performs well and picks up debris. It offers good suction in forwarding motion but isn't well weighted for backward. Also, you may want to strengthen the bottom screws that hold the sand for weight to prevent them from getting loose and releasing sand in your pool. The curved shape of the head offers excellent maneuverability in curved pools.
Pros
Moon shape makes cleaning curved pools easier
Good suction and control when being pushed
Replacement brushes available
Great purchase for the price
Cons
Weighted with sand that may come loose in the pool
May lose suction when being pulled
3. U.S. Pool Supply 12 Inch Vacuum Head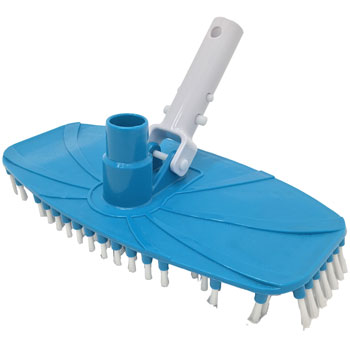 The flexible weighted 12" vacuum head by U.S. Pool Supply is a great buy for those with smaller pools. It combines brushing with great vacuum suction and flexibility. It features a very flexible head with bristles that curve with the pool surface, allowing for better suction and stress-free cleaning.
The EZ clip handle is a great addition that makes changing the pool tool fast and simple. It fits all 1" to 1.25" standard telescopic poles and has a 1.5" and 1.25" vacuum hose fitting. The durable nylon bristles are great for combining brushing. Most importantly, they don't start to fall out after several uses as we've seen in many other models.
With better surface contact, flexibility, secure attachment, and durable materials, this is an excellent choice for anyone with a smaller sized pool. Unfortunately, due to its 12" cleaning surface, it may take too long to clean larger pools. The benefit is that due to its flexibility and small size, it does a great job not only on floors, but also walls, steps, and corners.
Pros
Very lightweight for easy cleaning, but still weighted enough to maintain surface contact
EZ clip handle for fast and simple attachment/detachment
Great suction and flexibility
Cons
Doesn't maneuver on pebble-finished pool surfaces
Suitable for smaller sized pools
4. Millard Sea-Thru Triangle Vacuum Head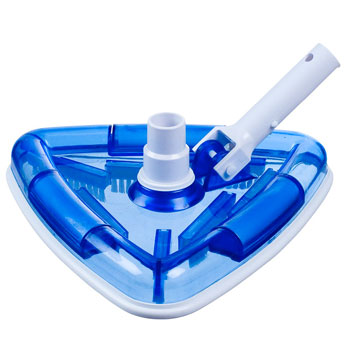 The next product on our list is an excellent inexpensive investment if you have a smaller pool and want to do the maintenance yourself. Featuring 11" full cleaning surface on three sides and vinyl bristles specially positioned for quality cleaning, this little brush is a great choice. It fits a 1.25" and 1.5" vacuum ports and all standard telescopic poles.
The spring-loaded locking clips make attaching the brush quick and easy. While the added weights offer quality suctioning to the pool floor, it can be a problem at depth. This is great for shallower pools or spas. It could be a problem if used in deeper pools as it's challenging to pull away from the floor.
The nylon bristles combined with rubber bumpers on the side make this an excellent option for vinyl lined pools as well. Constructed of see-through ABS plastic, this little vacuum is resistant to pool chemicals and durable even with regular use.
Pros
Suitable for small pools and spas
Lightweight and easy to use
Quality locking clips for easy attachment/detachment
Cons
Bristles come loose if used for heavy scrubbing
Challenging to maneuver in deeper pools
5. Milliard Pool and Spa Vacuum Head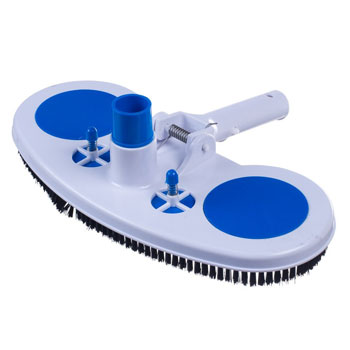 Milliard is known for its quality pool maintenance products, but it's always a hit and miss when it comes to people's needs. This particular product is a great inexpensive option, but you do get what you pay for. Its main feature, the air-relief valves, is what sets it aside from the rest, but design-wise it could have been better.
Designed to be delicate enough on vinyl pool lining, yet durable enough for regular cleaning, this vacuum head does a decent job. It offers a 13.5" broad face, making it suitable for midsize pools. Although weighted, it doesn't seem to perform very well in deeper water. The ABS plastic structure is durable and features spring-loaded locking clips.
The air-relief valves help prevent added stress on your filter pumps and will reduce pulling on pool lining. The nylon bristles are durable and will not fall out, but due to their length, they may push debris around rather than draw them into the vacuum. You may have to lift the vacuum head slightly to pick them up.
Pros
Air-relief valves prevent stress on the pump
Durable bristles that won't fall out
Suitable for shallower pools
Cons
Not weighted enough to maintain suction in deep pools
No rubber lining on sides
6. U.S. Pool Supply Transparent Triangular Vacuum Head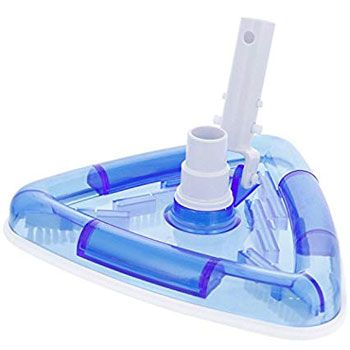 Our sixth product is also from U.S. Pool Supply and is also designed for smaller pools due to its size. It is a weighted vacuum head with nylon bristles for added scrubbing power. The features that make it unique are its see-through body and triangular shape. You can see what you are cleaning, while the form is superb for cleaning corners.
The EZ clip handle makes attaching and removing the tool very fast. It fits most standard telescopic poles. This vacuum head has a swivel hose connector that fits either 1.25" or 1.5" vacuum hose. This product is very lightweight, thus not causing arm fatigue. However, this also means that it doesn't do well with suction, as it doesn't maintain good surface contact.
The head is suitable for all pool types, including those with delicate surfaces. The bristles are well-positioned to guide debris to the vacuum. However, if you use a lot of pressure for scrubbing, they may deform or fall out over time, causing it to stick to the surface.
Pros
The triangular shape makes it perfect for cleaning corners
The transparent body allows you to observe what you are vacuuming up
EZ clip handle makes attaching and dethatching tool easy
Cons
Brushes may get damaged or fall out if excessive force is used for brushing
More suitable for smaller pools due to size and weight
7. Poolmaster Deluxe Pool Vacuum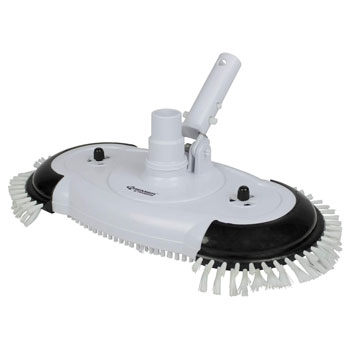 The next product on our list is the Poolmaster Deluxe Pool Vacuum that features nylon bristles along its underside and perimeter. This allows it to reach every corner and crevice of your pool for easy and fast cleaning. The stainless steel tension spring handle helps keep it in full contact with the surface without added weights.
To stop it from getting stuck to the bottom of the pool and help ease of movement, it features two air relief valves. This maintains suction strength all the while preventing arm strain. The swivel function hose adaptor is an added feature that some love, while others have found it needs some time to get used to.
This pool vacuum fits all 1.25" and 1.5" hoses and most standard telescopic pool poles. At 16", it offers plenty of cleaning power for both small and large pools. Although it is marketed for vinyl lined pools, check it over for sharp edges and be careful when scrubbing corners as there have been complaints of rips. We would recommend it for more durable pool linking just in case.
Pros
Nylon bristles not only on the underside but along the perimeter of the vacuum
Two air relief valves prevent too much suction that prevents movement
Good balance and weight
Cons
May have sharp edges that may damage the vinyl lining
Swivel head takes getting used to
8. Milliard Flexible Pool and Spa Vacuum

Head with Ball Bearing Urethane Wheels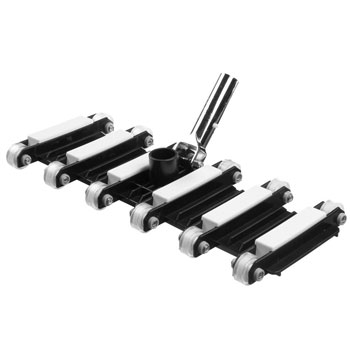 This is a superb product for those looking to vacuum their pool faster due to the bigger head. Although more expensive than most of the other products on our list, you do get higher quality. The extra-wide 19" vacuum area allows you to cover more ground faster.
It doesn't feature a brush, which would have been nice, but it does offer added cleaning power. It is constructed of durable and flexible ABS plastic that bends with the curves of the pool floor, offering more suction. The free-rolling urethane wheels make it easy to maneuver, but prevent scrapes and scratches even on delicate surfaces. We only recommend you tighten them thoroughly before use.
The vacuum brush fits most standard telescopic pool poles via spring-loaded locking clips. It mounts on 1.5" vacuum connectors, so make sure you keep this in mind before purchasing. Although more expensive, it is a product made to last and worth every penny.
Pros
Quality made of high-grade materials
Easy to maneuver while covering more ground
Well-weighted to easily keep it on bottom of the pool while cleaning
Cons
Must tighten wheels before using to prevent them from falling off
No brush
Although these are the most popular products on the market, they are still very different from one another. Continue reading to see which one would be best for you based on your pool size, shape, and type.
However, if you feel that perhaps a pool vacuum head won't be enough, you may want to consider taking a look at the top robotic pool vacuum cleaner options we've put together. There no faster or easier everyday maintenance than with a quality robotic cleaner.
Benefits and Drawbacks of Buying a Vacuum Head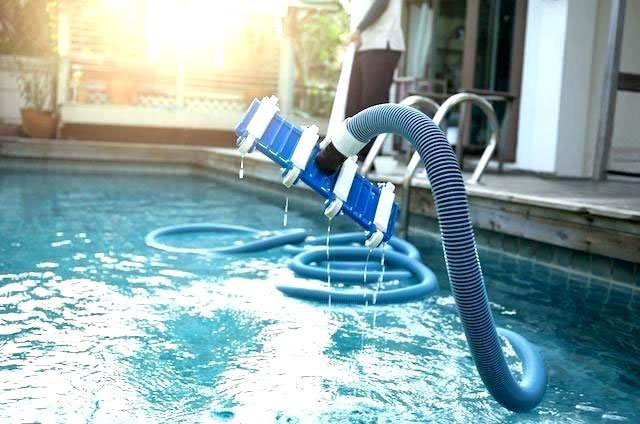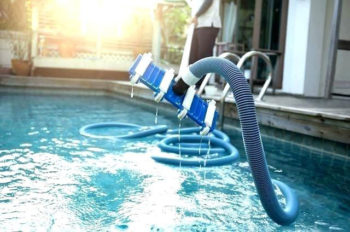 Anyone who's giving you pool maintenance tips will tell you that a vacuum head is essential to have in your tool arsenal. Otherwise, you will have to pay a professional to come and keep your pool clean and safe, and that does add up over time. Using a vacuum head, as well as all the other simple pool maintenance tools, isn't as time-consuming or difficult as many might think.
It is an inexpensive way to keep algae, dirt, and buildup in check. If you regularly brush and vacuum your pool, you will most likely require fewer chemicals to keep it clean and safe. If you choose the right one, you will be surprised how quickly and easily you can get the job done.
The only drawbacks come from the fact that it does require work from your side. You will have to set time aside to brush and vacuum. Finding the best one may take some trial and error, but when you do, you'll know you've made the right choice.
Another thing to remember is that to use the vacuum head you have to have a telescopic pool pole and pool vacuum hose. If you don't have everything needed may want to also read our top telescopic pool cleaning pole review and guide to find one that fits all your pool tools.
Installation of your New Pool Vacuum Head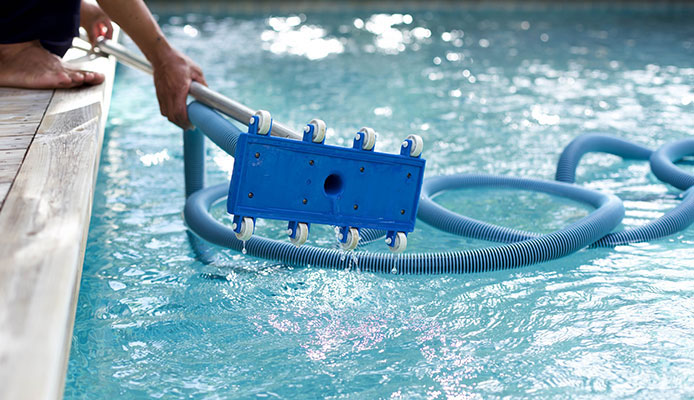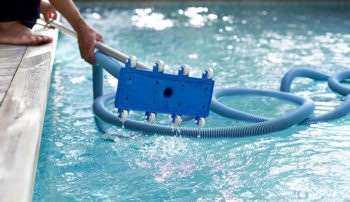 Many people seem to be confused in regards to the use and connection of their pool vacuum head. Among the most common questions is if it can be connected to a regular hose and vacuum. Though there are such tools available, this isn't one of them. It requires a pool pump and filter, vacuum hose long enough to reach, and telescopic pole to work.
Installation is simple:
Ensure the pump and filter are working
Attach head to the telescopic pole
Place in pool flat on the floor
Put hose against return jet to drive air out of it
Attach vacuum plate and place on skimmer creating a good seal
If no vacuum plate place hose in skimmer
Before doing any cleaning, it's good to always start by purifying your pool water thoroughly. Read our top pool salt chlorinator systems guide to help you find one to help you get this task done easily and quickly.
Proper Vacuum Head Maintenance
Even the highest quality tools can be worn out quickly without the appropriate care. Once you are done, it's essential to take the proper maintenance steps.
Drain water from the vacuum hose
Wash filter canister of all debris
Rinse the vacuum head with fresh water
Remove any debris stuck in brush or wheels
Store out of the sun to prevent sun damage
Knowing how to vacuum your swimming pool and how often will prevent algae buildup, prevent damage to your filter and pump, and help reduce the use of chemicals.
Here are some tips to remember:
Use your vacuum once a week or anytime you see debris building up
Test water quality after vacuuming
If the head has a brush toss it if bristles start falling out
Work slowly to avoid stirring accumulated debris
Safely Using a Vacuum Head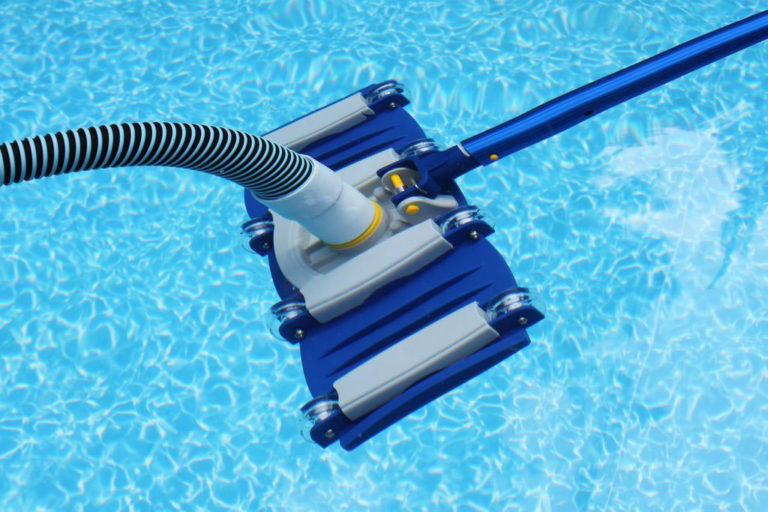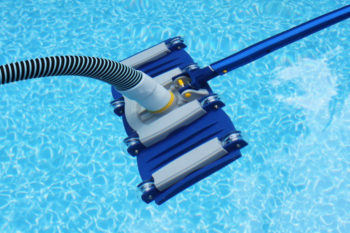 When it comes to all pool maintenance, proper safety is critical. Whether working with chemicals to clean the pool, skimming for leaves, or using the vacuum, you need to take care to follow instructions carefully.
Always when around the pool, keep in mind that it is wet and slippery. When choosing a telescopic pool pole ensure that it is long enough when extended to reach the depth and at least center of the pool. You don't want to overreach while cleaning. You may lose your balance, slip, and fall. This can be dangerous if you are unprepared.
If you see rust, falling bristles from brushes, or cracks on pool tools, it's always better to buy new rather than trying to squeeze what little life may be left in them. Damaged and broken pool maintenance tools can be dangerous.
Finally, as always, never allow children to play with pool maintenance tools. If they are taking on the chore, always do it with adult supervision. Chances of falling in the pool unexpectedly increase while cleaning the pool due to loss of balance or overreaching.
Wrap Up
When it comes to cleaning your pool, you need to have the best pool vacuum head to suit your pool size, shape, and overall needs. With regular vacuuming of the swimming pool and proper maintenance, you can reduce algae buildup and control debris and dirt pile up on the floor of your pool.
We hope our pool vacuum head review has been helpful and has shined some light as to how to select the ideal tool for your pool maintenance. We do our best to do the research, so you don't waste time fishing through the many products and endless information out there.
Please share your thoughts, questions, and feedback in the comments below. We look forward to hearing from you! Thanks for reading and as always – stay put!