As you may know, an above ground pool is a perfect choice for those who want a pool in their backyard, but don't want to spend a lot of money to make it.
This is because above ground pools come with the same benefits as a full-sized pool – naturally, the former type doesn't involve any construction costs. On the other hand, an above ground pool also implies that you have to buy a pool liner.
A pool liner provides the pool with appearance, shape, as well as the ability to retain water effectively. Therefore, it goes without saying that you need to consider the best above ground pool liners.
This is why, in today's article, we'll tell you everything you need to know about pool liners. We'll start with a couple of above ground pool liners reviews, after which we'll dive even further into the world of this particular item!
See The Quick Comparison Chart
Types of Liner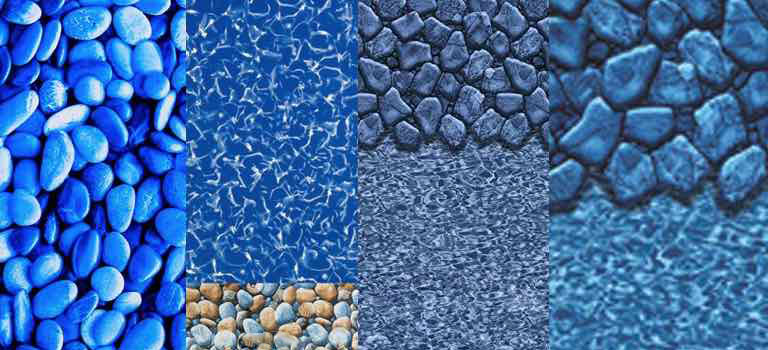 Above ground pool liners come in four different types – beaded, j-hook, overlap, and universal bead liner. Naturally, if you have the best above ground pool out there, you will want to purchase the best liner type for it as well.
Beaded liners represent the most common type. They use a bead located on the edge of the liner that fits into a slot on the pool. This also makes beaded liners the easiest to install.
J-hook liners sit over the edge of your pool. They use a dense rubber fold in order to hang over the edge. Just as the previous type, j-hook liners are also very easy to install.
Overlap liners are reportedly very affordable but can be difficult to install if you lack the required experience. The edges of the vinyl layer are rested over the pool's wall and make use of clips to hold the liner in place.
Universal bead liners are, in general, shaped like a j-hook. Thus, you can install it just like one if it suits your pool. On the other hand, they can also be installed as a beaded liner, making them fit for those who plan to change their pool and don't want to replace their liner too.
Features You Should be Looking For
Here are some features you might want your above ground pool liner to have:
Hand-folded liner – this means that the pool liner will have fewer wrinkles when you unfold it.
Quality material – for this, we recommend virgin vinyl pool liners instead of those made from recycled vinyl.
Strong seams – a double-welded seam liner will be more durable than a single-welded one, obviously. Moreover, the liners that come with overlapping edges on their seams are reportedly much better than the seams with joined edges.
Technology that reduces damage from pool chemicals and UV rays is also something that you should be looking for in a pool liner. However, you may not need such technology if you purchase one of the best above ground pool covers and clean your pool regularly.
Best Above Ground Pool Liners Comparison Chart
PRODUCT
DETAILS

Smartline Solid Blue Round Liner

Price:

$$$

Size:

24-Foot

Gauge:

20

Color:

12 Options

Material:

Acrylic top coat layer, 100% virgin vinyl base 

View On Amazon

Blue Sparkle Vinyl Liner

Price:

$

Size:

4 foot x 2 foot

Gauge:

Quite thin

Color:

Blue

Material:

Vinyl

View On Amazon

Smartline Sunlight Round Liner

Price:

$$$

Size:

18 Foot

Gauge:

20

Color:

12 Options

Material:

Acrylic top coat layer, 100% virgin vinyl base

View On Amazon

Swimline Swirl Bottom Liner

Price:

$$

Size:

12 Foot

Gauge:

20

Color:

Blue

Material:

Vinyl

View On Amazon

Harris Round Overlap Pool Liner

Price:

$$$$

Size:

15 Foot

Gauge:

25

Color:

Blue

Material:

100% virgin vinyl

View On Amazon
Best Above Ground Pool Liners – (Newest Models)
1. Smartline Solid Blue Round Liner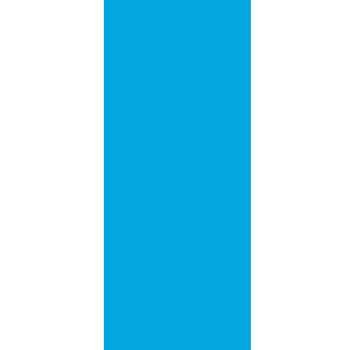 This liner from Smartline comes in a pleasing blue color, making it perfect for those who want to refresh the look of their pool. The liner is made in North America and features an affordable price, as well as high-quality materials.
Moreover, excess wrinkling and creasing are prevented due to the liner being hand folded.
The product is also very easy to install. All you have to do is drape the overlap liners over the pool's walls. When the bottom seam is near the cover, the Solid Blue liner is ready to be secured.
This particular liner is held in place via coping strips that have to be secured before the top rails are put into the pool. On top of that, this liner doesn't require you to use any bead receivers.
The item is ideal for flat bottom pools with wall heights of 48 to 52 inches. The high-quality materials we have mentioned above make the liner resistant to abrasion, UV fading, as well as chemicals.
Pros
20-year limited warranty
High-quality materials
Easy to install
No bead receivers needed
Resistant to UV fading
Reportedly, it is highly durable
Cons
The liner's dimensions may be different than advertised.
2. Blue Sparkle Vinyl Liner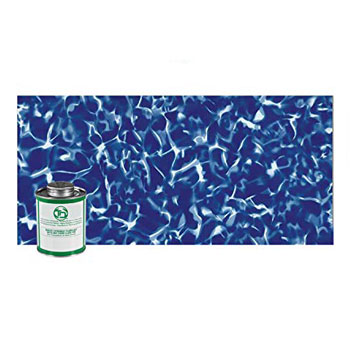 The second entry on our list is more of a liner repair kit, in case you want to restore the look of your liner but don't want to buy a new one. This kit comes in a 4 by 2 feet size and with a 4oz can of adhesive.
The adhesive is type HH-66, which is the best thing you can use when repairing pool liners. However, depending on the issue that you may want to fix, 4oz might not be enough.
Moreover, the repair kit can be used underwater as well. Therefore, you won't have to remove the entire liner in order to fix a very small hole. You just have to dive a bit underwater, place the adhesive on the vinyl liner, and then start the repair job.
Furthermore, the repair kit is also designed to fit most pool liners, as its sides are printed differently – the kit is fully reversible. One side comes in printed blue and the other one is very light blue.
Pros
Strong adhesive which dries quickly
The adhesive does not damage vinyl
The vinyl liner comes with adequate thickness – 0.015
Cons
The 4oz Can might not be enough
The thin gauge makes adhesive application difficult.
3. Smartline Sunlight Round Liner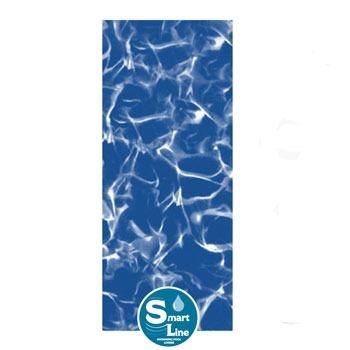 Yet another entry from Smartline, this pool liner comes in a 20-gauge material type, with the same durability and affordability. The pattern of this product is, as advertised, sunlight. It mimics water under the sun rays, thus being able to give the impression that your pool is glistening in the sun, no matter the weather.
The material this product is made of is hand-folded, a technique that prevents excess wrinkling, as well as permanent creasing. On top of that, the liner is easy to install. Just drape the overlap liner over the pool's walls and, when its bottom seam is close to the cove, secure the liner.
Just as with our previous Smartline product, this one doesn't require bead receivers. Keep in mind that this type of liner is designed for pools with a flat bottom and which have a wall height of up to 54 inches.
Pros
Easy to install
High-quality material
Highly durable and resistant
Resistant to abrasion, UV fading, and chemicals
20-year limited warranty
100% virgin vinyl base
Cons
Reportedly, the material is thinner than most customers had expected.
May come in a different gauge.
4. Swimline Swirl Bottom Liner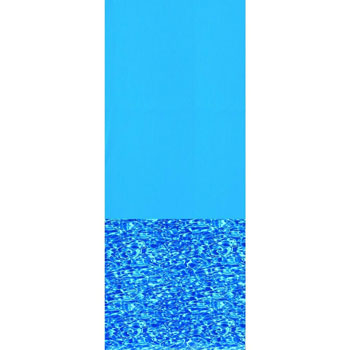 Next, we have the Swirl Bottom Liner from Swimline, which is made of standard gauge vinyl. Even if it's standard, the material is reportedly very durable and resistant.
On top of that, its durability is increased due to the double-welded seams it features. This aspect of the pool liner makes cracks and rips almost impossible to happen. As most above ground pool liners, this product will fit a 42 up to 52 inches sidewall and a 12-feet round pool.
It features a vibrant swirl bottom design and is accompanied by a 15-year warranty.
Customers have praised the easy installation of this product, some of them claiming that they didn't even need any help with the process. Some also stated that it is thick enough for a pool liner, making it even harder for holes to appear in it.
Pros
15-year warranty
20-gauge standard vinyl
Double-welded seams – the liner is resistant even during winter
Thick vinyl
Cons
It comes in a solid color, unlike most pool liners
You cannot return it after installation – so, make sure to check for any faulty parts before installing the liner.
5. Harris Round Overlap Pool Liner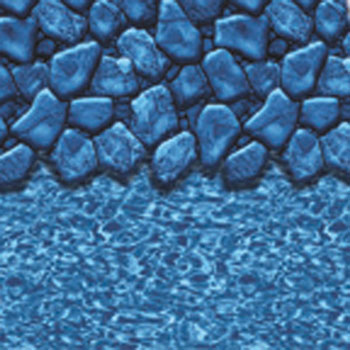 This product from Harris comes with a 25-year warranty, making it a solid investment. The 25-gauge liner is designed for pools with walls between 48 and 52 inches.
Moreover, this liner is made with superior cold crack resistance in mind, meaning that it's very unlikely for the material to wrinkle or crack, even in cold weather. On top of that, the product features double-welded seams, which increase the liner's durability and strength.
As most pool liners, this one is very easy to install as well. The vinyl material is it made of is reportedly premium quality, which will provide protection against dependable use and UV rays.
The pool liner features a pleasant blue pebble design, making it fit for any pool out there. As always, keep in mind to properly measure your pool before ordering a liner!
Pros
Overlap liner
25-year warranty on the 25-gauge vinyl liners
Cold crack resistance
Double-welded seams
Easy to install
Highly resistant to rips and durable
Cons
The liner's design is too dark, making most pool owners clean their pool regularly – otherwise, the liner makes it obvious that the pool is dirty.
The Benefits of Using a Pool Liner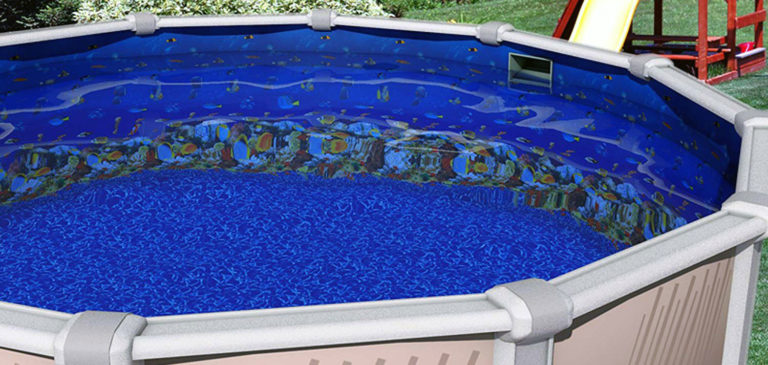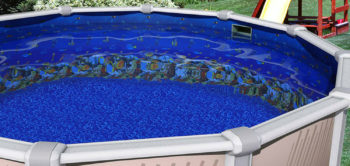 As expected, above ground pool liners come with benefits that you can't experience with fiberglass or concrete pools. On top of that, most people claim that a vinyl pool liner will make your life much easier if you are a busy homeowner.
Therefore, let's take a look at the benefits that you can experience with an one of the best above ground pool liners!
Due to the fact that they are vacuumed into the pool structure, you can achieve the best fit and finish for your pool.
A plethora of patterns and designs you can choose from – you can make your above ground pool truly unique.
Most products are designed to last more than 12 years and some companies even offer you a 25-year limited warranty on the liner.
Modern liners come with much thicker vinyl, as well as UV protection, making the material more durable and resistant.
If the initial product gets damaged over time, you don't have to replace it entirely. You can just patch it with another piece of original material – this makes for an invisible repair.
The Drawbacks of Using a Pool Liner
Obviously, as every product on earth, pool liners come with disadvantages as well. The following drawbacks may not make you reconsider the purchase of a pool liner but will surely make you pay more attention when you buy one.
Replacement Costs – liners usually last for around 10 to 12 years. When this term ends, you have to replace the liner – this implies the cost associated with the new liner, as well as labor charges and possibly other expenses.
Size – if you buy the wrong size of liner, don't expect to miraculously make it fit your pool. You will have to return the product you bought and make sure that the second one can fit your pool perfectly.
Things to Consider when Buying an Above Ground Pool Liner

Choosing a pool liner is not as easy as you may think. Of course, the design is one of the most important things you'll have to consider – from a visual standpoint – but there are other essential things that you must not forget.
As you've probably noticed so far, most pool liners are made out of vinyl. This material is brought together through various techniques, which make it fit your swimming pool perfectly.
When you buy a liner, you'll have to consider its thickness. If you feel that a liner is too thin and can be punctured or torn apart easily, then settle for a thicker – even though more expensive – liner.
One thing you don't want to get wrong when buying pool liners is the measurements. Just a couple of inches off and you will definitely make the wrong purchase.
When measuring your pool, make sure to measure from inside to inside wall and not include top rails or caps. Naturally, determining if your pool has a 48, 52, or 54 inches wall height is also extremely important.
As mentioned above, liners are usually made to last around 10 to 12 years. However, there are products that come with a 25-year warranty. Why?
Well, this is because most manufacturers apply their warranty only to manufacturing defects, such as seam separation. Pool liners can get punctured quite easily, which is why brands don't want to assume responsibility for such issues.
Still, it's not recommended to buy a liner with less than 10 years of warranty.
How to Install an Above Ground Pool Liner?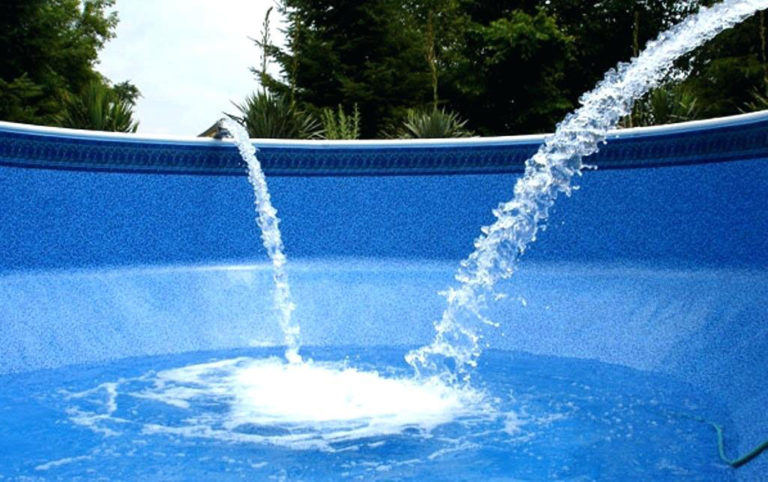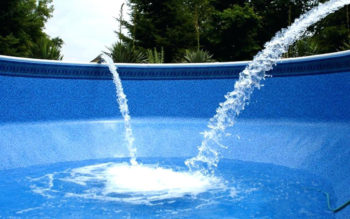 Before installing your own liner, make sure that you know what you're doing. If you don't install it properly, you'll have to call a professional that will tax you for removing the badly installed liner as well.
Drain the Pool

Naturally, in order to install such a product, your pool has to be completely empty. You can achieve this with a pump or, in extreme scenarios, with a bucket and a lot of time.

Prepare the Pool

You'll have to disconnect your pool's plumbing from the skimmers, as well as unscrew the faceplates. On top of that, you have to remove any accessories – ladders or steps.

Prepare the Floor

The sand filler within your pool will have to be smoothened out, in order to fit the liner perfectly. Make sure that the floor is properly leveled. Remove any debris from the floor and repair any holes or cracks that you may find.

Prepare the Wall

If the pool has holes from screws or bolts that were used to connect the pool panels, cover them with duct tape. Also, make sure to sand and paint over the rusty areas in order to prevent any further corrosion. Smooth the sand corners at the inside edge of the pool's bottom, to ensure that the liner has a resting place.

Install the Liner

It is recommended that you install the liner in warm weather so that the vinyl sets itself properly on the floor. The liner has to be laid inside the pool as you carefully unroll it to its length. When fitting the liner on the edges of the pool, make sure that it is roughly an inch from sitting on the pool with no sagging or bunching. Safely securing the liner depends on the type of product you have purchased.

Set the Liner

For this step, you will be using a vacuum. If you set the liner properly, you will remove any wrinkles formed during the previous step. Make sure that all the openings and returns are tightly sealed before vacuuming. The vacuum's hose is then inserted into the skimmer and you turn on the vacuum.

Fill Back the Pool

While refilling the pool, make sure to keep the vacuum running inside it until it has around 6 to 8 inches of water in it. While filling it with water, make sure that the liner doesn't wrinkle, pull, or pop off the track.

The Finishing touches
In the end, reinstall Gaskets and Face Plates.
Proper Pool Liner Maintenance
Even though a pool liner is expected to last up to 12 years, it won't be able to reach this age without you keeping it healthy, so to speak. This is why pool maintenance, as well as liner maintenance, are extremely important.
Vinyl liners are to be cleaned only with safe, soft brushes.
Your pool must not be completely emptied after you install a liner.
Chemicals are not to be dumped straight on the liner.
If you notice any algae deposits, you should brush away and remove them immediately.
Maintain a balance between the chemicals you use in your pool.
Before closing your pool, you should always clean and vacuum it.
As you can see, there are a couple of things you have to keep an eye on if you want to maintain your liner in good health. Using the proper pool ladder will also preserve the liner. Find out which are the top-notch above ground pool ladders on the market today by reading our complete guide.
Wrap Up
You should now be able to make the right choice when it comes to the best above ground pool liners, given that we have offered you all of the information that you need for a wise purchase.
If in doubt, you can always return to this article and read our above ground pool liners reviews. However, in case you have read through the lines and reached this part, keep in mind to properly measure your pool before purchasing a pool liner! If your pool is 48 inches high, then you will have to buy a liner that is designed for 48-inch pools!
Furthermore, try to care for your liner as much as you care for your pool. The pool liner has to be washed and cleaned better than the outer wall of the pool, in order to avoid the deposit of chemicals, algae, or any other unpleasant substances.