Did you ever think about the quality of the water inside your pool? As much as you'd love swimming and enjoying this relaxing activity, you should acknowledge that a pool is a medium that encourages the production of bacteria. This is why it's important to sanitize it on a regular basis. This way, you can be sure that your pool is free from harmful impurities and bacteria that may have a detrimental impact on your health and wellbeing. This is where the best pool salt water chlorinator systems come in. Why you should invest in such a unit – you might ask.
You cannot leave your health to chance. On the contrary, the sanitization of your pool is a matter of crucial importance. And a salt system that will keep the water clean will give you peace of mind. If you are not sure what unit meets your needs best, go ahead and read our pool salt water chlorinator systems reviews.
Reviews of the Pool Salt Water Chlorinator Systems 
1. Hayward Goldline AQR9 AquaRite Electronic Salt Chlorination System for In-Ground Pools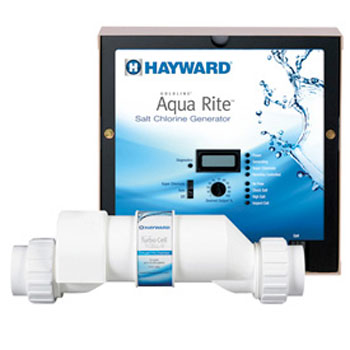 This product would be our first recommendation, as it has been highly rated by most customers that tested it. Its efficiency level is unmatched, not to mention that the installation process is straightforward and to the point.
More specifically, you also get a flow tee, a t-cell union kit, and a gauge. Basically, what you have to do is simply plug it into an outlet – normally a 120-volt outlet. Moving on to the capacity of the chlorination system, you can choose the model that is suitable for the size of your pool.
That is to say, you can choose from the 15,000-gallon model or the 40,000-gallon model. An important characteristic that makes this a worthwhile purchase would be that it contributes to saving up to 50 percent more, in comparison to conventional chlorine.
As for the distribution of chlorine, it is even. It produces roughly 1 pound of pure chlorine on a daily basis. Afterward, the system evenly distributes it throughout the pool. It is also a long-term investment, as it is made to function for at least 10,000 hours.
Pros
Makes roughly 385 pounds of free chlorine over the life of the cell.
It is cost-efficient, in comparison to using conventional chlorine
Also produces fresh water, to prevent red eyes and irritation
It is pre-wired, making the installation process easy
Cons
As pointed out by some customers, the unit necessitates thorough maintenance.
2. BLUE WORKS Pool Chlorine Generator Chlorinator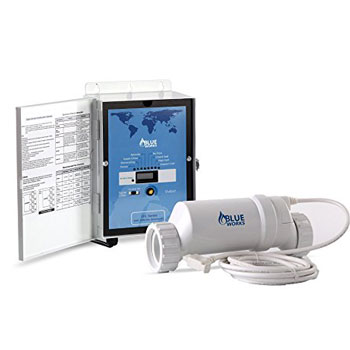 This is another product that will significantly ease your mission of sanitizing your pool. The price-quality ratio is a key attraction point especially to those of you who are on the lookout for a cost-efficient option.
The unit is recommended for pool areas of a maximum of 40,000 gallons. This usually addresses the needs of most customers.
Regarding the installation process, it is not too difficult to follow. You also have the alternative of adjusting the chlorine output, depending on your needs and preferences. Essentially, the chlorine output can be up to 2.1 pounds per day.
The installation process shouldn't cause too many problems, and you'll most likely install the unit hassle-free. Thanks to the handy salt and temperature indicators, you can be sure that you'll safeguard your equipment and extend its lifespan. You may also plug it in a 220V or 110V power outlet.
Some former clients have reported that this can be very efficient when it comes to sanitizing pools during hot weather.
Pros
Good price to quality ratio
It is easy to set up and operate
Adjustable chlorine output
Cons
The customer service support of the company isn't the most reliable one.
3. Circupool SJ-20 Complete Salt Water Chlorination System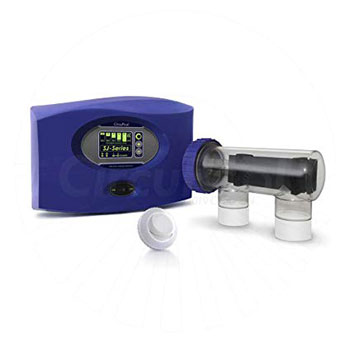 This is another product that we would describe as reliable. Basically, it balances the features you would look for in such a unit: it sanitizes and cleans the water of the pool. And most importantly, it doesn't irritate your eyes or damage your hair.
It depends on reverse polarity self-cleaning, being capable of maintaining pools up to 20,000 gallons. It also tracks the salinity level inside the water, which is just as important.
Another thing worth noting would be that thanks to the use of advanced technology, the unit uses a relatively small amount of salt. Even so, it manages to keep the water inside your pool sanitized.
Who should choose this chlorination system? If you're on the lookout for an alternative that won't negatively impact your skin and eyes, then this item might be worth considering. That's mainly because salt chlorination accounts for a more natural approach.
Pros
The unit comes with a 5-year warranty.
It does a good job at tracking the salt level inside the water.
User-friendly installation
Cons
The customer support service isn't as trustworthy as you'd expect it to be.
4. Hayward Goldline AQ-TROL-RJ AquaTrol Salt Chlorination System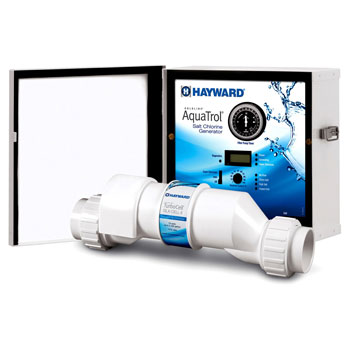 This particular system is created especially for above-ground pools, which reach up to 18,000 gallons. Not only that it has a low chlorine output, but it also comes with other great functions. In addition to that, this unit incorporates an integral time clock that enables you to regulate the pool filtration pump.
In thirty minutes or so, your chlorination system will be up and running so that you can benefit from sanitized water. At last, you won't have to worry about irritated skin or red eyes.
Instead of measuring chlorine ratios and adding chlorine tablets to your pool water, this system will do all the hard work for you. It generates just the right amount of chlorine necessary to keep the water safe. There is also a handy 24-hour timer that enables you to have the unit running even when you're not at home.
Another nice characteristic is reversing polarity. Basically, this means that the device is made to automatically clean the cell, as it reverses polarity every now and then.
There are also seven separate diagnostic indicator lights. These will inform you of the conditions of the pool. There is also a dial knob that makes it easy to regulate the timer.
Pros
Ease of installation
You can select the super chlorinate function
Return jet fitting
Cons
It requires a relatively sizeable upfront investment.
5. Circupool Universal40 Salt Chlorinator – Complete System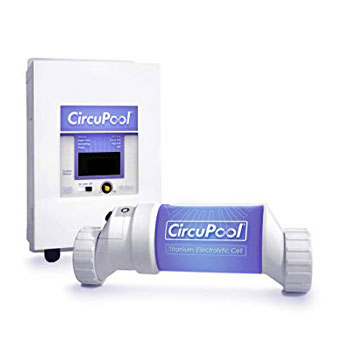 If your former chlorination system is no longer functioning, this one comes with an innovative design that makes it worthy of your attention. For one thing, this system will sanitize your pool without having to worry about burning eyes or throat, or any nasty smells for a change.
The rating of the chlorine output is of 2.0 lbs. per day. As for the salinity range of the system, it varies from 3000 to 4500 ppm. Something else that may be of major interest to you might be the lifespan of the device. More specifically, this is made to function for roughly 10,000 hours.
Another nice feature is that you can fully regulate the amount of chlorine produced by the device. That is not all: you also get reverse polarity. Thanks to the reverse polarity characteristic, the system comes with a self-cleaning function. Therefore, you don't have to concern yourself with time-consuming maintenance practices.
Pros
The device comes accompanied by many useful accessories
The warranty period is generous
It outlines current salinity levels
It is compatible with above-ground pools as well
Cons
It doesn't come with a timer, which might come off as a disadvantage to some people.
6. Hayward SAS Salt & Swim Electronic Salt Chlorination System for In-Ground Pools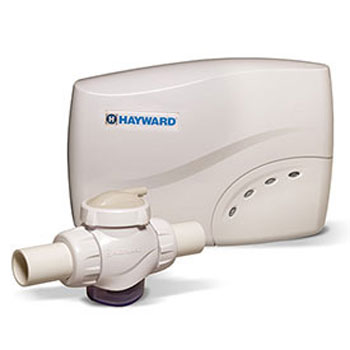 Now, let's move our attention to another salt chlorination system that has won over many people. Similar to the other systems mentioned beforehand, this also promises to thoroughly sanitize the water in your pool without irritating your eyes and skin.
The water is unbelievably soft, yet you won't have to cope with the unpleasant smell of chlorine. So, what does this do? Essentially, it transforms dissolved salt into chlorine. This significantly diminishes maintenance time, meaning that you don't have to measure tablet chlorine chemicals or anything of the sort.
One drawback would be that you need to purchase the salt cell separately. While the installation process is quite easy to follow and straightforward, you should closely follow the instructions provided by the manufacturer.
While they are useful, they could be clearer, as pointed out by some former customers. In addition, this is compatible with pools up to 30,000 gallons. The manufacturer also points out that this could also work with most spa tubs.
Pros
Easy to install
It requires little maintenance
Good price to quality ratio
Cons
You must buy the salt cell separately, which can be quite inconvenient
7. Pentair 520555 IntelliChlor IC40 Salt Chlorine Generator Cell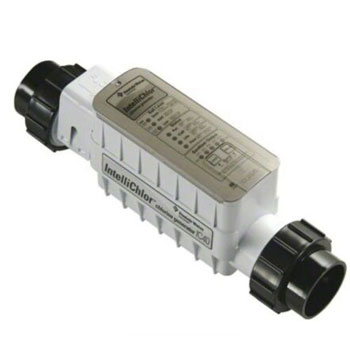 Many users claim that this is one of the very best chlorine generators. The reason you might want to invest in a chlorine generator is that it is a safe solution to keeping your pool sanitized. It is really cost-efficient, which might be its most important selling point.
In essence, it aims at recycling salt on a daily basis. This is important for increasing the longevity of the products. There is also an included button control panel that makes it easy for you to monitor and regulate the chlorine levels inside the water. The self-cleaning function comes in handy as well, as it does an excellent job at prolonging the lifespan of the generator.
There are also three individual sensors – namely a flow, a temperature sensor, and a salt sensor. Whenever the salt sensor functions, you'll get to see this thanks to the LED light indicator. You'll also get an analysis report outlining the salt level inside the water. The automatic shut-off function comes in handy as well.
But perhaps what really makes this unit shine is the diagnostic report. This has to do with the cell life tracking technology of the device. You can observe and compare important daily performance data such as chlorine output, cleaning cycle, operation time, and so on.
Pros
Excellent sanitization performance
Easy, to-the-point operation
Smart control panel and cell description
Easy installation
Cons
The unit doesn't come with a suitable adapter.
The Main Benefits of Pool Salt Water Chlorinator Systems
It is difficult to make up your mind considering that you have so many options to choose from – even when it comes to sanitizing your pool. But perhaps getting acquainted with the main pros and cons associated with salt water chlorinator systems is a good starting point. Here are some upsides.
They don't require a lot of maintenance
This, indeed, can sound very appealing. When your spare time is limited and you want to make the best use of it, a salt water chlorinator system is a godsend. Distinct from chlorinated pools, this type of system sanitizes your pool so that you can use it freely without your personal involvement.
Does this sound appealing to you? If the answer is positive, perhaps it's time you invest in such a unit. Instead of adding sanitizers to your pool to ensure that it's safe for swimming, you'll only have to conduct regular tests. These tests are usually related to the pH, alkalinity or the hardness of the water.
In addition to that, note that, typically, salt incorporates a range of sanitizers. This actually reduces the growth of algae. Therefore, it will necessitate less cleaning.
They are free from harsh chemicals
While it is true that a saltwater pool will still contain chlorine, you won't have to include other sanitizing chemicals. In addition to that, you won't have to worry about your pool emitting a strong chlorine odor that is utterly unpleasant.
On top of that, according to a 2003 study, young children who swim on a regular basis in a chlorinated pool feature a higher risk of developing asthma or lung inflammation.
More comfortable for swimmers
Considering that the chlorine levels inside the pool will be quite low, this will positively impact the comfort of the swimmers. Therefore, common symptoms such as irritated skin, red eyes, discolored hair should no longer be an issue. That has to do with the fact that saltwater is naturally healthier and softer.
Usually, the irritation that occurs after swimming in a pool occurs due to the high levels of chlorine inside the water. On that note, people with allergies or suffering from asthma might be able to swim in a pool sanitized with such a system.
Versatility is another important characteristic we could associate with salt water chlorination systems. Why is that? As you've read in our reviews, many of the units we included in our guide can be used in various types of pools.
You might even use such a unit to sanitize the water inside a Jacuzzi type pool. It might be compatible even with an Olympic sized pool. As for the installation process, it is straightforward and easy to follow.
What Are the Drawbacks of Pool Salt Water Chlorinator Systems?
Each product on the marketplace usually comes with a bunch of pros and cons. It's up for each customer to assert them and determine whether he/she is willing to make compromises in that area or not. To that end, salt water chlorinator systems make no exception. Here are some drawbacks you should think about.
It requires an upfront investment
Over the course of time, it might make sense to invest in a salt water chlorinator system. Still, initially, it entails an upfront investment. This could be inconvenient for some people.
Salt may damage certain materials
This is another important consideration. Did you know that salt could cause erosion to specific types of fixtures, heaters, or even underwater lighting?
In the case of minor problems, you'll need the assistance of a technician
Of course, you cannot completely rule out the likelihood of problems or malfunctioning. Still, even if the issue isn't that severe, you must call on a technician. So, keep this in mind prior to making a decision.
In all fairness, maintaining a clean swimming pool requires additional tools and supplies. We recommend getting a top-notch pool vacuum head so that you can take care of other pollutants in your pool. Check out our guide and reviews.
Types of Pool Salt Water Chlorinator Systems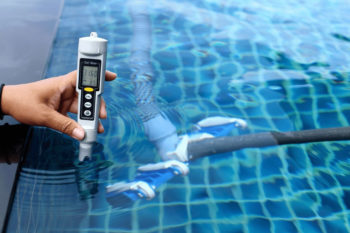 It is interesting to point out that salt water chlorine systems have been introduced in the second half of the 20th century. As you might expect, the very first units were big, bulky and noisy. Nowadays, the salt water chlorination systems we can choose from are entirely different, also in terms of efficiency and size.
The system comprises of two key parts. One of them is the control panel, which features the user interface functionality of the system and the electronics. This is basically what differentiates distinct types of salt water chlorination systems: the way in which the control panel is designed and organized.
Some of the simpler types of units will come with an on/off button, a shock/turbo button and output up/down button. On the other hand, the types of systems that could be characterized as high end allow you to control the pump. You might also choose to set up a timer, and the list could go on.
The second part of the system would be the cell. Basically, the cell comprises of three to seven blades of titanium. These blades of titanium feature a thin layer of iridium or ruthenium.
As an alternative to a salt water chlorination system, you might also consider investing in a pool water test kit. Another alternative might be getting chlorine tablets for pools. Evidently, each option might appear to be more convenient for some people, but there's no such thing as a one-size-fits-all for every user.
You can always look up for more information about pool supplies and accessories by browsing online. Considering that there are so many options to choose from, it's always a good idea to look for a supplier of pool accessories. And the Internet is a good place to start.
Standard vs. Self-Cleaning Systems
Basically, standard models necessitate the removal of the cells on a monthly basis. This is critical in order to dissolve calcium buildup. On the other hand, self-cleaning models come with a special feature, being capable of reversing their polarity. This way, they prevent calcium buildup.
Built-in pH Control Chlorinator System
There are also salt water chlorination systems that feature built-in pH control. Such a device is also meant to regulate the pH level, to ensure that it is healthy for the swimmers.
Power Backup Timer Chlorinator
Another category of chlorinator comprises of models that feature backup timers. These timers basically store a lot of important settings, in the event of a power blackout.
Thanks to this unique characteristic, you will know whether the water flows normally or not. In the event of a problem, such a system automatically switches off the pump.
Features to Look for
Stumbling across the best salt water chlorinator by chance is not possible. You have to do some research beforehand and know what to look for in your device. Otherwise, you might not be satisfied with your purchase.
This is the most important characteristic in a salt water chlorination system. Why is that? Basically, you want to invest in a unit that will stand the test of time.
Reliability is especially important considering that it will function in salty conditions, so to speak. Therefore, it has to be sturdy and well-made, so that it can withstand functioning in tough conditions as well.
The reputation of the manufacturer
The reputation of the brand from where you intend to purchase your unit is also important. It's no secret that each brand has its own values and principles. This is why it's important to always shop from brands that are known as reliable.
In this way, you can be sure that you'll get a high-quality product that provides a good price-quality ratio.
As pointed out above, one of the main advantages of investing in a salt water chlorination system is that it doesn't require a lot of maintenance. And this is obviously a good thing.
You should definitely consider this prior to choosing a specific model. Even if these units are usually made to function effortlessly without a lot of maintenance, some are easier to use than others. It's only fair.
State-of-the-art technology
The use of state-of-the-art technology will evidently impact the longevity of your device. In addition to that, the way in which it is designed matters just as much.
The truth is that maintaining your pool is a strenuous job by itself. This is why it would be nice if you wouldn't have to worry about extra maintenance tasks. As we've mentioned before, some units have an auto-clean function, which definitely comes in handy.
The auto-clean function refers to the reverse polarity function, which essentially reverses the polarity in order to clean the cell accordingly. The best part is that you don't even have to press a button or anything for this function.
Maintenance Tips: How to Maintain a Pool Salt Water Chlorinator Systems
It is critical to maintain your salt water chlorinator system adequately. In this way, you will significantly prolong its lifespan, making your financial investment worthwhile. Here are some key tips worth mentioning:
Make sure you keep the salt levels between 2700 – 3900 parts per million.
Depending on the recommendations of the manufacturer, you should clean the cells of the unit annually, at the very least. But make sure you check the instructions' manual for more specific advice that applies to your unit.
When the weather is stormy, you should switch off the chlorinator. This will reduce the risk of a power surge that will imminently affect the unit.
It's also important to maintain the calcium levels inside the pool as low as possible.
If you want to diminish the likelihood of calcium buildup in the cell, you shouldn't invest in a standard chlorinator.
If you want to decrease scale buildup on the cell, you should utilize a salt chlorinator equipped with a reverse polarity feature.
Other Differences
When it comes to chlorine salt generators, you can choose from three types of salt – namely solar salt, mined salt and mechanically evaporated salt.
Solar salt originates from seawater, and it is evaporated by the sun. This is why it is prone to have impurities such as bacteria or brine shrimp. This could impair the functioning of the salt generator, negatively affecting the salt water filter.
Meanwhile, mechanically evaporated salt derives from sea water. It might also incorporate elements that could damage the pool, but not as many.
On the other hand, mined salt is seen as the purest form of salt, since it is obtained by digging from the ground.
Safety Tips

When a unit is well-maintained, this means you'll be able to use it for many years to come. Normally, such a device can be used from three to seven years. When the time comes to replace the board or the cell, then you might spend up to $1,000, depending on the model of your unit and the part that requires replacement.
The truth is that incorrect cleaning, or even too frequent cleaning might cause issues. Due to these issues, you might have to replace a part of the device sooner than expected.
Since the circuit board is similar to any other electronic device, it is prone to get burnt. Although in some cases it might last for years without any complications whatsoever, you cannot be 100 percent certain. A key safety tip is to properly cover the electronic device when the weather is bad, more specifically during electrical storms. This is your best practice against possible early outages.
Wrap up
So, what do you think? Is it the right time to start looking for the best pool salt water chlorinator systems? This is up for you to decide. Now you know about different types of units, and what characteristics you should look for. That is not all, our pool salt water chlorinator systems reviews have introduced some of the best products on the marketplace. Since each customer has distinct needs, we cannot say that one product or another will be the right fit for you. You should assess that after reviewing the characteristics outlined.
In addition to that, make sure you factor in all the information included in our guide. One thing is for sure, investing in a salt water chlorinator is a sensible option for most people, as the advantages outweigh the disadvantages.
Thanks for reading and as always – stay put!