Pool parties, swimming and sunbathing on your favorite inflatable in your pool are among the top-of-the-line recreational activities in the summer. But this means that your in-ground pool should be squeaky clean and the water -crystal clear.
We know how annoying it is to spend lots of hours trying to catch all the debris and scrub off the algae of your pool's walls or steps. That is why we have come up with the perfect solution for you – our best robotic pool vacuum cleaner guide.
With such a pool cleaner, you will no longer have to stay by your pool fishing for leaves because this unit will do the job for you. We have also made a list of our most favorite products on the market in our robotic pool vacuum cleaner reviews.
You will find a lot of helpful information along with explanations and clarifications of automatic pool cleaners in our guide. We have thoroughly discussed the available types, hi-tech features as well as how to properly and safely maintain your pool cleaner.
See The Quick Comparison Chart
Before We Begin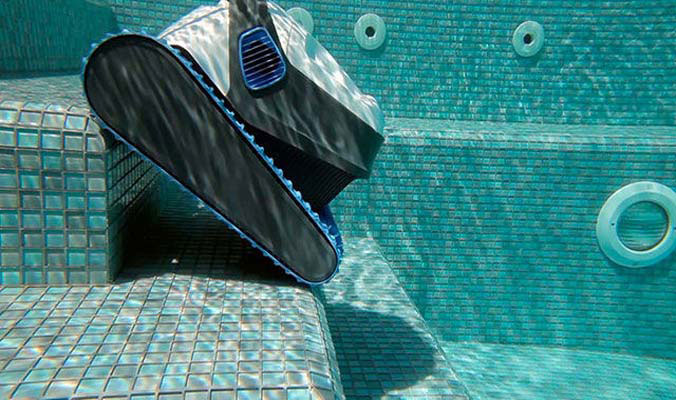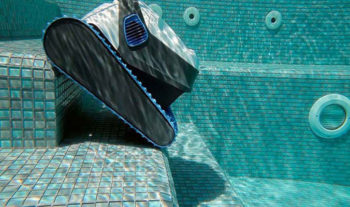 We hope that our reviews have given you an insight of what is there on the market. Although all the units are called pool cleaners, their overall cleaning ability might differ. This depends on their features, performance characteristics, and last but not least – the type and the size of your in-ground pool.
So, if you want to find which unit will be the perfect one for your needs, scroll down to learn more about types, features, maintenance, and many more. Our team of experts has dug deeper into the topic to deliver you the most comprehensive guide to picking the right automatic pool cleaner for you.
How Does a Robotic Pool Vacuum Cleaner?
A robotic pool cleaner is a device that is electrically-powered and vacuums the water along with the debris inside. This way, the dirt is trapped inside a cartridge or a container, leaving the pool water clean. Most pool cleaners come with a cord that provides the flow of electricity needed for its operation.
In-ground pool cleaners are designed to save your time from manually removing general crud. These units are also capable of filtering the water and making it algae-free. And this process is done without the need for any additional connections to other pumps, hoses, etc.
Such pool cleaning devices may also climb up the walls of your pool and even work on stairs, along rounded corners, edges, slopes and many more. Moreover, the best part is those pool cleaners are made to be easy-to-use and maintain.
Best Robotic Pool Vacuum Cleaner Comparison Chart
PRODUCT
DETAILS

Dolphin Nautilus CC Plus Automatic Robotic Pool Cleaner

Price:

$$$

Dimensions:

16 x 10 x 16"

Pool Size:

50 ft.

Cleaning Time:

2 hours

Cleaning Frequency:

Weekly Scheduler

View On Amazon

Zodiac Polaris F9550 Sport Robotic In-Ground Pool Cleaner

Price:

$$$$

Dimensions:

22 x 22 x 22"

Pool Size:

60 ft

Cleaning Time:

2 – 4 hours

Cleaning Frequency:

7 day

View On Amazon

Hayward RC9990CUB TigerShark Robotic Pool Vacuum

Price:

$$$

Dimensions:

15.5 x 16.5 x 11.5"

Pool Size:

20 x 40 feet

Cleaning Time:

90 minutes

Cleaning Frequency:

3-hour cycle once a week

View On Amazon

Pentair Kreepy Krauly Warrior Suction Side Inground Swimming Pool Cleaner.jpg

Price:

$$$

Dimensions:

19 x 23.5 x 19"

Pool Size:

40 – 50 feet

Cleaning Time:

2.5 hours

Cleaning Frequency:

No Timer Setting

View On Amazon

Dolphin Premier Robotic Pool Vacuum Cleaner

Price:

$$$$$

Dimensions:

23.5 x 20.1 x 13.7"

Pool Size:

40 – 60 feet

Cleaning Time:

1.5 – 3 hours

Cleaning Frequency:

Weekly

View On Amazon

Solar Breeze Automatic Pool Cleaner NX2

Price:

$$

Dimensions:

22 x 20 x 7.5"

Pool Size:

50 ft.

Cleaning Time:

2.5 – 4 hours

Cleaning Frequency:

N/A

View On Amazon
Best Robotic Pool Vacuum Cleaners (Editors' Choice)
Although there are plenty of options for you on the market, we have selected the most excellent units that will surely clean your pool thoroughly. Moreover, our choice of robotic pool vacuum cleaners is also aimed at hassle-free products that are efficient and labor-saving.
We have listed the units in no particular order. Nevertheless, our team of experts has ensured that all the benefits and drawbacks of each robotic pool cleaner are covered in our reviews.
1. Dolphin Nautilus CC Plus Automatic Robotic Pool Cleaner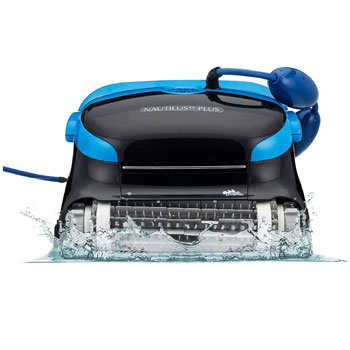 Here we an upgraded product from Dolphin. The Nautilus CC Plus automatic robot pool cleaner can do even more about the purity of your pool water. The unit will get your pool rid of the leaves and dead algae in no more than 2 hours.
You can see how the dirty water is pulled through the bottom and then expelled through the top. The large cartridges, the strong suction, and the dual scrubbing brushes do a perfect job in keeping the filth inside the unit, thus making your pool water crystal clear.
Another thing we liked is the weekly schedule that will allow you to set the time for cleaning your in-ground pool. However, the manual is not that user-friendly, and you may end up wondering how to use this feature as this is not thoroughly explained.
The Nautilus CC Plus pool cleaner comes with a practical handle to take it out of the water or carry the unit to your pool. Moreover, since this product weighs 19lbs, you will need that handgrip.
Pros
A 30-month warranty
Weekly scheduler function
Large top-load cartridge filters
Cleans in 2 hours
Cons
May miss some spots
Might get stuck on steps
2. Zodiac Polaris F9550 Sport Robotic In-Ground Pool Cleaner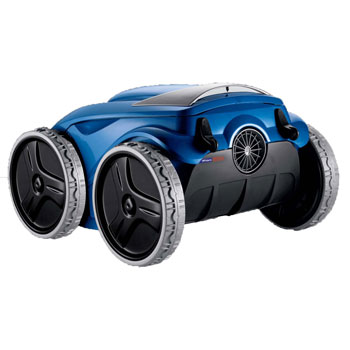 The F9550 model of Zodiac Polaris can undoubtedly take the pool cleaning chores off your shoulders.  This unit is more expensive than the previous ones in our review list, but the features it comes with are worthy.
This robotic pool cleaner is designed to go smoothly onto your pool's surface thanks to the 4 Aqua-Trax tires. Also, the 70-feet cable will be quite enough for any in-ground pool of up to 60 ft. This unit is suitable for free-form pools as well since it can effortlessly move around round walls and climb upstairs. That said, with the F9550 the debris under the stairs and in the corners will no longer be a problem.
The unit comes with oscillating brushes and will be able to vacuum larger debris. This is especially useful if you have oak trees around your pool, for example. Another thing we found very practical is the hand-held remote control and the caddy. The latter will give you freedom when it comes to the storage and transportation of the product.
Pros
2 pre-set cleaning programs
7-day programmable timer
Remote control
Large capacity filter canister
Cons
Should be positioned in different sections to start each session
A bit heavy
3. Hayward RC9990CUB TigerShark Robotic Pool Vacuum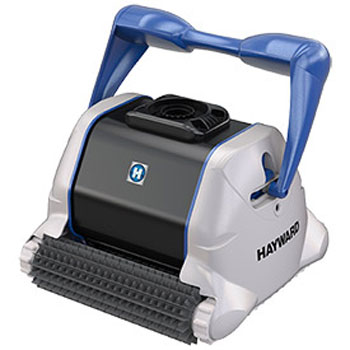 Here we have a very decent automatic pool cleaner that can pick up even fine sand particles. The Hayward's Tiger Shark series is a pretty good investment, and the RC9990CUB model proves this.
This unit can vacuum a variety of in-ground pool surfaces like vinyl, fiberglass, tiles or pebbles. The robot will follow random pre-set pattern cleaning cycles, but you will rate the 90-minute quick session highly. You can let this Tiger Shark work daily with the short set program or turn on the standard 3-hour cycle once a week.
Cleaning the polyester cartridge is hassle-free – you take it out of the unit and rinse with water. But we have to say that you may find dealing with the cord quite irritating. The 55-feet-long cable has no swivel. Therefore, when the product is set on the long cleaning cycle, the wire is most likely to tangle.
Nevertheless, this robotic pool cleaner will save you time and energy when it comes to cleaning your pool's walls, coves, floor, and waterline.
Pros
3-year warranty
24-volt motor
2 cleaning speeds
Runs separately from the pool's filtration system
For pools of up to 20 x 40 ft
Cons
Caddy cart should be purchased separately
A bit heavy
4. Pentair Kreepy Krauly Warrior Suction Side Inground Swimming Pool Cleaner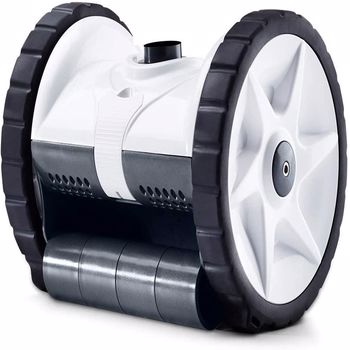 This Pentair product may have a quirky name, but it does a great job when it comes to cleaning your pool. The Kreepy Krauly robotic pool cleaner can scrub, vacuum, and remove debris from your pool for less than 150 minutes. It also features an auto-reverse function which will not allow the unit to hang up in corners.
The product comes with a swivel cord, which is a huge plus and weighs only 45 pounds. We liked that this pool cleaner has an indicator to show you when it is time to clean the filters. As for them, the unit comes with a large bottom-loaded self-container inner cartridge and 2 sets of screens.
The paper filter does a great job of collecting dirt and algae from your pool, but it clogs quite easily. The metal mesh one, on the other hand, can pick up sand, leaves, or small debris. However, make sure to remove big leaves from the water before letting this robot clean inside.
Pros
Comes with a caddy cart
2 sets of screens
The indicator light for filters
Can clean vinyl or plastic liners
Cons
Does not scrub that well
Should remove large debris from the water first
5. Dolphin Premier Robotic Pool Vacuum Cleaner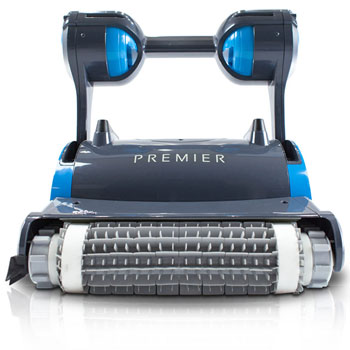 The Premier Robotic Pool Cleaner by Dolphin comes with smart navigation software, very efficient motor, and improved performance when climbing walls and stairs. The unit is perfect for kidney pools, lazy river pools, or liner pools. The 60-feet swivel cable will ensure tangle-free operation as well.
This product is designed with a navigation system that will scan and measure your pool before the cleaning cycle. This is a very convenient procedure since your robot will know where to go and how much of the pool surface there is to cover.
Another great feature is the enhanced grip of the dual tracks. This way, the chances of slipping when climbing will be dropped by 40 %. The motor is energy-efficient as well and can reduce your power consumption cost up to 90%.
Finally, the filters are convenient. The unit comes with a microfilter and a bag for larger debris. This way, with the multi-media filter system, your pool will be even cleaner, which will mean fewer chemicals and less maintenance.
Pros
3000RPM DC motor
Hyper grip dual tracks
Smart navigation software
Multi-media filters
Cons
No caddy, remote or bag in the package
A bit expensive
6. MAYTRONICS DX3 Dolphin Robotic Pool Cleaner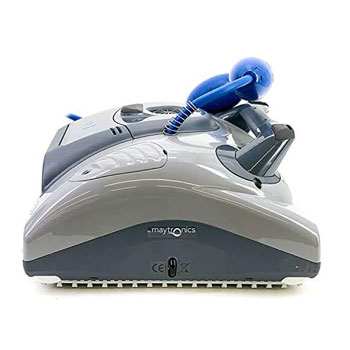 The MAYTRONICS DX3 robotic pool cleaner is ideal for pools that are not that large and are up to 40 feet. Also, this unit can safely clean vinyl and concrete pools, although it may miss some spots.
The DX3 can collect large leaves, algae, and even tiny particles thanks to its reliable suction power and the large inner filter bag. Also, the cleaning cycle lasts for 3 hours before it shuts off automatically. That being said, your pool's water will be crystal clear after the first use.
However, we have found this unit to be less effective with steps – it will not always climb up, or it may fall off easily. Another thing is that when pulled out, the DX3 will let not only water but also collected dirt to rush out.
There is a disadvantage with this product, and it is not connected with the unit itself. Despite the existing warranty, it may not be voided depending on where you buy the product. Moreover, customer service is not helpful at all.
Pros
Perfect for pools of up to 40 feet
Safe for vinyl lined pools
Large self-contained inner filter bag
Lightweight
Cons
Not appropriate for pools with steps
The warranty often voided if bought online
7. Solar Breeze Automatic Pool Cleaner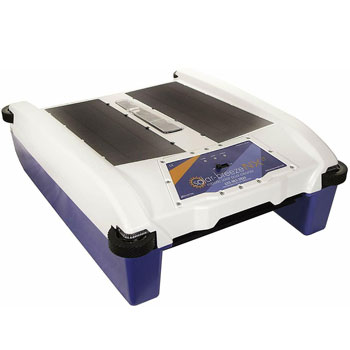 The next product in our review list comes from Solar Breeze. The NX2 is a great automatic pool cleaner that is powered by solar energy and does not need any additional hoses, cables or attachments.
The unit will get you rid of the tiresome hand-skimming while filtering the water in your pool. The rear paddles lift leaves, bugs or any other debris from the surface. Also, there are bumper wheels which rotate and re-direct if the automatic pool cleaner touches the pools' wall.
Cleaning the product is very easy, as well. It comes with a removable debris tray which can filter the fine particles floating in the water. And you will like the built-in chemical dispenser in which you can place up to 2 trichlor tablets. That way, the water in your pool will be clean and free of any potential contaminants.
Another great thing about this unit is that it is designed to work even if there are waterfalls in your pool or when it is raining. Nevertheless, you still have to make sure that the NX2 does not dip into the water.
Pros
Solar-powered
Built-in chemical dispenser
Very quiet
Up to 23.5 hours running time
Cons
No carry handle
A bit pricey
Short operating time
8. Dolphin Nautilus Automatic Robotic Pool Cleaner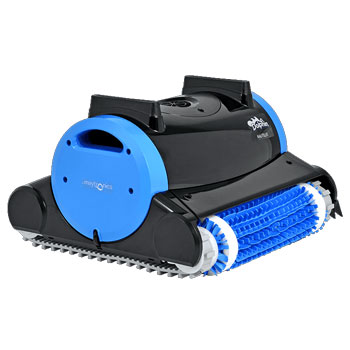 Our reviews continue with a reasonably-priced product of high quality. The Dolphin Nautilus automatic robotic pool cleaner is the ideal helper for your in-ground pool provided that the pool is up to 50 ft. We like this product as it is super easy to use – plug it in and push the button.
Another advantage of this unit is that it will not work on a pre-set pattern. It uses an advanced algorithm to track down leaves or fine debris at the bottom of your pool. Moreover, this robotic pool cleaner will even climb up the walls of your in-ground pool to remove grime.
The unit comes with dual scrubbing brushes and has suction power, which will surely make your pool cleaner than ever. What is more, changing and maintaining the filters is easy -there are 2 sets of 4 filters included in the package. And you open the bottom hatch and drop them in.
Pros
1-year warranty
Cleans in 3 hours
Large bottom-load cartridge filters
8 times more energy efficient
Cons
No carry handle to pull it out of the water
No instructions for the filters in the quick start guide
9. Aquabot Breeze 4WD Robotic Pool Cleaner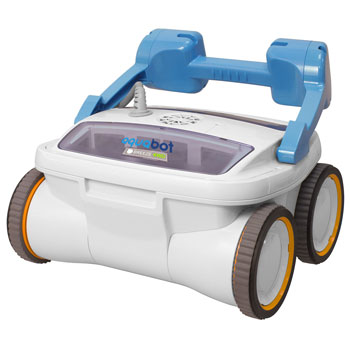 Here is another product from Aquabot which comes with a 4-wheel drive system and it will be great for your in-ground pool of up to 60 ft. The Breeze 4WD is designed to power the wheels and the rotating brush, which is positioned underneath the unit.
This robotic pool cleaner will undoubtedly clean even fine debris from your pool's surface. However, the lower-center rotating brush does not scrape as well as we hoped for. But the filter baskets are amazing. We liked that you can view the canister from the top and check if it is time to clean it. Moreover, the filter baskets will catch and hold even the smallest debris from your pool's water.
The Breeze 4WD cleaner can move forward and backward and will climb up the walls every 4th time. Nevertheless, make sure that the cable is not tangled; otherwise, the unit will not be able to climb half of the wall. Also, you will have to manually clean the steps because this product is a bit bulky and it will fall off every time it tries to climb on them.
Pros
2-year warranty
60-feet-long cable
2 large filter baskets
3-hour cleaning cycle
Cons
No swivel cord
Cannot climb upstairs as it is too big
10. Aquabot Pool Rover Hybrid Robotic Pool Cleaner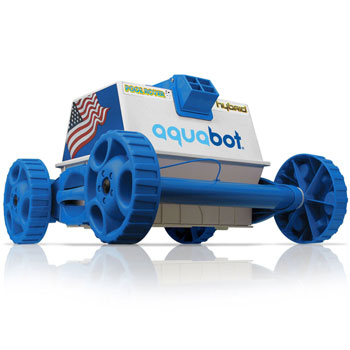 This Aquabot Pool Rover Hybrid cleaner can be your perfect solution if you are on a tight budget. The unit can remove large leaves and algae of up to 2 microns. And you will like the filter – the reusable 19-quart micro filter bag is straightforward to change and maintain.
Now, there are some other characteristics of this product that stand out. First, the unit can clean up to 5400 sq ft per hour. Also, the robot does not come with brushes, and hence, it sucks up everything that stands on its way. This is good news considering the fact that you will not have to service brushes or any other parts that go with them.
Another thing is maneuvering. The large wheels of this product can roll over ripples or uneven surfaces. However, you may find it difficult to set up a specific steering pattern. Also, when the pool rover turns around while cleaning, the cord gets easily tangled.
Pros
1-year warranty
4200 gallons per hour filtration rate
Bottom-loaded filter bag system
41-feet cable cord
Cons
The cord gets tangled easily
Steering mechanism needs to be improved
Benefits and Drawbacks of a Robotic Pool Vacuum Cleaner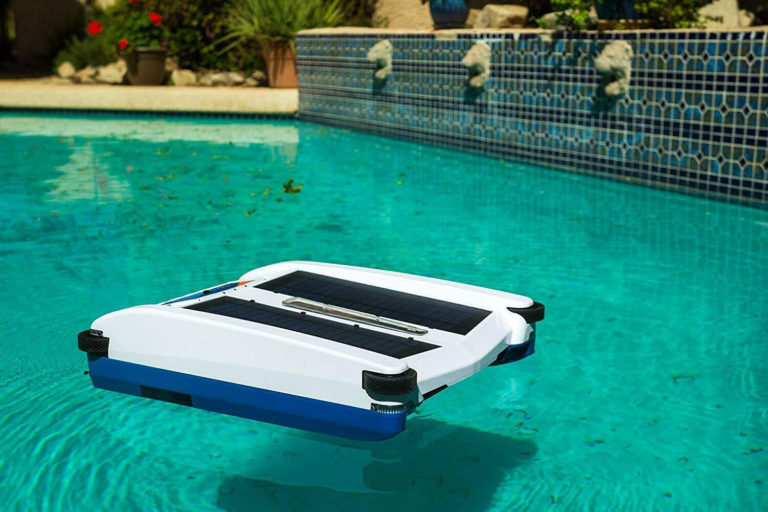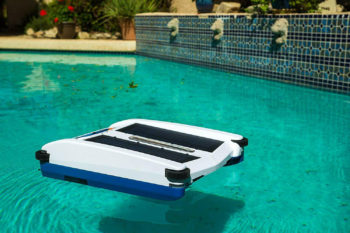 Investing money in a product for your in-ground pool is a lot to consider, especially when it comes down to cleaning procedures. We know that spending time to remove debris from the water is a tough chore. That is why people hire others to do it.
But instead of paying extra money off your budget, you can think about buying an automatic pool cleaner for in-ground pools. So, in case you are wondering, here are some of the robotic pool cleaners advantages and disadvantages.
Pros
· It Saves You Time
You plug and press the button and let the machine do all the hard work. The cleaning cycle can be performed during the night so that when you wake up, you will find crystal clear water.
· Removes Literary Everything That Contaminates Your Water
From large leaves to algae, robotic pool cleaners will pick up that debris and store the dirt in their filter bags.
· Scrubs Your Pool Surface
Most units come with brushes, and that means that they will do the dirty job. Still, if you need to remove stubborn stains on your pool's walls, we have some excellent tips and advice in our best pool brush buying guide. Moreover, you can view our selection and check our observations over each product's performance in the review list.
· Reduces the Need Of More Chemicals
As water goes through the pool cleaner, it enters it dirty and then expelled in better quality. This means that adding chemicals to reduce the risk of spreading bacteria is less required. Hence, you will save money and keep the water healthier for your swimming activities.
· Less Electricity Consumption
If you had to use pumps, filtering machines, etc. to purify the water in your pool, then you know how this would affect your electricity bill. Pool vacuums are designed to be efficient and to use less energy than other motor-driven cleaning devices for pools. Furthermore, running your pool's filter will be less needed, and hence, less power will be used.
· Can Be Left Unattended
You do not have to be around your pool and check what the cleaner is doing. Moreover, you can use this time for your favorite activities rather than supervise the robot. After all, robotic pool cleaners are made to save both your time and energy from the cleaning chores.
· Affordable
You may think that such a multi-functional device will cost you an arm and a leg to get your pool cleaned, but that is just a big misconception. Many models are reasonably-priced and will do a perfect job for your in-ground pool.
Affordability is also one of the qualities of most telescopic pool cleaning poles. See how you can get one by checking out our reviews on them.
· Plug & Play
There is nothing better than a hassle-free unit with precise function controls. All you have to do is plug it in, press the ON button, and drop it in the water. Then enjoy the impeccable results. Another plug & play product that would be quite useful for your pool is a fine pressure side pool cleaner. See what our team has to say about this type of unit too.
· Upkeep is Undemanding
Maintaining a robot pool cleaner is not a big deal at all. You only need to find a place to store it when not put into use and that's it! What is more, there are caddy carts that come with some units or which you can buy separately.
Cons
Well, like any other product, there are some drawbacks that we have to mention. Below are listed the main disadvantages that you need to consider before choosing an in-ground pool cleaner.
· Heavy To Pick From The Water
Some units are a bit heavy before you drop them into the water. So, you need to add a few pounds to estimate how heavy the pool cleaner will be when taken out of the water. Moreover, not all robotic pool cleaners come with a handle. This means that picking it up can be hard.
· Debris May Flow Out
When you pull the in-ground pool cleaner out of the water, there is a big chance some of the dirt, collected from the pool, to rush out. That means that you will have to clean after your robot.
· Filter Bags or Cartridges Have To Be Maintained
When the filters are full, your robot cleaner may stop working. You will have to check regularly how much debris is there inside, then take the filters, clean them, and finally place it back. Some of you may find this tiresome and annoying.
· The Cord May Restrict the Movements Of The Unit
If your pool is bigger than the cord of your pool vacuum, then your device will be limited to clean. Hence, some parts of your pool will stay dirty, and you will have to remove the debris manually.
· The Cable May Get Tangled
As the robotic pool cleaner moves around the surface of your pool, the cable follows it. So, any rotation movements or changes of direction might cause the cord to tangle up.
· Some Models Might Not Be Able To Climb Up
Depending on the size and model characteristics, in-ground pool cleaners are designed for climbing up. However, that can be said to a certain extent. Some units are too bulky and will not reach the waterline of your pool. Others will fall off the steps.
Types of Robotic Pool Vacuum Cleaners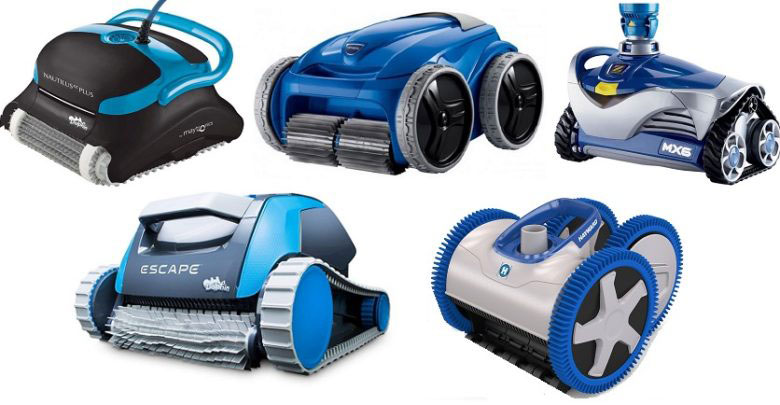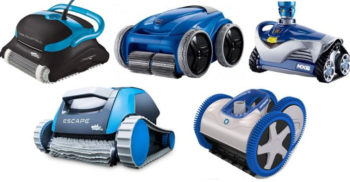 In-ground pool cleaners are truly feasible alternatives to any hand-operated method of cleaning your pool. They can do the hard work for you and turn your pool into the perfect place for your recreational activities. But despite the positive impact, automatic pool cleaners may have on your pool, there is more than one type of these devices.
So, in this section of our guide, our experts will give you an insight into the available models of pool vacuums you may come across. This is important since each type operates differently and also comes with specific technical characteristics. And we know that it is essential to be aware of all the alternatives out there on the market so that you can make an informed choice.
If you need to find out more about other types of pool cleaners that use a different mechanism of cleaning your pool, remember to go to our high-end suction pool cleaner buying guide.
Electrically-powered Robotic Cleaners
This type works independently from your filtration system, and that means you do not need any other additional equipment like a booster pump. Also, as robotic cleaners can operate on their own, you can leave your pool unattended while the device is running. The same goes if you have a cleaning device for your above ground pool. Check out our extensive guide on above ground pool vacuum cleaner and get informed on the subject.
Some of the more advanced pool cleaners in this category come in control panel where you can set it to clean the walls or the tile line of your pool. Another feature of this type is that they have a remote control. This is especially convenient because you can use it to navigate the robotic cleaner in the preferred direction.
Robotic cleaners are designed with large debris opening at the bottom, which makes them perfect for picking up big-sized detritus. Moreover, some models come with microfilters to catch and trap fine particles that may float in the water of your pool.
Another way to solve the debris problem is by getting a quality pool skimmer. Don't miss our reviews on all the top skimmers on the market.
A substantial benefit of robotic cleaners is that once their cleaning cycle is over, you only need to take them out from the water and store them. Furthermore, you will like that there are no additional hoses or any other equipment to store and maintain.
However, all robotic cleaners are quite heavy when you try to pick them up from your in-ground pool. Most units weigh more than 20 pounds when not in the water, so imagine their weight with a full filter cartridge and water.
You also have to make sure that the cable does not tangle while the unit is working. This happens quite often, if not always, to robotic cleaners without swivels.
Perhaps the most significant disadvantage of robotic cleaners is their price. If you are on a budget, this category of automatic pool cleaners might not suit your pocket.
Another issue that you may have is that if something goes wrong, you will have to look for an authorized service to repair it. Diagnosing it yourself should not be an option.
Solar-powered Robotic Pool Vacuum Cleaner
Here we have a great alternative to electrically-powered robotic pool cleaners. The solar-powered units for cleaning your pool are eco-friendly, do not require electricity and hence cable cords. Here are the main characteristics of this type, along with some pros and cons to consider.
Solar-powered robotic cleaners do have a pre-set pattern to move, but they still lack all the functionality of the robotic cleaners. For example, you cannot control them with a remote, and they do not have software to calculate the dimensions of your pool and the cleaning time.
However, some models come with sensors that will detect if the unit is no longer making progress.
The place where the debris is stored in this type of robotic pool cleaners is prominent and comes with filters. The debris container is usually large enough to hold large leaves and trap fine particles. Also, some models come with a built-in chemical dispenser where you can place trichlor tablets.
Well, as this unit floats on the surface of the water, it does not come with any brushes. So, you will have to clean your pool's walls on your own as this unit does not touch the bottom. These units are also not compatible with vacuum heads either. If you want to check out which are the top pool vacuum heads on the market, just read our piece on them.
A great advantage is the lack of any cables. No more tangling, no more power consumption for your household. The reason for this is that solar-powered robotic cleaners use solar energy to power themselves.
You need to have a budget for this type of in-ground pool cleaners. They are expensive but will surely remove surface debris from your pool. If you are looking for a more reasonably-priced and efficient robotic cleaner, make sure to check out our other guides and reviews on exclusive accessories for your pool.
Key Features
In this section of our guide, we will focus on those features that make the in-ground pool cleaners unique. As you may have noticed in our pool vacuum reviews, all units come with debris containers and can suck up contaminants. They also filter and clean the water in your pool.
However, there are some more advanced characteristics that we feel obliged to mention. The reason for this is better productivity, performance, and, of course, functionality.
Drop and Go Function
We love this feature because it gives you freedom. You will no longer have to think about when it is time to clean your pool or when was the last time you turned on your automatic pool cleaner. With the timer, it is so easy to program your unit to remind you when to put it in the water.
Also, you can choose the time settings. Set the robot to work every day, every other day or once a week, depending on your preferences and needs.
Oscillating Brushes
Another great feature of the robotic cleaners is the rubber scrubbers. They will scrub your pool and remove algae, for example, without any effort. That means more time for you since you will not have to do this manually.
While most units follow random patterns when working on your in-ground pool's surface, other pool cleaners come with software. This technology lets the unit to measure and calculate the size of your pool along with the time needed for its cleaning.
What is more, this mapping system will detect the debris and head towards it. This will limit the pointless wandering of the pool vacuum and will increase its productivity.
Climbing Up Steps and Walls
We do not know who invented this feature, but we do love it. Climbing up the steps and the walls of your pool will save you up the time and energy. You will no longer have to brush and scour by hand or use any other methods to keep your pool clean.
Some in-ground pool cleaners have reinforced tracks to prevent slippage when climbing walls and stairs.
Remote Control
The remote control is not only for turning on and off your unit. More advanced models come with a remote that will allow you to manually direct the automatic pool cleaner for in-ground pools to the place which needs cleaning.
This feature is extremely convenient because it will not require a full cleaning cycle, and thus, you will save up from your electricity bill.
Installation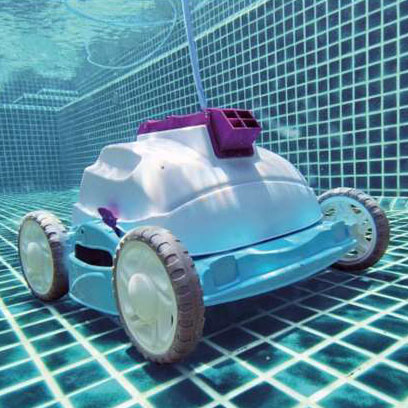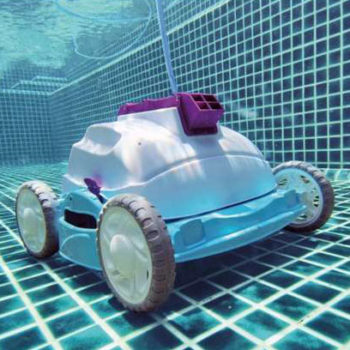 Owning a pool cleaner can save a tremendous amount of struggle and money on maintaining your in-ground pool. Hence, proper installation is essential and will ensure the unit's optimal performance and longevity.
Robotic pool cleaners are hassle-free and require virtually no installation. These units are very energy-efficient and easy to use. Some models come with a caddy cart, so we are going to start with it.
Assemble the caddy carrier. Then make sure that the caddy and the pool cleaner are positioned less than 5 feet from the pool deck. Next, plug the cord directly into the electrical outlet.
Once you position the caddy, for your safety and ultimate performance from your automatic pool cleaner, connect the floating cable to the control unit and thread the connector unit. Make sure it is snug and do not overtighten.
Submerge the cleaner in the pool. Make sure to keep it in a vertical position to remove any air trapped inside.
Select your cleaning cycle and press the start button.
Maintaining Safely Your Robotic Pool Vacuum Cleaner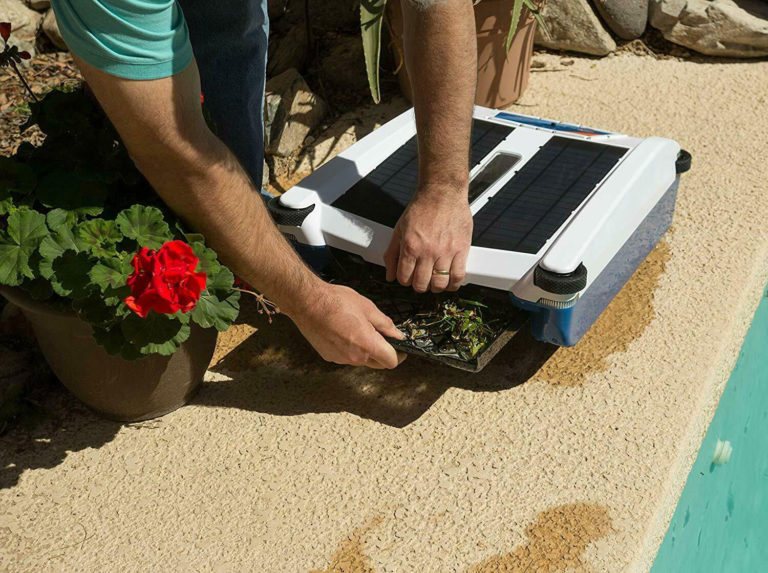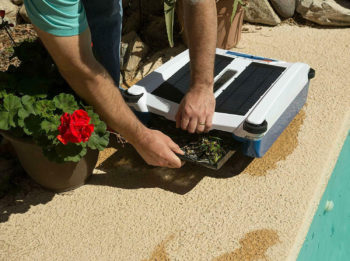 Robotic cleaners make maintaining your pool easy. They do all the work while giving you more time to enjoy your pool. But in this section, we will provide you with some practical advice on the upkeep of your unit. This is essential as it will extend the longevity and improve the performance of your in-ground pool cleaner.
So, here are our safety tips on maintaining and using your pool cleaner.
You must spread out the floating cable over your in-ground pool. This will ensure that there are no kinks or coils in the cable. This procedure will also provide a continuous and uninterrupted cleaning cycle of your unit.
It is more likely for the cord to tangle in cold water than in warm. The reason for this is that the temperature is making the material less pliable and more prone to tangling.
No matter what filter type you have, it is important to regularly empty and cleans the debris canister.
The in-ground pool cleaner will not be able to vacuum with a full debris load, so empty often. In areas where silt is prevalent, you will need to scrub the canister to brush out any build-up. That way, you will prevent clogging.
If your unit is shutting off prematurely, remove the filter and check for silt build-up. This might be difficult to detect since the silt appears clear when wet. To check if that is the problem, leave the canister in the sun until it dries. Then check again if silt is evident and clean with a brush.
Wrap Up
This is the end of our comprehensive guide. We know that choosing a quality unit for cleaning your in-ground pool is not an easy task. But we hope that we have given you the most important guidelines, tips, and advice on how to pick the best robotic pool vacuum cleaner for you.
As always, we are open to your feedback and would appreciate any comment left by you. If you liked the article, show it to your friends or share it online. Let us know if we can improve or change anything. Thanks for reading and as always – stay put!