Did you know that by using the best above ground pool cover for your pool can save you not only time but a lot of money as well? Spend less time cleaning your pool in between uses, and especially in the Spring when you are ready to jump in after a long winter. Plus, a quality pool cover will help reduce the amount of chemicals used and help reduce water evaporation, and thus loss of heat.
Our above ground pool covers review is put together by experienced pool maintenance gurus. We want to share the leading products on the market and tips for choosing the best for your pool. There are numerous types of pool covers. Knowing what kind is best for your needs, and using it properly will reduce your stress levels and money waste significantly.
See The Quick Comparison Chart
Do you Need an Above Ground Pool Cover?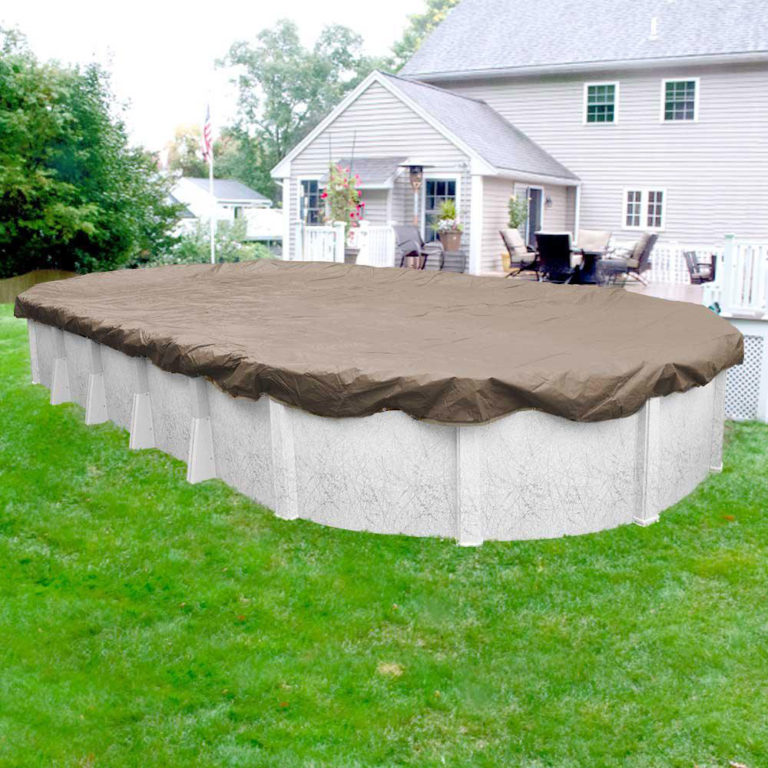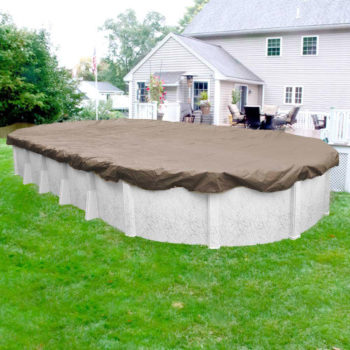 This is a pool essential. Although depending on the weather where you live and what surrounds your pool, you may do without, it's a great addition to keep pool maintenance down. Pool covers are absolutely necessary if you have harsh winters or trees near your pool.
If you don't put your above ground pool away during the winter, a winter cover is critical to prevent algae buildup and freezing. By sealing up your pool with a winter cover, it prevents the swimming pool from freezing, thus avoiding damage to the swimming pool itself and the system. Also, it prevents chemical imbalance and contamination of the water. So when summer comes around your pool is swim-ready.
You can also use a pool cover for added safety. There are pool covers that are strong enough to withstand a child or pet from falling in. Other pool covers, such as a leaf catcher, are a great addition in between uses to keep lots of debris from nearby trees from clogging up your system. They are also used on top of winter covers for easy cleanup of fallen leaves.
If some leaves and other debris make it to your pool water, algae may be formed. If you opt for a quality algaecide for pools, you will have an easy solution to the problem. Just head to our buying guide and see the top products that we've reviewed.
Another product that will help in your endeavors to always have pristinely clean pool water is a salt water chlorinator system. Yep, we've reviewed these as well so go check out our article.
Lastly, they are used for insulation and energy efficiency. By using a quality cover at night, you prevent water from evaporating and maintaining the pool warm for the next day. You will save money on electricity for the heater, use fewer chemicals because your pool will be cleaner, and protect it from the elements.
First Steps to Buying an Above Ground Swimming Pool Cover
Before you go out and buy a cover its good to know what type you will need.
Use – will you be using this pool cover in between swims or to close it up for the season? Different pool covers require different levels of effort to put on. You don't want to buy a winter cover and have to put it on and take it off every week. They are for more long-term applications.
Weather Conditions – will the cover be used to protect your pool in extreme freezing temperatures? Do you get a lot of snow, or primarily rain? Are there harsh winds in your area, requiring more durable covers that can withstand them? These are all critical questions.
Pool Size and Shape – is it a round, oval, square, rectangle pool? There are covers to match every pool shape and size and to get results, it needs to be perfectly matched. Make sure that when you buy, it has anywhere between 1.5 and 2 feet overhang on all sides for securing.
These are three of the main points to consider when buying a cover. They are what will help direct you towards the kind of product you need to be looking for.
Best Above Ground Pool Covers Comparison Chart
PRODUCT
DETAILS

In The Swim Round Pool Leaf Net

Price:

$

Size:

18 Foot

Made:

Durable knitted polyethylene

Overlap:

N/A

Weight:

5.15 pounds

View On Amazon

Blue Wave Round Leaf Net for Above Ground Pools

Price:

$

Size:

18 Foot

Made:

Mesh fabric

Overlap:

3-feet

Weight:

5.15 pounds

View On Amazon

Buffalo Blizzard Supreme Round Winter Cover

Price:

$$

Size:

18 Foot

Made:

Triple laminated polyethylene

Overlap:

4-feet

Weight:

N/A

View On Amazon

Blue Wave Gold Oval Above Ground Pool Winter Cover

Price:

$$

Size:

15 Foot

Made:

Rugged U.V. stabilized woven polyethylene

Overlap:

4-feet

Weight:

22 pounds

View On Amazon

Robelle Super 3351833-4 Oval Winter Pool Cover

Price:

$$

Size:

18 Foot

Made:

Heavy-duty polyethylene

Overlap:

4-feet

Weight:

14 pounds

View On Amazon

Blue Wave Gold Round Above Ground Winter Cover

Price:

$$$

Size:

30 Foot

Made:

Rugged U.V. stabilized woven polyethylene

Overlap:

4-feet

Weight:

36.6 pounds

View On Amazon

Pool Mate 3524-4PM Round Winter Pool Cover

Price:

$$

Size:

24 Foot

Made:

Polyethylene

Overlap:

4-feet

Weight:

10.8 pounds

View On Amazon
7 Top Pool Covers – (Recommended Picks)
Our team has done the research and put together a great list of the top 7 covers on the market. There are many products out there, making it difficult to determine which is the right option for you. Take a look below at our findings listed in no particular order.
1. In The Swim Round Pool Leaf Net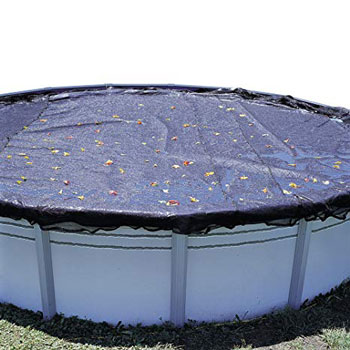 This 18-foot pool cover is ideal for smaller above ground pools. The leaf net is designed to be used on top of your winter pool cover to prevent leaf and other significant debris accumulation during the Fall. It's placed on the pool cover in the Fall and removed once the trees in the area are bare. This way decomposing leaves are not left on top of the winter cover over the winter months, possibly damaging it.
This cover is also a great option without a winter cover, to capture large debris, so you don't put a strain on your skimmer in between swims. Featuring a durable knitted polyethylene, the black cover comes with fastening loops, wire cable, and metal winch for installation. Although it is not a fine mesh, many have found that it can catch even smaller debris such as pine needles.
It is very lightweight and easy to install over winter cover or for short-term use between swims. It's a great inexpensive and quick solution for added pool maintenance year-round or combined winter cover protection.
Pros
Very lightweight and easy to install
Durable knitted polyethylene
Collects debris as small as most pine needles
Cons
The metal winch cannot handle the strain when installing
2. Blue Wave Round Leaf Net for Above Ground Pools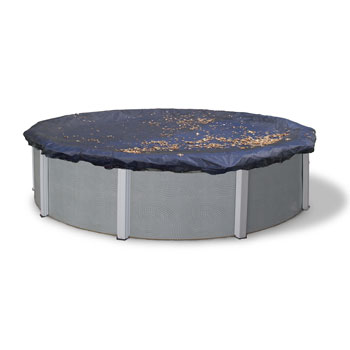 This leaf net is available in various different sizes suitable for round pools. Just like the first product we reviewed, it is ideal on its own too in between swims or on top of a winter cover to collect leaves and other debris from accumulating. It has a 3-foot overlap, 1.5 feet all around, which fits most top rails.
This product comes with a heavy-duty cable for securing and winch for tightening. By installing this leaf net between swims, it will help reduce the need for skimming and load on your pool pump and skimmer. It features a tighter weave polyethylene mesh than most similar nets, thus catching smaller debris.
Along the edges, it has durable brass grommets that can withstand the tugging and pressure necessary for securing. The best feature of this net is that it comes with a 4-year warranty ad quality customer service that will help with any issues you may face.
Pros
4-year warranty
Tighter mesh than most to catch smaller debris
Easy to set up
Cons
Debris gets tangled in mesh making it more difficult to clean
3. Buffalo Blizzard Supreme Round Winter Cover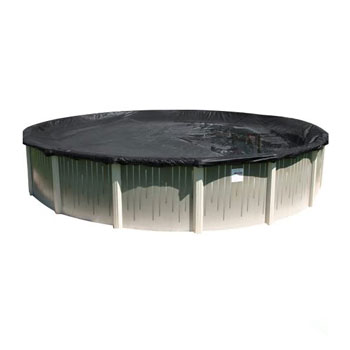 This 18 foot round winter cover by Buffalo Blizzard is built with double grommets every 2 feet making for tighter and more secure fastening. It comes with durable cable and winch included. The cover features a 4-foot overlap, 2 feet along all sides, and an ultraviolet light inhibitor.
The blacktop and green underside of the winter pool cover is triple laminated polyethylene. It is double stitched with triple thick hems to ensure durability and longevity. The stitching is done using UV resistant nylon threads that can withstand the elements. While the scrim per square inch is 12 x 12, making the construction strong and durable.
This is a high-quality winter cover that will protect the pool from algae and debris, all the while preventing water evaporation. It is made to resist harsh winter weather and be used for many seasons to come. The company offers 15 years warranty, and 5 years full warranty for this product.
Pros
15 years warranty (5 full years)
4-foot overlap for easier securing
Double grommets every 2 feet
Cons
Due to weight and added grommets, it's more challenging to install
4. Blue Wave Gold Oval Above Ground Pool Winter Cover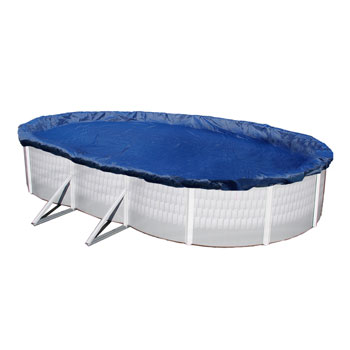 The fourth product we will be reviewing is the Blue Wave Gold Oval Winter Cover for above ground pools. It is designed to withstand harsh winter conditions while protecting the pool from debris, ice, wind, algae, and much more. It is available for 10 different size oval pools with a 4-foot overlap to prevent ripping and stretching.
The durable tear-resistant material is very rugged. It features UV stabilized woven polyethylene and heat sealed seams to ensure the cover can withstand strong winds, ice buildup, and sun damage. The black underside is specially designed to prevent algae growth.
For installation, it comes with a heavy-duty nylon coated cable and winch, that go through durable rip-proof metal grommets. The 14 x 14 scrim count weave adds to the durability and overall longevity of the cover. It comes with a 15-year warranty and 3 years full rated warranty.
Pros
15-year warranty – 3 years full rated warranty
Great customer service
Thicker and more durable material than most
Cons
The nylon coated cable may need replacement after a few years
5. Robelle Super 3351833-4 Oval Winter Pool Cover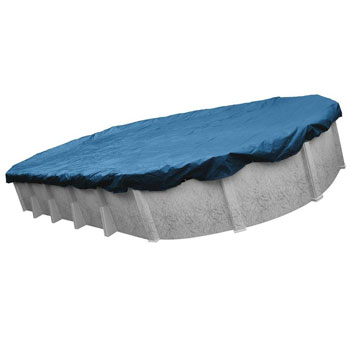 Available in 13 different oval sizes, The Robelle Super Winter Cover comes with a 10-year warranty, out of which 2-year full warranty. The 8 x 8-inch scrim count weave offers durability and longevity. The high-quality polyethylene, yet lightweight at only at 2.36 oz./yd2, and comes with winch and cable.
For installation, the cover features reinforced grommets at every 4 feet. The imperial blue topside features special treatment to withstand UV rays, while the black bottom prevents algae growth. Sized ideally, it features a 4-foot overlap, 2 feet on each side, to allow for secure installation and tightening.
The winter pool cover is designed for a variety of sized oval pools and is suitable to withstand winter conditions. Considering the scrim count, we recommend this winter cover for areas with winters that aren't as harsh and don't see a lot of snow that could pile up on the cover.
Pros
The 10-year warranty and 2-year full warranty
Lightweight and easier to install
Variety of sizes for oval pools
Cons
Grommets are spaced too far apart
Not very thick so suitable for less harsh winters
6. Blue Wave Gold Round Above Ground Winter Cover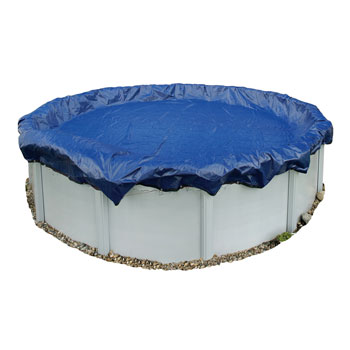 The next product for review is another winter cover. The Blue Wave Gold Round Cover is designed to protect your pool from the debris and low temperatures. It comes with a 15-year warranty, out of which 3 years full warranty. This cover is available in various sizes for round pools.
It is a woven rugged UV stabilized polyethylene material that is durable to withstand sun, ice, and wind. It comes with a heavy-duty vinyl coated cable and tightener. These are used to anchor the cover to the pool by winding the wire through the rip proof metal grommets.
Featuring a royal blue color on the top and black underside to prevent algae growth, the cover protects the pool during the winter months. The material has a 14 x 14 scrim count, which ensures longevity, but that makes it slightly more challenging to install.
Pros
15-year warranty out of which 5-year full warranty
14 x 14 scrim count ensures durability
Several sizes available
Cons
Tightener loosens over time requiring you to tighten several times over the winter
7. Pool Mate 3524-4PM Round Winter Pool Cover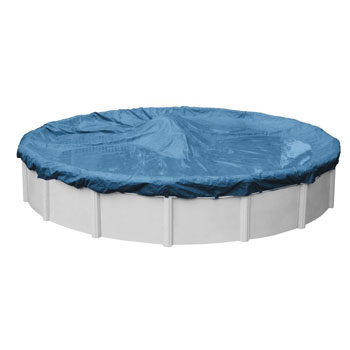 The very last product we will be reviewing is the Pool Mate 3521-PM Winter Cover. Available in different sizes for round pools, it is an affordable heavy-duty winter cover option. Made of heavy-duty polyethylene material, it helps keep debris out of your pool during the winter.
Designed with a 4-foot overlap, 2 feet on all sides, it features heat sealed seams for durability and better performance. The cover comes with a blue topside and black underside to prevent algae growth. The cover is designed to float comfortably on the water of your pool, so if you have a large top rail, you may want to order a larger size.
It features grommets every 4 feet and is made of ultra-light material of 8 x 8 scrim weave, making it very easy for installation. This product comes with a 10-year warranty but doesn't list how many years the full warranty is.
Pros
4-foot overlap – may want to opt for a bigger one if you have a high top rail
Lightweight material for easy installation
Affordable pool cover option
Cons
Benefits and Drawbacks of Pool Covers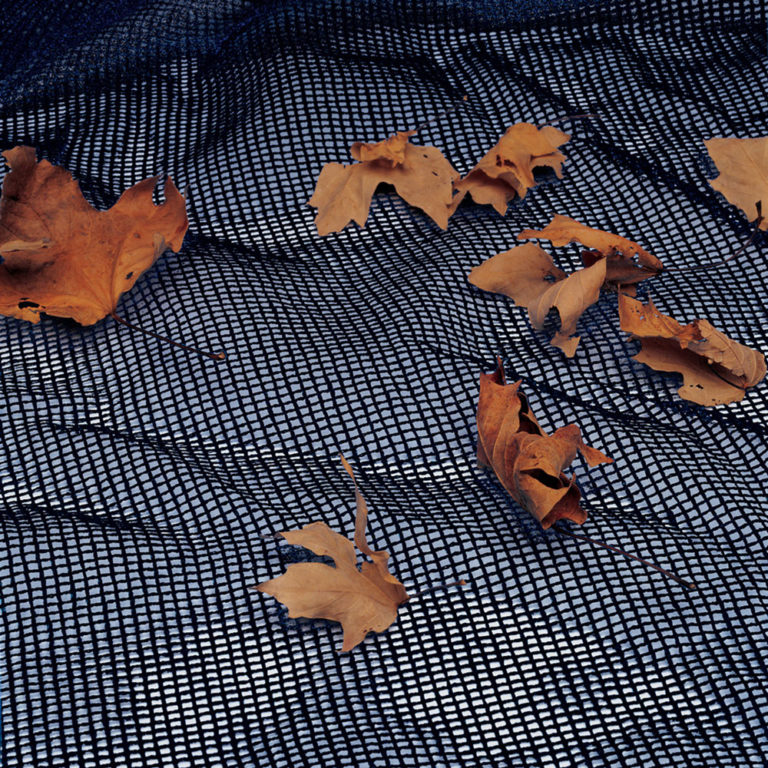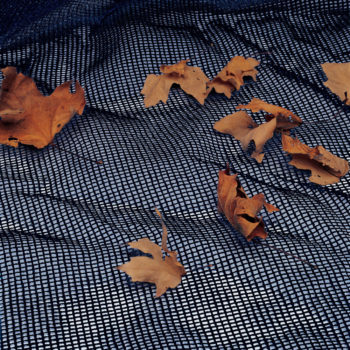 There are many advantages that make purchasing a pool cover a crucial part of your pool maintenance. With only very few drawbacks, it's completely understandable why it's essential.
Benefits
Keep pool clean of bugs and other debris
Reduces cleaning cost and time
Prevents water from evaporating by 95%
Reduces chemical use
Reduces algae buildup
Save 50% on heating costs
Protects from elements in winter
Drawbacks
Some may be expensive
Winter covers may be difficult to put on and take off
Require replacement after several years
As you can see, the benefits by far outweigh the drawbacks.
Main Types of Above Ground Pool Covers
There are 3 main kinds of above ground pool covers. Each has its own benefits and specifics based on your needs.
Winter Pool Covers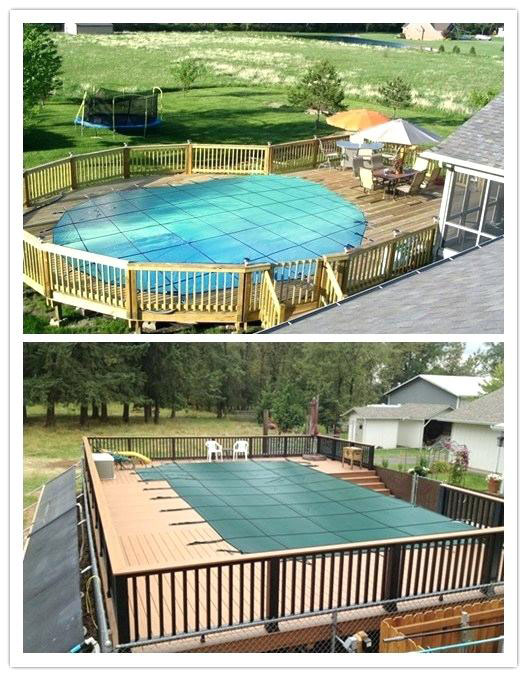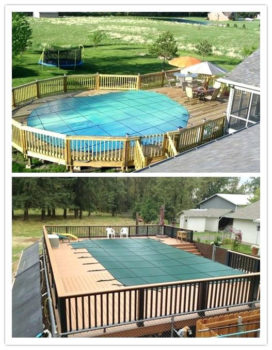 These are specifically designed to protect your pool from the winter elements, as they are the strongest above ground pool covers. If you don't plan on putting your above ground pool away for the winter, it's essential to protect it from freezing temperatures, debris, and algae buildup.
Winter covers are made to be as near to airtight as possible. They block the sun to prevent algae buildup, hence why most have a black underside. They are made durable to withstand the weight of snow and ice and keep the water inside the pool from freezing.
Tip: If there is more than ½" of ice forming in your area, we recommend you use a specialized pool air pillow under the cover. It prevents ice damage to the liner and added weight. Another tip is to use a cover pump if you have excessive snowfall or rainfall in your area to avoid too much pressure on the cover.
Mesh Winter Covers
These are actually great all-season covers. They are a lot lighter than the standard winter covers and thus are much easier to put on and take off. This makes them ideal for use in between pool use. Though thinner, they are still durable above ground pool covers that can handle the elements.
These types of covers are a great alternative to winter covers if you do not want to buy a cover pump. They protect from the elements but allow melting snow and rainfall to drip through into the pool, preventing puddles in the cover.
They protect from debris falling into your pool, but smaller particles may possibly make it through. This means that in the Spring you will have to run a pool vacuum to clean out any small debris before using your pool.
Leaf Nets
There are different uses of leaf net covers. They are a great addition to any winter cover to protect it from rotting leaves. You put it on in the Autumn and remove once all the trees are bare. This type of cover makes cleaning off your winter pool cover from rotting leaves fast and easy. Then, when there are no more leaves to worry about you simply take it off.
They are also handy when you aren't using your pool. Though smaller debris will get through, it will catch leaves and sometimes even pine needles. This makes everyday cleaning more manageable, and helps put less strain on your filtration system. As they are effortless install due to their weight, we recommend anyone with trees in the yard to have one.
If you are looking for more pool cover options in above or inground pools, be sure to stop by our top pool covers review and buying guide.
Maintenance of Winter Covers for Above Ground Pools
Winter pool covers are the more expensive of the three types of above ground pool covers. This is why maintaining it is vital if you want yours to last for many seasons. These solid covers for above ground pools require extra care, especially before storing them.
One installed, to prevent rips and damage always check throughout the winter. Especially during heavy snowfall or rainfall, make sure puddles haven't formed, and if they have, drain the cover. Also, if you have a leaf net check it regularly to remove any rotting leaves, so they don't stay too long on the cover.
We recommend that when you remove your cover in the spring you clean it thoroughly before putting it in storage. You will need a pool brush, a garden hose, a vinyl pool cover cleaner, and dish soap. Wet the cover and apply dish soap. Scrub it with the pool brush. Once you have rinsed the soap, remove any excess water and dry in the sun. Finally, apply a pool cover cleaner for a layer of protection.
During the summer store your winter cover in a shady area away from the elements, especially scorching summer sun. Check over grommets for rips around them or damage. Ensure there are no rips or holes that need mending and put in storage.

Understanding Pool Cover Specs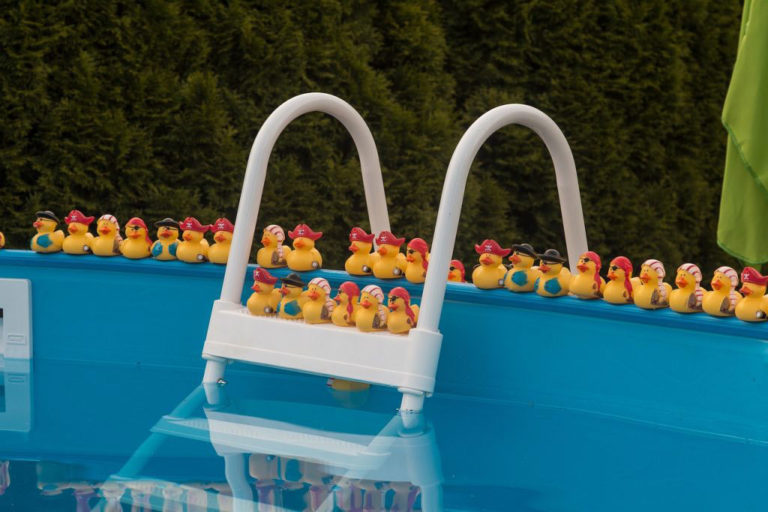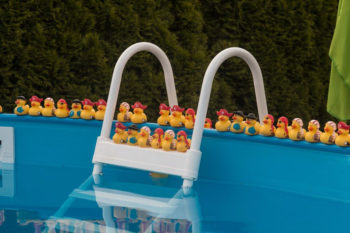 When buying a pool cover, you will see a lot of specs and information that may be confusing if it's your first time buying. We've broken them down for you below:
Scrim Count

– This is the number of fibers used per square inch to make the weave of the material. The higher this number, the tighter the weave, thus the better the resistance to tears and punctures.

Laminate Coatings

– This is mainly for winter covers. Though most are made of polyethylene, it's the coatings, additives, and strength modifiers that make the cover extra durable.

Grommets

– These are the brass or aluminum holes used to run the cable through for securing. They have to be very durable and rust-resistant because they will be under constant strain while the cover is on the pool.

Cable and Winch

– They are used to secure the cover on the pool. We have found that usually these are the first to go, but are easily replaced. Winches tend to bend and not withstand the pressure needed to tighten the cable through the grommets, so expect to be buying a new one within a couple of seasons.

Seams and Stitches

– Sometimes two pieces of material are used to make one cover if it's for a larger pool. The heat-welded seams between two sections and along the edges are the most durable, though some still sew them together with nylon thread. The ideal seams and edges are done by applying both sewing as well as heat welding.
There are many winter pool cover quality differences, and each can be determined based on the specs of the product. The key is finding a perfect middle based on your needs and budget.
Installing an Above Ground Pool Cover
Each comes with instructions, but generally, it all covers the same septs of how to install above ground pool covers.
Prepare pool for winterizing including lowering the water level, adding chemicals, and cleaning. If you will be using a pillow, put it in the center of the pool.
Spread the cover over the pool. For winter covers this may require two people, as they are heftier. Make sure there is at least 1.5 to 2-foot overlap on all sides while still allowing the cover to dip down inside the pool.
Add the leaf net over the winter cover if you will be using one. This net will be removed when the trees in the area have no more leaves.
Thread the cable through the grommets around the edge of the cover and insert it into the winch. Pull tight to secure it.
Protect your cover from wind damage by tucking in any extra material. Covers suffer most due to wind, and extra precaution needs to be taken in high wind areas. You can invest in above ground pool wall bags, winter cover seals, pool cover clips, and more for added protection.
Did you get inspired by some of our pool covers and are considering a new above ground pool? Take a look at our selection and buying guide on the top above ground pools on the market.
Wrap Up
We hope that our above ground pool cover review will help you choose the right cover for your pool. It's an essential part of owning a pool, but with so many on the market, finding the best one can get tricky. We did our best to share you with the necessary knowledge to buy the best above ground pool cover to get the job done correctly.
As you may already know, our team of pool experts strives to gather the most useful information on pool maintenance and the latest products. If you've found our review and buying guide on above ground pool covers useful, we would love to hear your thoughts.
Thanks for reading and as always – stay put!