It might be true that a pool cover would not be capable of hiding your pool from fauna intruders. However, that should not stop you from purchasing it because it will successfully prevent leaf and debris contamination. But you know that already, don't you?
What we want to do is help you choose the best pool cover that will protect your pool most efficiently. The right item should also be able to protect itself from abrasion. These are only some of the features you would want to be looking for. To make things easier, we have collected some reviews of pool covers. Additionally, our guide will provide you with information on maintenance, installation, types, etc.
So before the leaves start falling and winter storms hit your backyard, join us as we explore the world of pool covers. We hope you enjoy it!
See The Quick Comparison Chart
A Pool Full of Pool Covers (Types)
We have provided you with a list of reviews of different pool covers, and in spite of the details, you may still want to do some more research. In the next section, you will get the chance to explore a broader range of products. Based on your needs and the requirements of your pool, you will then be able to make a more determined decision. Here are the most common types of pool covers:
Solar Pool Covers
They are also known as bubble covers because the light material consists of transparent air bubbles. Their job is to absorb the sunlight throughout the day and keep the water warm. They need to face down the water to cut evaporation by 99%. Thus, you will be able to swim even in the morning since a significant amount of warmth will remain throughout the night. These covers are also energy-efficient and can cut down the costs on pool heating.
Solar pool cover prices depend on the size of your pool and can start from as low as $40. The installation itself is easy, but you might find it more challenging to take the cover off and roll it for storage. If you want to get this type of pool cover, it would be a good idea to purchase a roller. We would love to give you more information on top solar pool covers and the accessories that they need.
Note that solar covers are very lightweight, which means that they would fail if they had to support the weight of a child or a dog. You should secure it tightly using additional safety measurements.
Automatic Pool Covers
As the name suggests, automatic pool covers operate through a button. That means they are easier to control, and they also ensure safer coverage. The way they work is through interlocking slats that rest on the surface of the water. When you press the button, the reels will either cover or uncover the slats.
Although automatic pool covers are more on the pricier end, the expensive mechanism and materials compensate by providing your security and peace of mind. The cover can support the weight of an adult. Furthermore, you can lock the button so that your children's curiosity does not interfere with their safety.
You can choose from a range of sizes depending on your pool. Make sure that you call a professional to install your automatic pool cover.
Thermal Pool Covers
The consistency of thermal pool covers makes them a more efficient blanket than the solar covers. They contain foam that retains the absorbed sunrays and also prevents the growth of algae. It is true that their cost is higher than that of a solar cover, but if warm water is your priority, then maybe you should consider investing.
Similar to the previous model, thermal pool covers can be custom-made for any shape or size and require professional installation.
Winter Pool Covers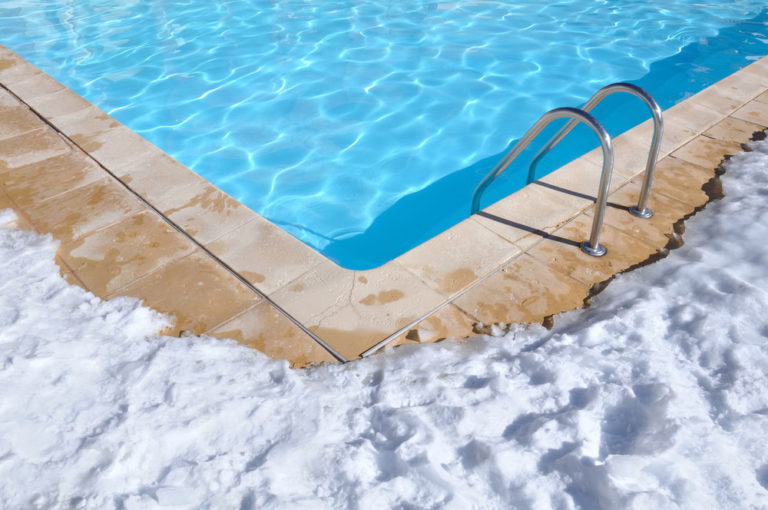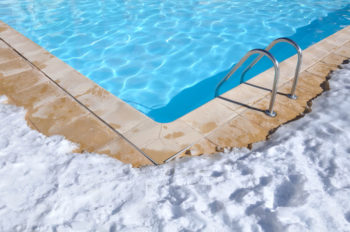 The products that we have reviewed for you are mostly considered to be of this type. However, do not let the name mislead you. Winter pool covers do not protect your pool during the winter exclusively. As already mentioned, their purpose is to prevent leaf and debris accumulation and to make cleaning easier. Polyethylene material contributes to its ability to withstand harsh weather conditions.
Winter pool covers come at a relatively low price. Besides, they are straightforward to install and easy to maintain.
Hidden Swimming Pool Covers
They need less explanation because the name indicates their aesthetic purposes. The idea of a hidden cover is to be as invisible to the easily annoyable human eye as possible. They are not entirely invisible, however. The lid of the cover is stored at the end of the pool, and it hides the roller. Once you decide to use the cover, all you need to do is open the lid and unroll the cover.
The disadvantage of this model is the difficulty of installing it in already existing pools, which makes them more convenient during renovations or new constructions. When it comes to price, the hidden pool cover becomes more expensive if it is automatic.
Note that the products we presented to you were designed for in-ground pools. If you would like to look at some quality above ground pool covers, make sure to check our website.
Best Pool Covers Comparison Chart
PRODUCT
DETAILS

Happybuy Pool Safety Cover

Price:

$$$$

Size:

20 x 40ft

Material:

Polypropylene

Design:

High temperature and abrasion resistance design

View On Amazon

Blue Wave Rectangular In-Ground Pool Safety Cover

Price:

$$$$$

Size:

20 x 40ft

Material:

Super-strong two-ply mesh

Design:

High scrim mesh panel design

View On Amazon

Pool Mate Sandstone Winter Pool Cover

Price:

$$

Size:

30 x 50-ft

Material:

Polyethylene

Design:

5-foot overlap design

View On Amazon

Buffalo Blizzard Deluxe Winter Cover with Waterbag Kit

Price:

$$

Size:

16 x 36-ft

Material:

Double stitched and triple thick hems

Design:

5-foot overlap design

View On Amazon

Pool Mate 462040RPM Classic Winter Pool Cover

Price:

$

Size:

20 x 40-ft

Material:

Polyethylene

Design:

5-foot overlap design

View On Amazon

Blue Wave Rectangular Leaf Net Ground Pool Cover

Price:

$$

Size:

20 x 40-ft

Material:

Woven polyethylene. Black mesh fabric

Design:

4-foot overlap design

View On Amazon
Best Pool Covers – (Updated List)
In this section, we will present to you a list of reviews of pool covers. Note that each model has its characteristics, benefits, and drawbacks, which is why the products are not in any particular order.  We will give you all the information so that you can decide which model suits your needs.
1. Happybuy Pool Safety Cover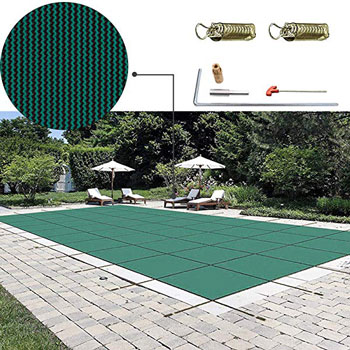 The Happybuy Pool Safety Cover is multi-functional because the right big size could fit different pool shapes. Thus, if you secure it tightly around the exterior, you will be able to protect a rectangular or oval pool.
This particular model is suitable for pools that are 20×40 feet big. Upon delivery, you will receive all the hardware needed for an easy installation. The only thing you will need to buy or rent is a drill. The recommended hole size is 40mm, which is achievable with a 19mm diameter drill bit.
This item is thin. The material is solid mesh, which means that water can go through it, but then the bigger objects like leaves will stay on top. Thus precipitation (rain, snow) will seep through, while the heavier items will be easy for you to remove. There are several tie-down options available for you to choose from. The anchors of this model are designed specifically for concrete. If you need wooden anchors, you will need to purchase them from other vendors.
Pros:
Several tie-down options
Holds heavier items
Hardware included
Cons:
Cheaper, thin material
Allows precipitation
2. Blue Wave Rectangular In-Ground Pool Safety Cover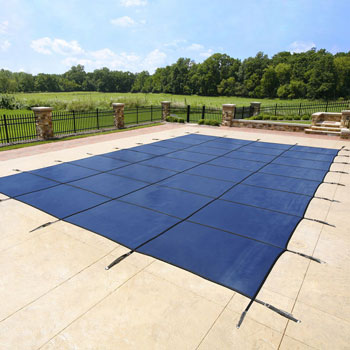 The second product on our list is Blue Wave model. This item is specifically designed for in-ground pools. Although it would cover your above ground pool, the wind might get under it, because the cover is quite thin. In spite of the thickness, however, the product contains high-quality mesh.
The package includes all the equipment that you would need to install it except the drill and the drill bit. Note that the size of the drill bits should be ¾. You can adjust the straps according to the brass anchors. Thus, the cover is very functional.
What creates a disadvantage when it comes to this item are the instructions. You might find them challenging to understand. Luckily, the installation itself is easy and straightforward. Other useful features in the design of this cover are the UV coating and reinforced wear strips. What they do is protect the pool cover itself from the damaging effects of water and harsh weather conditions. Overall, given the price, this model should be easy to use in spite of the instructions.
Pros:
Reasonable price
UV coating
All hardware and parts included
Adjustable straps
Cons:
Confusing instructions
Thin material
3. Pool Mate Sandstone Winter Pool Cover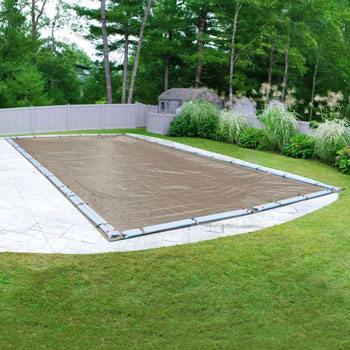 The next product we will review for you adds diversity in terms of colors. This Pool Mate cover is light brown color, which might suit the color of the pavement around your pool better. The product is designed for pools that are up to 30×50-ft in size. The 5 feet overlap should securely hold the cover in place during harsh weather conditions.
Installation should not be a problem. However, be careful when it is raining and when leaves start falling because debris and dirt might get in the water when you move the cover. The thickness of the cover is average, more on the thin side.
Nonetheless, the material is good enough to prevent the water from seeping through it thanks to the tarp-type consistency. Note that this model does not include the water tubes that are shown in the picture. Unfortunately, the exterior of the cover contains only the grommets and not the loops. You could buy a grommet kit at a local hardware store, but if the additional work is not convenient for you, this item might not be your ideal model.
Pros:
Quality material
Prevents water from seeping through.
Low maintenance
12-year warranty
Cons:
No water tubes included
No grommets, only loops
4. Buffalo Blizzard Deluxe Winter Cover with Waterbag Kit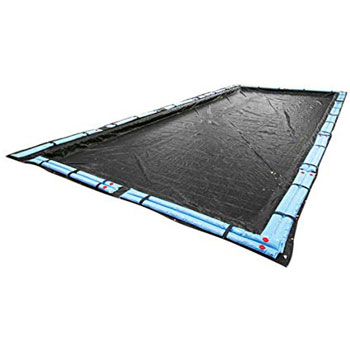 Let us present to you another winter cover for your rectangular pool. This Buffalo Blizzard model is advertised as being suitable for both in-ground and above the ground pools. However, note that the cover might sag when leaves fall into it if you don't install it securely at the edges of an above the ground pool.
The cover itself has a standard overlap of five feet, and it fits well over pools that are 16×36 feet. A primary disadvantage of this unit is that it might not last long, depending on the harshness of the winter weather where you live. There is a chance that the material will not suit your needs for more than a year.
If you are interested in the price, however, you might enjoy this product because it comes at a lower cost. The package includes a pack of four 8′ and another one of eight 10′ double-chamber water bags which you need to insert in the loops on the exterior of the cover. Some customers have complained that a couple of bags might start leaking with time.
Pros:
Suitable for both in-ground and above the ground pools.
Comes with water bags.
Good price
Cons:
Sags in the water when leaves start falling.
Short lifespan
Water bags might leak.
5. Pool Mate 462040RPM Classic Winter Pool Cover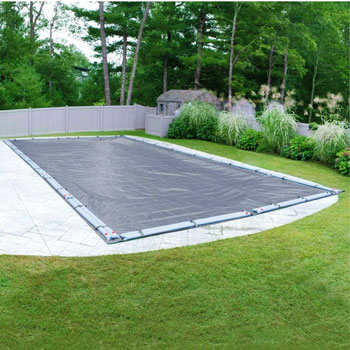 Our next product is Pool Mate Classic Winter Pool Cover. What stands out about this product is that it consists of high-quality materials. The purpose of the mesh is to withstand heavy rains and snowfalls so that it does not sag and collect water. You would, of course, have to tie it securely around the edges. There are only four holes on the corners, however.
This model does not include metal grommets. You would need to purchase water tubes separately to make sure that the item remains still over the winter. The design allows you to quickly and easily remove the leaves and debris from the top.
An important feature of this pool cover is its adjustability to different pool shapes. As long as the cover is about four feet longer than the longest length and width of the pool, it should fit well. Being lightweight, the material is easy to navigate and adjust. However, you should still be careful when taking it off so that no leaves fall into the water.
Pros:
Fits different pool shapes.
Lightweight and easy to handle.
Low maintenance
Cons:
Water tubes sold separately.
No metal grommets
6. Blue Wave Rectangular Leaf Net Ground Pool Cover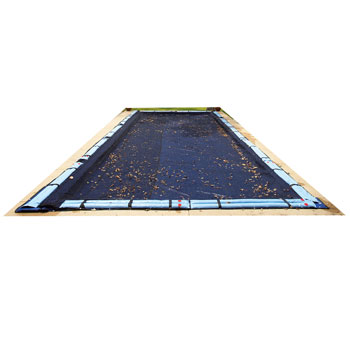 When choosing your pool cover, always pay attention to the details. For example, this product comes only as a leaf net without an actual pool cover included. Another thing you would need to purchase separately is straps and water bags that would hold the net in place. However, those are all additional utensils that do not define the efficiency of the item.
The item itself is functional because it keeps debris and leaves from getting into the pool. It is lightweight and easy to handle. Thus, you can put it on and take it off in a couple of minutes.
This particular item is designed to cover rectangular flats that are 20 feet wide and 40 feet long. There are four more feet added to the cover to overlap the corners. To stretch it and secure it tightly, you can put the straps through the grommets around the exterior. When leaves accumulate on top of the net, use a leaf blower to blow them away or scoop them.
Pros:
Overlaps by four feet
Protects the pool from debris when it is not being used
Easy to put on and take off
Cons:
Full equipment is expensive because the item does not include water bags or straps.
Only a leaf net – no pool cover under it.
The Bright and the Dark Side
We would like to finish the dirty work as quickly as possible, which is why here we will look at pool covers' primary pros and cons. Our warnings should not discourage you, but it is always better to know what you are dealing with in advance.
Benefits
Lower energy consumption and an increase in temperature – The protective feature of pool covers reduces the price of your energy bills and keeps the water warm for a significantly longer time.
Cut on water consumption – The coverage of the pool naturally prevents evaporation.
Hassle-free pool maintenance – If you have a layer of cover to collect leaves, debris, and dirt, then the water will remain cleaner. Thus, the item will save you the time needed for maintenance.
Say 'Goodbye' to flow blockages – When the leaves stay on top of the cover, instead of sinking in the water, the filter has enough space to do its job. Thus, water circulation's primary obstacle disappears.
Drawbacks
Rolling up and down – If you use your pool cover throughout the whole year and not only during the winter, you will need to roll it up and down every time you decide to go for a swim.
Not the most delightful sight – There is a big chance you might not like the way a pool cover looks in your yard. However, there are different options when it comes to design, and there might be something that appeals to your more.
Price – Of course, there are covers for every pocket, but if you need a custom-made product, the cost will go up.
Cause of frequent salt and chemical refills – During rainfalls, your cover will naturally collect more water, which you will then need to pump out. The pump, however, will also suck the water from the pool with some amounts of salt and chemicals.
Take Care (of the Pool Cover, Of Course)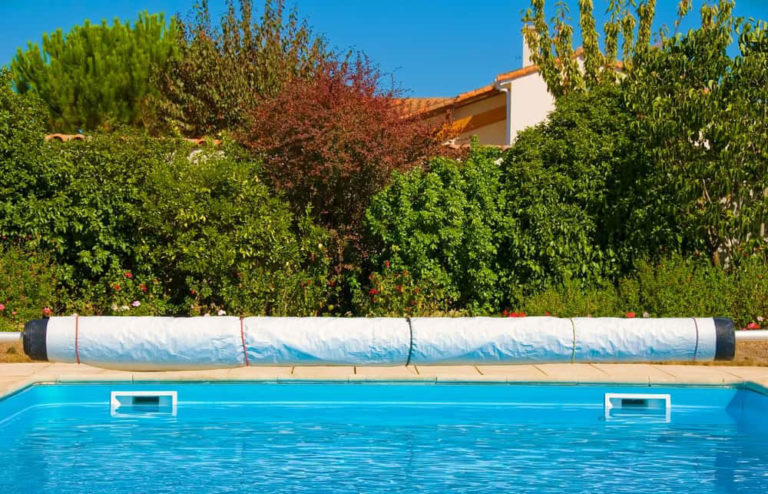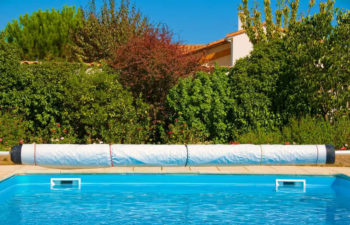 It might come as a surprise that a device that is designed to maintain an object's good shape would need maintenance itself. We are sorry to break it to you, but that is the case with pool covers. For them to continue protecting your pool for the longest time, you need to make sure they are just as durable. Since most removable pool covers require a straightforward cleansing from time to time, in this section, we will share with you some tips on maintaining an automatic pool cover.
Here's what to do
Remove the water that accumulates on top of the cover using a lightweight pump.
Do not let leaves and debris to build upon the cover for too long. Clean them with a broom or another object you have at hand.
Make sure that the tracks also do not collect debris and dirt. You can remove excessive build-up by spraying the tracks with a garden hose.
Leave the cover open after disinfecting it with chemicals so that the toxins from the product can evaporate well enough.
Once a week, open the cover entirely.
Make sure that the pool itself is clean before you pull the cover over it.
Regularly check the fabric of the cover for holes and damages. If you notice weaknesses in the performance of your product, it might be time to replace it with a newer one.
Put It On! (Installation)


When we went through the different types of pool covers, you may have noticed that some of them require a specialist during the installation process. This way, you will be sure that nothing more than a miniature insect will drown in the pool and that the cover will remain tightly above the water. However, there are covers that you can install yourself, which saves you some time and money.
To distinguish the two types of installation, we will put all covers under two categories: mesh and solid. Thus, we will explain what the standard process is for each.
Installation of Mesh Covers
It is essential that you cover fits your pool size and shape precisely. Otherwise, it will fail to do its job, and you will have a hard time installing it.
Anchors are installed directly into the pool deck. Check the instructions to find out where you should drill holes for the anchors.
Depending on the pool deck, you will need specific cement, wood, or other hardware.
Once you install the anchors, attach the springs to them. Make sure they are stretched to the maximum to ensure security. An instrument to help you do that should come with the product.
Installation of Solid Cover Safety
Again, the right fit guarantees you a secure grip of the cover to the exterior of the pool and no sagging over the water.
Funnily enough, a solid pool cover is installed much the same way as a mesh cover. We hope you find this funny. The only difference is the material of the cover itself, but that does not define the type of installation.
Frequently Asked Questions About Pool Covers
To make ourselves feel even happier that we have helped you to the point where you feel confident choosing a pool cover, we decided to collect the most frequently asked questions on the web. Then, we thought that maybe it would be even cooler if we also answered those questions.
Q: Does a Pool Cover Save You Energy and Money?
A: The simple answer is "yes." A pool cover will reduce the energy consumption of a heated pool by absorbing sunlight. Of course, the amount of energy and money it will save depends on the type and quality of the pool cover. Check our section on types of pool covers to find the more energy-efficient ones.
Q: What About Water Consumption?
A: Well, the cover does not consume water, but it sure does prevent evaporation by up to 95%.
Q: Does the Cover Heat Up My Pool?
A: The cover itself does not have a heating element, but it does retain the warmth from natural sunlight. Again, depending on the model, each cover will do that to a different extent. As noted above, the thermal cover acts as a blanket.
Q: What Hardware Would I Need?
A: Make sure that you purchase a pool cover that matches your pool deck. Most covers should include all the hardware in the package, but in case they don't, the instructions will tell you what parts you might need. You will need a drill machine for the anchor holes. Some essential components, which might not be included in the package, are anchors, strings, and water tubes.
Q: Should I Remove My Cover If It Gets Too Hot Outside?
A: Yes, especially if you own a bubble pool cover, you should roll up the cover once the temperature reaches 35ºC. Store it in a cooler place.
Q: Can I Use a Pool Cleaner Under My Pool Cover?
A: Yes, the use of a pool cover does not prevent you from using a pool cleaner, the same way that detergent does not hinder the performance of your pool cover. In case you are looking for a good cleaner or other quality class pool supplies, you can explore our website to complete your collection of accessories.
Wrap Up
Sadly, the time to say our 'goodbye' has come. The truth is, we now want you to leave your computer, go out there, and find yourself the best pool cover you could find. Hopefully, our pool cover reviews and tips will treat you to a shopping therapy with zero stress because now you know what you will need. Follow the steps we gave you on installation and maintenance, and life will be so much easier!
Make sure to check out our website for more products you might find interesting. Also, if you think your friends could benefit from our advice, please, share it with them. We will really appreciate it! If you have any further questions, we are always here to answer them. Just give us an email, and we will make all the worries go away. We hope to see you again soon!
Thanks for reading, and as always – stay put!