First of all, why would an above ground pool need a ladder? After all, the pool's depth is not that big, and you could simply make your way in and out of the pool – without using a ladder or steps. However, if you're one of those who tried getting in and out of a pool that's not equipped with a ladder, then you know it is not easy at all.
In short, above ground pools – as convenient as they maybe – need a sturdy and safe way to enter and exit. The best above ground pool ladder offers you a secure way to get in and out of the pool and it also increases its convenience. After all, you wouldn't want to wiggle on the edge of your pool for up to five minutes until you manage to get out of it!
Therefore, today we'll take a look at some above ground pool ladder reviews and see everything that you need to know about such accessories!
Best Above Ground Pool Ladder – Editors' Choice
1. Confer Plastics Pool Step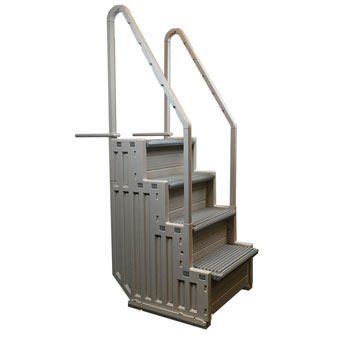 This product comes with a classic design, like the steps you usually see in old-school movies. Despite the old design, if we may say so, this particular item is one of the best-reviewed in its category, with a rating of 4.5 out of 5 stars.
Naturally, the pool step is designed for easy exit and entry from almost any type of above ground pool. The steps feature large, non-skid surfaces, making it very hard for swimmers to accidentally slip and fall.
Moreover, this product comes with side openings that are meant to reduce algae-growth, thus keeping the pool and its accessories in good health. You'll also have no issues with the installation of this pool step, as it is based on a snap-together system.
Lastly, if you want more safety and security, you can use the mounting brackets included in the package of this product to fasten the pool step to an existing deck.
Pros
Reportedly, it is a very stable ladder
Specially designed for easy entry/exit
Non-skid step surfaces
Convenient, snap-together assembly system
Side openings that prevent the growth of algae
Cons
Not quite fit for children, as the railing is too wide to fit a little one
2. Intex Pool Ladder with Removable Steps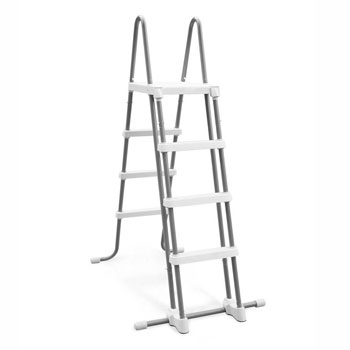 This pool ladder from Intex comes available in two sizes, depending on the wall height of your pool – namely, 48-inch and 52-inch wall height.
It features a protective barrier, to make your entry and exit from the pool even safer, so to speak. On top of that, it comes with a very convenient feature.
The steps on both sides can be removed, depending on how you place the ladder into the pool. So, the item won't obstruct any swimming space within your pool. Naturally, the side arms will remain inside the pool, but they won't have any steps that might bother you.
On the other hand, if you have children that may use the pool, then you can freely reattach the steps and make it much easier for the little ones to use it. As for the installing system, the ladder is simply snapped and locked into place and doesn't require any additional fixtures.
Pros
Features a protective barrier
Removable steps
Easy to install – snaps and locks into place
Most customers stated that it is very sturdy and durable
Some also praised its stability
Cons
Not very wide
Slip top platform
3. Bestway Pool Ladder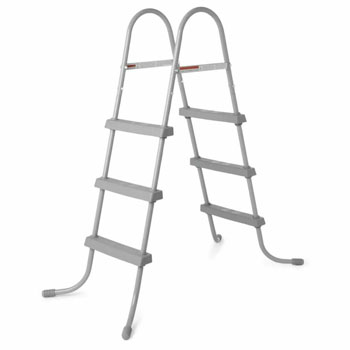 This item comes with a 4-star rating and with a sleek, minimalistic design. However, don't let its simple design trick you into thinking that the ladder is not sturdy enough.
Its frame is made of rust-resistant, galvanized metal, making this product one of the sturdiest and most durable on our list. On top of that, the product is labeled as heavy-duty and having slip-resistant plastic steps.
In short, even if its design is rather simple, the product does satisfy in terms of convenience and functionality. It also doesn't feature oversized side arms that usually make it harder for people to climb such ladders.
When it comes to dimensions, this ladder from Bestway is fit for pools that have a wall-height of 36 inches. The product comes flat-packed, but it is very easy to install, mainly due to the intuitive instructions. Naturally, all the fittings and fixtures you may need will come with the ladder.
Pros
Highly durable frame, made of rust-resistant galvanized steel
Slip-resistant plastic steps
Heavy duty
Great value for money
Easy to assemble
Sturdy
Cons
The top platform may be too wide for children to use it safely
4. Confer Plastics Above Ground Pool Ladder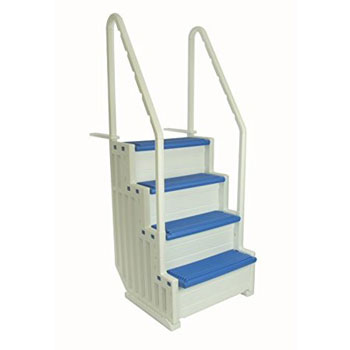 Yet another entry from Confer Plastics, this above ground pool ladder comes with a 4.5-star rating – based on a lot of reviews. It goes without saying that choosing a product from this manufacturer is the right choice, as people seem to be overall happy with their pool ladders.
For increased safety, this product comes equipped with mounting brackets that can be used to safely secure the ladder to your deck or pool. The ladder's steps are wide – 10 x 27 inches – and colored in blue so that you can't miss them!
The product is fit for all above ground pools that have flat bottoms. When it comes to installation, you just have to snap the ladder's pieces together and then secure it to the pool.
Moreover, this pool ladder features a special design that allows water to circulate behind the product so that algae is prevented from growing. This also ensures the fact that any pool chemicals that you may use to clean your pool won't get stuck inside the ladder.
Pros
Wide steps
Features mounting brackets
Easy to install
Water flow-friendly design
Can hold up to 400 pounds
Highly stable
Cons
The rails may be too high – depending on preferences
5. Aqua Select Anti-Slip Pool Steps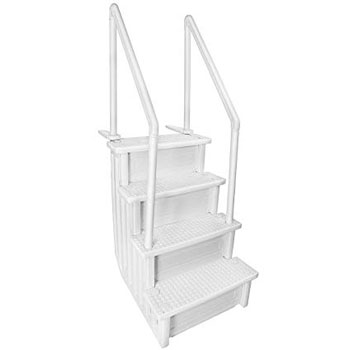 Specially designed for above ground swimming pools, this ladder comes with a quite impressive rating and with features to match it.
As most pool ladders, it does include mounting brackets that you can use to secure the ladder to the pool or to a deck if you have one. The product features a wide-step design, each step being of 10.5 x 31.5 inches. Basically, they are wide enough to make sure that you don't miss any steps when you get out of the pool.
In terms of installation, the ladder is based on a snap and lock system. You just have to unpack it, snap its pieces together, and then you are ready to place it in your pool. Keep in mind that this particular ladder can be used with flat-bottom pools only.
On top of that, the ladder's frame is highly durable, making the product able to withstand up to 400 pounds in weight. Also, if you were curious, the product can fit decks up to 60 inches!
Pros
Mounting brackets
Wide steps
Durable frame
Easy to install
Inhibits algae growth due to water circulation system
Cons
The ladder may present some movement while submerged. Make sure to properly fill it with counterweight.
6. Main Access Easy-Incline Pool Ladder
This product is compatible with any above ground pool! This is due to the simplicity of its design, which doesn't feature any fancy patterns or additional frame parts. Is it simply a pool ladder!
It can fit flat bottom pools that are up to 52 inches deep and can withstand up to 300 lb.
Naturally, its simple design makes it easy to install. On top of that, the product's package includes all the necessary mounting hardware so that you don't postpone the installation of your pool ladder.
For more technical details, we inform you that the bottom step of the ladder is 9.5 inches deep while the top one is 6.5 inches deep. Also, the in-between steps decrease gradually in-depth.
The gradual decrease is there to provide the ladder with a staircase-like feel when you climb out of the pool. It may have a simple design, but it does a great job of making you feel just like in a movie!
Pros
Gradually decreasing steps for staircase-like feel
Can be installed on any above ground pool
Comes equipped with all necessary mounting hardware
Easy to install
Sturdy
Great value for money
Cons
It may need some extra weight to properly stand in the pool and avoid water-caused movement
7. XtremepowerUS Safety Step Pool Ladder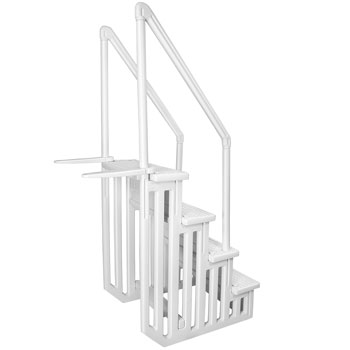 This pool ladder from XtremepowerUS comes with a 4-star rating and with quite numerous positive reviews. As most ladders designed for above ground pools, this one works only for those that have flat bottoms.
Moreover, installation is – as usual – the easiest thing you could do. The ladder's pieces just have to be snapped together and that's it! You may then secure the ladder to either your pool or your deck.
Speaking of securing the ladder, the package of this product comes with mounting brackets included (which may be either plastic or metal – or even both types). These brackets allow you to safely secure the ladder to your deck/pool.
The frame of the product is highly durable, while the entire assembly can withstand up to 400 pounds. Moreover, its steps are designed with high water visibility in mind so that you won't miss any step when getting out of the pool.
Lastly, the steps are quite wide – 31.5 x 10.5 inches – making for a very safe pool ladder!
Pros
Easy to install
Durable frame
Wide steps
Mounting brackets
Side openings for water circulation
Sturdiness
Cons
Reportedly, the handrails are rather flimsy
The ladder must be weighted properly, or else the back-bottom angle will allow the ladder to tip
8. Confer Plastics Swimming Pool Steps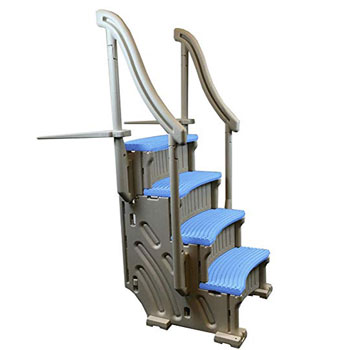 Yet another entry from Confer Plastics, but this time with a different material for their ladder. This particular product is made from super strong, molded, chemical resistant resin that is able to withstand up to 400 pounds.
When it comes to dimensions, this ladder has a base step of 32 D x 47 H x 38 W inches, and step thread dimensions of 27 W x 10 D x 11 H inches.
Moreover, it includes several adjustable base pads, as well as a couple of oversized deck mounting brackets – namely, 24 inches.
For increased stability when submerged, the sides of the ladder have to be filled with pea gravel or sand. You shouldn't worry that this process may damage the ladder, as the entire assembly is backed by a 5-year warranty that covers damage to the sides.
The steps of the ladder are smooth and curved, while the handrails are gentle. This makes for a very pleasant experience in terms of getting out of the pool – no need to worry about struggling with the ladder more than you do with the water!
Pros
Great value for money
Stability
Sturdiness
Highly resistant material
Features adjustable base pads
Cons
The sides may require more sand than you expect to keep the ladder from floating.
Some customers reported that the feet of the ladder come off randomly
9. Swim Time Swimming Pool Step to Deck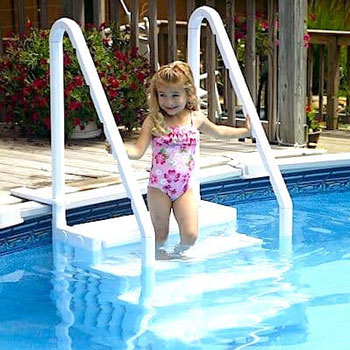 This pool ladder comes with overall dimensions of 81 inches in height, 32 inches in depth, and 32.5 inches in width. The dimensions of the steps are 10 x 27 inches.
Even though this product is mainly advertised as a deck ladder, the manufacturer will provide you with a ladder combination for above ground swimming pools, if you need one.
This item also features a rugged step that makes it much easier for you to create an entry and exit point from your pool. The rugged step is made of maintenance-free polyethylene and can fit any above ground pool of up to 54 inches in depth.
Naturally, the steps are slip-resistant, and the double handrails ensure the fact that you won't lose grip and slip. The entire assembly can withstand up to 350 lb.
Moreover, this pool step comes with a patented design that allows you to easily install it and remove the ballast weight when the winter season kicks in. The product comes with a 3-year manufacturer's warranty.
Pros
Rugged step feature
Slip-resistant steps
Sturdy double handrails
Easy to install
Great value for money
Cons
Reportedly, there are not enough holes for the water to get in. You may have to drill some more in order to ensure proper water circulation
10. Vinyl Works Frame Pool Ladder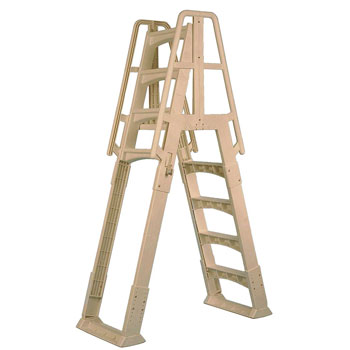 This step-in pool ladder is equipped with double handrails for easier and safer pool entry. Moreover, this ladder is specially designed for above ground pools that have sidewalls of up to 4.5-foot, as well as a flat bottom.
On top of that, the product features a top platform tread and 4 base treads that ensure easy climbing and increased stability. The ladder can withstand loads of up to 300 pounds.
The top-step platform can also be adjusted, from 48 up to 56 inches in height so that the ladder can pass over the walls of all the above ground pools.
When it comes to materials, this product is made from maintenance-free plastic resin, as well as stainless steel hardware, for increased durability and resistance.
Naturally, like most above ground pool ladders, this one is very easy to install and doesn't require any professionals. You just have to read the instructions carefully!
Pros
Double handrails for increased safety
4 base treads, as well as a top platform tread for easier climbing
Adjustable top-step platform
Safety features
Easy to assemble and install
Cons
The ladder is quite heavy. You may need an extra pair of hands if you plan on cleaning the pool or just removing – or submerging – the ladder.
11. Vinyl Works in-Step Pool Ladder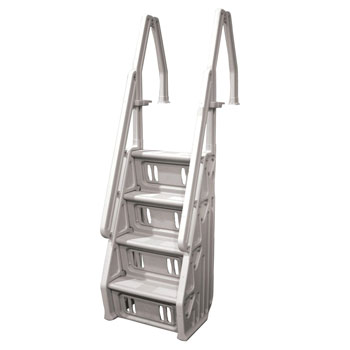 The second entry from Vinyl Works comes with a much simpler design – which also looks easier to carry. This one is a step-in pool ladder as well, featuring double handrails for increased safety and ease of access.
This item is designed to fit any type of above ground pool that has sidewalls of up to 4.5/5-foot and a flat bottom. Naturally, if the pool would have a curved bottom, the ladder wouldn't have anything to rest on, becoming quite dangerous to use.
The product also features two flanges that can be mounted on a deck for increased stability. These flanges allow the ladder to withstand loads of up to 300 pounds.
Same as with the previous product, the top-step platform is adjustable – from 44 to 60 inches tall – so that the ladder passes over pool walls with no issues. The pool ladder is 24 inches wide.
Lastly, the package comes with deck mount flanges, as well as with front mount flanges – including hardware – which can be used to mount the ladder straight to a pool deck.
Pros
Easy to assemble and install
Very sturdy
Proper stability
Deck and front mount flanges included
Adjustable top-step platform
Cons
Some customers stated that the ladder is flimsier than expected.
The Benefits of Using a Pool Ladder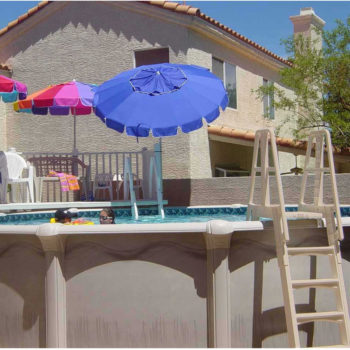 We've read the reviews and now's time to understand the advantages that come with a pool ladder. First of all, it is worth mentioning that your above ground pool may already come with a set of steps that you can install.
However, those steps may be of poor quality or maybe you want to install another set, for increased ease of access. Let's explore the benefits of using a pool ladder.
Safety – believe it or not, many above ground pools are quite tall, making it impossible even for adults to properly climb out of them. Moreover, if you have children and one of those tall pools, a pool ladder means increased safety when entering and exiting the pool.
Convenience – naturally, a pool ladder will make for increased convenience and leisure when using your pool. The faster you are able to get out of your pool, the better!
Guest-Friendly – if you like having guests, you will not be able to provide each one of them with assistance when they get in or out of the pool. Hence the need for a pool ladder.
Less Stress on the Pool – if you climb into the pool in the old-fashioned way, then you really have to consider the stress you apply to the pool while wiggling over its edge. A one-time entry may not damage the pool's structure, but several such entries will start creating problems.
The Drawbacks of Using a Pool Ladder
Naturally, pool ladders come with some drawbacks as well. However, the following aspects are not that important and do not affect the safety that such an item is able to provide you with.
Maintenance – obviously, having a pool ladder implies regularly cleaning it in order to avoid algae deposits and such. You'll have to make sure that the ladder is in perfect health and never slippery.
Removal – depending on the model, you may have a hard time removing the ladder. The winter season or the addition of a pool cover will require you to remove the ladder and then reinstall it when the weather gets better.
Things to Consider when Buying an Above Ground Pool Ladder
Now that we know the benefits and drawbacks, it is time to move on to the essentials – namely, the pool ladder buying guide. Even though we've provided you with quite some reviews of the best above ground pool ladders out there, you may want to make a choice of your own.
In this respect, we will now tell you everything that you need to know in order to make a wise purchase and get yourself a proper pool ladder, fit for both your needs and your family!
When browsing for pool ladders, you have to look into their safety features and make sure that they fit your needs. For example, if you have little children, you may want to choose a ladder that has a safety gate as well.
Naturally, the ladder must feature sturdy locking mechanisms so that it doesn't slip off the edge of the pool.
You may not have to be concerned about this at all, but there are a couple of scenarios in which you'll definitely have to take the weight capacity of your ladder into account.
Most ladders can withstand a load of 300 up to 450 pounds – at a time. This implies that there shouldn't be several people on the ladder at the same time.
A pool ladder's durability is mainly given by its materials, Naturally, you wouldn't want a flimsy pool ladder, as this promotes slip and falls.
It is recommended that you take a close look and properly analyze the ladder you are about to buy, in order to make sure that it won't break after a couple of uses. Reading reviews of that product is also very helpful!
It goes without saying that the ladder must come with high-quality materials, fixtures, and fittings.
Lastly, you need to get a pool ladder with the right size for you and your family. Wider steps would make it difficult for children to climb it, while narrow ones would not fit adults or bulky persons. So, take into consideration your needs.
Above Ground Pool Ladders – Types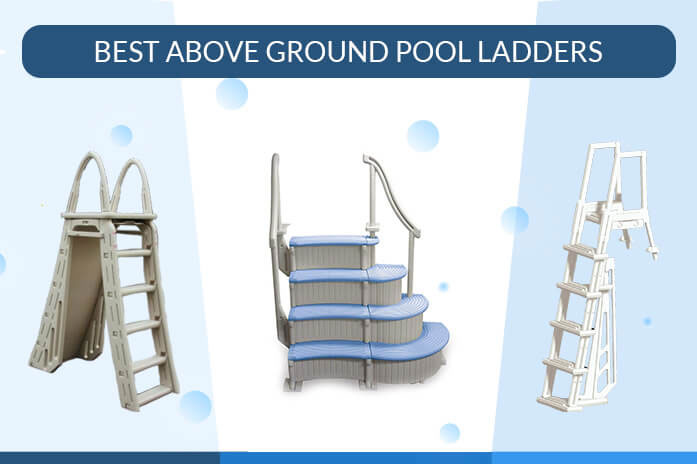 Here are some of the most common types you can choose from:
When browsing for such a product, you may choose between a ladder or a step system. Ladder systems are, obviously, the common pick.
Usually, these have an A-frame design that is composed of two ladders – both placed on each side of the pool. Such systems come with economy versions – which are known to be a little shaky – or with double-ladder versions.
The latter option is wider and features a much more stable footprint.
This type of system features a wide in-pool step that makes entries and exits much easier. On top of that, this step is a good sitting place while you are in the pool.
On the downside, such systems come with a rather steep exterior ladder, which may be quite difficult to climb.
These have wider treads on both sides, as well as a dual step system that is much easier to use than the aforementioned type of system.
Features You Should be Looking For
While you may want to pick a design that you like in a pool ladder, there are definitely some features that you'd want it to have, no matter its size and looks.
Proper Materials – pool ladders are usually made of steel, plastic resin, or aluminum. The latter is flimsier than steel but usually more stable than resin. It also resists rust, unlike steel.
Anti-Slip Steps – obviously, you want the steps of your ladder to feature anti-slip technology – it goes without saying why.
Sturdy Locking Mechanism – the hinges you use to secure the ladder to the pool or to the deck should be sturdy enough to resist grabs and quite some force.
These are the most important features and most of them are safety-related. Still, various other aspects depend strictly on your preferences.
Installing an Above Ground Pool Ladder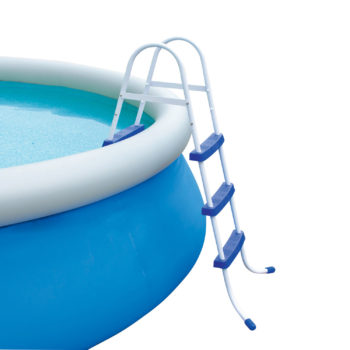 Once you have the top above ground pool, you have to attach a ladder to it – in order to make the pool as safe and convenient as possible.
Therefore, without any further ado, here's how to install an above ground pool ladder!
Set the Posts – create two holes outside the pool that will be fitted with the posts of the ladder.
Fasten the Ladder – make several pilot holes in the posts you have previously installed; for this, you can use the ladder holes as guidance. You will then place a washer on each bolt and insert the bolts in the pilot holes. The bolts can be secured with a wrench. Another washer is to be inserted on the other end of the bolt. Then, place the nut on it and tighten.
Finishing Up – the main issues you want to avoid when attaching an above ground pool ladder are potential leaks. Unlike installing the best pool thermometer, a ladder comes with more holes. You can seal any holes that you may think could cause a problem with a silicone sealer.
Installing an above ground pool ladder is quite an intuitive process and doesn't require you to know more than the user manual is telling you. So, just follow the instructions closely.
The Maintenance of an Above Ground Pool Ladder
Let's say that you have the best pool filter cartridge – you still have to do its maintenance and eventually replace it. Naturally, the same applies to ladders, even if these are much sturdier and durable than a mere pool filter.
You should rinse the stainless-steel pool rails with fresh water every single day.
The ladder's surfaces are to be washed with fresh, warm water – including a mild soap – on a weekly basis.
If the ladder contains metal, make sure to remove any signs of rust as soon as you notice them, with the help of a nylon brush.
It is also recommended that you check the ladder's durability and sturdiness on a weekly basis – especially in the summer when you use the pool the most. This way, you can make sure that the bolts are still holding in tight and that the ladder doesn't experience water-induced movement.
If you are curious as to what supplies you may use to clean your pool or your pool ladder, you can check our Pool Guides homepage, as we offer our visitors essential information when it comes to accessories, supplies, fixtures, and everything else pool-related.
Wrap Up
Now, finding the best above ground pool ladder for you and your family should be the easiest thing to do!
After all, we've provided you with some of the best above ground pool ladder reviews, as well as with all the information that you need to make a wise, well-informed purchase.
Keep in mind to be very careful when measuring your pool and the ladder you buy, as the most common mistake that pool owners make is estimating the size of their pool instead of properly measuring it. Naturally, this ends with them having to return the ladder they just bought and do what they should've done in the first place!
In the end, we hope that our article has provided you with everything that you need to know about above ground pool ladders. Now, you just have to start browsing for pool ladders and find the one that fits you the best.