Having a pool is all fun and games as it provides an excellent way to relax and hang out with friends. However, many people overlook the importance of properly maintaining their pool. The thing is that it is your responsibility as a pool owner to maintain the correct balance of sanitizers, which will prevent algae build-up and the growth of bacteria. This is where the best chlorine tablets for pools come in. These will make it easy to keep your pool clean and sanitized round the year.
As important as it may be to keep your pool sanitized – and it is – you will inevitably find it a tad challenging to choose a product out of the sea of items available on the market. Plus, they all look the same and promise to offer the same thing. So, our guide should come in handy, as it encompasses the best chlorine tablets for pools reviews, and not only.
Top Chlorine Tablets for Pools – Top Picks
1. In The Swim 3 Inch Pool Chlorine Tablets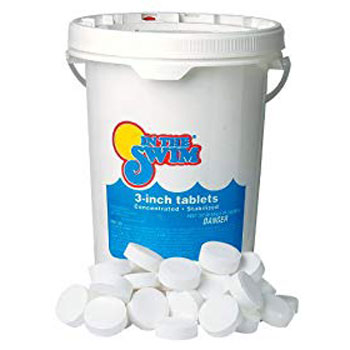 You'll find these chlorine tablets in a bucket featuring a child-proof lid. So, you don't have to worry that your toddler or pet will somehow stumble across the tablets. Considering that they feature a mix of powerful chemicals, this is important.
In addition to that, you might be pleased to find out that each tablet is individually wrapped. Why is this important? This safeguards the tablet from moisture, ensuring that it remains fresh. This also means that its properties remain unchanged. Thus, you can be 100 percent sure that each chlorine tab you add to your pool will do its job.
The absorption rate isn't too slow or too fast. And this is exactly what you should look for. That's mainly because when the absorption rate is too fast, then the level of chlorine inside the pool might be higher than needed.
It is also a good idea to wear latex gloves when handling the tablets. In this way, you can keep the chlorine powder off your hands.
Pros
Individually wrapped tablets
Good absorption rate
Child-proof lid
Excellent results
Cons
Due to the dry chlorine dust, you'll have to wear gloves when handling the tablets.
2. Clorox Pool&Spa XtraBlue Long Lasting Chlorinating Tablets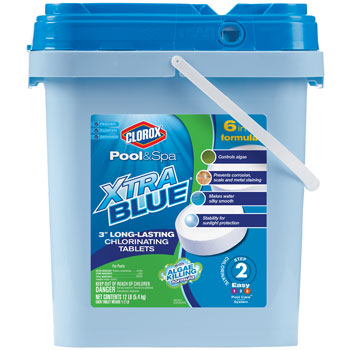 Clorox is a reputable brand when it comes to efficient household cleaning supplies. And these chlorinating tablets offer a good price to quality ratio if you want to maintain your pool clean and sanitized. They are versatile, in the sense that they are compatible with in-ground and above-ground pools.
Similar to our first recommendation, these are also individually wrapped. This means that their original properties are maintained until you use them. They do an excellent job at killing bacteria, deterring the growth of algae.
Still, this doesn't mean that you should no longer monitor the quality of the water: as it's better to be safe than sorry.
A rather inconvenient characteristic is the unpleasant, dangerous chlorine dust you'll find inside the packages. But this comes with the territory. You must be extra careful when handling the tablets: it's best to wear adequate gloves. As an extra measure of precaution, you might also wear a mask over your mouth and nose.
A noteworthy disadvantage would be that the texture of the tablets is a tad crumbly. This is why, in comparison with other top picks, these tablets might produce more dust, which is inconvenient.
Pros
Individually packed
Good absorption rate
Long-lasting results
Cons
The texture is a bit too crumbly
You have to be extra careful due to the dry chlorine dust
3. Star Plus Wrapped Chlorinating Tablets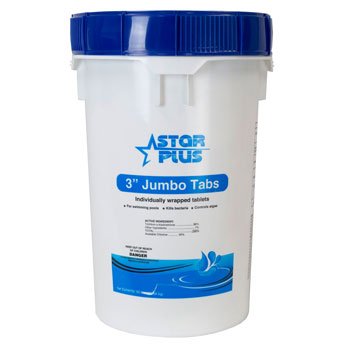 These chlorinating tablets will also do an excellent job at keeping your pool in top condition. They will help you keep the water disinfected and very clean. At the same time, they won't have an irritating effect on your eyes or skin.
It is worth noting that they have been certified by EPA. Hence, you can rest assured that they are safe to use, not to mention that they provide the results you expect.
It's good to know that these particular tablets won't make the water inside your pool cloudy or anything of the sort. In addition, they are compatible with both floaters and feeder baskets.
They are highly concentrated, so they dissolve in the water rather slowly. But this is important as it deters the buildup of minerals. If you're on the lookout for chlorinating tablets that are compatible for both hot tubs and pools, these might be a good pick, due to their versatility.
Pros
Efficient performance
Versatile: compatible with hot tubs and above ground pools
They dissolve slowly to prevent the buildup of minerals
Individually wrapped
Cons
Due to the packaging, you might find them a little bit hard to open.
4. Clorox Pool&Spa Small Pool Chlorinating Tablets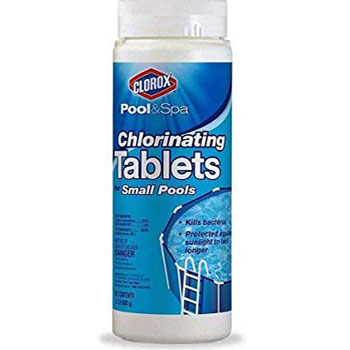 These chlorinating tablets are also manufactured by Clorox. You can use these if you have a pool whose capacity is of 5,000 gallons of water or less than that. However, note that you should purchase a floater separately. That's because they aren't meant to be used in a pool's skimmer.
You can use them for sanitizing your pool or a spa area. This would eliminate the need to buy two separate products, which could be slightly inconvenient. In comparison with the other tablets reviewed, these aren't individually wrapped.
All you have to do is take one out of the container and throw it in the floater. If you're concerned about the environment, then you'll see as an advantage the fact that they aren't individually wrapped. It depends on how you put it.
However, because they're not individually wrapped, you should be doubly careful whenever you open the container. It's important to ensure that it is adequately secured. If the tablets enter direct contact with humidity, this will impact their efficacy.
In regard to the texture of the tablets, they are a tad crumbly. This is why we advise you to wear gloves and a mask when handling them.
Pros
Good absorption rate
You can use them in pools and spas
A good option for inflatable pools
Cons
A crumbly texture that requires you to wear gloves and mask when handling them.
Compatible with small pools only.
5. Doheny's 3 Inch Swimming Pool Chlorine Tablets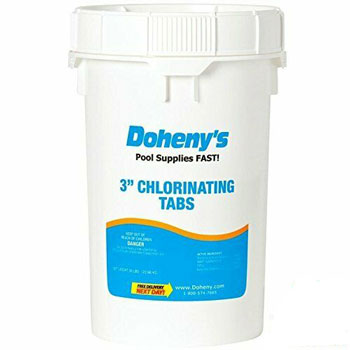 Furthermore, these chlorine tablets are individually wrapped, and they arrive in a bucket that is easy to open. The tablets feature powerful stabilized chlorine, which will keep your pool sanitized and clean.
In addition to that, the ingredients have an active function in order to deter the growth of bacteria and algae. Another important function of the tablets is that they don't let the detrimental UV rays of the sun to lead to swimming pool chlorine burn-off.
That is to say, the chlorine remains locked in the water of the pool. Therefore, you don't have to use so many chemicals. Since each tablet is individually wrapped, this allows you to easily handle them before adding them in the water. They also dissolve at a slow pace.
Something we have appreciated is that the texture of these tablets is not overly crumbly. This means no excess of dust! You should still wear gloves, regardless of the texture of the tablet.
The price is also competitive, which can be an attractive point if you're shopping on a budget.
Pros
Competitive price
Slow dissolving pace
Easy to handle
Cons
As reported by former customers, some of the tablets arrived broken.
6. hth Pool Sanitizer Chlorinating Tables 4-in-1
This is another option that is well worthy of your attention. One tablet is meant to sanitize 10,000 gallons of water for a week. In order to prolong the function of the chlorine, this rejects the effect of the UV rays.
If you own different types of pools, then these tablets might be a good choice. That's because they can also be used in salt pools, feeder floaters and skimmers. Since it is important for the tablets to dissolve relatively slowly, these ones also do the job in just the right amount of time.
This is how they manage to keep your pool sanitized for a week's time. The formula of the tablets incorporates ingredients that protect against algae buildup, ensuring that the water is clean and sanitized.
Bear in mind that you shouldn't simply throw the tablets directly into the pool. In this case, pool surface damage is prone to occur. You should always place the tablet inside a feeder, skimmer or floater that is specifically designed for this product.
Regarding the efficacy level of these tablets, it is quite impressive. As pointed out by former customers, these tablets are some of the few that are highly efficient in fighting against stubborn algae buildup.
Pros
Highly effective in fighting against algae buildup
Slow dissolving
They keep the water clear
Cons
A few former customers have reported that some of the tablets arrived broken.
7. Pool Brand 3-Inch Swimming Pool Chlorine Tablets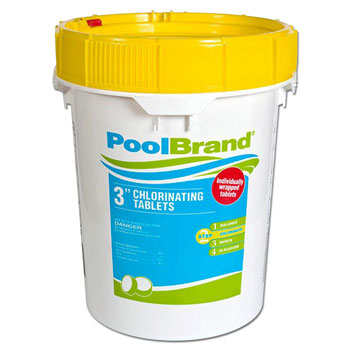 Last, but not least, we have these chlorine tablets manufactured by Pool Brand. The tablets also arrive in an individual wrap, thus maintaining their original properties and functions. In other words, they aren't exposed to moisture, which could impair their functionality. The bags are also easy to open.
The fact that they are approved by the EPA should give you peace of mind. In order to ensure the efficiency of the tablets, they have been UV stabilized. If this characteristic is important for you, these tablets might be down your alley.
As for the texture of the tablets, it is not overly crumbly, which can make them difficult to handle. This is why they leave a minimal amount of residue.
The pace at which they dissolve is consistent. This is critical in order to ensure that the chlorine is distributed evenly inside the water. Concurrently, this ensures that the level of chlorine remains consistent.
Pros
Since the tablets arrived individually wrapped, this makes it easy for you to handle them.
Good price for the quality
The tablets have been UV stabilized
Cons
Some customers reported that some of the tablets inside the bucket were crushed.
Benefits of Using Chlorine Tablets for Pools
Should you purchase chlorine tablets or not? Well, their benefits might convince you. There are many advantages worth noting, and we'll outline them below.
Practical packaging – generally speaking, chlorine tablets are cost-efficient. Usually, they come in a big package, meaning that you'll most likely use a bucket for the entire pool season – depending on the size of your pool, of course. In addition to that, most manufacturers provide individually packed tablets, and this preserves their original characteristics.
Easy to use – this is another important benefit. As opposed to spreading powder all around the swimming pool, or using a liquid disinfectant, a chlorine tab is very easy to use. All you have to do is let the tab do its job and that's it.
They spread easily – there are certain types of chlorine that you'll have to spread manually. Without a doubt, this can be very time-consuming and inconvenient. On the other hand, chlorine tablets for the pool can save you a lot of effort and time.
Easy to measure – since the chlorine comes in the form of tablets, this eliminates the headache of having to measure exactly the amount of chlorine you need for the size of your pool. That is to say, there's no need to weigh the tablet beforehand, or mix it with anything for a change. All you have to do is read the recommendations provided by the manufacturer. Once you get acquainted with those specifications, you drop the tablet inside the pool and that's it. Simple and to the point!
Versatility – if you want to get a product that can sanitize your pool, spa, and Jacuzzi, some chlorine tablets are the right fit for all these scenarios.
What Are the Drawbacks of Chlorine Tablets?
When it comes to drawbacks, we should point out some aspects. For one thing, when you add a tab in the skimmer, this will lead to an acid buildup. This is especially prone to happen when the pump is off. Over the course of time, the acid will damage o-rings and gaskets.
What is more, if the build-up occurs during the summer, this might prevent you from using your swimming pool. Not to mention that you'll have to substitute all the affected parts.
Another aspect that could qualify as a drawback is that you cannot drop the tablets directly into your swimming pool. You need to get a floater. Without a floater, the tablets will inevitably stain the plaster. In addition to that, this might result in the fading of liners.
There is also the possibility for the tablet to get sucked in the drain – this is where it is likely to dissolve at a faster pace. Not only that this would mean that the tablet is wasted, but it might also create an imbalance of chemicals in the water.
How to Clear Cloudy Pool Water?
Without a doubt, you have watched plenty of movies that feature stunning pools that look amazing – they're just right to take a swim in them. What if we told you that you could achieve this by purchasing chlorine tablets?
You should know that cloudy pool water can occur due to a number of aspects, namely the improper balance of chemicals and chlorine, very high Calcium Hardness (CH) levels, imbalanced alkalinity and pH, faulty filter, ammonia, early stages of algae, and the buildup of debris.
Taking this into account, the following steps should help you clear cloudy pool water. It's best to address each aspect, to determine whether it applies in your case or not.
Balance the levels of chlorine
Get rid of ammonia
Eliminate young algae
Track and balance pH and TA levels
Correct the levels of calcium hardness
Replace the filtering agent or backwash the filter
Eliminate foreign particles and have the pool adequately scrubbed and vacuumed
But Wait, There's More
The truth is that the first and supposedly the most common reason why your pool water is cloudy is the imbalanced levels of chlorine. Low free chlorine points out that you have chloramine. This would be combined chlorine, which makes the water cloudy – not to mention that it emits the nasty chlorine smell we all hate.
The thing is that combined chlorine isn't capable of killing all the dangerous germs that are spreading inside your pool. The same goes for the bacteria that result in the buildup of algae and ammonia.
On that account, the very first thing you should do is check the levels of combined chlorine inside your pool.  If the FC is below 3ppm, or the combined chlorine (CC) is above 0.5ppm, this would mean that the FC is too low. Therefore, you should fix the cloudy water right away. You should do that as soon as possible to eliminate the bacteria that could lead to algae and ammonia buildup.
It's always best to measure the levels of chlorine inside your pool, and this also applies when it comes to raising the pH levels of your pool. It's just as important to clean the filtration system of your pool and ensure that the circulation system functions properly.
On a different note, it might be a good idea to invest in the best pool water test kit. If the test kit indicates that there's a problem that requires your immediate attention, you should look for a pool shock.
Types of Chlorine Tablets
As you might expect, chlorine tablets arrive in various forms. Therefore, there are several types to choose from, each having its own set of characteristics.
Stabilized Chlorine Tablets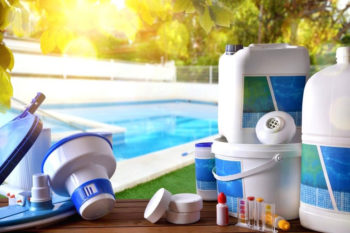 If you didn't know until now, you should note that the sun is chlorine's biggest enemy. Why is that? That is mainly because sunlight directs UV rays into the water. Essentially, this speeds up the rate at which chlorine will dissolve inside the pool.
You don't want the tablet to dissolve at a fast pace. The faster this process is, the quicker its effects will wear off. Therefore, this might make it necessary to add more chlorine tablets to ensure that your pool is adequately sanitized.
This is why manufacturers have created stabilized chlorine tablets. This means that the tablets also include a range of additional chemicals. These chemicals are meant to fight against the adverse effects of the sun. This is why most tablets dissolve at a relatively slow pace.
They are stabilized, which also ensures that they will last for an extended timeframe in your pool. Usually, the most common stabilizer of this kind is cyanuric acid. This also plays a key part in maintaining the water inside a pool balanced.
Unstabilized Chlorine Tablets
On the other hand, we have unstabilized chlorine tablets. This means that they don't include any stabilizers in their composition. This is why they will imminently dissolve at a faster pace – especially if they are added in an outdoor pool. Evidently, in an outdoor pool, the tablet is prone to dissolve much faster due to the direct exposure to the sun.
You might wonder: why would someone choose unstabilized chlorine tablets? For the most part, most people choose this type of tablet in order to replicate a shock. More exactly, they want to provide a strong dose of chlorine in order to fight against a major problem – such as a cloudy pool filled with bacteria.
The thing about this type of tablet is that since they dissolve so quickly, the chemicals won't linger in the pool for too much time.
With that in mind, unstabilized chlorine tablets might be the right choice if you're on the lookout for a quick and efficient treatment option after a time of heavy use – for example, during vacations. However, note that it might require more effort on your behalf than the other option.
Features to Look for in the Best Chlorine Tablets
Should you go ahead and purchase the first chlorine tablets that come your way? Certainly not: what you should do instead is take the time to learn more about chlorine tablets. You should also compare different options before making a decision.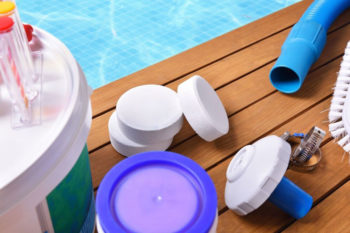 We have already outlined the differences between the two main types of chlorine tabs. If what you're looking for is consistency, and a balanced level of chemicals, then getting stabilized chlorine tablets might make more sense for you.
Meanwhile, if you do need a shock or you simply want to increase the levels of chlorine inside your pool water, unstabilized chlorine will be the evident choice. At the end of the day, it depends on the reason why you're purchasing the chlorine tab.
But if you don't want to replicate a pool shock, then stabilized tablets are more convenient. For one thing, they make it very easy for you to maintain your pool sanitized. That is not all, they work just as efficiently regardless of the potentially detrimental effects of the sun.
This is another feature you should consider, and the size of your pool should impact your decision. Usually, chlorine tablets are available in two options: 1-inch and 3-inch variations.
Not only that you should consider the size of your pool to make this decision, but you should also assess the type of dispenser you use. There are specific floating chlorine feeders that can hold a certain type of chlorine tablet, and only one. On the other hand, the bigger versions have space for more.
It's rather easy to calculate how many tablets you need for your pool. Usually, the manufacturer provides a label that indicates the number of tablets necessary for 10,000 gallons of water. Always follow these instructions.
The Composition of the Tablet
Depending on the manufacturer, chlorine tablets might contain different chemicals. Before purchasing something, though, you should be 100 percent sure that the tablet contains roughly 90 percent chlorine. The disinfecting properties of chlorine are highly acknowledged.
This will make the tablet highly efficient at killing viruses, bacteria, fungus, algae, yeast and other naughty elements that might be present inside your pool water.
Perhaps one of the most critical, yet highly overlooked aspects is the dissolving speed of the tablet. If the dissolve rate is too fast, this means that you'll be shocking your pool with a really high dosage of chlorine in a short amount of time. Until the chlorine fully dissipates, this will make the pool unsafe for swimming.
On the other hand, if the dissolving speed is too slow, then this could mean that the chlorine levels inside the water are insufficient. Not to mention that they could be unevenly distributed.
How to Add Chlorine Tablets into the Pool Water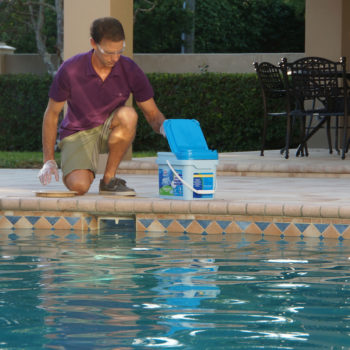 There are several ways in which you can add a chlorine tablet into the pool water. One of them would be sprinkling the tab directly inside the pool. However, we wouldn't say that this is an efficient method, as it means that the chlorine won't spread evenly across the water.
On the other hand, there's also the alternative of using a chemical dispenser. Depending on the necessary amount of chlorine, you should adjust the dispenser accordingly. You should leave it to float on your pool until the tabs are fully dissolved.
You might also use a skimmer. Make sure you add the tablet slowly to the skimmer – this way, you'll avoid spilling it inside the pool. The skimmer will do the job for you: carrying the dissolved tabs around the water.
Another method that is believed to be highly efficient is the use of an automatic chlorinator. This device enables the tabs to dissolve at just the correct pace so that the right amount of chlorine is maintained.
Remember to never use any appliances or machinery to apply chlorine. Your pool cleaning tools and accessories have a different purpose. For instance, you can go and get a high-end above ground pool vacuum cleaner but you must remember to never put any additives in it. Just read our guide about such vacuums and get educated in an instant.
Maintenance Tips
As we've already pointed out, chlorine tablets aim at making your life easier. This is why they require minimal maintenance. All you have to do is check the levels of chlorine every now and then, to ensure that they are balanced.
You might get a test kit in this respect. This will help you monitor the state of your pool water on a regular basis.
Differences
You can differentiate chlorine tabs by checking the following: the type of chlorine tab you purchase, the chemical composition, the packaging, the texture, and the efficiency level. It's a sensible thing to always assess the differences between products prior to making a decision. We hope that our guide has eased the path for you in this respect.
Safety Tips
Considering that chlorine tablets include a mixture of chemicals, it is necessary to handle them carefully. Make sure you store them accordingly, in a dry, cool and ventilated area.
It's worth noting that the exposure to bleach or chlorine could result in the release of detrimental gases. In some cases, it might even lead to an explosion. These tips are worth noting:
Use gloves each time you handle the tablets.
Keep them out of the reach of children and pets.
Never ingest chlorine tablets.
Don't combine the chlorine tablet with any other type of chlorine or chemicals.
If you notice chlorine fumes, you should immediately take the tablets outside and handle them accordingly.
Wrap Up
On a final note, the best chlorine tablets for pools will maintain your water in excellent condition, crystal clear and free of bacteria and viruses. And most importantly, they will do that at a relatively low cost, not to mention that the maintenance required is minimal. What else can you ask for?
Our chlorine tablets for pools reviews introduce some of the best products at the time being. They offer long-lasting, excellent results, allowing you to enjoy your pool as you should.
You can use them safely and have peace of mind that they won't harm your family in any way – as long as you dissolve them accordingly. Regarding their capability of killing bacteria and pathogens, this is a guarantee. Make sure you don't overlook the importance of keeping your pool clean! These tablets make this significantly easy!