Did you know that the first pool cleaners were invented nearly 100 years ago? And still, there are pool owners who waste their precious time and energy with removing debris every day by hand. If you recognize yourself in this description, you must have already realized that cleaning your pool is a never-ending chore.
Well, there is a way to break free from this burden of constant floor scrubbing and hand-picking leaves from the water. The solution is simple – you only need to get the best suction pool cleaner and forget once and for all about the hard work.
So, make sure to check out our suction pool cleaner reviews where we have combined quality and price to keep your options open. Also, scroll down to read more about the most useful features for a suction pool cleaner, as well as hot maintenance tips and advice on installation and safety in our buying guide.
See The Quick Comparison Chart
What Is A Suction Pool Cleaner?
A suction pool cleaner is a device for cleaning small debris and dirt off your pool's bottom and walls. It comes with hose sections to provide full coverage of the pool's surface. The mechanism of this type of cleaner will let it work whenever your pump is on. The reason for this is that the unit uses the power of your pump to move and vacuum.
How Does It Work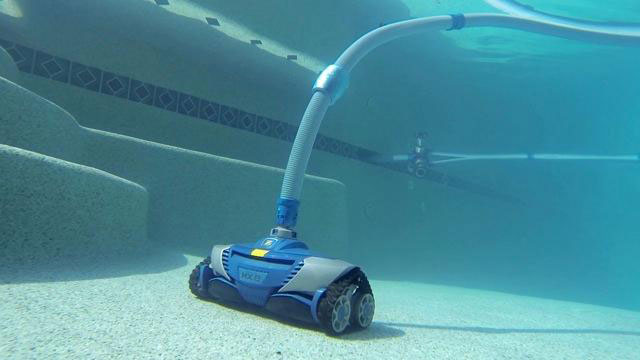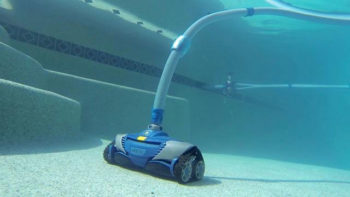 As we have already mentioned, a suction pool cleaner is a unit that works off your existing pool equipment. It will connect to your skimmer via an adaptor that usually comes in the package of your cleaner.
While the cleaner works on the bottom, small debris and dirt will be sucked up. Then all the grime will go to the filtration system and the pump basket. The suction cleaner comes with hoses that are usually similar to your standard vacuum hose. So, assembling such a device is not difficult at all – you take the vacuum pool cleaner and connect it to your skimmer.
If you are looking for a reliable device to skim the water from your pool, do not hesitate to read our expert buying guide and review on the top pool skimmers.
Suction pool cleaners will operate directly off your pool, so when the pump runs 6 hours per day or longer, that means that the automatic cleaner will also be running along with the pump. As it vacuums debris and dirt, they will all go straight into the filter itself.
If there is a lot of dirt in your pool, it will go into the pump basket and then into the filter. Hence, grime will make your filter dirtier.
What To Consider Before Buying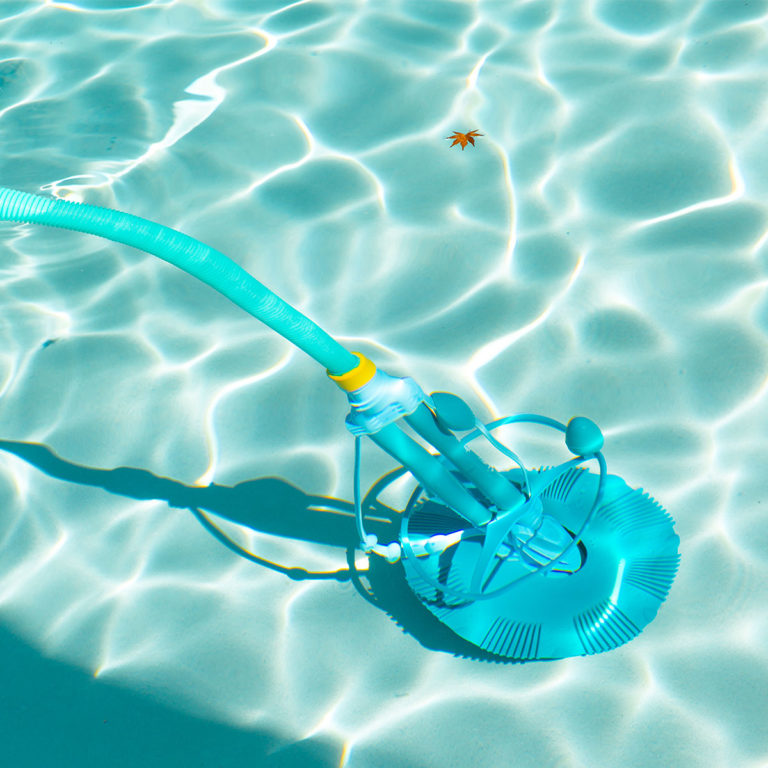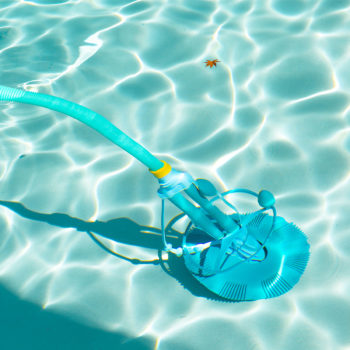 Now, as you are aware of the pros and cons as well as the types of suction pool cleaners, we have prepared this section to help you with your choice further. There are some other essential principles that you need to apply to pick the right product for your needs.
·  Size of the Hose
Make sure to choose a unit that comes with the correct length of the hose for your pool. The tube size is essential because the hose will follow the cleaner. So, if the dimensions of your in-ground pool are more considerable than the hose length, then the unit will not cover the whole pool area.
Suction pool cleaners come with hose sections that have a limit of a specific length. All you need to do is connect the parts according to the size of your swimming area. All manufacturers give information about the maximum extent of the hose, so ensure to check this before buying the unit.
·  Efficiency of the Cleaning Session
As you are aware of the two types of pool suction cleaners, pick a unit that is suitable for your pool. You will have to consider the shape, bottom surface, size, and material of your pool. For example, geared suction pool cleaners will be more efficient if your pool has step areas or places that you reach with difficulty.
Or, if your pool is made of fiberglass, bouncing suction cleaners would be a better choice. The main idea here is to save yourself the time and energy of cleaning your pool and let the machine do it for you.
Another very efficient product designed for pool cleaning is the robotic pool vacuum cleaner. Don't miss our article on these products.
· Electricity Consumption
Suction pool cleaners are directly connected to your filter pump, so practically they do not use electricity on their own. Instead, your filter system will power the cleaner. That said, the more your unit spends into the water cleaning, the more electricity it will use. Hence, your bills will get higher.
So, when choosing a unit, ensure it is right for the size of your pool. Otherwise, you will have to run the pump for longer and hence, pay more for the cleaning session.
· Ease of Installation
Knowing how to use your suction pool cleaner is one thing, but proper and labor-saving installation is different.  There is not much to install except for connecting the hose sections and then to the pool pump. This action will not take you more than 10 or 15 minutes. However, some hose parts are a bit hard to join, and this may slow you down. That is why do not skip that question when you are choosing a unit.
· Durability
Another critical area that we have to comment on is the durability of the units. Most suction pool cleaners come with a limited warranty on parts. But this does not mean that the skirt, for instance, is sturdy.
Also, make sure you provide your cleaner with the right upkeep. Cleaning the unit is vital as it will extend its durability.
· Your Pool Pump
If you have a variable-speed pump, you will have to run it at a higher rpm to get the suction cleaner working like 2600 or 3100 RPMs. Such power will get the unit move very effectively in the pool. Otherwise, the cleaner will be slower, and the suction process will not be very effective at a lower speed.
You can set the running time of your variable speed pump for 2 or 3 hours a day at a higher speed. This action will effectively clean your in-ground pool. However, it will not clean the step areas of your pool, and other models will not be able to climb up to the top of your tile line.
Still, others will climb up till the end of the wall, so there are a lot of different types of suction pool cleaners. But they are very effective in cleaning the bottom line and leave your pool spotless every week.
· Size of Debris
There are fixed-sized openings for dirt and debris in all suction pool cleaners. So, you cannot expect big leaves or stones to find a cozy place in your unit. In order to prevent all the debris go into your filtration system, it might be a good idea to get a leaf canister.
Best Suction Pool Cleaner Comparison Chart
PRODUCT
DETAILS

Zodiac Baracuda G3 Suction Side Automatic Pool Cleaner

Price:

$$

Dimensions:

40.9 x 18.2 x 8.5"

Weight:

18.2 pounds

Comes with:

12 hose parts

Great for:

Single, 2-speed or variable-speed pumps

View On Amazon

Zodiac MX6 In-Ground Suction Side Pool Cleaner

Price:

$$

Dimensions:

40.4 x 8.9 x 14.8"

Weight:

17.45 pounds

Comes with:

10 sections of hose

Great for:

2-speed or variable-speed pumps

View On Amazon

XtremepowerUS Automatic Suction Vacuum Pool Cleaner

Price:

$

Dimensions:

40.5 x 5.5 x 17.5"

Weight:

15 pounds

Comes with:

10 hose sections and seal clips

Great for:

Pools with dimensions of up to 16 x 32

View On Amazon

VINGLI Automatic Pool Cleaner

Price:

$

Dimensions:

39.8 x 13.2 x 6.5"

Weight:

11.9 pounds

Comes with:

10 durable hoses set of 3 feet each

Great for:

All types for in-ground pool

View On Amazon

Poolvergnuegen Hayward  Pool Cleaner

Price:

$$$$$

Dimensions:

41 x 13 x 13"

Weight:

19.1 pounds

Comes with:

3 interchangeable throats

Great for:

Up to 20′ X 40′ pool

View On Amazon

Pentair GW9500 Kreepy Krauly Great White Inground Pool Cleaner

Price:

$$$

Dimensions:

41.5 x 19 x 7"

Weight:

18.8 pounds

Comes with:

Fully equipped for immediate use

Great for:

All types for in-ground pool

View On Amazon

Hayward Navigator Pro Suction Pool Vacuum

Price:

$$$$

Dimensions:

51.5 x 1 x 15"

Weight:

18.75 pounds

Comes with:

30′ of hose

Great for:

Vinyl-lined and fiberglass-lined in-ground pools

View On Amazon
Best Suction Pool Cleaner Reviews – (Recommended Picks)
We have seen and tried out lots of suction pool cleaners, and that is why you can trust us when it comes to our reviews. We have arranged the following products in no particular order. Instead, our team of experts has picked the most efficient and easy-to-use units on the market.
You will find out that our selection is aimed at giving you an insight into each product's primary functions, overall performance as well as distinct advantages and disadvantages. And the best part is you do not have to dip deep into your pocket since the products in our reviews are genuinely budget-conscious.
So, scroll down and let's get started.
1. Zodiac Baracuda G3 Suction Side Automatic Pool Cleaner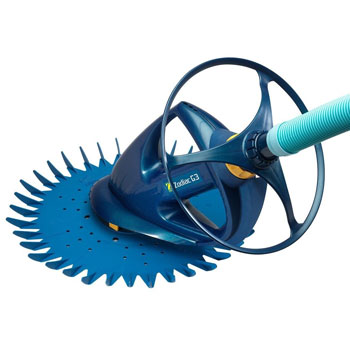 Our first product is from Zodiac. The Baracuda G3 model is a quiet and sturdy unit for cleaning your pools' floors, walls, or steps. It is designed to work with any types of pumps, and even low-speed pumps will perform well with it.
The G3 comes with a 36-fin disk that is designed to prevent any potential hung-ups on lights, drains, or covers in your pool. Also, the FlowKeeper valve will ensure that the water flow is well-regulated and the pressure is steady even with lower horsepower pumps.
And when it comes to performance, the Baracuda is the ideal helper. This product will be able to clean both straight-lined and curved pools, slanted walls, and bottoms of your concrete, tile, vinyl, and fiberglass inground pools. Moreover, this unit is very sturdy and durable, so you will not need any spare parts for at least a year.
However, make sure there is no big debris in the water like acorns as they will clog the suction pool cleaner.
Pros
36-fin disk
Comes with 12 hose parts
Perfect for all types of in-ground pools
Works well with single, 2-speed or variable-speed pumps
Cons
Not suitable for large debris or leaves
May miss spots in your pool
2. Zodiac MX6 In-Ground Suction Side Pool Cleaner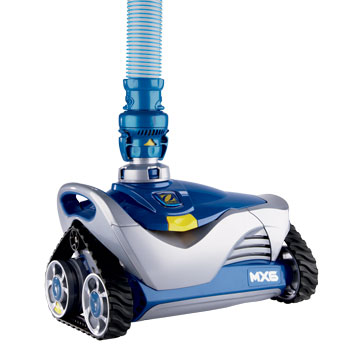 Here we have another efficient product from Zodiac that will clean your in-ground pool in no time. The MX6 suction pool cleaner has excellent power and will move quite fast across the floor of your pool. Moreover, the product performs a cyclonic suction which will guarantee that all debris is vacuumed in a better and thorough way.  Also, the MX6 can climb walls thanks to its articulating turbine blade.
This unit is the perfect pick for you if your in-ground pool is equipped with a 2-speed or a variable-speed pump. Another thing that you should consider is the type of debris in the water. If there are palm trees around your swimming area, for example, it will be a good idea to remove the strand of palm fronds first. The reason for this is that these large leaves will surely jam the unit.
Overall, the product is a quite useful and labor-saving way for removing dirt from your pool. The easy assembly and the long hose will surely add up to its value.
Pros
1-year warranty
Comes with 10 sections of hose
Great for 2-speed or variable-speed pumps
Reasonable price
Cons
Drive wheels are made of plastic
Likely to get jammed
3. XtremepowerUS Automatic Suction Vacuum Pool Cleaner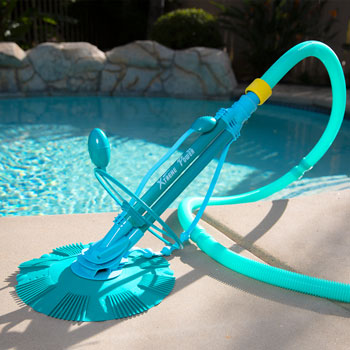 This unit is undoubtedly one of our favorites. It is not expensive at all, but its performance is satisfying. The XtremepowerUS' product is perfect for pools with dimensions of up to 16 x 32 inches. Also, this suction vacuum pool cleaner comes with 10 hose sections and seal clips for every 3 foot of pool depth.
The product does a decent job and is intended for pool floors and walls only. Steps are not among this cleaner's capabilities, though. But you will like that the unit can reach the corners and do a thorough work in there. Also, it will clean up algae, small debris, and dust from your pool's slanted floors or round walls.
A significant advantage of this automatic cleaner is that it acts as a moving drain and can reach a speed of 12 feet per minute. What is more, the unit does not require that much of your pool pump- 1hp or 1600GHP. And you should make sure that your filter is clean before you let this pool vacuum into your in-ground pool.
Pros
A budged-friendly price
1-year warranty
Comes with seal clips for every 3-foot of depth
Effectively cleans algae, small debris, and dust
Cons
Not for steps
Leaves will clog the unit
4. VINGLI Automatic Pool Cleaner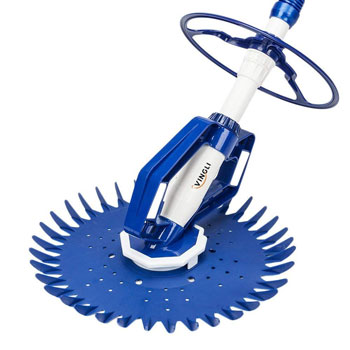 The VINGLI automatic pool cleaner is straightforward to use and maintain. This unit comes with a 33-feet overall length of the hose. Thus, the tube can reach even the farthest sections of your pool. Also, this pool cleaner fits 3hp or 1600 GHP pool pumps. That said, the suction provided by this unit will certainly be powerful enough to suck up all the dirt from the water.
The rubber disk is significant and will provide a full cleaning path onto your pool's floor. But the whole cleaning session may last a bit longer than you wish.
Another thing that this pool cleaner is capable of doing is climbing walls and steps. However, you may have to occasionally ensure that the product is not blocked in the corners or around the stairs of the pool. Furthermore, you should remove large leaves and debris before letting this unit clean the water in your in-ground pool. The reason for this is that the pickup hole is too small and they will not fit.
Pros
Very quiet
10 durable hoses set of 3 feet each
Cleans walls and steps
Suitable for all types for in-ground pools' surfaces
Cons
Takes a long time to clean
Hose sections are a bit difficult to connect
5. Poolvergnuegen Hayward  Pool Cleaner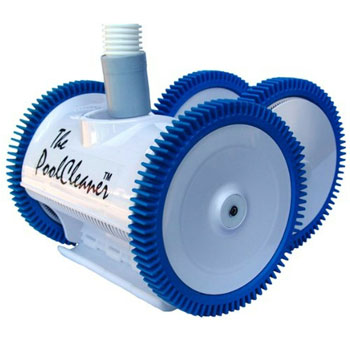 Our next unit is a bit on the pricy side but comes with some great features for your in-ground pool. The Poolvergnuegen Hayward pool cleaner will be perfect for your needs if your swimming pool is no bigger than 20 x 40 feet. The 40-foot hose is also long enough for the unit to cover all the area that needs cleaning.
There is one feature we particularly liked about this product. The steering pattern is pre-set and includes not only forward movements but also backward. The Hayward pool cleaner will turn every 8 or 10 feet, rotating from 90 to 540 degrees. This way, the unit will provide an in-depth and efficient cleaning of your pool's surface.
Another thing we found very practical is that you can leave this Hayward unit in the water for an unlimited time. Also, if you ensure your suction control is set correctly, the product will effectively climb up the walls of your in-ground pool.
Pros
4-wheel drive
3 interchangeable throats
Ideal for average-sized pools
Climbs up walls and stairs
Cons
Difficulty in going to the shallow end of the pool
May get stuck in corners
6. Pentair GW9500 Kreepy Krauly Great White Inground Pool Cleaner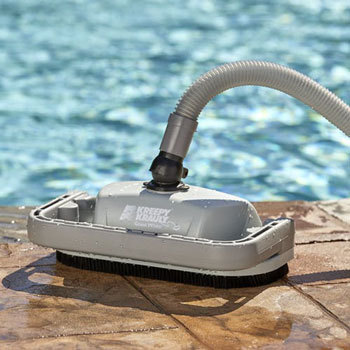 The last but one product in our review list comes from Pentair. This Great White in-ground pool cleaner has a 15-inch cleaning path, a turning mechanism, a bristle brush, and a vacuum port door fitting. The unit also comes with a pole adapter for precise cleaning of specific spots.
There are a few characteristics that stand out about this pool cleaner. It is designed to successfully deal with dish-bottom, incline-bottom, and hopper-bottom in-ground pools. Such shape will ensure that the unit goes freely up and down brushing slanted walls, irregularities, and hard-to-reach spots.
However, since pool steps are too tight, the product will not clean them effectively. If this is the case with your pool, then you can still use the adapter that comes in the package. This way, you can manually scrub the steps or around the ladder.
Although this Great White pool cleaner is programmed to avoid difficult areas, we did not like that it spends less time into scrubbing shallow ends. The product tends to stay in the deep end and is struggling to move up.
Pros
Bristle brush for tough dirt and debris
Comes with a pole adapter
SmartTrac steering mechanism
Very quiet
Cons
May not climb flat walls
Mainly works on the deep end of the pool
Replacement parts are a bit expensive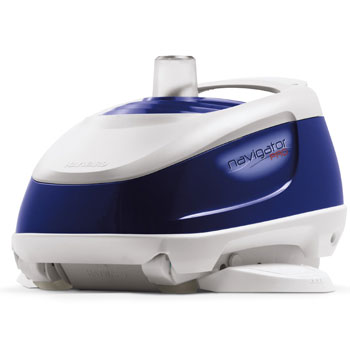 We will end our reviews with a product that comes again from the reputable Hayward.  The 925ADV Navigator is quiet, easy to piece together and most of all – leaves a clean pool surface after its cleaning session is over.
The unit has its turbine-drive system, so the suction power will remain steady even when your pump is not that powerful. The vacuum wings will provide a better pickup of debris in your vinyl-lined or fiberglass-lined pools. Besides, the wings will not damage your pool's surface as they are designed to be less abrasive.
The Navigator will quietly explore every corner while efficiently vacuuming the floor, the walls, and the coves of your in-ground pool. What is more, the unit's hose is less likely to tangle because the cleaner guides it. Also, we noticed that this product does get stuck, but it always finds a way out to continue with the cleaning.
However, you may not like that the replacement parts for this unit might be a bit over your budget.
Pros
Easy assembly
40-feet hose
Suitable for 20 x 40 feet maximum pool dimensions
Great for Vinyl-lined and fiberglass-lined in-ground pools
Cons
Not appropriate for cleaning large debris
Not designed for concrete pools
Benefits And Drawbacks
There are always two sides to the coin when we talk about electrical equipment for your in-ground pool. In case you are wondering what the advantages and disadvantages of owning a suction pool cleaner are, this section is just for you.
Our pool experts have listed some significant benefits along with the drawbacks. Moreover, we have included some further explanations to justify why. Make sure to read them all and consider them carefully.
Pros
Here are all the benefits you can get with a suction pool cleaner.
Runs Off the Pool Pump
Using a suction pool cleaner is like manually vacuuming your pool as the cleaner is working in there. This action is one of the benefits of this automatic cleaner – it will work as long as your pump is running. Such action is particularly convenient as the pool will be clean all the time, and you will not have to vacuum it manually.
Suits Every Pocket
Another great feature of these cleaners is the price point. They are very affordable, and you can even pick a unit that costs less than $100 and still operate quite decently. Also, the parts are very durable, and in case you need to replace one, you will not spend a lot.
Saves Up Energy
Suction pool cleaners do not need an extra booster pump to run along with your filtration system. That said, you will only need to use energy for your skimmer.
Cleans Effectively
If you decide to buy an automatic suction pool cleaner, debris, algae, and dust are all going to disappear in no time. This unit can successfully deal with the daily contaminants in your pool. Moreover, such cleaner will pick a lot of dirt and debris from the bottom of your pool, aid, the bottom line as well as scrub the walls.
Easy To Install And Assemble
When you get your suction pool cleaner package, you will see that everything you need to let it go and do the job in the pool is there. The unit will usually take you no more than 10 minutes to install. Moreover, there are no extra tools that you need to get this done.
Effortless Repair
You can fix the suction pool cleaner pretty much yourself. The design is simple, and it does not require any specialized technical training.
Cons
Now it is time to show you the other side of the coin. Although you may not like everything below, it is much better to have realistic expectations about this unit.
Pool Filtration Matters
If you have a small filter pump, it may not give your suction cleaner enough power to move around the pool. So, you should have the proper amount of suction to clean the pool. Or, in other words, everything these units pick up will go straight into your filtration system. Moreover, if you have low suction or if you have poor filtration, the cleaner will not run effectively.
Variable-speed Pumps Will Affect Your Bills
If you are using a variable pump to save energy, you have to run it at least at 2600rpms a few hours a day. To get your pool clean and the cleaner moving into your pool, you will have to sustain specific levels of revolutions per minute. And this may increase the cost of your electricity dramatically.
Not For Large Debris
If you have large debris in your pool, then this vacuum pool cleaner might not be your ideal option. The opening in the debris section is relatively small hand it will get jammed in the cleaner. What is more, such big-sized contaminants will not be picked up by the unit.
Hoses Are Visible
There are always hoses in the pool, and they are going to remain in it as the cleaner is working. So when you want to go for a swim, you will have to take them out.
Types

In this section of our guide, we will distinguish between the two main types of suction pool cleaners. Although their primary function is the same, there are some differences in terms of performance. And our team of experts has gone through both types while revealing their advantages and disadvantages.
Make sure to review our best pressure side pool cleaner buying guide. There you can read more about this type of automatic cleaners for your in-ground pool and hence make an informed choice.
1. Bouncing Suction Pool Cleaners
The first suction pool cleaners on the market were in fact from the bouncing type. Their mechanism of cleaning lies in the so-called hammer. This hammer is positioned in the pickup hole. So, when the water is sucked in the cleaner, the hammer starts moving, and this gives the bouncing motion.
If you are wondering how this motion assists with the cleaning, let us tell you that the bouncing action helps with knocking surface debris down the floor. So, here are the advantages of using a bouncing suction pool cleaner.
Pros
Perfect for fiberglass-lined or vinyl-lined in-ground pools
Performs a better cleaning for tile pools
Cleans floors and walls effectively
Can work with low-speed pumps
Very durable
Can climb up deep ends and slanted walls
Nevertheless, the drawbacks should not be left out since we want you to know all about this type of suction pool cleaner.
Cons
Misses spots in the pool
The cleaning process takes too long
Follows a random cleaning pattern
May get stuck in hard-angled corners
2. Geared Suction Pool Cleaners
A programmed turn cycle mechanism characterizes this type. The unit will follow a set cleaning cycle which includes occasional turnings. The pool cleaner will go straight ahead depending on its program, and it will stop at about every 10 feet and rotate.
Such action is quite efficient since the unit will be able to clean corners and around the steps of your in-ground pool. Furthermore, geared suction pool cleaners rarely get stuck in tight areas. The programmed turn cycle mechanism will prevent the unit from being blocked in the corners, for example.
But if you happen to see that your geared cleaner is stuck, you should wait a bit. Such units always find their way out in the end.
For your convenience, we have summarized some of the main benefits and drawbacks of geared suction pool cleaners.
Pros
Great for pebble pools
Does not get stuck in difficult areas in your in-ground pool
Can clean around step areas
Complete pool coverage
Cons
May not climb and clean walls effectively
Tend to work exclusively in the deep end
Do not spend that much time in the shallow end
Installation


Suction pool cleaners are easy to install and are a great way to clean small to medium-sized debris from your pool. As we have already mentioned above, these units operate off your pools' exclusive suction line or skimmer. The process happens when you use a circulating pump that is ¾ horsepower or more.
With these types of cleaners, debris is vacuumed through the skimmer or pump basket, depositing waste into the filter. That is why the pump basket and the pool filter should be carefully monitored and emptied. This way, you will prevent damage to the pump if you have a heavy debris load.
So, here are some easy steps to follow before installing your unit.
Get your pool ready
If this is your first time using your cleaner, make sure to start with a clean body of water. Vacuum the pool and check that the pool filter and pump basket are free from dirt or debris. After that, locate the return line fittings and turn them downward.
Connect the hose parts
Get the hose parts together and connect them to a dedicated suction line. Twist the lock of the male end of the hose into the large end of a 45° elbow. To attach it to the skimmer, remove the skimmer basket, and insert the valve cuffs. Then connect the flow keeper valve with the arrow pointing down toward the skimmer pipe.
Choose the fitting
Pick a suitable attachment that best suits the skimmer.
Submerge the unit
Sink the cleaner entirely into the water, as well as the hose. Then fill with water. As a tip, hold the tube in front of the return line to quickly fill all lengths of the hose. Also, make sure to keep it submerged while connecting to the flow gauge to ensure there is no air in the tube.
Ensure proper water flow
Test and adjust for the right flow of water. The flow should be kept at the correct level to keep the cleaner working properly.
Optional step: Flow gauge
Detach the cleaner head and connect the flow gauge if your cleaner has one. Make sure that the flow gauge is underwater and have someone turn on the pump to see if the flow is accurate. If the movement is in the low range from 0 to 2, check and clean the pool filter in the basket and verify that the valves controlling the suction lines are in the correct position.
Adjust the valves to provide more suction to the skimmer instead of the main drain. If the flow is in the correct high range from 4 to 6, make sure that the valves which are in charge of the suction lines are in the right position and lower the flow setting on the flow keeper valve.
Adjust the valve to provide more flow to the main drain by reducing the suction to the skimmer.
Take the cleaner
Put the cleaner and flood it with water. When bubbles stop coming from the unit, connect the hose by pushing the quick connector onto the cleaner. Then, position the hose float in the first section about 9 inches from the cleaner head.
Maintenance
Once you get your suction pool cleaner, there are certain rules to follow so that you keep your unit in good condition. This way, the cleaner will work efficiently and keep your pool in perfect condition all the time. Furthermore, your filtration system will greatly benefit from a well-maintained cleaner.
Here are our guidelines to help you with the upkeep and storage of your suction pool cleaner.
· Clean Your Filter
It is critical to start the cleaning cycle with a clean filter before you install the suction pool cleaner. If you are installing your cleaner after the winter season, the plumbing line should always be flushed out first.
· Unplug the Unit Properly
Always unplug your automatic pool cleaner before work with it. Also, it will be a good idea to take the pool cleaner out of the water before you decide to swim. Another thing to remember is to disconnect the unit from the pool wall when cleaning or backwashing the pool filter.
· Keep It Away From Chemicals
Never leave the cleaner in the pool when you intend to treat the water with chemicals.
When you finish cleaning or backwashing your pool filter, let the filtration run for at least 5 minutes to flush the lines out thoroughly. To prevent suction entrapment accidents, you should use an approved back lock fitting for all suction cleaner installations through the pool wall.
· Cleanse Everything
For optimum operation of your suction pool cleaner, always keep the skimmer baskets, pump baskets, and pool filters clean.
· Storage the Right Way
For storage and during the winter months, do not forget first to turn the pool pump off, and then remove the suction side cleaner from the pool. Once the unit has been removed from the pool, be sure to drain all the water out to prevent any freeze damage.
· Hose Sections Storage
Disassemble the hoses or lay them straight. Never coil the hoses or store them in direct sunlight. Find a dry and safe area where to store the product.
Wrap Up
After so much information, tips, and advice, we will have to stop here and say that this is the end of our best suction pool cleaner guide. We hope that everything you have read here will make cleaning your in-ground pool effortless, trouble-free and, of course, straightforward.
Also, feel free to look back at our suction pool cleaner reviews in case you need to go over in your mind what the ideal product is there on the market.
As always, we are open to your feedback and would appreciate any comment left by you. If you liked the article, show it to your friends or share it online. Let us know if anything can be changed or improved. Thanks for reading and as always – stay put!