It's incredibly annoying when you have crystal clear water in your pool and all of a sudden, debris and leaves start falling in. One of the fundamental tools to have in your pool tool arsenal is the best pool skimmer.  A key advantage of this product is that it will help your filtration system last longer. Your pump has the difficult job of pulling in any left debris through the filters, and the more you aid it by picking up the excess, the better.
Among the numerous pool skimmer reviews, ours will give you a complete insight on how to buy a quality skimmer and provide you with a list of the highest-rated skimmers out there. There are many options available, so you must know precisely what you need before you start looking.
See The Quick Comparison Chart
Types of Pool Skimmers

There many different types of skimmers and rakes for different needs and pools. Here are some of the most commonly found differences:
Mesh Size
The size of the mesh decides the size of the debris you will be picking up. Also, it will determine how easy it will be to maneuver the skimmer in the pool, especially when trying to pick up debris from the bottom of a deeper pool.
Wide stitch – this stitch allows you to pick up larger debris such as leaves and pool toys with ease. It creates little resistance in the water, thus making it very easy to use.
Fine stitch – this stitch gives you more cleaning power when it comes to smaller debris and can catch everything from large leaves and toys to insects. Though there are stitches designed to reduce resistance, it is harder to use than a skimmer with a wider stitch.
Ultra-fine stitch – here we are talking about picking up pollen, pet hair, silt, and sand from the pool. Usually, these are smaller skimmers to reduce weight and drag because they don't allow water to move through with ease. This causes a lot of resistance and is much harder to work with them. They are not for daily use, but rather for more spot-on cleaning.
Frame Size
As with pool brushes and telescopic poles, this depends entirely on your pool size. The larger the pool, the bigger the size you will want. This will help clean debris faster.
10″ and below – this is the ideal size for smaller pools, Jacuzzis, and spas
10″ to 17″ – this mid-sized frame is more suitable for mid-sized pools. The key is to have a telescopic pole that reaches at least the center of your pool.
17″ and above – although most skimmers don't go over 18″, this is more or less the size suitable for larger pools as it has more collection capacity.
Material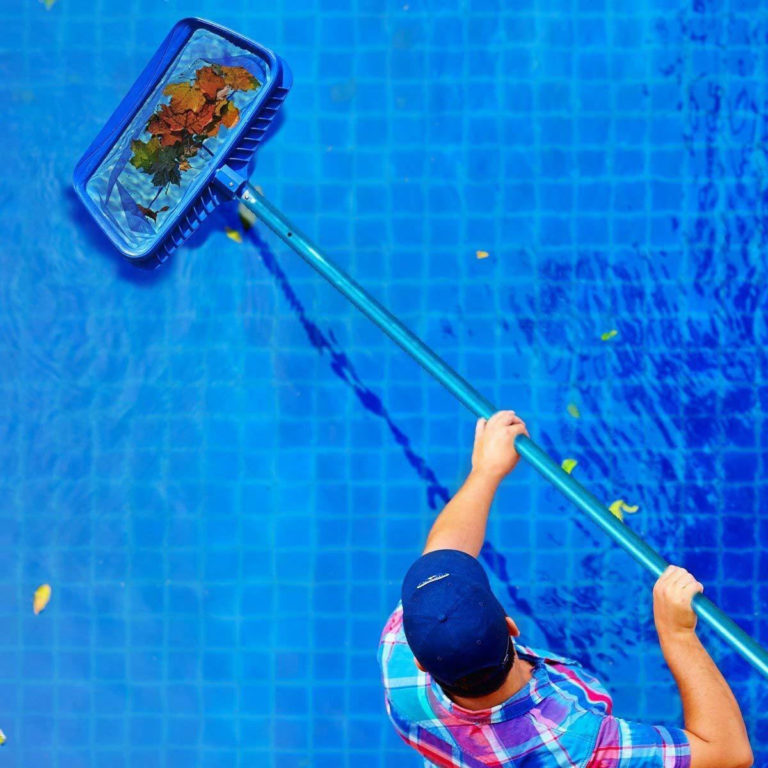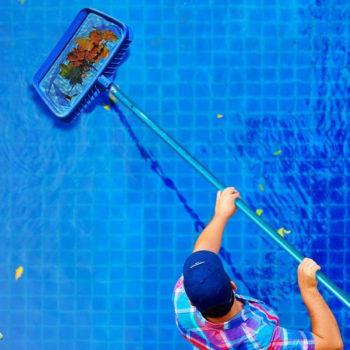 The better the materials, the longer the skimmer will last. Although alloy is very durable, it does add to the weight, especially if it covered by plastic to keep the skimmer safe for vinyl lined pools.
Alloy aluminum – this is a very durable and lightweight material that doesn't rust. It maintains the integrity of the handle and frame of the skimmer even under a heavy burden of debris and water resistance. The downside is that it is weightier than plastic, tiring your arms faster.
ABS Plastic – this is a durable plastic that withstands sun and chemical damage. It is very durable, though not as durable as alloy aluminum. What makes it very suitable for skimmers is that it is lightweight.
Combination of metal frame and plastic – if you have the muscles for it, or if you need a smaller skimmer, this is the perfect durable choice. It combines the strength of a metal frame covered by plastic to keep it safe for delicate material pools. Usually, skimmers featuring both are smaller due to the added weight.
Essential Features When Buying a Pool Skimmer
Considering that you'll be using this tool in your pool, there are several things to keep in mind when buying that may make your job easier.
Easy clip connector – makes attaching and detaching the pool faster and easier.
Double-stitched mesh – makes the mesh more durable and longer-lasting.
Straight edges – this makes picking up debris from the pool floor and walls easier.
Simple scoop lip – this is mainly for picking up debris from the pool floor.
Standard size connector – it will attach to any standard telescopic pole
Lightweight with weighted frame – the more lightweight the skimmer, the more you will be able to pick up without getting tired. However, a slightly weighted frame will make reaching the pool bottom easier.
Best Pool Skimmer Comparison Chart
PRODUCT
DETAILS

ProTuff Pool Leaf Rake

Price:

$$$$

Size:

19.5"

Made:

Aluminum Alloy Frame – Double -Stitched Nylon Pool Bag

Dimensions:

19.25 x 16 x 1.12"

Weight:

1.25 pounds

View On Amazon

Milliard Pool Skimmer Net

Price:

$$

Size:

17"

Made:

ABS plastic rim and nylon net

Dimensions:

17.6 x 15 x 2"

Weight:

1.25 pounds

View On Amazon

Impresa Products 20-Pack Pool Skimmer Socks

Price:

$

Size:

N/A

Made:

Durable elastic and ultrafine nylon mesh

Dimensions:

8 x 6 x 1.5" 

Weight:

7.2 ounces

View On Amazon

Bucket Lidz Triluca Pool Skimmer

Price:

$$$

Size:

14"

Made:

Ultra-fine mesh – Triple Stitched Nylon

Dimensions:

14.2 x 12 x 1"

Weight:

1.01 pounds

View On Amazon

Stargoods Pool Skimmer

Price:

$$$

Size:

17.7"

Made:

ABS plastic 

Dimensions:

17.7 x 0.8 x 9.8"

Weight:

10.6 ounces

View On Amazon

Sabuy 18 Inch Pool Net

Price:

$$

Size:

18"

Made:

Sturdy Nylon

Dimensions:

17.2 x 13.5 x 1"

Weight:

12 ounces

View On Amazon

Rongbo Pool Rake and Leaf Skimmer

Price:

$

Size:

41.5 cm

Made:

Sturdy hard plastic frame with strong net

Dimensions:

17.6 x 11.9 x 1.4"

Weight:

12.3 ounces

View On Amazon
Best Pool Skimmer Reviews – (Recommended Picks)
Our expert pool team has put together 8 of the highest-rated skimmers available on the market in no particular order. Once you have looked through our recommendations, continue reading our buying guide to find out which will be best for your needs.
1. ProTuff Pool Leaf Rake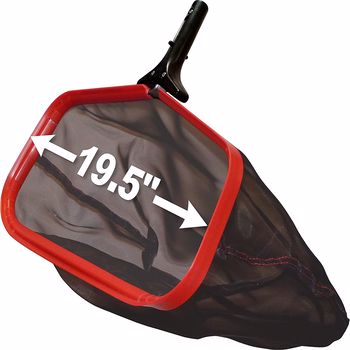 The first product on our list is developed for medium-sized pools, spas, and fountains. It's size allows for easier maneuvering and collecting of debris. Featuring a professional-grade medium-fine mesh, it can get smaller particles like insects and small debris. As it isn't ultra-fine mesh, it doesn't cause drag but does not pick up the tiniest of particles, such as silt and pollen.
The Easy Glide Scoop on the front of the rake makes it easy to pick up debris from the bottom of the pool. The straight front and sides at just the right angle help in picking up anything up against the side of the swimming pool as well.
Pick up even the heaviest of objects in your pool or spa with the ultra-durable nylon net that can hold up to 50 pounds of weight without ripping. The mesh is also specially made to withstand mildew and mold.
The quick-connect clip is secured with a winged handle for stability, and the frame is aluminum alloy to prevent deformation, twisting, and bending. It fits most standard telescopic poles and is available in larger sizes to suit even bigger pools. This may be a more expensive product than most on our list, but you get your money's worth.
Pros
Super durable net that can pick up to 50 pounds
Unlimited free replacement guarantee
Mold and mildew resistant net
Cons
More substantial than most as it is not plastic
The net is stiff, making it difficult to empty
2. Milliard Pool Skimmer Net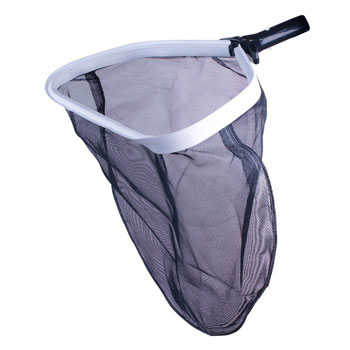 The large bag and professional heavy-duty mesh of the Milliard Pool Skimmer Net make this an excellent option for anyone looking for a reliable pool tool. The commercial size makes it a suitable skimmer for larger pools.
This skimmer features a quick and secure connection that fits any standard telescopic pole, while its enforced handle maintains the overall integrity of the frame. The strong net and frame can handle 22 pounds in weight without bending or getting deformed.
The net frame itself features a turned edge that makes scooping up debris on the bottom of the pool easy. This, combined with a specially designed shape to hold waste in the bag without drag, makes it an excellent choice for any pool owner.
It features an ABS plastic rim and fine nylon netting. The netting can pick up even the smallest of debris. However, it does add extra drag, making it challenging to work with. The net is 17.5″ net and 12″ deep. Considering the numerous features, it's an excellent buy with an affordable price tag.
Pros
22 pounds of weight capacity
Extra deep bag
Enforced handle with ABS plastic rim
Cons
Lip may be too steep making it difficult to pick up debris from the bottom
Requires added effort to empty
3. Impresa Products 20-Pack Pool Skimmer Socks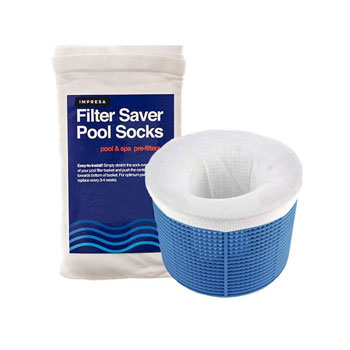 This isn't the traditional manual pool skimmer that you attach to a telescopic pool pole. These are unique pool skimmer socks that you attach to your filter basket as a pre-filter to lengthen the life of your filter. They are straightforward to install, simply stretch over the top of the basket and push the center down. Sometimes it may be necessary to place a rock or something weighty to keep it down.
These skimmer socks come in a pack of 20 and need replacement every 3 to 8 weeks, depending on the chemicals you use. You can replace altogether with a new sock when it gets full, or take it out and wash the debris out with a hose.
The ultra-fine nylon mesh is durable and elastic, catching even the smallest of particles that would otherwise clock your filter basket. They prevent clogs in your swimming pool filtration system, extending its life.
One thing to remember is not to use them while using a chlorine tablet in the basket. This will prevent the sock from eroding and give it a longer life.
Pros
20 pack reusable skimmer socks for your filtration basket
Durable elastic fine nylon mesh that catches even the smallest particles
When appropriately used it can last from 3 to 8 weeks without needing replacement
Cons
Not suitable for baskets with fixed center handles
Wash them often because they get clogged easily due to catching even the smallest particles
4. Bucket Lidz Triluca Pool Skimmer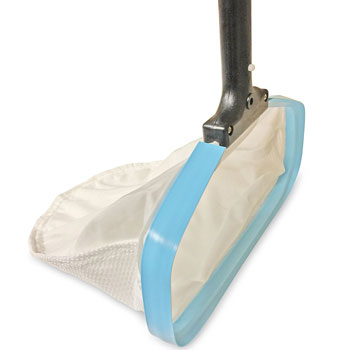 This fine mesh pool skimmer net is ultra-fine, making it suitable for pollen, silt, pet hair, and sand. Due to the fine mesh, it is only 14″ to reduce drag as much as possible and make control easier. The Bucket Lidz Triluca Pool Skimmer features a triple-stitched nylon net and a stable and robust frame. This makes it more durable and allows for easy cleaning all the while reducing deformation while pushing through the water. This US-made manual pool skimmer fits most standard telescopic poles and has replacement nets available for sale.
Priced higher than most, it's a great option if you are regularly battling with small particles, especially pollen. Although claimed to be durable to withstand drag and deformation, we recommend it primarily for surface debris. If used in depth it may bend due to the ultra-fine netting causing drag.
Pros
Ultra-fine netting that can catch small particles like pollen
Triple-stitched nylon net
Replacement net available for sale
Cons
Better for surface debris rather than dragging along the floor of the pool
Net is delicate and suitable to pick up only small particles rather than heavy, large debris
5. Stargoods Pool Skimmer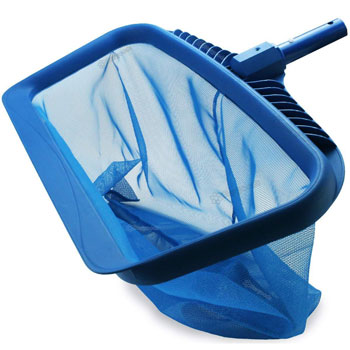 The fifth product on the list is a fantastic and well-priced option. The fine mesh net can catch smaller debris without causing excessive drag, making it easy to use. The secure frame is explicitly designed to prevent damage to pool lining as you clean.
The nearly 18″ frame makes this a suitable net for larger pools. Combined with an extra deep bag, you can clean longer and pick up more without having to clean it. The skimmer fits any standard telescopic pole. It features an ABS plastic frame with curved borders that maintain the integrity of your pool lining. The tapered lip makes cleaning along the pool floor easier.
As there are no metal components anywhere in the skimmer, there is no risk of rusting and weight is significantly reduced. Considering the many features, it's a good skimmer to have in your arsenal.
Pros
Large skimmer for larger pools
ABS plastic frame and extra deep bag
Lightweight
Cons
Net rips if you pick up heavy or sharp objects
6. Sabuy 18 Inch Pool Net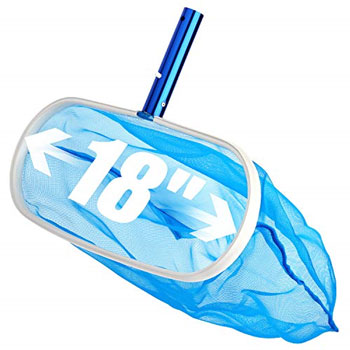 Up next is the medium-sized 18″ Sabuy Pool Net. It is suitable for medium and large pools, for fast and easy cleaning. The alloy aluminum frame is heavy-duty and coated by polypropylene. Fitting all standard poles, this pool net features a 100% lifetime guarantee. At any point if it gets damaged, you get a new replacement or replacement parts, no questions asked.
The nylon bag is stronger, more durable, and abrasion-resistant. The manufacturer claims it is easy to empty, but one of the most common complaints by users has been the exact opposite, difficulty emptying due to its stiffness. On the other hand, it is more durable and will not rip easily.
It is an excellent pool net for surface cleaning of leaves and other debris. As it doesn't have a lip for scooping, it is not the perfect choice for picking up waste from the bottom of the pool. Although made durable and with high-quality materials, it really cannot handle the drag at depth or excessive weight.
Pros
An inexpensive option for everyday leaf cleaning
100% lifetime guarantee for replacement or parts
Suitable for medium to large pools
Cons
Not built for heavy lifting or cleaning pool floor
Not very easy to empty
7. Rongbo Pool Rake and Leaf Skimmer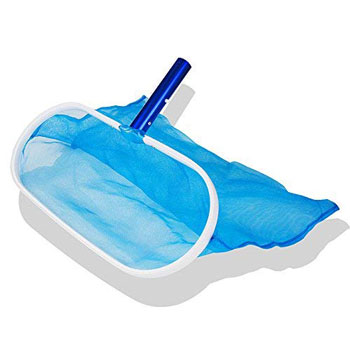 The Rongbo Pool Rake and Leaf Skimmer is an excellent choice for everyday cleaning for leaves and other medium-sized debris. It is suitable for medium to large pools with its 17.9″ frame. The frame is made entirely of plastic making it light.
Although it is made of plastic, there are sharp edges along the tapered lip of the frame that may damage the pool lining. So this is a suitable skimmer for pools of more durable materials. The tapered lip, however, makes it easier to pick up debris from the bottom of the swimming pool, as well as any that may be stuck along the walls.
The clip attachment on the handle fits all standard telescopic poles. Although a good pool skimmer and leaf catcher along the surface of the water, it may not be the most excellent option for the bottom of the pool.
Pros
A very inexpensive option for everyday simple pool skimming
Deep bag for more extended periods before emptying
Lightweight for regular use
Cons
The netting is stiff making it difficult to empty
Rake only the surface of the water
Not suitable for vinyl lined pools
8. Sun Cling Swimming Pool Leaf Rake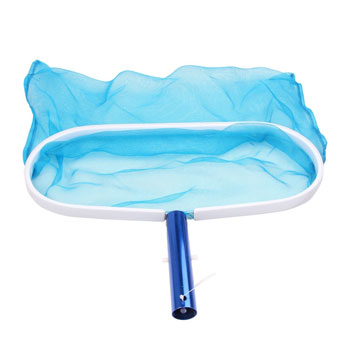 The last skimmer on our list is a fantastic pool skimmer leaf catcher and scooper of small debris. The nearly 18″ frame makes this an excellent everyday tool choice for anyone with a medium to a large-sized pool.
Although slightly weightier, it does feature an alloy frame with high-quality plastic wrap to keep the pool lining safe. The wined handle offers stability and features a built-in quick-connect clip that attaches to all standard swimming pool poles.
It offers an Easy Glide Scoop, however no extended lip for easier scooping. This may be okay for picking up lighter debris from the bottom. The bag is 13″ deep, allowing for more debris pickup before needing to empty. As it isn't fine netting, it will not push water while capturing debris, making maneuvering easier. The mesh is also chemical and sun resistant to make it last longer.
Pros
Alloy frame covered in plastic to give it more durability
Nearly 18″ frame suitable for medium to large pools
Sun and chemical-resistant mesh
Cons
Stiff net that is difficult to empty
Heavier than most
Keep in mind that all skimmers are made different. If you would like to save time and energy, you may want to check out our reviews and buying guide of the top robotic vacuum cleaners. Although it will improve your pool cleaning game, we still recommend you still have a skimmer at hand just in case.
Benefits and Drawbacks of Buying a Pool Skimmer


Why do you need a pool rake or skimmer do you ask? Well, it is part of maintaining your pool nice and clean, so you can enjoy it, of course. It gives your filtration system the much-needed help to keep bacteria growth and nasty debris from ruining your water quality.
The skimmer is similar to a fishing net. It connects to the telescopic pool pole you already have. It's a good idea that you buy a universal telescopic pole, so all of your tools fit on it. If you don't already have one check out our highest-ranked telescopic pool cleaning pole reviews and buying guide.
As with many of the other pool tools, this does require more effort on your side. Some skimmers are heavy and get even heavier when filled with debris. It does require some elbow grease to maintain your pool. There are more expensive options such as automatic pool skimmers that reduce the effort to a minimum of just cleaning the filter.
The edges of the pool are also a place where dirt may build-up. We suggest that you obtain a high-end pool liner and to do so you should check out our reviews on the top products in that category. A top-class liner works perfectly in combination with a skimmer.
Safety and Maintenance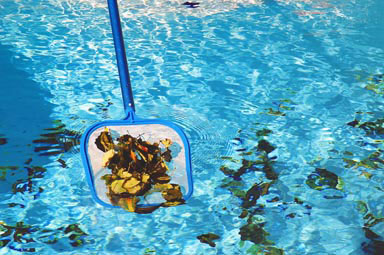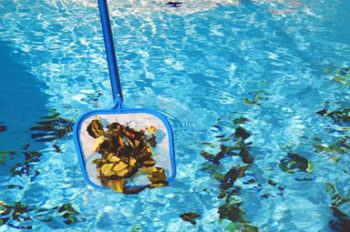 When it comes to safety, it always comes down to one thing, don't overreach. In the case with the skimmers, it's essential to add that you should not collect more than you can lift. This is a very safe pool tool that doesn't pose any dangers at all. Still, don't allow children to play with it or use it without parental supervision.
Proper maintenance consists of protecting your tool from bacteria and mold growth as well as sun and chemical damage. We recommend you thoroughly clean and wash your skimmer with fresh water after every use. Don't leave any natural matter behind to prevent mold and bacterial growth. This also helps remove any pool chemicals that may cause deterioration of the material.
Though it is good to sun dry the skimmer to kill off anything you didn't wash, make sure you store it in the shade. Even high-quality materials with UV protection get damaged by the sun over time. The better you maintain your skimmer, the longer you will have it.
Knowing how to clean and maintain your swimming pool properly includes having the right tools to get the job done. It's not only about making it look clean, but it's also about keeping bacteria buildup, mold, and other icky debris at bay. This will make swimming in the pool a lot more pleasurable, and save you money on pool repairs and replacements in the future.
Wrap Up
We hope our pool skimmer reviews has helped you find the best pool skimmer for your pool and cleaning needs. With so many options out there, it's good to know what is most suitable for what type of pool and cleaning abilities.
We can't wait to hear from you. Please share your opinions, experience, recommendations, and tips in the comments below. Our team works hard to bring the finest products to your attention!
Thanks for reading and as always – stay put!