Did you know that keeping your pool clean is the key to pool life longevity and personal hygiene? Yes, you definitely knew that which is why you have set your mind to purchasing the best pool filter cartridge you could possibly find. We are glad to hear that because the aim of our article is not to convince you of the importance of a filter in your pool.
What we want to do is make sure that you are as informed as a pool owner can be before buying and installing a chosen product. Here you will find a collection of pool filter cartridge reviews, along with their benefits and drawbacks. If you are still unsure how such an item works, look no further – our guide includes all the ins and outs necessary for you to be satisfied with the results.
We hope that you enjoy the read and that you stick with us until the very end!
See The Quick Comparison Chart
Sand and DE Filters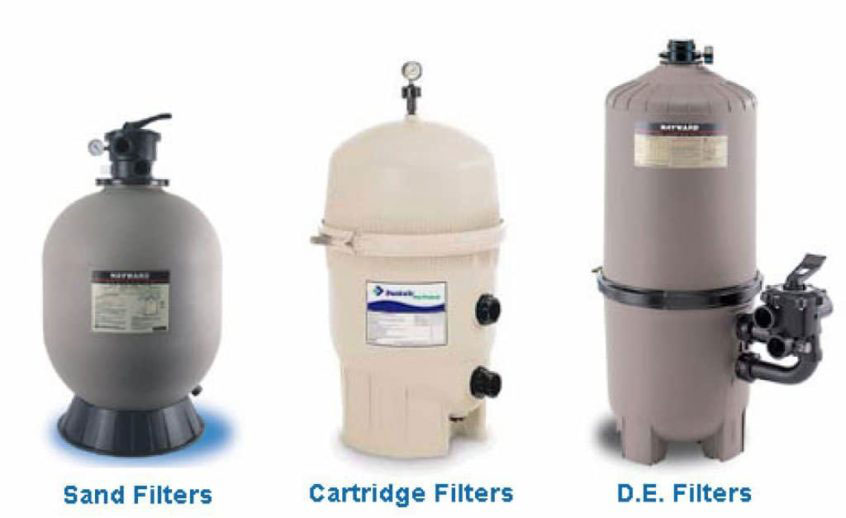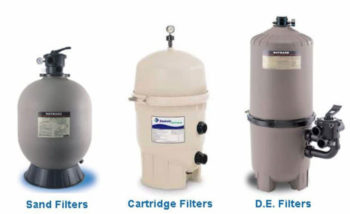 Since we have already told you about the importance of choosing the appropriate product, it might be a good idea to give you an overview of both sand and DE filters as well. Thus, you will have information on the benefits and drawbacks of the three major pool filter types.
Sand Filters
This type is known to require the lowest degree of maintenance from the three. The aim is to remove contaminants size 25 microns and up. Once they reach the filter, sand and other bigger elements remain trapped, and only clean water can go through. However, once the dirt accumulates inside, you will need to backwash the unit.
The filter is not as efficient as the other two types, but it still provides you with water that is clean enough to feel safe for your health and enjoyment. The good thing about sand filters is that you might only need to open the tank after five years of service. Keep track of the speed with which it cleans the water, the number of chemicals you need to use, and the number of times you run the pump, to know when the performance of the filter has decreased.
DE Filters
The popularity of DE filters comes from their high-efficiency rates. As already noted above, this model can remove particles as small as 4 microns, which means that they provide you with water in its purest form. Of course, their quality performance comes with a higher price tag. However, thanks to the strength of DE filters, they alleviate the burden that the pump carries. Thus, you can extend the life of your top-class pool pump while also decreasing the overall electricity bill.
Best Pool Filter Cartridges Comparison Chart
PRODUCT
DETAILS

Sundance 6540-501 Microclean Filter Cartridge

Price:

$$$$

Works for:

75 square feet

Pack:

1 Cartridge

Filter Life:

12 to 18 months

Dimensions:

14 x 8.5 x 8.5"

View On Amazon

Unicel C-8465 Replacement Filter Cartridge

Price:

$$$

Works for:

up to 65 square feet

Pack:

1,2,4,6,10 pack Available

Filter Life:

up to two years

Dimensions:

11.5 x 10.8 x 10.7"

View On Amazon

Pleatco PRB50-IN Spa Pool Filter

Price:

$$

Works for:

50 ft

Pack:

1,2,4 pack available

Filter Life:

Six to eight months

Dimensions:

15.7 x 5.6 x 5"

View On Amazon

Intex Type B Filter Cartridge

Price:

$$

Works for:

24 feet

Pack:

1 Cartridge

Filter Life:

2 – 4 weeks

Dimensions:

5.6 x 5.6 x 10"

View On Amazon

Guardian Filtration Products Replacement Pool Filter

Price:

$$

Works for:

25 sq.ft.

Pack:

2 Pack

Filter Life:

2 weeks

Dimensions:

1.9 x 3.9 x 5.2"

View On Amazon

Pleatco PWK65 Replacement Cartridge

Price:

$$

Works for:

up to 20 feet

Pack:

1,2,4,6,10 pack Available

Filter Life:

up to a few months

Dimensions:

10.5 x 8.5 x 8.5"

View On Amazon

POOLPURE 50 sq. ft. Filter

Price:

$$

Works for:

50 sq. ft.

Pack:

1 or 2 pack

Filter Life:

12 Months

Dimensions:

14.1 x 5.4 x 5.3"

View On Amazon

Intex Filter Cartridges

Price:

$

Works for:

N/A

Pack:

Twin Pack

Filter Life:

1 month

Dimensions:

4.3 x 4.3 x 2.9"

View On Amazon
Best Pool Filter Cartridges – Top Picks
This is the place where you can see some valuable models which can be found on the market nowadays. Our reviews are descriptive and objective enough for you to pick what would suit you well. Note that this is not a classification. Therefore, the reviews are not in order of quality.
1. Sundance 6540-501 Microclean Filter Cartridge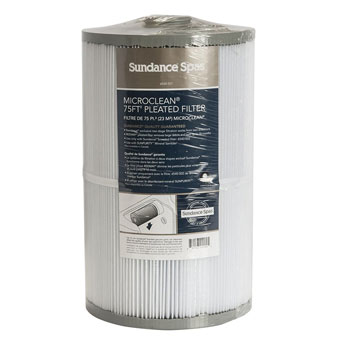 The first product on our list is the Sundance 6540-501 Microclean Filter Cartridge. Probably the most evident benefit of this item is the fact that it is an original factory replacement. Thus, it is compatible with a variety of Sundance spas and pools. However, it suits only the series built after 2006. If your spa is older, check with your local dealer.
The factory filter is slightly pricier than the replacement cartridges. However, its advantage is the long lifespan. This model needs to be cleaned every 3-6 months. Keep track of your usage and check the filter's condition frequently. Replacements should take place every 12 to 18 months, which saves you the hassle of purchasing a new one more often.
All in all, the quality of the Sundance Microclean Filter Cartridge is meant to guarantee you durability. One thing you should be informed of, however, is that some users have complained about the decomposing of some parts over time. Contact the manufacturer if you notice this happening too soon after the purchase.
Pros:
Exact factory replacement
Durable
Long periods without maintenance
Cons:
Not the best value for money
Fits perfectly Sundance spas and pools but does not say anything about other brands.
2. Unicel C-8465 Replacement Filter Cartridge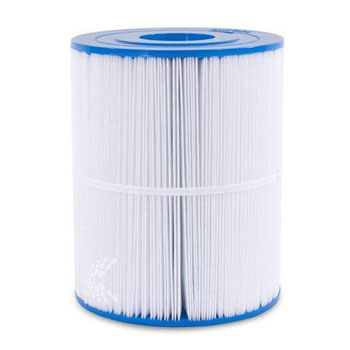 The next product we will review for you is Unicel C-8465 Replacement Filter Cartridge. Before we get into any in-depth details, let us warn you that some customers have complained that what they received was not a Unicel product in reality. If you happen to experience the same issue, contact Amazon.com to resolve it. For your peace of mind, the advertised product is an actual Unicel replacement.
The diameter of the unit is 8 ½ inches, and the length is 10 ½ inches. Check the dimensions of your factory filter to see if it would suit your needs. Otherwise, installation is straightforward. The cartridge contains 234 pleats, which support the high efficiency of the unit.
As per usual proper maintenance is required from you. With regular cleaning and rinsing, the filter could serve you for up to two years. Although the unit is a replacement, it does a satisfying job of removing particles from your pool and providing you with clean water. The price is noticeably lower than that in local shops.
Pros:
Straightforward installation
High efficiency
Pleasant price
Cons:
Customer service is far from excellent
The manufacturer sometimes has shipping problems.
3. Pleatco PRB50-IN Spa Pool Filter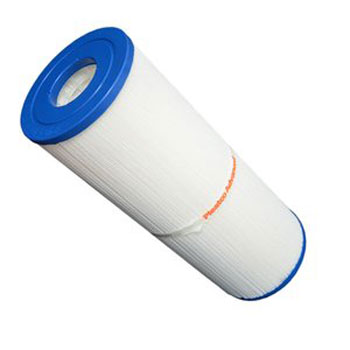 The next product on our list is the Pleatco PRB50-IN Spa Pool Filter. It is a drop-in model which saves you the hassle that comes with screw-in filters. It also means that the item has a broader fitting range. This typical replacement filter fits a lot of spas. See if you can find any identification of your old filter's dimensions. If not, measure the diameter and height of your existing filter and see if the new one will be suitable.
The craftsmanship of this filter is good, which makes for a sturdy construction. However, the cartridge on the inside seems a bit thinner. The item does not have a lifespan as long as that of an original filter, hence the label 'replacement.'  Nonetheless, the reasonable price is compatible with the quality for a replacement filter. It provides you with good water flow as long as you clean it often enough and replace it with a new one when the time comes. The antimicrobial caps at both ends help to prevent chlorine damage and protect the filter itself so that it can protect the pool.
Pros:
Easy installation
Compatibility with a range of spas and pools
Antimicrobial caps
Good water flow
Reasonable price
Cons:
Not as long-lasting as an original product
Thin cartridge
4. Intex Type B Filter Cartridge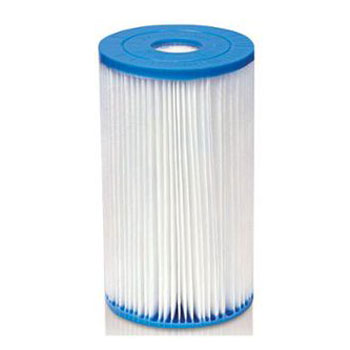 Our next pick is a Type B Filter Cartridge brought to you by Intex. This model cartridge is bigger than the type A one, which means that it allows for a better flow. To know whether it is the right filter for your pool, you need to make sure that it is compatible with your existing pump. Check the brand and size of the pool pump and check the index filter's letter.
The item fits quite tightly, so you might encounter some difficulties when installing it. You will need to really push and wiggle the filter for it to remain in place. There is a hard PVC element in the center for support. Thus, the power of the pump should not cause a collapse in the construction or hinder the flow. However, the filter as a whole is a bit flimsy.
It is easy to clean, but frequent rinsing will lead to the weakening of the parts. This creates a paradox because you would need to rinse the filter to maintain it in good condition. You will need to replace it more often, which will increase the overall cost over time.
Pros:
Hard center
Good water flow
Easy to clean
Cons:
The required rinsing shortens the lifespan
High replacement cost
5. Guardian Filtration Products Replacement Pool Filter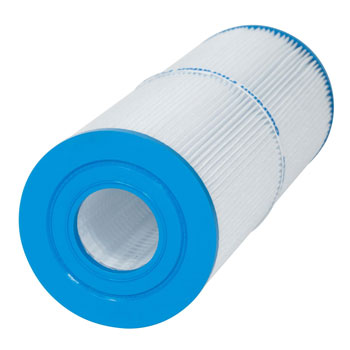 The next product on our list is the Guardian Filtration Products' Replacement Pool Spa Filter. This model is very versatile because it is compatible with a variety of inground and above ground swimming pools, hot tubs, and SPAs. You can install them indoor as well as outdoor. However, note that depending on their suitability, they might require some force to fit into place. Thus, there is a chance that you will struggle with the installation.
This model is not threaded, which means that it is open at both ends to allow water flow. The dimensions are listed by the manufacturer, and they match the product. The product is durable in terms of performance, but the plastic rings at the ends are flimsy. Overall, the construction is more flexible than the stock filter. Since the price is sufficiently low, it will be reasonable enough to replace the cartridges every two weeks instead of buying chemical products to clean them.
Pros:
Good replacement price
Versatile
Clear instructions and matching fittings
Cons:
Flimsier and more flexible than the original filters
Forceful installation
6. Pleatco PWK65 Replacement Cartridge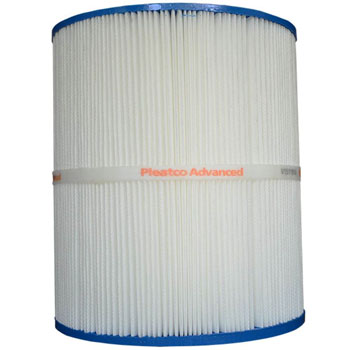 Your next potential pick is the Pleatco PWK65 Replacement Cartridge. This model has been designed to serve specifically Hot Spring Spas as a replacement for the actual factory filter. Check the dimensions of your pump to know if the cartridge would fit. The dimensions of this product are 10.52×8.5 inches, with a 76mm center hole. If compatible, it fits well and without a problem. It performs well as a replacement.
With proper maintenance, the filter can last you up to a few months, which is a reasonably long amount of time in comparison to other replacement filters. Remember to rinse the cartridge with fresh water every one or two months to keep it in good condition. There are antimicrobial end caps, which also prolong the lifespan of the product. However, there have been complaints about the caps being flimsy and less durable than the filter itself. Some dispatches also seem not to filter water as smoothly. However, at this low price, the model does the job.
Pros:
Quality replacement
Easy to install and maintain
Long lifespan for a replacement
Reasonable price lower than that of the filters at a local spa store
Cons:
Flimsy end caps
Slow water flow
7. POOLPURE 50 sq. ft. Filter
Next comes the Poolpure Spa Filter for Hot Tub. This product can replace the following original models: Pleatco PRB50-IN, Unicel C-4950, Filbur FC-2390, Guardian 413-212, Aladdin 15002, RTL-50, 03FIL1600, R173434. If you cannot find the code of your existing unit here, you can measure the height, outer diameter, and hole diameter to compare with the size of this model as the manufacturer advertises it.
Unfortunately, the Poolpure filter does not have a label with a number to help you find what you will need to look for next time you order. The cartridge is easy to wash with a garden hose. Rinse it with fresh water when you notice the wearing off of the color. Alternatively, you could soak the filter with bleach overnight to make sure it remains in optimal condition.
Thus, the filter could complete up to 2 years of service. Replace the item when the hose cannot do the job of cleaning it anymore. As for the weak characteristics of this product, the design contains fewer pleats, which means slightly lower efficiency. The end caps are thin and might crack or fall off sooner than expected.
Pros:
Versatile replacement
Up to 2 years of good performance with proper maintenance
Fits well
Easy to clean
Cons:
Thin end caps
Fewer pleats on the cartridge – i.e not the thickest cartridge
8. Intex Filter Cartridges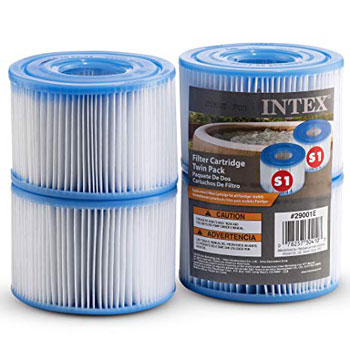 The most prominent feature of the Intex Spa Filter Cartridges is that they come as a set of Twin Pack filter cartridges. The way the kit is compiled makes for a reasonable price, which might even out the cost of frequent replacements. Note that each filter will last for about a month. After that period ends, the cartridge will stop performing as expected, even if you rinse the item often enough. However, the oil-absorbing sponges serve to optimize the filter's performance.
When it comes to fitting, this model is compatible with all Intex Purespa models. The item's measurements are 3×4 ¼ inches. If the fittings are the right ones, the filter will be easy to install. Overall, the set comes at a reasonable price for the job that it does. If replacements take place every month, the new cartridges will help you maintain your pool and remove chemicals, debris, and any other particles that enter the waters with use.
Pros:
Set of twin cartridges at a reasonable price
Fits easily
Good performance
Cons:
Not a very long life
Obscure sizing
Plus or Minus (Pros and Cons of Pool Filter Cartridges)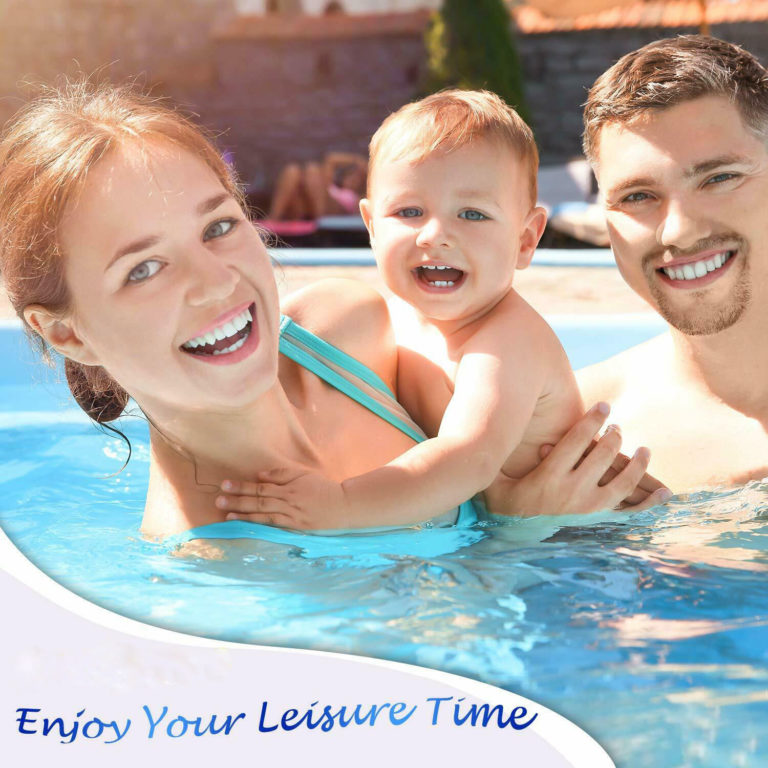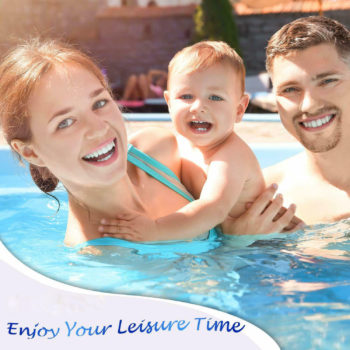 Did you know that cartridge filters are not the only type of pool filters? That's right, there are three main types you can choose from: sand, cartridge and DE filters. There are also other products you can find such as quality above ground pool liners, the features of which you can discover on our website.
Each filtering system, of course, comes with its own benefits and drawbacks. However, the pros and cons cannot be compared and classified because each type serves different kinds of pools and spas. In this section, you will learn about the strengths and weaknesses of our main object in the article – cartridges.
Benefits
Ideal for smaller pools and spas.
Easy to install – if the size is the right one for your pool and existing pump, then you will find the fitting of the filter very straightforward and hassle-free.
Replaceable – with the number of items you can find online and in shops, you will easily switch between filter cartridges.
Quick maintenance – All you need is fresh water from a garden hose to rinse the filter clean. However, do not forget that this should be done regularly.
Pools and spas do not require backwash during the cleaning process – saves water.
Drawbacks
Not as powerful as DE filters – Sand filters can filter particles down to 25 microns, cartridges remove elements down to 15 microns, while DE filters are the strongest – down to 4 microns.
Regular maintenance – As easy as maintenance can be, it can become quite annoying to take the filter out and rinse it as often as you would need to. Some cartridges require less frequent cleaning, but they are also more expensive.
Frequent replacement – Once rinsing off the debris and dust stops being efficient, you know you need to change the filter. The more times you do it, you will realize that the overall maintenance cost goes up.
The weak spots of a pool filter cartridge do not make it less valuable as an item to have. Your pool or spa needs a filtering system/unit anyways. The purpose of listing the pros and cons is to know whether your pool model requires a cartridge or another filter model.
The HOW TOs
How To Install a Pool Filter Cartridge
We can imagine the next scene: you are standing next to your swimming pool or spa; there is a set of filter cartridges in front of you; your fists are on both sides of your body; your mind is confused. Yes, you have both the pool and the filters, but you don't know how to proceed to the installation process.
Sometimes, the instructions might be too unclear to follow. That is when we interrupt your chaotic thought process, to offer you a hand, or a set of instructions in this case. Whether it is installing or replacing a cartridge pool filter, you will know how to do it after these few steps:
Finding the right components – Okay, if you don't have them, this might mean that you will have to leave your standing position in front of the newly bought unit and go to a supply store or online. PVC components, adapters, pipes are some of the things you will need.

If you can, go for branded parts because they will serve their purpose better and for a longer time.
Go for a bigger diameter pipe for your filter.

Turn off the power to your pool pump.
Close off the valves leading in and out of your pool filter
Unscrew your filter's drain cap, drain the water inside
Cut the old pipe coming in and out of your existing filter away. You could use a reciprocating saw to do that.
Once this is done, remove the old filter.
Assemble the new filter (if needed).
Place it in the system and make sure that the input and return lines are in the right positions.
Assemble the PVC component.
Use Teflon tape to help seal any threaded connections.
Apply PVC primer on the outside edges of the pipes (2 inches), and the inside of the pipe fittings to clean and soften the PVC before applying glue.
Allow the cement to cure.
Fire up the pump and pressure test.
We would recommend that you perform our installation tips while also looking at the instructions provided by the manufacturer. Better be extra prepared than not at all!
How To Clean a Pool Filter (Maintenance)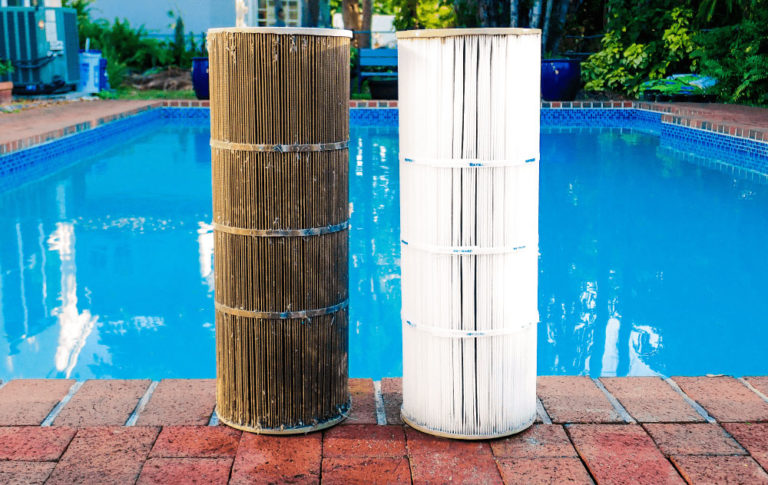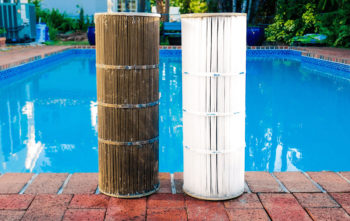 We might have covered this section a little bit here and there when listing our reviews, but we are nowhere near finished. Thankfully, talking about maintenance might take more time than actually doing it. Pool cartridge filters are elementary to take care of, which makes them such a popular pick.
However, the responsibility is still there if you want your filter to perform well, especially when there is a chance you might want to prolong the pool season. When the weather gets cold, but you still cannot let go of the summer, combine your filter with one of the great pool heaters to steal some more time. There are two types of pool heaters that we have outlined in our article. Check them out!
Let's dig all the "dirt" out and learn more about how to clean a cartridge type pool filter.
Check the pressure. If it goes higher than average by 7-10 lbs, that means that the system requires more pressure because it cannot push the water through. It indicates that the filter is dirty.
Turn off the pool pump and make sure no water goes into the system. The purpose of this activity is to drain the water from the filter and prevent any electrical dangers.
Release the system pressure by turning the pressure valve. That is the air relief valve at the top of the compartment.
Open the compartment and take the filter out.

The top of the filter compartment is usually held on with a clamp.
Use a wrench or pliers to open up the clamp handle, which will allow the top of the compartment to be removed.
Once the top is off, you can grab the filter and pull it straight up and out.

Once the filter is out of the filtration system, look over the entire filter for holes and tears. Even small rips can let water flow through without removing dirt and debris. If the filter is damaged, it should be thrown away and replaced, instead of cleaned.
Rinse the filter with fresh water from a garden hose. Adjust the water flow to gentle or medium and spray the entire unit to remove debris and dirt. Make sure that you spray in between the pleats as well.
Set the filter aside to let it dry completely. If the weather allows it, use the bright sunlight for quicker results.
Remove loose particles when the filter is dry. You can either do that by shaking the object or by blowing it with an air compressor.
Make one last inspection to make sure that the filter is clean. If there is oil (like, for example, from body oil products you use), then the filter would need to go through an alternative chemical process of cleaning.
Alternatively, you could use a chemical product to remove more stubborn contaminants.
Purchase a suitable chemical cleaner from a pool supply store or an online dealer.
Take two buckets to soak the filter in chemicals and to rinse it. One of the buckets needs to have a firm lid. The size depends on the type of your cartridge filter.
Check the instructions on the bottle of the cleaner for the exact solution ratios. Most of the time, they should be 1 part cleaner per 5 or 6 parts water.
Fill the bucket halfway with the liquid.
Let the filter sit in the solution for as long as necessary. Close the lid. One day could be enough, but sometimes more time might be required for better results.
Once the soaking finishes, rinse the filter in the other bucket.
Let it sit in the sunlight to dry.
Some Other Questions and Answers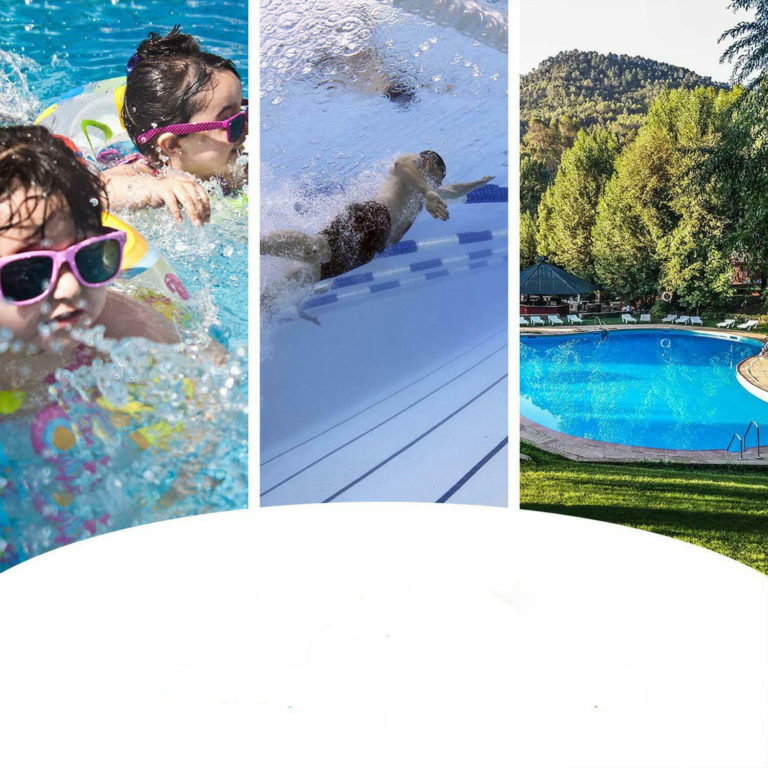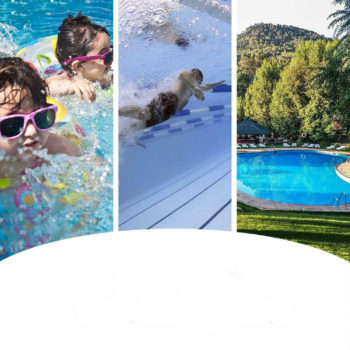 Still not convinced in your abilities to find what you want and what you need? As much as we believe in you, we know it can be daunting to purchase such an essential part for your pool, especially when you and your family like to spend your free time there. Hopefully, our last section will answer some remaining questions.
When Should a Cartridge Filter Be Acid Washed?
Acid washing is the last thing you would want to do because it is a sign of a filter beginning to degrade in quality of performance. Run a test with a degreaser first. Then, rinse it with a garden hose as you would usually do. After that, you can put a few drops of acid and see if any bubbles appear. If they do, it means that you will need to wash the cartridge with a mild acid soap. If no bubbling occurs, the filter does not need to be acid washed.
Why Do Some Filters Have One Soft End Cap and a Hard One?
In the past, all filters had only hard caps. The easy answer to this question is that, nowadays, designers have made filters' constructions versatile. Thus, some filters have a soft sealing cap at the bottom and a hard cap for integrity and stability.
How Do I Know That a Cartridge Filter Needs to Be Replaced?
We know that, after reading the reviews, you might be confused, because some manufacturers say their filters last as long as two years, while others say their products need to be replaced every two months.
To know whether your item needs a replacement, keep track of how often it requires cleaning and of the water flow. If you find yourself washing it more often or if the water flow gradually slows down as the pressure increases, then it might be time for a new unit. Of course, check for tear inside the pleats as well as this the first sign of failure.
Wrap Up
When all is said and done, the time to say "Goodbye" comes. We hope that this read was informative as well as enjoyable because then you can go and find the best pool filter cartridge with a smile on your face instead of with worries sinking in your heart. Our list of reviews of pool filter cartridges can be your starting point if you need that push.
However, the article aimed to give you more confidence in finding what suits your pool and your needs. Once you have the filter, follow our steps for installation and maintenance, and your filter will have a long life.
Don't forget to recommend us to your family, friends, neighbors, and the lady at the supermarket. If you have any further questions, do not hesitate to send us an email. We would be happy to help you!
Thanks for reading and, as always – stay put!