You have now achieved the dream that many people share, and that dream is having a swimming pool in your own yard. However, there is this tiny detail that could prevent you from fully enjoying the benefits of it – the water temperature. In today's modern world you would think there would be a solution. And there indeed is one. It is the best pool heater and we can help you find it.
We have composed some reviews on the top pool heaters to give you insight on the top units on the market. Here, you will learn about the various types of products and about the essential features an item should possess. Additionally, you will confidently be able to keep your heater in good condition, while also feeling safe when using it. Let us not waste any more time and move to the first part of this guide – the reviews.
See The Quick Comparison Chart
The Top Pool Heaters Out There

Welcome to our reviews section where we will provide you with a diversity of pool heaters and with information about their respective benefits and drawbacks. Our aim is to give you enough details so that you can make your fair choice individually afterward. Note that the products are not reviewed in any particular order. They are only divided into two main types: gas and solar pool heaters.
Should I Get a Pool Heater, Should I Not? (Pros & Cons)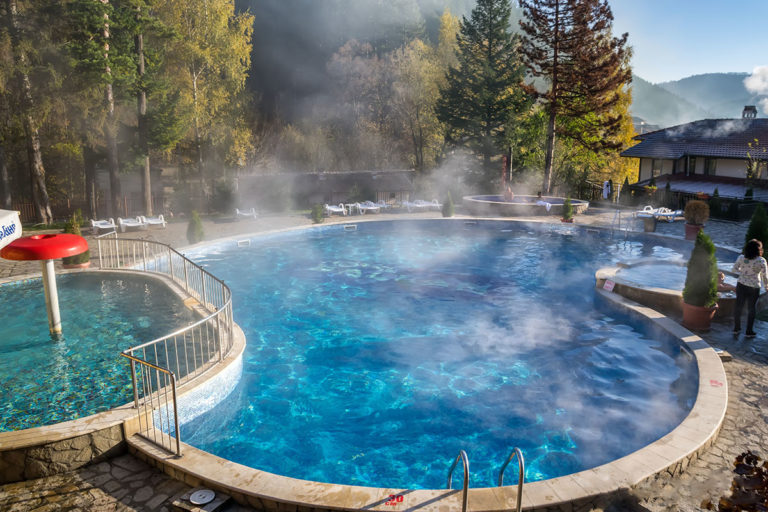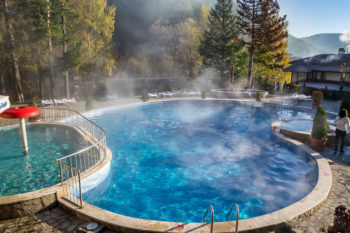 We could make the joke that if you do not have a swimming pool, maybe you should not get a pool heater. But the argument here is different. Yes, a pool heater is at least a commodity, if not a must, when you want to prolong the amount of time you spend in your pool. However, before we delve into more in-depth discussions of maintenance tips and types of heaters, we should speak the truth about the benefits and drawbacks of having such an item in your house.
Pros and Cons of Gas Heaters
Since our reviews focused on two separate groups of heaters, we should also distinguish between the features of gas and solar pool heaters. We will start by listing the pros and cons of gas models.
Pros
They have high BTU ratings, which means that they raise the temperature quicker than any other type of pool heaters.
Low cost of installation.
Perform well in cold weather.
Ideal for weekend use.
Compact and take up a relatively small footprint on your existing concrete pad.
They are flexible because they can run on either natural gas or propane.
Cons
They emit fossil fuels, which, naturally, is an environmental disadvantage.
Indoor gas heaters need to be vented outside for safety measurements.
Outdoor models are susceptible to corrosion.
High operating costs.
Shorter life expectancy.
Pros and Cons of Solar Heaters
Whether you are convinced that you should buy a gas pool heater or not, you can always have a thought or two about purchasing a solar heater. Let us see what that model has to offer.
Pros
By using the sun as your free heating source, you reduce the number on the bill you will receive at the end of the month.
The carbon footprint is significantly smaller when you use this green method to increase the water temperature. You can reduce the heat loss at night by putting a quality solar pool cover over your pool.
Low maintenance requirements.
Quiet operations.
Long lifespan.
Cons
They are effective only when the sun is shining, which immediately leaves you with relatively big heat losses.
The system needs to restart each morning and it takes more time to work.
Depending on the size of the pool, you might need to purchase more panels.
A number of panels would require more space.
One thing is for sure: any type of pool heater works perfectly when paired with a quality pool thermometer. See our full guide on how to obtain a thermometer for your pool.
Best Pool Heaters Comparison Chart
PRODUCT
DETAILS

Raypak Digital Natural Gas Pool Heater

Price:

$$$$

BTU:

406,000

Efficiency Rating:

83%

Power Source:

Natural Gas

Weight:

248 pounds

View On Amazon

Hayward H400FDN Universal H-Series Pool and Spa Heater

Price:

$$$$$

BTU:

400,000

Efficiency Rating:

82%

Power Source:

Natural Gas

Weight:

197 pounds

View On Amazon

Pentair 460737 Eco-Friendly Pool Heater

Price:

$$$$

BTU:

400,000

Efficiency Rating:

up to 85%

Power Source:

Propane Gas

Weight:

128 pounds

View On Amazon
Reviews of the Best Gas Pool Heaters
We begin with our selection of gas pool heaters
1. Raypak Digital Natural Gas Pool Heater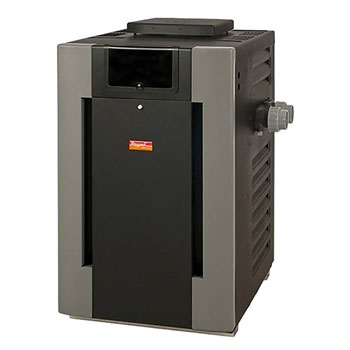 Our firstt recommendation is the Raypak Digital Natural Gas Pool Heater. Judging by the experience of previous users, the product will serve you well for a long period of time. The design is durable and capable of withstanding the effects of chemicals in the water. It works quietly and efficiently when it comes to energy.
The item is equipped with a thermostat which will help you maintain consistent water temperature in the pool. You can set it to the degrees you wish to reach and the heater will automatically switch on and off when it, respectively, reaches the desired temperatures or goes below it. A convenient LCD screen makes temperature maintenance easier.
The heater and the pump can be connected to work in collaboration. The pump will cool the heater down when it stops working. This model is suitable for both chlorine and saltwater. The heater is supplied with a dual-voltage transformer for 120VAC or 240VAC. When operating on 120VAC power, it draws 4 amps. When operating on 240VAC, it draws 2 amps.
Pros:
Automatic thermostat allows you to control the temperature.
Suitable for both salt and chlorine water.
Long-lasting usage.
Cons:
2. Hayward H400FDN Universal H-Series Pool and Spa Heater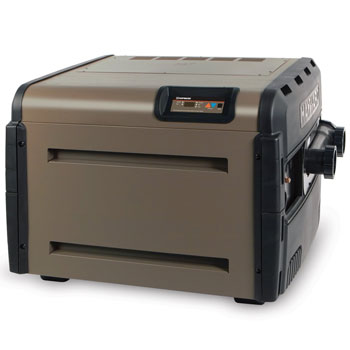 The Hayward Universal Heater is sturdy and durable. You will find it easy to winterize and start back up in the Spring. We would recommend that you purchase a tarp to cover the unit over the winter after draining the water from it. Its lifespan might also depend to some degree on the climate, but with proper protection, it should serve you a long time. Note that professional installation ensures a satisfying performance.
Another thing you need to do to make sure your product stays intact is to check the pH readings of your pool. The instructions are very self-explanatory. There is a control panel that shows accurate temperature and remains protected from the water.
Although some people say that the heater is suitable for above the ground pools, it is important that your pool is equipped with rigid plumbing. Otherwise, the item can quickly heat up relatively large pools. However, the price of running it could go surprisingly high depending on the fuel cost and the size of the pool. Also, although the pipe connections can be changed to either side, the gas connection cannot. You may still need to run a gas pipe around to the other side.
Pros:
Heats up quickly
Accurate temperature readings
Not noisy
Easy to winterize and maintain
Cons:
3. Pentair 460737 Eco-Friendly Pool Heater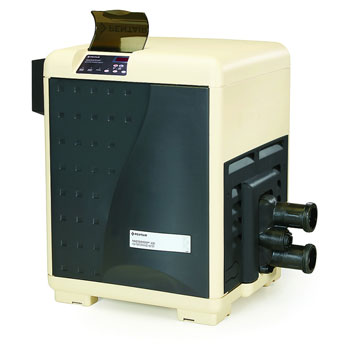 The good thing about this Pentair Pool Heater is that it is compatible with pumps and parts by other companies. The unit is separate from the pump. However, to set the temperature of the heater, you will need to have the pump working, which might come as an inconvenience.
The digital display shows accurate numbers and you can keep an up-to-date track of the temperature. Note that this unit does not allow for exchange of connection sides. The gas and electrical ones are on the right under the fan on the side. You will find the picture for the proper installation in the instructions. However, it is advisable that you call a qualified plumber or you will not have access to the two-year warranty.
This model is made for all pool types, salt and chlorine. Make sure that the salt cell comes after the heater so that the heater does not suffer damage. The unit requires either 120 or 240 volt connection at 60 Hz.
Pros:
Compatible with parts from other brands
Suitable for salt and chlorine pools
Rust-proof exterior
Dual voltage
Accurate digital display
Cons:
Gas and electrical connections go to only one side.
Vertical plumbing fixtures make it a bit more difficult to connect to water supplies.
4. Sta-Rite SR200NA Max-E-Therm Pool And Spa Heater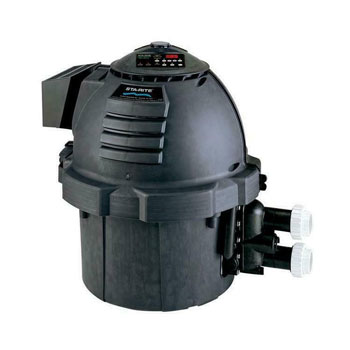 The last heater of the gas type is the Sta-Rite SR200NA Pool and Spa Heater. The good thing about it is that it is lightweight. It comes as a compact design, which means that it will take up less space. However, one of its primary disadvantages comes from the design of the electronic panel. The buttons are flimsy and may stop working sooner than expected.
Another part that is rather weaker is the heat exchanger. Even the heavy-duty copper exchangers have a short lifespan. There is a certain preventive tip you can follow to keep your heater in good shape. The tip regards the optional pressure valve relief, which will save your exchanger from rupture after an increase in pressure once the thermostatic valve dies. Such a risk exists every two years when the valve needs to be replaced. Other parts you will need to purchase after they die are the temperature and pressure sensors.
Note that you will need to call a professional plumber for installation if you want to benefit from the product warranty. However, the process itself is easy and straightforward.
Pros:
Cheap replacement parts
Lightweight
Straightforward installation
Cons:
Protection parts are purchased separately
Flimsy controls
PRODUCT
DETAILS

XtremepowerUS Solar Panel Heating System

Price:

$

Size:

28″ X 20′

Made:

Black polypropylene

Specification:

Each kit is made of – 2′ x 20'ft panels

View On Amazon

SunQuest 4-2X12 Solar Swimming Pool Heater

Price:

$$$$

Size:

4-2 x 12 ft

Made:

Professional Grade quality

Specification:

Increases pool water temperature up to 10 degrees

View On Amazon

SunHeater S120U Universal Solar Pool Heater

Price:

$$

Size:

2 x 20-Ft

Made:

Hard plastic

Specification:

Raises pool water temperature 6-10 degrees F

View On Amazon

SunQuest Solar Swimming Pool Heater

Price:

$$$

Size:

2-2′ x 10′

Made:

Flexible and versatile design

Specification:

Can be mounted both vertically and horizontally

View On Amazon
Best Solar Pool Heaters Reviews – (Recommended Picks)
If you feel like using the power of sunlight, then check out our top solar pool heaters.
1. XtremepowerUS Solar Panel Heating System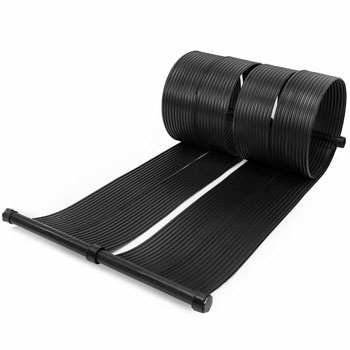 The first solar pool heater is presented to you by XtremepowerUS. Their model comes at a price that is compatible with the quality of the product. This heater can be used for both above-ground and in-ground pools. You will receive two panels with the package. They need to be placed on a flat, horizontal surface so that the water can circulate from one tube to the other. A vertical installation will require more pressure to push the water up.
When it comes to pressure, it is also important that the pump is strong enough. The quantity of solar panels will depend on the pool size and location. A rooftop location is also possible but remember that you would need to run the pipe all the way to the pump. To attach more than two solar panels together use ¼ turn molded joints. In the case that you have older panels of a different model, remove the caps and they will connect. Installation is easy but you will need a flexible hose and clamps to prevent breakage of the lightweight material. Note that the diverter kit and the PVC fittings are sold separately.
Pros:
Price suits quality
Easy installation
You can connect the panels to other models.
Wide range of platform choice
Cons:
Lightweight and brittle material
PVC fittings and kit not included
2. SunQuest 4-2X12 Solar Swimming Pool Heater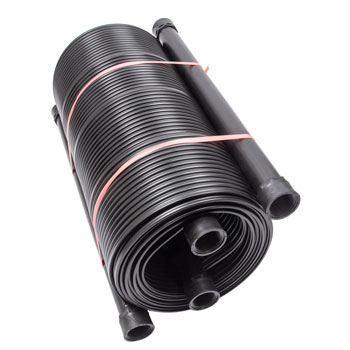 SunQuest 4-2X12 Pool Heater's primary advantage is that it comes with all the hardware needed for installation. Thus, the total price goes down because you will not need to purchase a separate kit or fittings. The package also includes nylon straps which are used to secure the panels to the rooftop. The provided anchors require drilling into the roof, however. You could use the same type of screws as were used to attach your roof. Thus, you will keep the wind from blowing the system around.
Another valuable trait of the item is its compatibility with existing pool pumps. They will connect to your in-ground or above-ground swimming pool system. This model functions in much the same way as the previous one – it needs a flat, horizontal surface to apply enough pressure and push the water up.
The heater's capability to withstand harsh weather conditions depends on the climate in your area. If the winters where you live are severe, it is always better to roll the unit up. As for the number of panels, that also depends on the depth of your pool, the volume of water, and your temperature requirements.
Pros:
Compatible with the existing pool pump.
Installation kit included.
Flexible panels.
Cons:
The rubber hose used to connect panels together is flimsy.
3. SunHeater S120U Universal Solar Pool Heater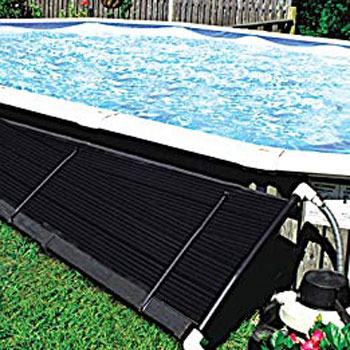 The next product we will review for you is the SunHeater S120U Universal Solar Pool Heater. This item does not come with all the hardware, unfortunately. The materials provided are the ones needed for connecting two panels together. However, you will have to purchase an extra pool pump hose as well as some clamps and adaptors to secure the construction to your rooftop. We would recommend that you silicone the caps and threaded fittings. The rubber hose adapters that come with it do not match the adapters of the panels. It might also be good to have Teflon Tape at hand to ensure there are no leaks.
The disadvantage of this model is that it slows the water flow a bit. However, you do not need to have the heater on throughout the whole day. Make sure the pump is always working when the heater is on so that the water can circulate. The heater is flexible, but it gets quite heavy when filled with water. The entire length of the unit (about 20ft) can hold up to 10 gallons of water.
Pros:
Flexible construction
Heats up water quickly
Durable
Cons:
You will need to purchase most of the hardware separately.
Slows down the water flow.
4. SunQuest Solar Swimming Pool Heater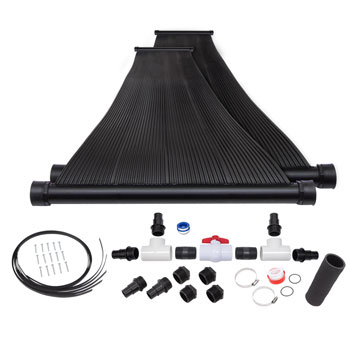 Last but not least, comes a SunQuest item that is flexible and versatile. You will like the fact that this heater can be mounted both vertically and horizontally on a roof, on the ground, or on a fence. The range of installation locations will help you find a place no matter the size of your yard. However, make sure that the panels are pitched for draining at the end of the season to prevent freeze damaging. You should do it anyway, but this step is particularly important if they are mounted horizontally.
The major disadvantage of this unit is that it might leak frequently. When they lay directly on the roof, it will be a pain to fix the potential damage. To prevent leaks, you will need to use Teflon tape to make a good seal since the fittings are not perfect. Note that you might need to purchase separate hoses if the ones in the package are too short.
For roof installation, there are straps added to the product. Screw them down and they will hold the panels in place. For proper winterization, put a valve at low spot of the piping and a valve at the lowest part of the panel to drain them down.
Pros:
Makes water warmer by 10 degrees.
Durable straps for rooftop installation.
Multiple installation possibilities.
Cons:
Leaks sometimes
Incorrect fittings
Hoses might be too short to reach all the way from the roof to the pool.
Above Ground Pool Heaters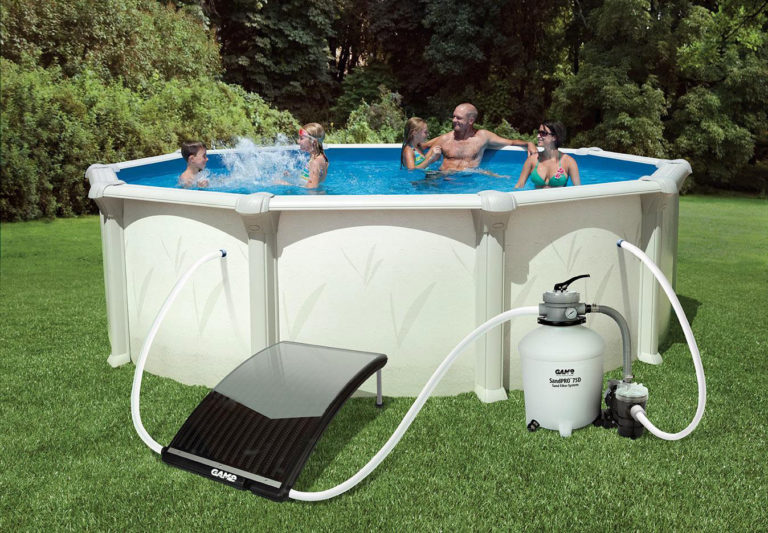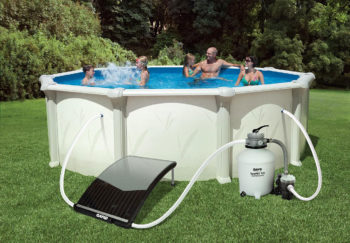 Above ground pools can benefit from the operation of a variety of heaters depending on size and energy consumption. Many times, people think that since above ground pools are not constructions as sophisticated as in-ground pools, they do not need as many accessories and care.
But what if you are lucky enough to find a top-class above ground pool and want to enjoy every second you have in it? When it comes to water temperature, nobody likes swimming or chilling in the cold water, no matter the position of their pool in relation to the ground.
Pool Pump
No matter the type of pool you own, you always have to go for a quality pool pump. Don't miss our article about that product. The good thing about pool pumps is that you can use their power only when you want to heat the pool and save the rest. A heat pump uses the surrounding air and operates cleanly. Designed to withstand freezing weather conditions, they will serve you well even when the climate is harsh.
Don't miss out on our thorough guide on above ground pool pumps too. They are a whole different type of product in their own category.
Gas Heater
Although gas pool heaters consume more energy, which makes them more expensive to use, they have the benefit of heating your pool quicker. Their main feature is that they will allow you to hop inside the pool even earlier in the morning. The size of the gas tank depends on the amount of water that your pool contains. A large size propane tank would be about 500 gallons, while the small to medium one would be 250 gallons.
The prices differ across the country and the accessibility of gas is not the same everywhere. However, one thing that remains the same is the gas usage. A propane pool heater uses 1 gallon of propane per hour per 100,000 BTUs (British Thermal Units).
Solar Heaters and Covers
These heating elements are some of the most efficient ways to extend your swimming season by a month or two when it is still sunny outside. They are suitable for both above ground and in-ground pools, which makes them very versatile. They use a system that incorporates renewable solar energy and the circulation of water to increase the temperature in your pool.
The good solar pool covers on the market should be durable and flexible enough so that you can roll them up and store them for the next season. Their purpose is to absorb as much sunlight as possible and retain the already achieved temperature of the water below. A solar pool cover will also minimize the evaporation of water. Thus, you combine many functions in one eco-friendly item.
When it comes to solar pool heaters, you can even make one yourself. The construction is relatively easy and open to anybody who wants to try. But whether you buy it or make it at home with your own materials, using free solar energy as a source in a number of applications is a wise decision.
Installation of Pool Heaters (Although You Should Not Do It on Your Own)
This is probably the most crucial part of this article and you should pay close attention to the details when it comes to installation. However, you must also know that there are risks that come with non-professional installation, the least important of which is that the manufacturer's warranty will be void if something happens to a heater that you have installed yourself.
The cautions are particularly obligatory if the heater is electric or gas because they use either electrical parts or fuels. Thus, calling an electrician or a gas fitter is the advice you would get the majority of times you ask how to install a pool heater. Believe us, the manufacturer would know if you have performed the procedure without a qualified helper.
The detectable damages that a heater could suffer from and which the warranty would not cover are as follows:
Improper winterization – This usually happens when the water freezes due to the owner leaving it in the tank when the weather gets too cold. There will be a crack on the inside of the device, by which it would be easy to judge.
Chemical damage – It is your responsibility to maintain the good condition of the water in the pool. Make sure that the chlorine in the water is not too much and that the pH levels do not go below the norm.
Incorrect installation – The correct installation steps a technician would be looking for are ventilation, gas line sizing, signs of physical damage, and proper plumbing. Not only that your heater will fail to perform its task, but you will also not be able to use the warranty.
That said you might still have some plumbing skills, which give you the confidence you that you know how to install a pool heater. We would not want you to do it improperly so we will provide you with some information on the procedure. Of course, every heater has its individual traits that should be outlined in the instructions. However, what we can do is list the things you should be careful about.
Check the instructions for the sizing of the gas line supply and for the size and orientation of the venting ducts.
Make sure you have a check valve between your heater and any form of chlorine injection. The valve should be able to resist corrosion.
Bond the casing of your pool heater. This helps to protect against galvanic corrosion – a process fatal to internal elements.
All pools should be supplied with a sacrificial anode. The name suggests that this part is prone to be damaged and, thus, save the heater itself from galvanic corrosion. Remember to replace the zinc anode every three years or whenever you notice that it has deteriorated by half.
For gas heaters – Make sure you have a gas pipe that is large enough because this type of heaters is very powerful. The gas meter for your home should also be able to accommodate the draw from a large pool heater.
Gas line sizing for pool heaters will depend on the length of the run from the main gas meter to the heater location, taking into consideration the number of fittings and turns the pipe makes. You should verify the gas pipe size with your local gas utility and with the manufacturer heater.
Installation steps will vary from one model to another. You can find them in the instructions provided. Our idea was to warn you about the specific details you should pay attention to if you decide to mount the heater without calling a licensed electrician or gas fitter. However, if you want to play it safe and also use the warranty, then we most certainly recommend that you contact a professional.
As If It Is a New One! (Maintenance of a Pool Heater)
It is not a surprise that every appliance should be taken care of if you want it to perform like a new one. When it comes to devices that work with water, it is extremely important that you do not forget to keep track of usage and the state of their condition. Your pool heater is no exception.
In the next section, you can find some tips on how to service your pool heater that will make your life and that of your pool easier.
Regularly check the burners for corrosion and fraying. If you notice any damaging effects, replace them ASAP.
Clean the burners from accumulated debris and dirt.
Clean your filter so that the water can circulate unobtrusively. Your filter will also be happy after you perform this step.
Gas heater maintenance

Clean the tank from spider webs and debris.
Frequently check the gas supply.
Spray the pipe joints with a liquid mixture of soap and warm water. Thus, you will not only clean the pipes, but you will also be able to tell if they are leaking anywhere. If any bubbles emerge, the pipes need to be repaired or replaced immediately.

Electric heater maintenance

Regularly, remove the elements from the construction and wash them with a wire brush.
Check the breaker for your heater in case the device is not working. Make sure it is not tripped.

Remember to leave clearance around the heater so that it can perform as expected. Keep tree branches and other objects about four feet away.
Always Play It Safe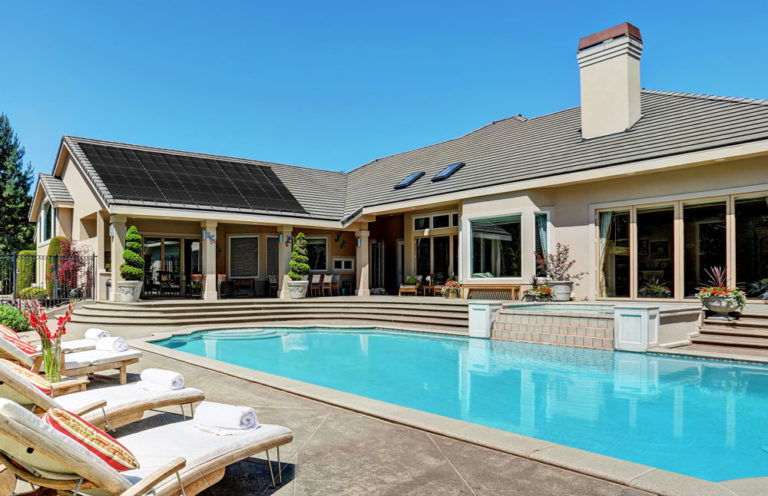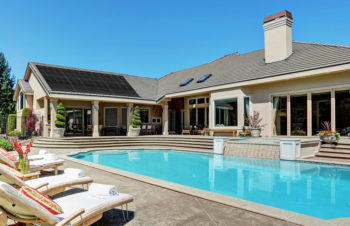 Pool heaters might now seem to you like easy to use devices and you would not be far from the truth. However, since all of them, apart from the solar models, operate on electricity or gas, it means that some cautions are necessary before you connect them to your pool. In this last section, we will familiarize you with some pool heater dangers to keep your life safe.
Carbon Monoxide Poisoning – We know that the title of this hazard sounds very scary, but that is why we will make sure that nobody experiences it. Make sure that your heater is properly ventilated. An inside pool heater should be ventilated outside, while an outside device should be placed away from windows. Checking if the heater is not blocked on a regular basis is a must and purchasing a carbon monoxide detector is highly recommended.
Fire – As long as you keep the pipes and tubes clean from leaves and debris, you should not have a problem with blockages. The objects that accumulate in a blocked heater might cause ignition.
Leakage – Again related to the functions of a gas heater, a leak might lead to a dangerous explosion. In the case that there is one, you will be able to tell without a doubt because there is a rotten egg smell accompanying the leak. Contact a gas supplier as soon as you smell something off.
Lack of maintenance – Check and fix any damaged parts as soon as you notice the problem. Have a professional do any repairs because, most of the time, they would be relatively complicated.
Do not let such warnings deviate you from your decision to get a pool heater. Any device you possess comes with its dangers, but seeing that maintenance is so accessible and straightforward, you should not have a problem. Regular checks will occur to you automatically after some time.
Wrap Up
This is it, folks – we are at the end of our article on the best pool heaters you can find out there. The truth is that we wanted you to be as informed as anyone could be, for which reason we provided you with reviews of two types of pool heaters – solar and gas. However, by reading our guide, you have discovered that there are even more options you can choose from.
We hope that following your instincts and requirements, and going through the different sections on maintenance, safety, and types, you will be able to find the item that suits your needs the most. You might even think that other people you know could also benefit from reading this article. If that is the case, then, please, forward them the information and spread the word. We are also open to any further questions you might have.
Thanks for reading, and as always – stay put!