Do you find it nearly impossible to maintain the temperature of your pool water constant? Most pool owners struggle with this. A pool or SPA can be convenient, only when the temperature is optimal. This is where the best pool thermometer comes in. While it is a relatively insignificant upfront investment, it can really simplify your life. Not only that keeping the temperature of your pool water in check is important for your comfort, but it is critical for keeping bacteria at bay. If the temperature is too high, this will promote the growth of bacteria, influencing the way in which the chemicals you add in the pool react.
So, if you don't have a pool thermometer just yet, you should consider our pool thermometer reviews. These are only some of the options you have on the market. We'll also include some useful guidelines in the second part of the article.
Best Pool Thermometer – Editors' Picks
1. Milliard Floating Pool Thermometer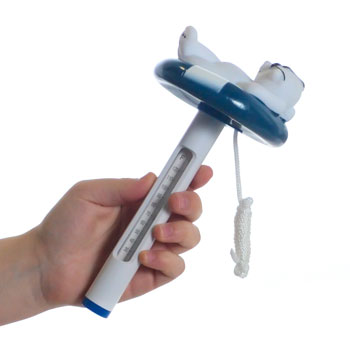 This is not your typical pool thermometer, as it looks slightly unusual – in a good way, though. The design includes a cute sunbathing polar bear, meaning that the kids will love it!
In addition to that, the thermometer measures 7 inches in height. And it displays the temperature in both Celsius and Fahrenheit degrees. You can use it for outdoor and indoor pools alike or spas, hot tubs, and the list can go on. Thanks to the rope tether, you don't have to worry that the thermometer will float away when you least expect it.
Another good thing is that you can use the thermometer during the entire year. That's mainly due to its durable ABS plastic construction. Thanks to that, it can withstand unfavorable weather. This thermometer is useful while adding an ounce of décor to your pool or spa, depending on where you intend to place it.
Make sure you maintain the pool space sanitary so that the internal sensory system of the thermometer will pick up the correct temperature.
Pros
Simple and durable design
Sturdy string feature
It provides accurate temperature readings in Fahrenheit and Celsius degrees
Affordable
Cons
Some might find it difficult to read
2. eLander Large Floating Pro Pool Thermometer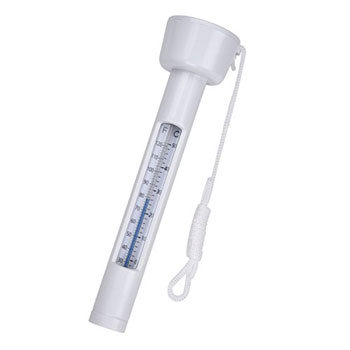 This is another great option worth considering. If you prefer a thermometer that is larger, so that the temperature is easier to read, this one would be it. In fact, some say that you can actually see the numbers from a distance.
You can use it for measuring the temperature in your swimming pool, spa, hot tub, or even fishpond – you name it. It is also compatible with saltwater pools. And while the design is the definition of simplicity, this doesn't impair its efficiency in any way.
Moving on to the temperature range it reads, it displays temperatures up to 120 degrees Fahrenheit and up to 50 degrees Celsius. Also, in regard to its construction, it is made from durable, shatter-resistant glass. In this way, you can rest assured that its durability won't be impaired by the passing of the years. You'll also get a tether so that you can be sure that the thermometer stays in place.
It can take roughly up to 20 seconds in order to get an accurate temperature reading.
Essentially, if you're on the lookout for a minimalist thermometer that gets the job done, this one might be the right option.
Pros
Accurate readings every time
Basic, yet practical design
The display is easy to read
Cons
You need to clean it every now and then, but this comes with the territory.
3. Davespa Large Floating Pool Thermometer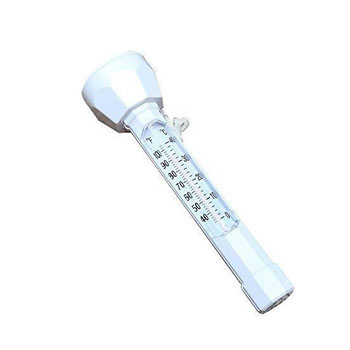 If simplicity is what you're looking for, then we have another recommendation that might be down your alley – namely this large floating pool thermometer by Davespa. The minimalist and simple design allows you to easily determine the temperature inside your pool.
All you have to do is toss this inside the pool and it will get the job done in no time. It is meant to read temperatures up to 40 degrees Celsius. As for Fahrenheit degrees, it reads temperatures up to 100 degrees. In regard to the accuracy of the readings, it is good, so you don't need to worry about this. We tested its accuracy on several occasions to ensure that it works as expected.
The plastic used by the manufacturer is shatter resistant. Therefore, that makes it durable, meaning you'll be using the thermometer for many years to come. It is compatible with pools, hot tubs, spas, aquariums, and so on and so forth.
Moving on to the dangle cord, it measures roughly 18 inches.
A downside might be that the thermometer has the tendency to float on its side. That is to say, it doesn't stick straight down into the water.
Pros
Accurate temperature readings
Simple and efficient design
It is versatile
Cons
It has the tendency of floating on its side
4. Milliard Floating Pool Thermometer Turtle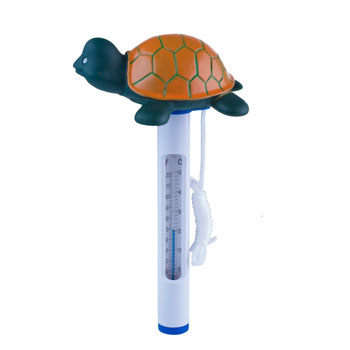 This one is a cute, yet practical thermometer. That is to say, it provides a really fun way of reading the temperature.
This manufacturer has a collection of animal top pool thermometers. And this one is a good example. It is seven inches high, and it measures the temperature in both Celsius and Fahrenheit degrees, similar to the items mentioned beforehand.
The rope tether will come in handy, as it will prevent the thermometer from floating away. It features a sturdy ABS plastic construction. Therefore, this thermometer will withstand the passing of several swimming seasons. Now, you can finally maintain the temperature inside your pool water constant and steady.
Also, if you have a saltwater pool and you're worried that this might not be compatible with this type of water, worry no more. You can measure the temperature of saltwater as well.
One potential downside might be that the colors might not look as bright after using the thermometer for a couple of months. Although the colors won't fade entirely, their brightness will slightly diminish with use.
Pros
Budget-friendly product
Accurate readings
Kids will love it
Cons
The colors might fade away in time.
5. Soulmate Secret Large Floating Pool Thermometer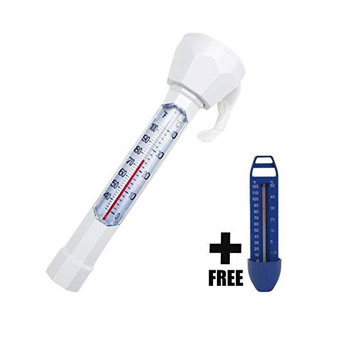 This is another affordable option for a good-quality pool thermometer. In essence, one of the main things you might be looking for in a good thermometer is an easy-to-read display. This one has it.
The temperature display is large and easy to read, featuring readings in both Celsius and Fahrenheit degrees. There are some maximum reading temperatures, though. For Fahrenheit degrees, the maximum would be 100 degrees, whereas for Celsius degrees, it would be 40 degrees.
Due to the design of the thermometer, this easily floats on the surface of the water. Therefore, you can see the temperature at a moment's notice.
Versatility would be another highlight of this thermometer. You can use it for measuring the water temperature in swimming pools, spas, hot tubs, ponds, lakes, aquariums depending on your needs. The build is also durable, as the glass is shatter-resistant and ultra-durable.
In addition to that, you can use it for both indoor and outdoor pools. It hangs vertically, when inside the water, which also makes it easy to read the temperature.
Pros
Easy to read
Accuracy
You can easily read the temperature even in low lighting conditions
Cons
The cord could be sturdier and more durable.
6. LETP Floating Pool Thermometer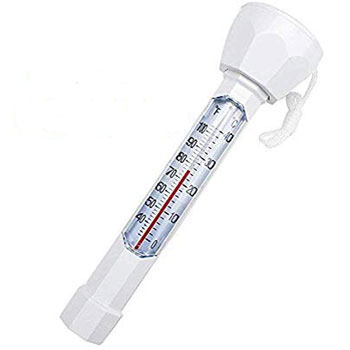 LETP is renowned for producing a wide range of accessories intended for swimming pools and spas. This pool thermometer is a practical, very affordable acquisition that will make your life easier when it comes to keeping the temperature of your pool water constant.
It is quite large – this applies to the numbers as well. Therefore, if you often struggle to read thermometers with very small numbers, you shouldn't have any problems with this one. It's also really lightweight. Therefore, you can easily store it in a place where it would be easy to reach.
Made from sturdy, shatter-resistant material, this will preserve its form and function for a prolonged period. The display features temperature readings in both Celsius and Fahrenheit degrees. Since it is made to float on the surface of the water, it provides easy and quick readings.
Whether you have an indoor or outdoor pool, this thermometer will do the job. The manufacturer also has a money-back guarantee in case the thermometer doesn't work properly.
Pros
Big numbers, easy to read
Sturdy build
It is affordable
Cons
Some customers noted that the thermometer has the tendency of floating horizontally.
The Benefits of Getting the Best Pool Thermometer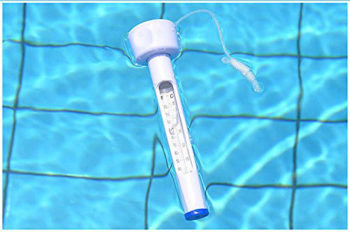 We would like to briefly go through the benefits of investing in a pool thermometer. For one thing, this simple device will allow you to maintain the water temperature constant. This is critical for the comfort of the swimmers. You don't want to swim in a pool that is either too cool or too hot – depending on the season – do you?
But most importantly, maintaining the right water temperature has to do with the safety of the swimmers. This is why managing the water temperature of the pool is essential.
If the water is too warm, this could interfere with the chemical reactions in the pool – which occur due to the presence of chlorine and other additives. Therefore, while water sanitation is critical, if you want to ensure that your pool is free from bacteria and other nasty germs, a pool thermometer is a worthwhile purchase.
Are There Any Drawbacks Worth Mentioning?
Happily, there are no drawbacks to using pool thermometers. That is to say, you shouldn't worry about a thing. Such a device will most likely turn out to be very useful, which is why it's a must-buy for each pool owner.
Pool Thermometers Buying Guide
Types of Pool Thermometers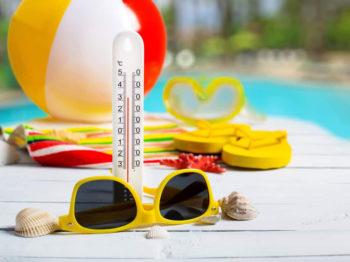 You should know that there are two primary categories of thermometers to choose from – namely digital and analog thermometers. What are the differences between the two?
As the name already entails, digital thermometers display the temperature on the spot, right away. Usually, they display the number in the console. In addition to that, some models come with sensing probes that you add into the water to get an accurate reading.
There are also more advanced, state-of-the-art models that take a temperature reading to another level. Basically, they might function even from a significant distance with the help of remote control or an additional receiver.
With the increasing use of technology, some thermometers have apps designated for iOS and Android devices. This would allow you to monitor the temperature of the water via your mobile device.
In comparison with their counterparts – namely analog thermometers – digital devices are pricier. But they take convenience to a whole new level if that's what you're looking for.
On the other hand, we have analog thermometers, which are more basic and to the point, so to speak. An analog thermometer is simple and efficient. Not to mention that it is usually cheaper – you can find some decent models for less than ten bucks.
In addition to that, something worth noting is that these feature conventional mercury strips. They will float or sink depending on the temperature of the water. More specifically, the mercury-filled floating thermometer will rise when the temperature goes up. Meanwhile, it will fall when the temperature will diminish. This way, you'll know if you have to use the pool heater or not. Speaking of which, make sure you read our full article on getting the top pool heaters out there.
Features to Look for
When you're looking for the best thermometer, there are several aspects that you should keep in mind. Usually, it pays off not to rush the shopping process – but consider your needs closely and afterward the characteristics of the product you intend to purchase.
The same goes if you want to invest in the best pool pump. We have reviewed this type of product in detail and it goes hand in hand with your pool thermometer.
Leaving that aside, here are the most important aspects when browsing for a high-quality pool thermometer.
Evidently, the display of the thermometer is extremely important. You want to get a thermometer that makes it easy for you to see the temperature. You don't want to guess around.
As you might expect, there are no two identical displays. Each device is unique, and you should analyze this aspect before making a decision. Some displays are brighter, while others are larger, so on and so forth.
If you don't have the best eyesight, you shouldn't overlook this. Otherwise, you will end up being disappointed with your purchase.
On the other hand, some digital models come with a wireless function. Some products even include a wireless display you can keep inside. While this is not mandatory, it can come in handy if you want to keep track of the water temperature.
What is the purpose of a thermometer if you cannot depend on the accuracy of the readings? The point of getting such a unit is to know the exact temperature of the water.
This is why you should invest in a high-quality unit you can depend on. You can always check for reviews to find out what former customers have to say, to be on the safe side. Other aspects you should look for include the reading frequency and supported channels.
Evidently, you don't want to purchase a different thermometer every other month. You want to get a unit that can withstand long-term use. This is why you should look at the way in which the unit is made.
In essence, you should look for reputable manufacturers – such as the ones we included in the review section. On top of that, the thermometer should be made from durable, sturdy plastic – in the case of analog thermometers.
Plus, the longer the warranty of the product, the better. You might also get a thermometer that comes with a money-back guarantee, to ensure that you don't get a defective product and you're stuck with it.
Maintenance
We've discussed the maintenance of pool thermometers, but what does it really entail? What steps should you follow to prolong the lifespan of your thermometer, if anything?
Basically, the maintenance of a pool thermometer comes down to this: keeping the unit clean and ensuring that it works accordingly. This applies in the case of analog thermometers, which feature simpler designs. Meanwhile, when it comes to digital thermometers, you might need to change the batteries on a regular basis.
Different thermometers come with different maintenance specifications. This is why it's best to check with the manufacturer's instructions – if any – in this respect.
How to Differentiate between Various Pool Thermometers?
There are several ways in which you could distinguish the different types of thermometers on the market. One way would be by considering their design. On that account, you will find floating and hanging pool thermometers out there.
Usually, floating and hanging thermometers might be analog or digital. Meanwhile, when it comes to handheld thermometers, they are typically digital.
Floating pool thermometers
As the name clearly states, a floating pool thermometer is meant to float on the surface of the water. Basically, it will assess the temperature due to the presence of certain sensors inside the unit.
In terms of accuracy, they might not be as efficient. That has to do with the fact that they might not submerge entirely in the water. Therefore, they might not pick up the precise temperature in the pool, but of the water and the air surrounding it.
As for the convenience of such models, they require your minimum input, so to speak. All you have to do is throw them in the water and that's about it.
Hanging pool thermometers
For the most part, a hanging pool thermometer should be attached to the side of the pool. Another option would be placing it on the ladder. This way, you can be sure that the thermometer is entirely submerged in the water. This is important in order to get an accurate reading.
When it comes to hanging pool thermometers, you can usually choose between analog and digital models. The readings are quite accurate. That's because the sensor is immersed in the water completely.
Handheld pool thermometers
As you might expect, handheld pool thermometers are digital. What you do is keep the thermometer in your hand just as you would hold a gun. And there is an infrared laser that you can direct at the water so that you can see the right temperature.
In terms of accuracy, handheld pool thermometers are fairly accurate.
Safety Tips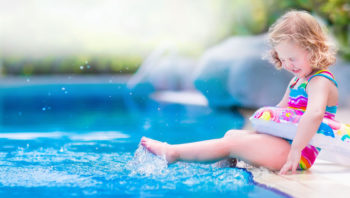 For the most part, we could say that pool thermometers are safe to use. Therefore, there aren't any safety precautions you should be mindful of. Evidently, you should always consider the recommendations provided by the manufacturer. This way, if you use the device as it was intended from the first place, there's nothing you should worry about.
As you've seen, most pool thermometers are pretty straightforward and easy to use.
Another product that will enhance the safety around your pool is a fence. See the top pool fences that we've reviewed and select one that works for you. It is great when you want to keep your children away from the cold water.
Wrap up
In case you don't know if you really need to look for the best pool thermometer or not, we hope that our guide was helpful. This is really important, as the temperature of the pool water can either create a comfortable or an unpleasant swimming environment.
If not maintained accordingly, the temperature of the water might generate the growth of bacteria, preventing you from really enjoying your pool to the fullest. This is what makes it primordial for each pool owner to look at several pool thermometer reviews before making a purchase. This way, you can find some unbiased opinions.
This will give you all the background information you need to make a sensible choice and keep your pool comfortable for swimming and free of germs.