If you have a pool, then you are aware of the importance of preventing water stagnation. Keeping your pool water moving requires the best pool pump that suits your pool size, needs, and your budget.
Our greatest pool minds have put their heads together to gather the most up-to-date products and information in this pool pump review. Whether you are buying your first pool pump for your new pool or replacing an old one, once you have the facts, it will be a more straightforward and less stressful task.
Below we will share a collection of the highest-rated pumps on the market and a detailed buying guide to help you select the best one. The first five are regular pool pumps with one power setting, while the other five are the top variable speed pool pumps. Don't forget to continue reading to find valuable information on how to select the best one for you.
See The Quick Comparison Chart
What a Pool Pump Does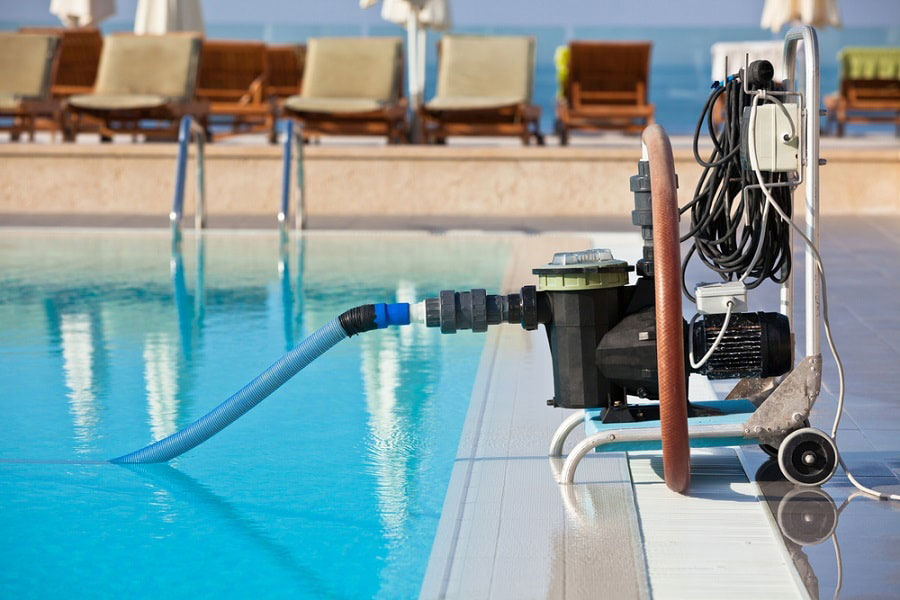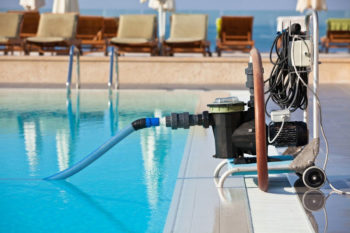 If you have a pool, a pump is absolutely necessary to maintain the water at a safe and clean level. What it does is it moves the water in the swimming pool through the filtration system and heater, if you have one. If you don't already have a pool heater, we recommend checking out our top pool heater reviews and buying guide in order to locate the most suitable product for your needs.
A quality pump will circulate all of the pool water through the filtration system at least once every 12 hours. This circulation is called a turnover, or GPM. It is what is used to calculate the size of the pump you need. GPM stands for gallons per minute of water movement. The bigger the pool, the faster the GPM is required. Thus, the stronger the pump needed.
Temperature is also altered by the combination of pool pumps and heaters. In order to get the most accurate information, make sure you get a quality pool thermometer. See our complete reviews on the top product in this category by reading our article.
Water goes in through the pump inlet from the pool. Once passing through a strainer basket that catches the large debris, the motor thrusts the water through an outlet. This outlet leads to the filtration system, and if you have one, the heater. The water is then returned back to the pool.
Remember, some local regulations specify the minimum GPM rates. The optimum GPM rate is 10 to 8 hours or less. The horsepower also has a notable role in the pump you purchase. The higher the HP, the more force it uses for pushing water. However, this also uses up a lot of energy. Finding a pump that is perfectly balanced based on your pool size is ideal.
Types of Pool Pumps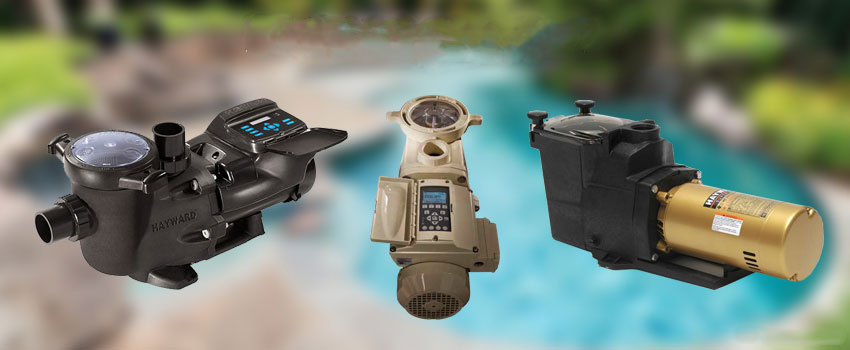 The first thing is whether your pool is an above or inground one. There are specific pumps designed for particular kinds of pools. Once you know this, you can move on to deciding whether you want a single-speed pump or a variable speed pump.
Single Speed Pumps
These pumps are the most affordable, but not energy efficient. They have a single speed and operate with 3,450 RPMs on a single motor. They may get the job done, but use up a lot of energy. To reduce energy usage, you will have to stop the pump between times of usage. Don't forget that these pumps are not sold for use in Arizona and California.
Two-Speed Pump
This type of pump can effortlessly change between two speeds depending on the pool or spa needs. It switches between 1,725 RPMs to 3,450 RPMs when necessary. Usually, these types of pool pumps are applied in spas. This is because the low speed is ideal for filtering the water, while the high speed does an exceptional job of getting the jets running.
Variable Speed Pumps
These are more expensive but very energy efficient and effective. They offer more functions to reduce energy consumption and allow you to choose the flow rate depending on your needs and use. They provide better filtration and have various programmable settings.
So what type of pump is more suitable for your pool? It depends on your initial budget. A single-speed pump is an excellent option for smaller swimming pools and if you have a lower initial budget. Still, remember that even though a variable speed pump may be more expensive initially. It will save you a lot of money in the long run, thus paying for itself. The two-speed pump would be the most desirable choice for your spa.
Best Pool Pump Comparison Chart
PRODUCT
DETAILS

Hayward W3SP1580X15 Power Flo Pool Pump

Price:

$$

Power:

1.5 HP

Application:

Above-ground and on-ground pools

Transfer Rate:

62 GPM

Dimensions:

20.5 x 6.5 x 8.5"

View On Amazon

Harris Pool Products H1572747 ProForce Pool Pump

Price:

$$

Power:

1.5 HP

Application:

In-ground pools

Transfer Rate:

30 – 45 GPM

Dimensions:

25 x 15 x 11"

View On Amazon

XtremepowerUS Inground Pool Pump

Price:

$$

Power:

2 HP

Application:

In-ground pools

Transfer Rate:

5280GPH

Dimensions:

14.3 x 27.5 x 10.4"

View On Amazon

Hayward W3SP2303VSP Max-Flo Pool Pump

Price:

$$$

Power:

1 HP

Application:

In-ground pools

Transfer Rate:

up to 3600 rpm

Dimensions:

25.8 x 9.9 x 13.9"

View On Amazon

Happybuy SPP250E 2.5 HP Pool Pump

Price:

$

Power:

2.5HP

Application:

Above Ground Pools

Transfer Rate:

148 GPM

Dimensions:

22 x 15 x 11"

View On Amazon
Best Pool Pump Reviews – Editors' Choice
1. Hayward W3SP1580X15 Power Flo Pool Pump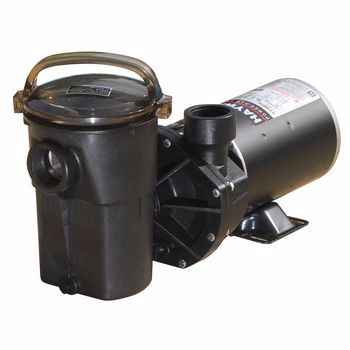 Here we have an impressive pump that is recognized for performance and reliability. This pump features 1.5 HP and easy to use and clean design. The swing-away handle knobs allow for easy access and cover removal. You don't need tools, no playing around with loose parts, and no clamps to fight with. Simple is key here.
You can easily see how far the basket is filled and whether it needs cleaning through the see-through cover. The basket allows for 110 cubic inch holding capacity that allows for more extended periods between cleaning. It is easy to install and features corrosion-proof PermaGlass XL components.
This is easily one of the quietest pool pumps in our single speed collection. The pool pump comes with a 1-year warranty that covers workmanship defects but is void if a certified installer does the installation. We recommend you take advantage of the available installation option. They will ensure that the pump is installed and running correctly.
Pros
Efficient suction yet still very quiet
Easy to install, but installation is available at an extra price
1-year warranty for defects and workmanship
Cons
2. Harris Pool Products H1572747 ProForce Pool Pump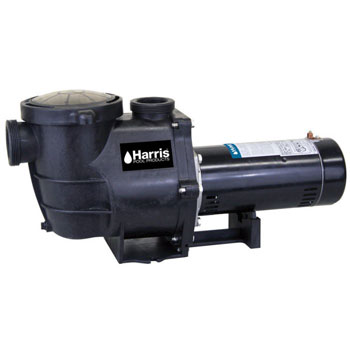 The stainless steel 1 HP motor shaft of this pool pump is constructed for durability and long life with a reinforced thermoplastic body. The components and mechanical seals are of carborundum and graphite for added longevity. It offers higher efficiency than other models, but still very quiet.
This is suitable for 115-volt installation and features 2-inch union connectors on the discharge ports and suction. The convenient drain plug allows for ease of use. This product meets or exceeds ETL and CSA requirements.
The Harris Pool Products ProForce Pump features a large filter basket that is easy to clean. With the transparent twist and lock lid, you will see how full it is without having to waste time opening it. As with most pumps, this one has a 1-year warranty. However, if you choose to do the installation yourself rather than with a professional, the warranty is void.
Pros
Self-priming pump
Comes with instructions and installation is straightforward
Very affordable and suitable for smaller pools
Cons
Inexpensive, and you get what you pay for
3. XtremepowerUS Inground Pool Pump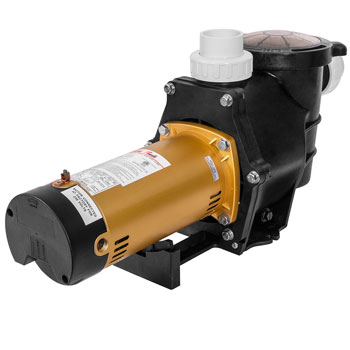 Now we will be looking at is a fantastic one-speed heavy-duty pump. The XtremepowerUS pump is ideal for inground pools and offers high performance with cooler operation. The extra-large debris basket with a transparent cover makes cleaning easier.
The pump features 2-inch union connections for discharge and suction ports.  It works at 15A at 220 volts and 7.5A at 110 volts. The transfer rate is 520 GPH and provides max suction of 66 and a water temperature maximum of 104 degrees Fahrenheit.
Ideal for pools, spas, and hot tubs, this self-priming pump delivers up to 3,450 rotations per minute. To prevent the motor from running dry, it discharges air from the water intake. The pool pump comes with ETL and UL certification and has a 1-year limited warranty. Remember, the warranty is void if the pump is not installed by a certified electrician.
Pros
Excellent instructions and easy to install
Self-priming that is swift and straightforward
ETL and UL certified
Cons
Some find it weak for a 2 HP pump
4. Hayward W3SP2303VSP Max-Flo Pool Pump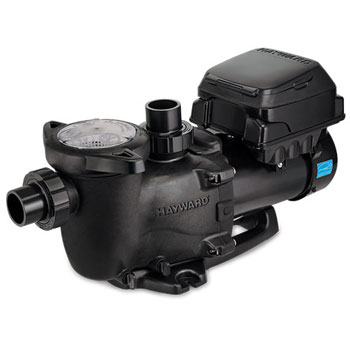 This speed tech pump features a permanent magnet fan-cooled motor that is fully enclosed. This makes it more energy-efficient and reliable. It can offer up to 80% energy savings. Another great benefit is it's available in 230 and 115 volts. Basically, the pool pump pays for itself once installed because it offers maximum energy savings.
The pump meets the Title 20 and APSP-15 swimming pool efficiency standards with its programmable timers and permanent magnet motor. Simply set the timers for up to 8 different times to your particular liking. This makes the pump more efficient and effective.
The pump is ideal for both small and large pools, even those equipped with large capacity heaters, filters, and other pool equipment. You can use the pump with any automation system via its specially designed relay control.
It may be a more expensive single speed pump, but it comes with all the features needed for more energy efficiency and power. Combine the ease of use, strength, and save money at the same time.
Pros
Up to 80% energy cost savings
Compatible with any automation system
Suitable for all types and sizes of pools and spas
Cons
Expensive
Bad installation instructions
5. Happybuy SPP250E 2.5 HP Pool Pump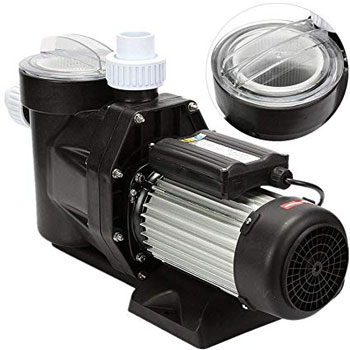 This pool pump that we will review is a fantastic inexpensive option. It is available in several different 2.5 HP options as well, to better fit your needs. The 2.5 HP pump is a 110-volt pump that has a low 65 dB noise level.
This particular pump is specially designed for above ground pools of below 100,000 liters. It can refresh the pool water in less than three hours. It has an easy to access filter basket for the collection of leaves and other debris. With its clear cover, you don't have to open it to check if it needs cleaning regularly.
This pump can be connected to 1.57-inch inlets and 2-inch external outlets. It features an advanced s-tek flow system that allows for boosted efficiency with a continuous water flow of 448L/min. Although a fantastic and inexpensive option, keep in mind that all of the fittings are metric. This means you may need to use a hose fitting and adaptor for installation.
Pros
Inexpensive but very powerful and effective
Noise level of 65db
Refreshes up to 100,000-liter pool in 3 hours
Cons
Metric fittings
Manual priming
PRODUCT
DETAILS

Pentair 011018 IntelliFlo Variable Speed Pool Pump

Price:

$$$$$

Power:

3 HP

Application:

IntelliTouch, EasyTouch, SunTouch Pool Control Systems

Transfer Rate:

About 160 gpm

Dimensions:

28 x 12 x 15"

View On Amazon

Hayward Variable Speed Pool Pump

Price:

$$$$$

Power:

1.85 HP

Application:

Pentair WhisperFlo, Sta-Rite Max-E-Glas & Dura-Glas, Hayward TriStar

Transfer Rate:

600 – 3450 RPM

Dimensions:

28.1 x 11.6 x 14.3"

View On Amazon

Pentair SuperFlo 342001 Variable Speed Pool Pump

Price:

$$$

Power:

1.5 HP

Application:

For pools requiring up to a 1.5-HP pump

Transfer Rate: 3450 RPM
Dimensions:

28 x 15.5 x 12.5"

View On Amazon

ExtremepowerUS Variable Speed Pool Pump

Price:

$$

Power:

1.5 HP

Application:

Above Ground Pools

Transfer Rate:

101 GPM

Dimensions:

23 x 12.1 x 8.1"

View On Amazon
Best Variable Speed Pool Pumps – Editors' Choice
1. Pentair 011018 IntelliFlo Variable Speed Pool Pump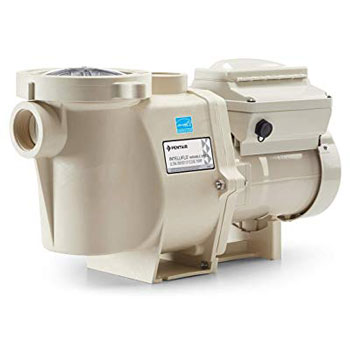 This variable speed pool pump can save you up to 90% versus the traditional pool pumps on the market. With quieter operation and 8 programmable speed settings, you can set it to your needs without wasting any energy. At only 45 decibels, you will barely hear it as it keeps the water in your pool moving swiftly.
The pump will last longer as the built-in diagnostics will protect it from overheating and overworking. You can effortlessly control it along with your heating, spa jets, lighting, and any other water features as it is fully compatible with any system. The best part is it pays for itself because it will save you up to $1,500 per year.
The integrated keyboard allows you to take full control, while the LCD screen displays real-time wattage consumption. With the pump you get exclusive software, so you can easily manage it. Precisely match the pump to the needs of your pool without wasting any energy. The pool pump comes with a 2-year warranty to protect from workmanship and material defects.
Pros
Super energy efficient, but may require a professional install it to get best results
Compatible with most popular pool control systems
Exclusive control software included
Cons
Bad instructions and difficult setup
2. Hayward Variable Speed Pool Pump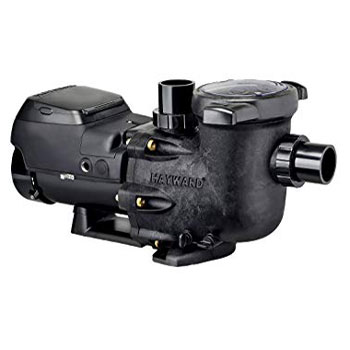 Here's a variable speed pool pump that features an all-in-one controller that can work either in stand-alone or with an external control system through its relay control. The Hayward automation system includes Omni Logic. So even if you don't have an external system, you will pinpoint the ideal settings for ultimate savings and results.
Although this is a fantastic option for a new installation, it is also ideal for upgrading from single-speed pumps due to its unique design. The motor is completely enclosed and cooled, featuring a permanent magnet, making it more efficient and reliable. Also, it meets EPA Energy Star third-party testing, making it one of the most energy-efficient pumps on the market.
As you will be saving up to 90% a year, the pump basically pays for itself. With easy control via the integrated digital touchpad, you will monitor and set the pump with the 24-hour programmable cloth and 8 timer functions. Plus, the on-board diagnostics and protection will ensure the pump is always in tip-top shape.
The pump comes with a 3-year warranty if installed by a professional, or 1 year if you fit it yourself.
Pros
Very energy efficient to save up to 90% on energy costs
Easy installation and use, but may need some help with programming
On-board diagnostics and protection for a longer lifespan
Cons
Gets very loud at high speeds
3. Pentair SuperFlo 342001 Variable Speed Pool Pump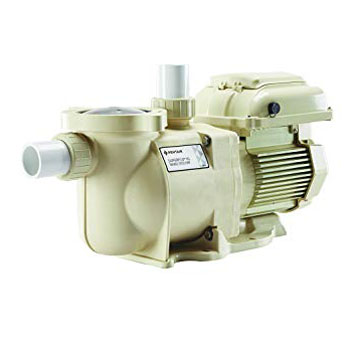 The Pentair SuperFlo pool pump features a user-friendly interface that allows for fast programming and control of your pool. It offers three-speed settings for operation and an override capacity. You will be able to save up to 80% on pool-related energy costs.
This pump is ideal for pools that require up to 1.5 HP pumping and have 110 to 230-volt connections. So if you are replacing an existing pool pump, you won't have to spend more money on rewiring. Once programmed, the real-time clock features 24-hour memory retention, making control a walk in the park.
Aside from ultimate energy and cost savings, this pump is also self-priming with clear instructions for installation and operation. However, if you install it yourself, you only have a 30-day warranty. If you hire a Pentair certified installer, you will have a 1-year warranty.
Pros
Excellent suction and operation
Easy install and operation with clear instructions
Phase 1 Energy Star Certified
Cons
Loud when priming and sweeping
4. ExtremepowerUS Variable Speed Pool Pump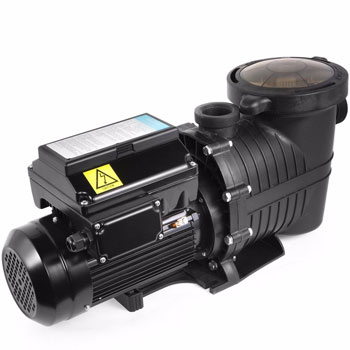 The following variable speed pool pump is an inexpensive investment that does the trick. More suitable for smaller pools, this 1.5 HP pump is ideal for in and above ground pools. It has a 101 GPM and is compatible with DE, cartridge, and sand filters. The 2 piece union fitting is sold separately and wired for 230 V.
The LCD display on the pump allows you to see current wattage consumption and control speed settings. It also features a 24-hour clock that allows for easy customization of timer and functions for flow control. This pump is the go-to choice for pools under 10,000 gallons.
The extra-large basket and clear cover enables for expedite access, cleaning, and minimized guesswork. Featuring 4 programmable speed settings with a built-in timer, this pump will offer maximum savings and efficiency. With recognition for Standards of Safety, the pool pump comes with ETL Certification.
Pros
A reasonable option for smaller pools
4 programmable speed settings
Satisfactory energy savings with good suction
Cons
5. Pentair IntelliPro P6E6VS4H-209L Variable Speed Pool Pump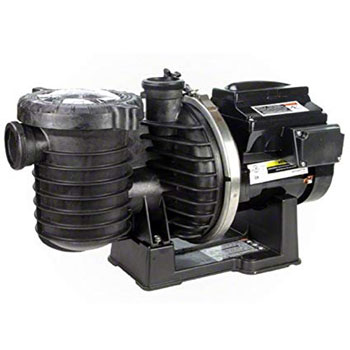 This pump, however, offers up to 90% energy savings. With quiet operation as low as 45 decibels, it beats the rest right out of the park. It has 8 programmable speed settings with a built-in timer for lower costs and higher efficiency.
The motor is designed to adjust speeds depending on what your pool needs. With the built-in diagnostics system, your new pump will be safeguarded against possible damage and overheating. This is further backed with a totally enclosed fan cooled motor to allow further durability.
This Energy Star Certified pump is 3 HP and features a bigger basket, improved housing, a better lid for easy access, and many more upgrades. With easy installation and operation, it's easily a leader on the market. Of course, this comes at a price, so be ready to spend on this quality.
One thing that users liked most is that this is an exceptional pump for year-round use due to its built-in freeze protection. So save a lot, prevent algae buildup, and easily control your pool.
Pros
Easily installed and operate
Built-in freeze protection
Very quiet at 45 decibels
Cons
More expensive than most, but pays for itself with 90% energy savings
How to Choose the Right Pump
Some pool pumps are made for inground pools, some for above ground pools, and some fit both. Once you know this, it's time to find the GPM.
If you are looking for a unit for your above ground pool, our above ground pool pump reviews have you covered. We've put together a vast collection of highly-rated pumps specially designed for pool requiring an installation.
Gallons per minute is a metric that matters highly. To find the GPM, take the total volume of your pool in gallons and multiply that by two. This will give you gallons per day needed pumping as two turnovers per 24 hours are required. You may want to have 3 turnovers, in this case, multiply by three.
Next, divide this number by 24 to get how many gallons will pump through per hour. Then divide once more by 60 to get the gallons per minute. The result is the GPM needed for your pool.
Once you have the GPM calculated, its time to turn your attention to the voltage. Make sure the pump will fit your power connections to prevent expensive rewiring. The physical size of the pump is also important if you will be replacing an old pump to avoid adjustments.
Another thing to weigh up is the voltage. If you already have installations or are replacing your pump, remember that different pool pumps come at different voltages. You don't want to have to spend added money on rewiring unless you have your heart set on a particular pool pump. Remember, most above ground pools run on 110 volts.
Tips to Remember
Smaller pumps are suitable for above ground pools.
Self-priming pumps that have a pre-filter are more durable.
If you have a saltwater pool, make sure you find a compatible pump as not all are suitable.
Don't overlook the noise level of the pump, some can get very noisy.
Check the flow rate your filter can take as a pump that is too powerful can damage it.
We have put together a very insightful  pool filter cartridge buying guide if you are interested in further filter information. Our experts have gathered the best products on the market and some valuable information to help you choose the right filter for your pool.
Installation of a Pool Pump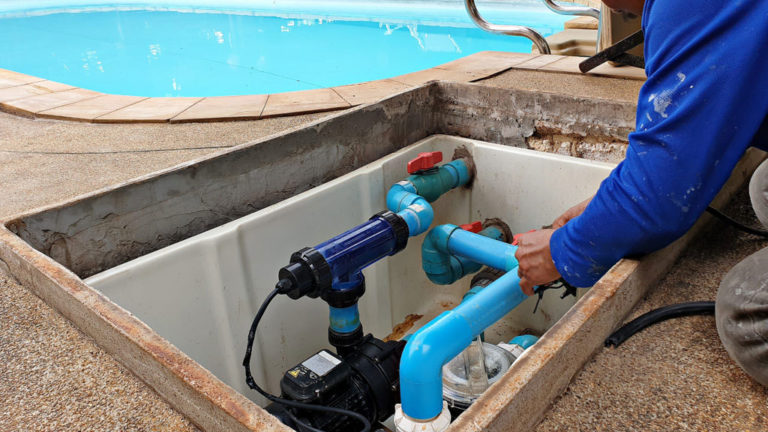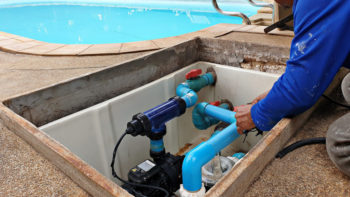 All pumps are made just as different as the many kinds of pools out there. This means that when it relates to the setup, there is no single way of doing it. What we highly recommend is you hire a professional to do the installation unless you are an expert yourself.
A professional installer will ensure you get the most out of your pump and reduce energy consumption. They will also help with settings and helping you understand the system so you can continue proper pool maintenance in the long run yourself.
Another benefit of using a professional installer is that most warranties are void unless a certified electrician has done the installation. It may cost some more upfront, but may actually save you a lot of money and potential headaches in the future.
Pool Pump Maintenance
Once installed, it's important to properly maintain your pump for it to work longer, better. Understanding pool equipment and knowing how to maintain and troubleshoot your pool pump motor is going to help prevent expensive repairs and replacement.
Proper Maintenance Steps:
Leaks and Moisture – One of the biggest culprits for failed bearings and insulation is water leaks from the seal of the pump. If, at any point, you notice even the smallest outflow do not procrastinate immediate repair. Also, the pump needs to be installed in a high spot to prevent stagnant water and a dry area.
Overheating – Another major issue for motors is overheating. Do not cover the pump, and do not allow debris to pile up around it. Turn the power off and regularly clean the air inlets as required. You can determine if the pump is overloaded by checking the automatic protector and running amps.
Winterizing – If you will not be using your pump year-round, it's essential to prepare it. Rust is a significant problem when it comes to it not working for long periods. Outdoor pool pumps need to be covered and kept dry. This will keep debris from getting in the inlets and rusting. We recommend a pump approved cover that will prevent condensation caused by plastic coverings.
Cleaning – Generally, cleaning will not be necessary as long as you take the steps required to keep dirt and moisture from causing damage. If necessary, wipe down with a damp cloth, but never directly spray with water. This could flood the motor.
Chemicals – Keep chemicals away from the pump. Even if you do not apply them directly to the pump, the fumes of the chemicals will destroy it and damage it over time.
Dust and Dirt – While the pump is running, do not sweep or stir small debris around the pool pump. This can cause waste from entering the inlets and damaging the motor.
The fundamental thing to remember is that your pump is designed to be out in the elements. The most common mistake people make is covering the pump or trying to make it disappear by planting shrubs around it. It's better to accept that it will be there than have to spend money on repairs or replacement.
Troubleshooting Common Pool Pump Problems


It happens, the air is trapped inside, debris are pulled in by the intake, the pump overheats, anything is possible. You don't absolutely have to call a professional for every little problem. Try some of these troubleshooting tips before you pick up the phone.
Leaking – There are several causes of leaks. Usually, the culprit is a lousy impeller housing O-ring. Other possibilities are a shrunken thread of the discharge pipe, a bad threaded seal, or a faulty shaft seal. Once you establish where the leak is, you can usually find the necessary parts for a replacement online. Steps for repairing and replacing are also easily found online.
Doesn't Pump Water – Usually, this is due to a clog. First, always check the baskets and skimmer, as they may be full. If that's not the problem, check the impeller as debris may be stuck in there. Another issue is an air leak in the suction line. Look over the pipes and patch up any holes.
Doesn't Start – First, check if the breaker is tripped. If it hasn't been tripped up, it may be an electrical problem that needs professional attention.
Turns Off – If the pump turns off by itself out of the blue, it may be overheating. Check that there is no dirt around the pump, it's not covered, and has proper circulation. If nothing is obstructing the airflow, perhaps it is in direct sunlight and may need a cover. Make sure the pump cover allows for adequate airflow. If that is not the problem and it persists, call a professional.
Noise – Some pumps are simply noisier than others. If the clatter starts out of nowhere, it could be a problem. Usually, it is something relatively simple. Here are the most common noises you may hear and their solutions:
Vibrating noise – A quick and easy solution is to put a rubber pad under the pump. Make sure you are not covering any vents and inlets to prevent overheating.
Growling noise – This type of sound may mean it has not been getting enough water running through and is taking on air. One way to fix this is to prime the pump. If this doesn't solve the problem, check for clogs and leaks in the lines.
Screaming noise – This usually means the bearings have gone faulty. You will have to order new bearings and replace them.
Wrap Up
Whether replacing or buying for the first time, the best pool pump is needed to fit your pool size and needs. To get the most of your pool pump, you have to know your pool and pool pump facts. Don't waste money and time on equipment that will not give you the results you seek.
Our pool pump review has been put together by leading pool experts that have done the legwork for you. Now, all you must do is take this knowledge and buy the perfect pump.
Don't overlook our many other pool reviews and buying guides for more tips, tricks, and top products. Spend more time appreciating your pool, and less time researching and worrying about how to maintain it.
We look forward to your feedback! Please share your thoughts, experience, and suggestions in the comments below. Have a question about a pool product? Let us know, and we'll do a review! Our experts are always watchful for the latest on the market.
Thanks for reading and as always – stay put!