Pools might seem like those simple spaces where you add water and have fun – but in truth, it's not exactly like that. Indeed, it would be this way if you emptied the pool and refilled it each time – but that is impractical time-consuming, and you would also consume a fair amount of water.
This is why you add certain chemicals in the pool, to keep the water nice and clean – and this is also why you need to invest in the best pool water test kit. Since the pH balance can be thrown off and bacteria can easily enter the pool, you will need to know if there is something in there that can actually cause you harm.
No test kit is ever the same, which is why we have gathered a few of the pool water test kit reviews, to see which one can actually give you some clear results. Here is what we found out.
See The Quick Comparison Chart
How to Test a Pool with a Pool Water Test Kit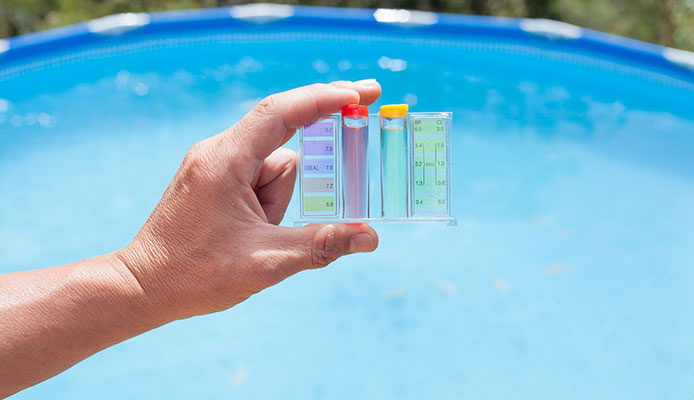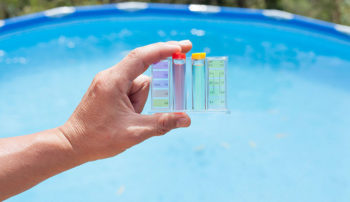 The testing should depend on exactly what you are planning to test. Chlorine and pH levels require a daily test, temperature and alkalinity need a weekly test, and calcium hardness needs a monthly test.
To test the water, you will first have to get the correct vials and strips for your pool. Sure, you may dip that strip into the pool – but it's much easier to simply collect it in the vial and do the testing in a safe environment. This will ensure that the readings you get are actually constant. You either dip the strip in the vial or you add a few drops from the reagent necessary to conduct the test – the result being a change in color that will tell you what is wrong.
Make sure that the water you test is taken from an elbow-deep level. You don't want to take it straight from the surface, as the results might end up being inaccurate. With a strip test, in about 15 seconds, you should have your results.
How to Lower the pH Level in Your Pool
No matter where you are living, the standard pH level of a pool is somewhere around 7.0 and 7.8 – but the ideal one (not just standard) sits around 7.35 and 7.45. This is the kind of level that will prevent problems such as red eyes or itchy skin. If you see that you are suffering after each swimming session, then you might want to consider fixing the pH level of your pool.
To lower the pH level of your pool, you will first need to test it. This is exactly where pool testing kits come in, as they will tell you what is wrong with your pool. Based on the results, you will know what step you have to take first.
If the pH level of your pool seems to be way too high (for example, going over 7.8), then you might want to begin adding pool acid. Do so until the number is as close to 7.4 as possible – the ideal pH level. These acids will vary on your possibilities and personal preferences – but you may go for sulphuric acid, hydrochloric acid, or sodium bisulphate.
If the opposite happens and your pool pH is very low (in need of being raised), then you will have to add a strong alkali until it goes all the way to 7.4. These alkalis may include the "buffer" (sodium bicarbonate), or the "soda ash," (sodium carbonate).
Best Pool Water Test Kit Comparison Chart
PRODUCT
DETAILS

Taylor Technologies INC K-2006 Test Kit COMP Chlorine FAS-DPD

Price:

$$

Checks:

Acid-base demand, total alkalinity, and calcium hardness

Include:

2oz reagent bottles – Printed color comparator

Usage:

6 times

Special Features:

Accurate results in a short time – Everything in the box is waterproof

View On Amazon

LaMotte 2056 ColorQ Pro 7 Digital Pool Water Test Kit

Price:

$$$

Checks:

Chlorine, Total Chlorine, Bromine, PH, Alkalinity, Calcium Hardness, and Cyanuric Acid

Include:

Everything you need

Usage:

1 – 2 years

Special Features:

Digital readout – Comes with a waterproof casing

View On Amazon

U.S. Pool Supply Standard 3-Way Swimming Pool & Spa Test Kit

Price:

$

Checks:

Chlorine, Bromine, and pH chemical levels

Include:

1/2 oz bottle of OTO Chlorine Test Solution and a 1/2 oz dropper bottle of Phenol Red pH Test Solution

Usage:

At least 2 years

Special Features:

All encased in a polyethylene case – Clear set of instructions

View On Amazon

AquaVial E.Coli and Coliform Water Test Kit

Price:

$

Checks:

E Coli bacteria and Coliform bacteria

Include:

4 coliform/E.coli tests

Usage:

up to 2 years

Special Features:

Can detect as little as 1 CFU/ml of E.coli and coliform bacteria

View On Amazon

Poolmaster Swimming Pool or Spa Water Testing

Price:

$$

Checks:

Bromine, chlorine, alkalinity, pH level

Include:

Digital meter –  Comes with a polyethylene bag

Usage:

1 – 2 years

Special Features:

Accurate results of two different readings at the same time

View On Amazon

HTH 6-Way Pool Water Test Kit

Price:

$

Checks:

Chlorine, bromine, pH, alkalinity, calcium hardness and CYA

Include:

Fair amount of reagents

Usage:

Weekly up to 100 times

Special Features:

Compatibility with All pool types

View On Amazon
Best Pool Water Test Kit Reviews – Top Picks
1. Taylor Technologies INC K-2006 Test Kit COMP Chlorine FAS-DPD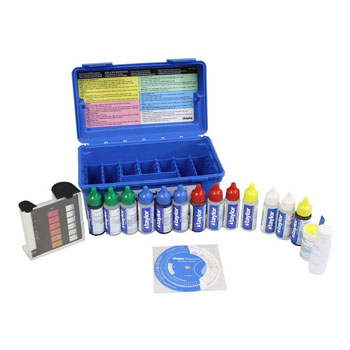 Those of you looking for completeness in a test might find this very useful. With the ability to test for pH, combined chlorine, total chlorine, calcium hardness, alkalinity and stabilizer, this one should be able to provide all the results that you need.
According to previous users, the accuracy of this test kit is pretty high – and you will not have to worry that your readings will be shown wrong. Granted, there is a bit of a learning curve – but as long as you follow the instructions, there should be no issue. Moreover, the customer support of this company is quickly responsive.
Everything in the box is waterproof – including the instructions. This means that even if you use the tester for a long time, it should have fairly high durability. With proper refilling, you should be able to use it for months at a time.
Pros
2oz reagent bottles allow for longer use
You can get accurate results in a short time
The kit also includes a printed color comparator
It tests for a fair number of chemicals
Cons
The learning curve is rather steep
The price is fairly high
2. LaMotte 2056 ColorQ Pro 7 Digital Pool Water Test Kit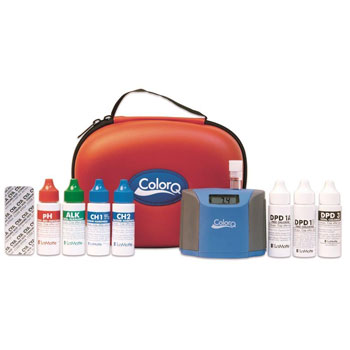 If you don't know how to read the colors of a traditional test or simply do not want to go through the steep learning curve, then this pool water test kit should be right up your alley. It's a good way to ensure that you get accurate results without meddling with a lot of messy charts.
This unit also comes with a waterproof casing in which you can keep all your measuring instruments. This way, you may take the kit anywhere you want with you, as you can easily grab it by the handles. It is also lightweight enough for you not to be brought down by any inconvenient weight.
The unit itself is very easy to use. All you have to do is add the reagents in the vials where you put the water, place the vial in the tester, and then hit the button. In a few seconds, you will get a reader that will tell you exactly what the levels of your pool water are.
Pros
Very easy to use thanks to the digital readout
The results are accurate and consistent
Waterproof carrying case that enables better transportability
Cons
The reagents don't last for a fairly long time
Expiration dates are not always evident
3. U.S. Pool Supply Standard 3-Way Swimming Pool & Spa Test Kit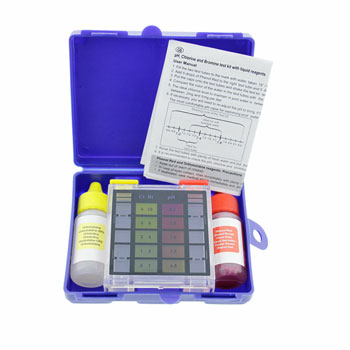 If you only need a simple kit to test the water in your pool for chlorine, pH, and bromine, then this will give you all the tools that you need. The kit comes with ½ bottles of reagents that will allow you to test the water, along with a clear set of instructions on how you should use the solutions.
All encased in a polyethylene case, this one is very easy to carry around with you – while keeping its contents safe from getting wet. Moreover, since it is so compact in size, all you will have to do is throw it in a larger pocket and you'll be good to go.
There is a bit of a learning curve until you understand what every color mean – and you may not read it correctly from the first try. However, once you get the hang of it, you should be able to get very accurate results in the long run.
Pros
Compact and very easy to use
While basic, it provides great value for the price
Highly durable due to the waterproof casing
Cons
You can only test for three chemicals
The container may be waterproof, but it's not very sturdy
4. AquaVial E.Coli and Coliform Water Test Kit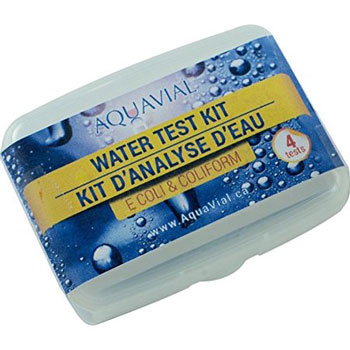 Sometimes, you just want to make sure that the water you are swimming in (or drinking) is not packed with bacteria. This is why this highly sensitive test should be something you turn your attention to. It may easily detect the Coliform and E.Coli bacteria in the water, even if the concentration is as small as 1 CFU/ml.
The test itself is very easy to use. You simply add the clean water in the vial, over the reagent, before closing the lid. Shake the vial and leave it to change color. If the water is clean, it will turn yellow. On the other hand, if it is contaminated with E.Coli, then the water will turn pink.
For the advantageous price that it is sold at, this remains a very cost-effective method for testing the water in your pool. It is more affordable compared to similar tests on the market that offer the same results.
Pros
Very effective when it comes to detecting bacteria
Simple to use, without too many steps
Very conveniently priced
Cons
It takes quite a long time to show results
Some say the results are not always accurate
5. Poolmaster Swimming Pool or Spa Water Testing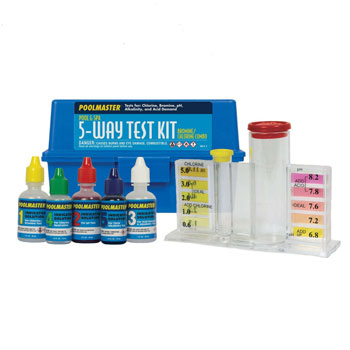 If you are a "fresh" pool owner and you are barely starting off with the testing sessions, then this kit is something you should look into. This item also includes a digital meter that will provide accurate results of two different readings at the same time.
With this test kit, you may test the bromine, chlorine, alkalinity, as well as the pH level of your pool. It also comes with color chips, as well as clear view round test blocks. To use the kit, you will have to compare and contrast the colors, as shown in the provided instructions slip.
In the event that you have to move this bag around, it also comes with a polyethylene. This will keep the chemicals safe from damage – and will, therefore, allow the results to remain consistent.
Pros
Very easy to use, provided you read the instructions carefully
It does not take long for the results to show
It also comes with a polyethylene bag that will protect your contents
Cons
The results are not always that accurate
The color system may be rather difficult to understand
6. HTH 6-Way Pool Water Test Kit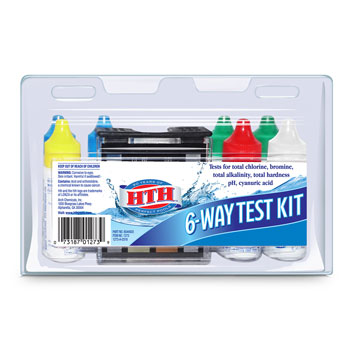 This test is an easy way for you to test for the total chlorine, alkalinity, and hardness of the water, along with the pH, bromine, and cyanuric acid. The kit includes a fair amount of reagents – enough for you to conduct a significant number of tests (approx. 100 tests).
Plus, in the event that you run out of reagent, you will be able to easily find more, as there are various online stores that provide it. The refills are very affordable, making it a good investment in the long run.
Simply follow the instructions, and you should be able to get your readings quite fast. The readings are color-coded – so, while it might take some time until you get used to the system, it should be easy to decipher once you get the hang of it.
Pros
The reagent bottles are quite generous, so you will be able to get a fair number of tests out of them
The total chlorine and other tests are precise once you understand the system
Includes a generous range of tests
Cons
Does not come with a waterproof carrying case
The instructions are not exactly clear
7. ON4HOME 16-in-w Water Test Strips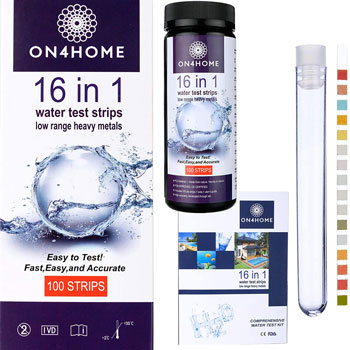 If 4 to 5 parameters are just not enough for you, this one will provide the ultimate package: 16 test strips. You can test for everything, going from the pH level to the hardness of the water – and all 16 tests can be done at the same time. This means that you can save a lot of time and effort by using just one strip.
There are a total of 100 strips of this kind, which means that they are likely to last you for quite a lot of time. You may use the strips to test the water in your pool as well as your drinking water. This way, you can keep your family and friends safe from any bacteria lurking in the water.
The results are very accurate and reliable. You just dip the strip in the water – and in 60 seconds, you can get a "summary" of what your chemical levels look like.
Pros
Highly versatile and very easy to use
Can test for 16 parameters at the same time
Comes with a leakproof case that allows you to carry the sample strips around
Cons
Strips are fairly difficult to read
Some users say the results were not very accurate
Benefits of Pool Water Test Kits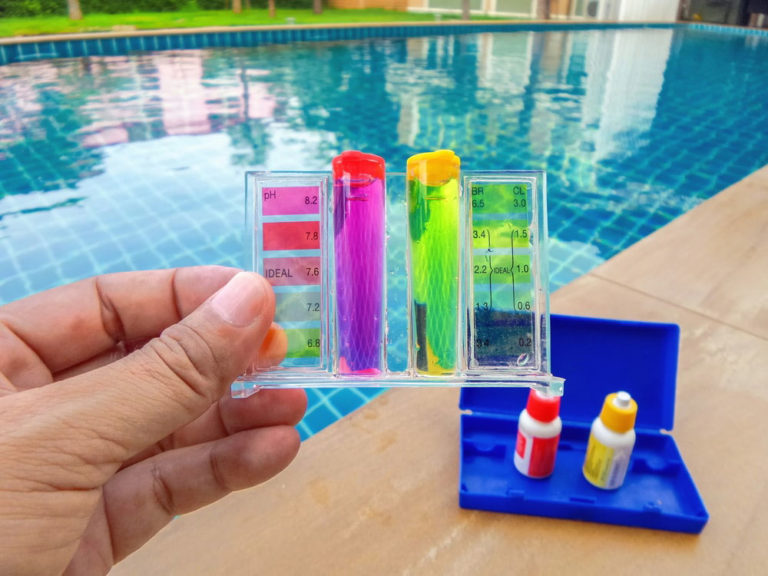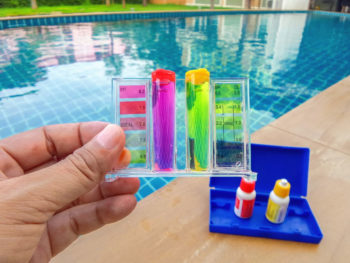 We all know that a pool kit has the purpose of bringing your pool water level at a decent balance – but what you need to understand here is how that balance is achieved. What does it do that makes it such an indispensable tool? Well, here are a few reasons why you might want to invest in a good test kit:
Will keep the water from your pool safe from the negative effects of UV rays, which have the ability to harm your body.
It allows you to identify the exact number of elements that are found at that point in your pool.
A test kit helps you keep the pool clean of bacteria and fungi, telling you exactly when you should add more water or change it completely.
It protects you from any allergies or bacterial infections that you may catch from the pool.
Pool water test kits will give you enough data to keep things nice and hygienic – so, make sure that you choose the one that can protect you from anything harmful. Along with the best pool shock and the high-end algaecide for pools, it will allow you to keep your pool squeaky clean of any harmful elements.
Drawbacks of Pool Water Test Kits
There aren't as many drawbacks when it comes to pool water test kits – but unless you pick a high-quality unit, there is a chance that you won't get any accurate results.
Plus, it can be very confusing, as these products are not exactly intuitive. Unless the instructions in the box are clear and straightforward, you might end up getting inaccurate results of your pool.
Last but not least, you need to know exactly what you are testing for: the bromine, the alkalinity, the pH – everything you might deem important at that moment. And once you have used a "tester," you will not be able to reuse those tests. You'll have to buy a new kit each time it runs out.
Types of Pool Water Test Kits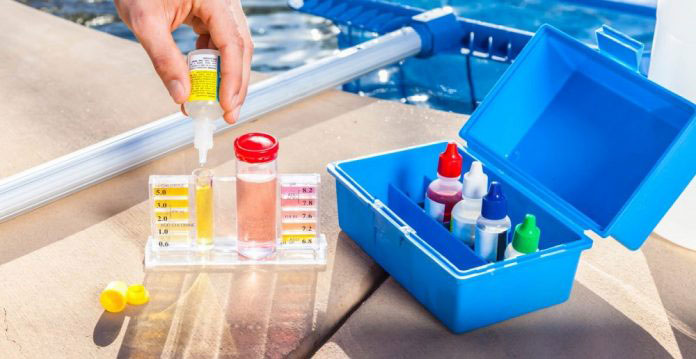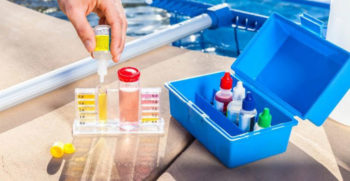 In order to make sure that the reading is accurate, you have to understand that there are various types of pool test kits available. All of them have various uses and features, and they will generally measure using different methods. Here is what you might want to look out for:
Digital Kits: These kits provide a number reading using a digital sensor – and are generally among the easiest to use.
Turbidimetric Kit: This kit allows you to measure the cloudiness of the water.
Photometric Kit: As its name suggests, this type of pool test kill will use a photometer to calculate the readings of the water.
Titrimetric Kit: With this kit, you measure the change in the color of the water.
It may seem like these pool testing kits have only one operation – but in fact, they are highly versatile. Usually, these items have the ability to show more than one calculation at the same time. You may find out more about these types of kits by browsing through our Pool Guides homepage, as we provide all the information that you need about maintaining your pool.
Features to Look for When Buying a Pool Water Test Kit
When it comes to buying a pool water test kit, we all know that it is not an easy task to do. Every manufacturer will swear by their product that it is the best on the market – but even a good product might not be enough if it does not have the features and qualities that you are looking for.
In order for its purpose to be fulfilled, here are the things that you might want to look out for. Most of them can be determined by reading reviews – but the product description might also be very useful in this regard.
The most important feature to look into a test kit for pool water is certainly its accuracy. If it does not provide good readings, you may end up leveling the pH wrong – which can be very bad for you.
For this reason, you might want to stick to a true and tested kit – one that has received all the good reviews. Look for a trusted manufacturer – because if it is popular, there is a reason for that. If the manufacturer has been active for a while – and still manages to keep its customer base – then it means that it is probably doing something right.
Depending on your preferences, you may use a liquid test kit (which tends to be more comprehensive), or a test strip (which is very quick and easy to use).
Needless to say, when you buy a pool water testing kit, you need something that you can use easily – and not stare at it for hours, unaware of how you are even supposed to use it. No matter how good the kit is, if it's just sitting on the shelf, then it's just wasted money.
The basic test kit will contain a sanitizer test, a pH level test, an instruction slip, and the recommended range for every measurement. However, better tests will include alkalinity tests and calcium hardness tests. This will make your testing session as accurate as possible.
You can also opt for chlorine tablets for pools and the best way to pick them is by reading our complete guide and reviews. Cloudy water in your pool will be no more.
Can your testing kit withstand consistent use in the pool? To determine whether it can or not, you should check if it has waterproof instructions, and whether it has vinyl reagent labels or not.
You may be using a fancy pool testing kit that provides all the right data – but if it's next to impossible to find refills in your area, then this might not be the right product for you. No matter if you buy from a local shop or online, make sure that you have where to buy your refill from or where to buy any potential replacement parts.
The primary purpose of buying a pH level water testing kit is to catch a problem before it even gets a chance to develop. Therefore, it should be able to provide accurate, consistent results even after months of use. This is not something that you'll be told by the manufacturer, as everyone will boast fair consistency. However, you should be able to get a good idea of its consistency by reading through the reviews.
You might think that design is actually not as important – but in truth, it is. If the design is not right, not only may it provide inaccurate results, but it will also be very troublesome to deal with. The smarter the design, the less hassle it will cause.
For example, liquid reagents will have to leave no waste, nor should there be other materials that you need to dispose of afterward. The color standards should also be protected from scratching or bleaching.
Make sure that the fill marks aren't painted – and are instead molded on. Plus, since you will likely be carrying that test kit around, you should ensure that it is portable. Look for ergonomic handles on the case to ensure easy transportation.
Like with any type of purchase, you need to ensure that it provides value for the price that it is sold at. No matter if it is sold at a budget price or it is slightly more expensive, make sure that it has all that you need and that you get your money's worth from its features.
Moreover, such a kit does not have to be expensive. There are many reputable manufacturers that are selling their products at a good price – while providing great efficiency in return.
Maintaining Your Pool pH Level
You can automatically control the pH level in your pool by opting for the best pool saltwater chlorinator systemsThese will be fitted to your pool and will add either pool acid or chlorine at a regular interval.
Most of the older models are pre-programmed by users after they have conducted various strip tests. However, newer models can automatically detect these levels – and will send the chemicals accordingly.
These systems have the ability to make this balancing act a much easier process – but you should not rely on it completely. To keep yourself and everyone else safe, you should still do a weekly regular check of the pH level of your pool.
Safety Tips to Consider when Using the Kit
When it comes to safety tips, there are not many things to cover – at least nothing that does not involve common sense. First things first, when taking out the water from the pool, make sure that you do not lean in too much on the edge of the pool. It's great if you jump properly for a swim – but if you fall awkwardly while "fishing" for water, you might end up injuring yourself.
This goes without saying, but you should not let the substances for testing the water level touch anything near your face. Do not swallow or lick, and do not let the liquids anywhere near your eyes. If you are feeling particularly clumsy, then it might be a good idea to add some safety goggles in the mix.
Gloves can be good, too, particularly if you have sensitive skin – but make sure that they are not too thick. Otherwise, you might have difficulty in handling the vials.
Wrap Up
Many brands promise to offer the moon and the stars, but not all of them provide the same efficiency. The more complete a testing kit is, the more value you should be able to reap from it.
The best pool water test kit should be easy to use and should provide accurate readings. It should also come with clear instructions so that you can immediately understand the readings. This applies particularly to color-based tests since each test will have its own color code.
Hopefully, our pool water test kit reviews have allowed you to make a calculated decision over which set is more appropriate for you. As you can see, they are sold in various mixes – and all that matters is that you pick out the one that is most convenient for you.