Pool safety should come first, especially if you have children. Unfortunately, the statistics are quite unnerving, and any extra precautions you can take are welcome. Children are naturally curious and can get into trouble in a matter of seconds. Buying the best pool alarm to fit your pool and needs is absolutely essential to protect your children, pets, as well as guests and neighboring children. Don't leave things to chance.
We've gathered the top products on the market and put them into this pool alarm review to help you make an educated choice. Although having an alarm is absolutely essential, a layer of protection is the best way to go. Don't overlook the importance of pool safety and ensuring that this entertaining addition to your pool doesn't become a danger to your family.
See The Quick Comparison Chart
How to Choose the Ideal Pool Alarm


There are several things to consider when choosing a pool alarm. One of the best ways to fully protect your loved ones is with swimming pool alarms with layers of protection. This means combining 1 or more pool alarms with a pool fence, lock, and added safety features.
Here is what to consider when shopping for a pool alarm:
Is your pool an inground or an above-ground one? There are alarms specifically designed for each, while some can be used on both. Don't end up buying a pool alarm that cannot be used for your pool. Floating ones are usually most suitable for above ground pools, but some mounted pool alarms can be attached to pool railing as well.
Do you have children or pets? Some people add an extra layer of protection if they have children or pets, while others put alarms only as per requirement from their county. There are specific alarms for your doors leading to your yard, as well as ones that can be placed on your child that notify you if it goes in the water.
Pool alarms can be very sensitive. Water features and even rain may trigger them. One of the main problems people face, though, is when they have their pool cleaner working. Choose an alarm that can be adjusted when the pool cleaner is on. Check out our top pressure side pool cleaner review for detailed product information and buying guide.
Do you have a pool fence? Fences generally have locks, but if yours is easy to manipulate or you prefer to keep it unlocked during swim season, a gate alarm is essential. This will provide added security that no one can get near the pool, including neighborhood children.
But wait, we got 4 more points to make
The wireless receiver range is crucial if the pool is far into the yard. Even if you purchase an alarm within range, always double-check it. Sometimes it depends on where you place the receiver.
Automatic reset is an important feature, especially if you have small children and regularly use the pool. It may be a nuisance having to deal with resetting the alarm and turning it off all the time. It is easy to forget to reset it once you are done swimming. An automatic reset feature ensures that even if you forget, your pool safety is not compromised.
Decide what type of alarm you need based on your pool use and age of children. If you regularly have guests over and use the yard often, a door alarm may get stressful and irritating to deal with. A mounted or floating one may be more suitable in such cases. If you have small kids that you want to keep out of the yard when not with you, it's essential.
Solar pool covers can usually trigger pool alarms. If you regularly use a solar pool cover, find one that is specifically designed to work under one. If you don't already have a cover take a look at our detailed solar pool cover reviews and buying guide for the latest products.
Best Pool Alarms Comparison Chart
PRODUCT
DETAILS

PoolGuard DAPT-2 Pool Door Alarm

Price:

$

Dimensions:

4.5 x 2.8 x 1.5′

Weight:

6.4 ounces

Features:

85 DB Horn at 10 Feet – will sound in 7 seconds

View On Amazon

Shock Alarm Electric Shock Drowning Protection

Price:

$

Dimensions:

16 x 5.5 x 4.7"

Weight:

1.06 pounds

Features:

Prevents potential electric shock drowning

View On Amazon

PoolGuard PGRM-2 Inground Pool Alarm

Price:

$$

Dimensions:

14.5 x 4 x 12.8"

Weight:

5 pounds

Features:

Can be used in pools up to 20 x 40 or 800 square feet

View On Amazon

Safety Turtle 2.0 Child Wristband Pool Alarm

Price:

$$$

Dimensions:

9.7 x 6.1 x 2.2"

Weight:

12.8 ounces

Features:

The receiver must be within 200 feet

View On Amazon

Pool Patrol Pool Alarm

Price:

$$$$

Dimensions:

10 x 6.5 x 10"

Weight:

1 pound

Features:

Ideal for both in-ground and above-ground pools

View On Amazon

Lifebuoy Pool Alarm System

Price:

$$$$$

Dimensions:

7.2 x 5.9 x 5.9"

Weight:

1.3 pounds

Features:

100% Mobile – Application Controlled

View On Amazon

Blue Wave Pool Watch Pool Alarm System

Price:

$

Dimensions:

11 x 10 x 11"

Weight:

3 pounds

Features:

Works with both above-and in-ground pools

View On Amazon
Best Pool Alarms Reviews (Updated List)
Below we have a list of the 7 top alarms on the market for added pool safety. Not only is it a crucial part of pool safety, in many states today, it is also the law. Don't forget that it is highly recommended that you layer protection. One crucial added protection is fencing. Take a look at our top pool fence choices to comply with city codes and restrict easy access to the pool.
1. PoolGuard DAPT-2 Pool Door Alarm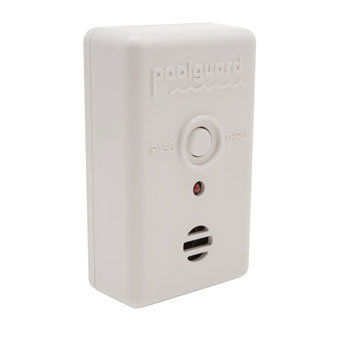 This is an excellent option for keeping children from going outside to the pool without your knowledge. This type of pool alarm is actually required by law in several states. The PoolGuard Pool Door Alarm is UL 2017 listed and suitable for passing inspection requirements.
Attached to the door is a battery-powered outdoor wireless transmitter. It horns at 85 decibels at 10 feet and will sound in 7 seconds even if the door is closed after opening. There is an adult pass-through feature where you can go through the door without triggering the alarm on the way out. If it is set off, it will continue to sound until it is reset by an adult.
Once installed t the alarm will never turn off and will automatically reset under all conditions. If you have a screen door, there are kits available, as well. It works with a 9-volt battery and can go approximately one year without the need to be changed.
The alarm can be bypassed only from the inside. So if coming from the outside, there is no way to enter the house without setting the alarm off. Although a fantastic safety feature if you have small children, most people purchase this product with the sole purpose of passing pool regulations in their county.
Pros
Suitable to pass inspection requirements for most states.
Has an adult pass-through feature to open the door from inside without setting the alarm.
Will continue to ring until it is reset.
Cons
You cannot enter back through the door without setting off the alarm.
Uses up batteries very quickly.
2. Shock Alarm Electric Shock Drowning Protection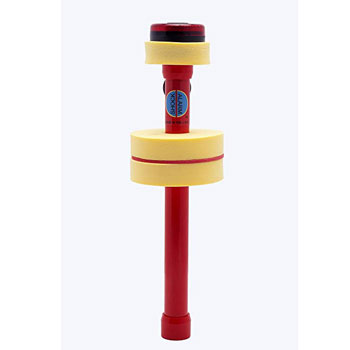 This isn't just a standard type of alarm like the ones you may imagine. This is an alarm against electric shock and potential electrical hazards in the pool. This alarm can be used not only in your pool but also for marinas and boats as well. It will detect if there is electricity in the water.
You may be surprised how many people suffer from electric shock drowning. Even small amounts of electricity can paralyze you in the water, increasing your chances of drowning if there is no help nearby. Various things can cause harmful levels, including poor pool maintenance, lightning strike, and corrosion. This is especially the case if pool lights or water features are installed.
The device is effortless to use. Simply remove the magnetic switch and place it in the water. The device will notify you if there is an electrical AV voltage in the water above 18 volts. Before using, test the device by removing the magnetic switch. Then point it towards a charger that is plugged into an outlet.
It is best to place near the entrance and exit of the pool, as there is no specific range that it covers due to many factors making it variable. The battery of the Shock Alarm is not replaceable and can last anywhere between 12 to 18 months. If you regularly replace the magnetic switch, it can significantly increase the life of the product.
Pros
Prevents potential electric shock drowning.
Straightforward use and application to the pool.
Easy to store away for winter and take with you anywhere you go.
Cons
Must replace when batteries run out.
Must regularly test to ensure it is still working.
3. PoolGuard PGRM-2 Inground Pool Alarm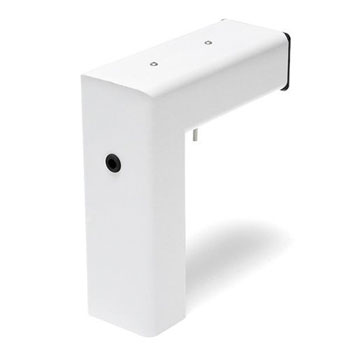 This product is NSF Certified to meet ASTM F2208 Standard, suitable to pass the most city and state regulatory inspections. The alarm features two parts. One part is mounted to the inside of the pool and the receiver that has an 85 decibel alarm. It is powered by a 12V power cord and has a 200-foot wireless range.
The poolside alarm works on 9-volt batteries (not included) that last up to one year and features a low battery indicator. The indicator notifies you at the poolside as well as through the receiver. The in-pool alarm can detect intrusions equivalent to a one-year-old child. It is suitable for pools up to 800 square feet or 20 x 80 in size.
Once you've installed the alarm system, it cannot be de-activated and is always in alarm ready mode. If taken out of the pool, it will sound an alarm, so children cannot play with it or remove it without your knowledge. This alarm can be placed in the pool under a solar blanket and features new sensing technology that reduces false alarms.
Pros
3-year warranty and fantastic customer service.
NSF Certified to ASTM F2208 Standards.
Tamper proof with new sensing technology.
Cons
It can be too loud for comfort.
People have experienced difficulty turning it off.
Slightly overpriced
4. Safety Turtle 2.0 Child Wristband Pool Alarm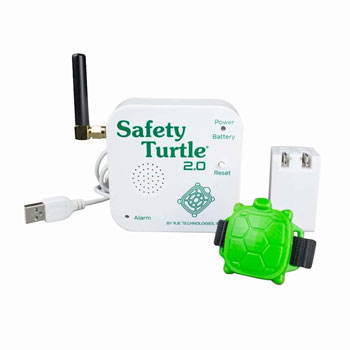 This is a unique and handy pool alarm that is suitable if you have small children or pets. We recommend that this pool alarm be used as part of layered protection rather than on its own. The Safety Turtle is a wristband that each child wears, or can be put on the collar of your pet. The alarm is triggered if it becomes wet. So if a child or pet falls or goes in the pool without permission, the base will sound an alarm.
There is no programming involved. Simply put the Safety Turtle wristband on the child or pet and plug the base in. The receiver must be within 200 feet of the pool. Make sure you test it before putting it in place. The wristband is cute and comfortable and features a latch and pull mechanism that, once in place, requires a key to be removed.
If you have more than one child, you can purchase additional Turtle bands and use them with the same system. The reason we recommend this alarm system be used as part of safety layering instead on its own is that otherwise, the child must wear the wristband 24/7. Even though comfortable, the wristbands may get damaged, be triggered when washing hands, and become uncomfortable over time.
Batteries cannot be replaced, the only option is to buy a new wristband. Wristbands can last approximately 3 to 5 years and come with a 1-year warranty.
Pros
Relatively inexpensive on-child safety system.
A secure application that cannot be taken off by a child as it requires a key.
Comfortable and very effective.
Cons
Must purchase a new wristband when batteries die, as they cannot be replaced.
The band may break easily.
5. Pool Patrol Pool Alarm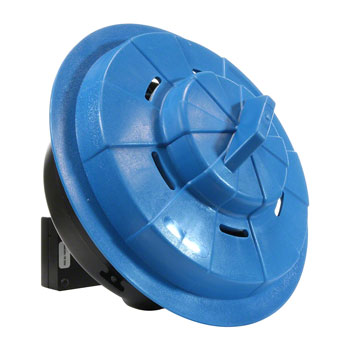 The Pool Patrol PA-30 Pool Alarm is an excellent choice for both above and inground pools. It is very convenient to use and requires little to no installation. The alarm sensor that is placed in the pool requires a 9-volt battery while the remote receiver by a 12V A/C wall transformer.
This is a durable floating device that you can either leave free-flowing in the pool or rope to stay in the center of the swimming pool. The FCC approved receiver features an ON/OFF switch that indicates when it's on with an "on" light. The floating device activates if anyone falls in the pool and creates a wave that reaches the sensors.
The device responds to waves by triggering an alarm at the pool itself as well as the electronic solid-state remote receiver indoors. The sensing ring is easy to adjust, depending on the sensitivity you require. This is essential if you have water features that can trigger it if it is overly sensitive.
Made of corrosion-resistant body, this device is designed to be durable and very practical. The loud alarm will resonate through the house to ensure you are notified in case of danger.
Pros
Suitable for inground and above ground pools.
Surface floating alarm with adjustable sensitivity control.
Corrosion-resistant body.
Cons
No reset button on the pool float, so you have to wait 3 minutes for the alarm to stop.
It takes time to find an ideal sensitivity setting.
6. Lifebuoy Pool Alarm System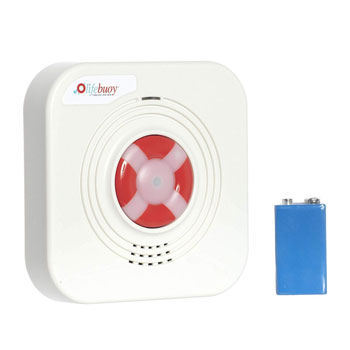 This is the most pricey option on our list, but you will get your money's worth of safety. The Lifebuoy Pool Alarm System features a home and pool units that sound the alarm. The alarm has multiple sensors, including a state of the art microprocessor that carefully monitors the pool area for disturbances.
You don't have to reset the pool alarm system as it has an automatic reactivation system after 10 minutes without movement in the pool. Just download the Lifebuoy App to your phone, where you will be provided with several additional settings. Thus, you will be able to adjust sensitivity, change the length of alarm when triggered, and control the current state.
This is one of the few pool alarms that can be used with a pool cover. It even features a pool cover removal alarm to notify you if someone is planning on entering the pool. It is suitable for all pool types, spas, and ponds. Upon entering, simply hold the unit vertically for a few seconds to set to standby or do so via the App.
Easy installation as it doesn't require drilling, straightforward controls via the App, and suitable for all pool installations. The product comes with excellent customer service and a 12-month warranty.
Pros
There is no need to drill holes or mount.
Connect to base via Bluetooth using Lifebuoy App for added controls.
Easy standby switch if you forgot to set on standby before entering the pool.
Cons
More expensive than most other pool alarms.
The app works only if Bluetooth connected to the base.
7. Blue Wave Pool Watch Pool Alarm System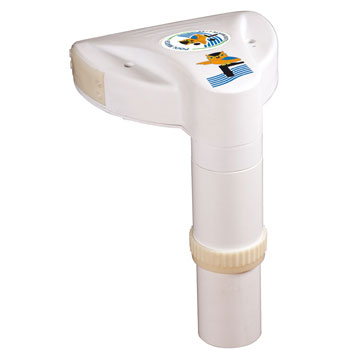 Here we have a unit suitable for passing pool alarm requirements in your area as it is NSF certified to ASTM F2208. The electronic sensor of the Blue Wave NA4121 Pool Alarm System detects entry into the pool. The remote receiver sounds an alarm if the pool sensor is triggered.
The remote receiver has a 100-foot range. It works on a 110 volt A/C or 9-volt reserve battery. The pool sensor is designed to detect objects falling in the water that weight 18 pounds or more. The sensor requires 6 D sized batteries that are not included.
The use of this pool alarm is suitable for both inground and above ground pools. Simply install onto the pool rail or deck. You must drill the side of the swimming pool to attach the alarm. If mounted with screws, it can be removed for winterizing and reattached quickly again when the swim season starts again.
This pool alarm system is New York compliant for passing regulation requirements and may meet most other state and city requirements as well. If triggered, the alarm must be turned off on the sensor side, requiring you to make sure there is no one in danger.
Pros
Fast and straightforward installation with proper instructions.
Pass regulation requirements for New York and other cities and states.
Suitable for inground and above ground pools.
Cons
Requires drilling for installation.
Must turn the alarm off on the outside unit, which requires you to crouch down to reach.
Benefits and Drawbacks of Pool Alarms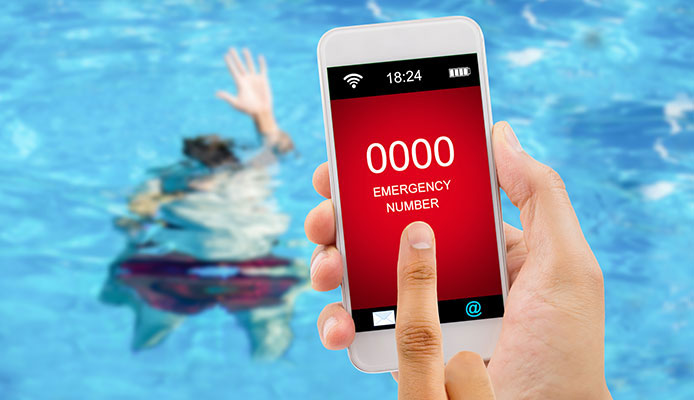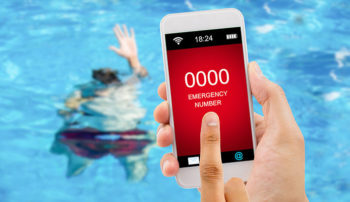 Investing in a pool alarm should be more than just passing code regulations. If you have small children, regular guests with kids, and pets, it is the best way to protect them.
Benefits
You will be made aware immediately if someone or something falls into the pool.
Pool alarms save lives. The faster you can respond, the higher the chance whoever has fallen into the pool can be saved.
There are very inexpensive yet effective options available on the market to ensure pool safety.
Some states and counties have particular pool regulations and require pool alarms to be installed.
Layered protection is the best way to make your pool safe. If you have a fence around your pool, a pool alarm is the next step.
Drawbacks
Sometimes it may get irritating having to remove the pool alarm to use the pool. Unfortunately, that also means possibly forgetting to put it back in.
Most alarms are very sensitive. They can be set off by something as simple as the wind or a stick falling in the pool. This can get very frustrating if it is set off in the middle of the night.
If there is no automatic reset, it is common to forget to reset the alarm again once you are done swimming.
There are essential benefits of having a pool alarm, and you shouldn't be put off by the few drawbacks. Most importantly, they will keep your family safe.
Pool Alarm Safety and Maintenance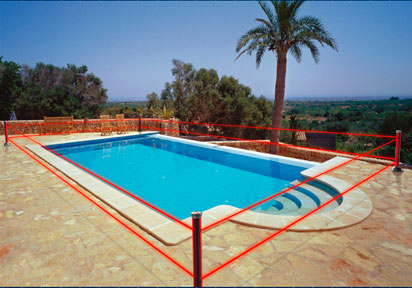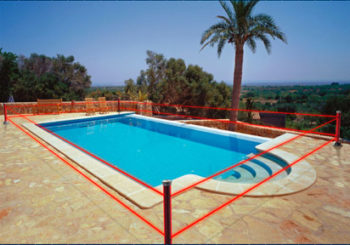 The use of pool alarms is vital if you have a pool in your yard, especially if the pool doesn't have a fence or cannot be fenced. Going in and out of your pool is essential and another reliable way to do so is by using a ladder. Our team has compiled some very good reviews of the top pool ladders available. Check our article out.
Here are some things to consider when using your pool alarm:
Do not disarm the alarm completely or take batteries out. It is easy to get frustrated with the alarm going off when you have guests or if it is triggered by something falling in the pool at night. This may be a small irritation in comparison to the potential danger of not having it working. If you do turn the alarm off or remove batteries, make sure you remember not to leave it that way.
Test your pool alarm at least once a week during the swim season. Sometimes technology falters, or the battery isn't working any longer. Do not take the risk of not being notified when the worst happens.
When winterizing your pool and have put a winter or safety cover on it, you may take the alarm out. Wash the sensor with fresh water to prevent chemicals from drying on it, and store away. You can leave some pool alarms throughout the winter, but if they can be taken out, it's best to do so to make them last longer.
Even with a pool alarm and safety layering, always keep your eyes peeled. Never leave children around a pool unattended. Upon installation of your pool, make sure there is a clear line of sight from the home to the pool.
Wrap Up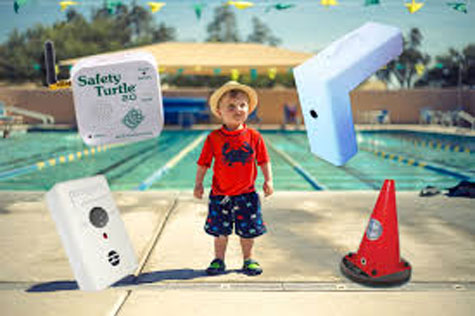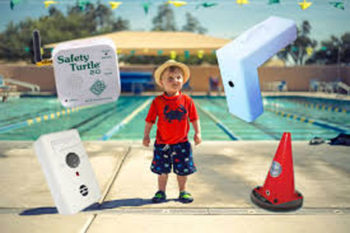 Pool safety is no joke. There is no way to ensure 100% safety, but there are many measures you can take. Safety layering is key, and finding the best pool alarm to suit your pool type and needs is crucial. There is a wide variety of pool alarms on the market from numerous different manufacturers. By reading our pool alarm review, you will not only find the top alarm options on the market but a detailed buying guide.
Don't put your loved ones' life at risk by not taking the extra care to make your pool as safe as possible. Even if you choose one of our highly recommended kiddie pools, installing a pool alarm can give you the added security that you will know if someone goes in unattended.
Visit our many other pool reviews for more up to date buying guides and product recommendations. We take pride in our work and look forward to your feedback in the comments below. Check back often for the latest updates and new reviews.
Thanks for reading and as always – stay put!