If you are tired of scrubbing away at your pool or manually vacuuming it may be time to consider investing in the best above ground pool vacuum cleaner. There is nothing better than watching your above ground pool getting cleaned as you sunbathe enjoying a cocktail.
When it comes to cleaners though, no two are the same. Don't overlook the importance of getting a robotic cleaner that is specifically designed for above ground pools to avoid disappointment. Although both just as enjoyable, they are made differently and require different cleaning equipment.
We've put together a comprehensive above ground pool vacuum cleaner review with some of the top above ground pool vacuums on the market. Continue reading and find useful information on how to select the ideal one for your needs, how to use it, tips, and much more. Now, in random order, here are the highest rated options on the market.
See The Quick Comparison Chart
Types of Above Ground Pool Vacuum Cleaners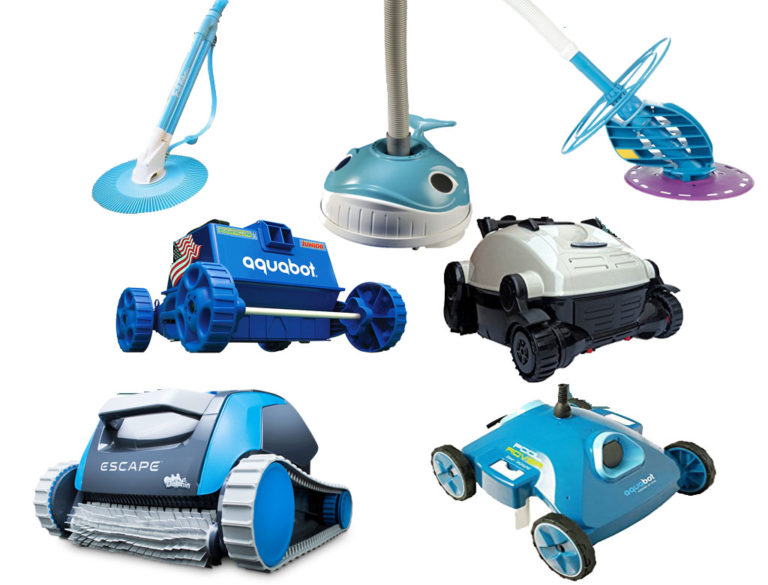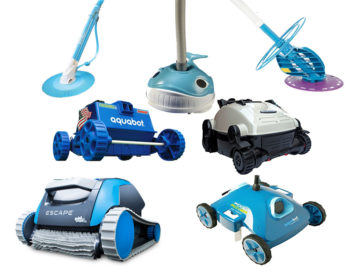 There are three types of above ground pool vacuum cleaners. Each has plenty of added features that make each model different from the next. The first step, however, is to decide which is most suitable for your pocket, and needs.
1. Robotic Pool Cleaners
These are generally the most expensive of the three. It does come at a cost if you can afford it, but it is worth it. Using a robotic cleaner requires little to no effort on your side. It requires zero added equipment, it's a simple plug and play system.
This cleaner comes with its own filter bag or capture system and is powered by a power cord. This means you will not be adding more work to your filtration system. Plus it reduces power usage.
2. Suction Side Pool Cleaners
The suction pool cleaners are considerably less expensive, but require you to have a powerful enough filtration system. Plus, they may put your filter to work, thus wearing it out faster and bringing up your electric bill. They rely entirely on your pull pump for suction and movement along the floor of the pool.
They come with a hose that attaches to your skimmer for water-based vacuuming. The benefit is that some may climb up the sides of the pool.
These types of cleaners are actually straightforward to use, however, do put more strain on your filter and system while using up more energy.
3. Pressure Side Pool Cleaners
These are usually the least expensive, and the benefit is that they don't put a strain on your filtration system. They rely on your pool pump rather than skimmer to work. Such systems use the water on the pressurized side of your pool pump.
Pressure side pool cleaners operate by using the pressure of the pump to move through the water, which also creates suction to pick up dirt and collect the debris in attached filter bags. Although they don't put a strain on the filter, the electricity usage is the same as a suction side pool cleaner.
Each of these robotic pool cleaners has its own benefits depending on your personal needs and budget. Keep in mind that for it to be effective, you must have a quality filtration system that has enough power to get the results you seek.
It needs to be pointed out that it all depends on the type of pool that you own.  Don't forget to check out our guide on the top above ground pools on the market. You don't need a cleaner without the swimming pool, right?
If you want a less expensive vacuum option, take a look at our pool vacuum heads reviews and buying guide. Here we've put together the top-rated products and the way to choose the ideal one for you.
Difference Between Pool Cleaners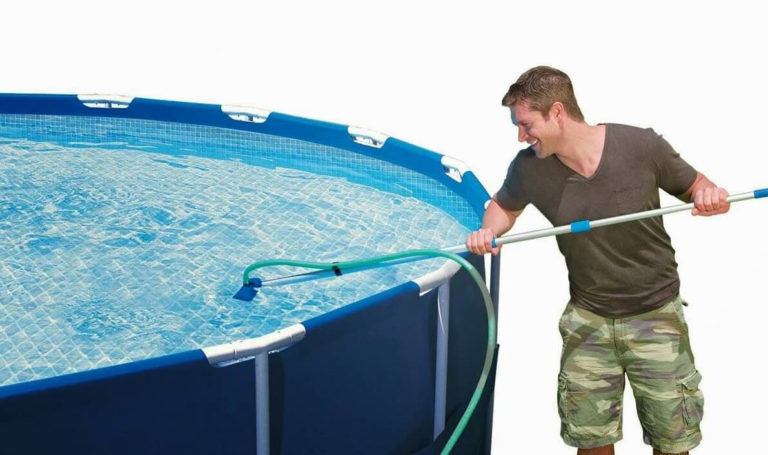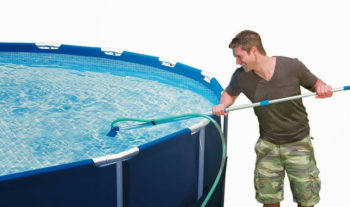 Tools are made different to cater to the different materials and different designs of pools. Though many maintenance tools are generally the same for both, some are designed specifically for above ground swimming pools.
The most significant difference is that above ground pools are generally smaller and more shallow than inground pools. They require less powerful filtration systems. Thus the cleaners designed for above ground pools are made to cover less ground and use less power. They are generally slower and made to work in smaller areas.
Another big difference is that many inground pools have different depths, thus requiring the cleaners to have more power to go back up from the deep end. Whereas above ground pools are usually flat bottomed or have a small bowl shape with minimal incline. Also, above ground pools typically have 90-degree corners where the walls meet the floor. So cleaners are made to overcome this or not to go up walls at all.
The last main difference is that inground pools are made of more durable material, so there are no worries of rips and gashes in the lining of an above ground pool. So above ground pool cleaners are designed and manufactured using materials that cannot damage or puncture the pool.
Best Above Ground Pool Vacuum Cleaners Comparison Chart
PRODUCT
DETAILS

Dolphin E10 Automatic Robotic Pool Cleaner

Price:

$$$$$

Application:

Above Ground Pools

Dimensions:

18 x 22 x 12"

Weight:

22.8 pounds

Specification:

No added equipment needed – plug and play

View On Amazon

Pentair K50600 Kreepy Krauly Above Pool Cleaner

Price:

$$

Application:

Above Ground Pools

Dimensions:

33.5 x 16.5 x 6.8"

Weight:

14.05 pounds

Specification:

Superior hydraulic design

View On Amazon

Intex Automatic Pool Cleaner for Above Ground Pools

Price:

$

Application:

Above Ground Pools

Dimensions:

18.5 x 13 x 10.2"

Weight:

15.34 pounds

Specification:

Flow rate between 1,600 GPH to 4,000 GPH

View On Amazon

Baracuda Zodiac Ranger Suction Above Ground Pool Cleaner

Price:

$$

Application:

Above Ground Pools

Dimensions:

16 x 9.5 x 40.5"

Weight:

15 pounds

Specification:

One moving part technology

View On Amazon

Aquabot Spirit Pool Cleaner

Price:

$$$$

Application:

Above and Inground Pools

Dimensions:

21.3 x 19.3 x 18"

Weight:

25.6 pounds

Specification:

Dual Impeller High Flow Jet Propulsion System

View On Amazon
Above Ground Vacuum Cleaner – Top Picks
Here are the products that our team has handpicked for you. We haven't ordered them in any way so that you can have a clear judgement regarding which one you like the most.
1. Dolphin E10 Automatic Robotic Pool Cleaner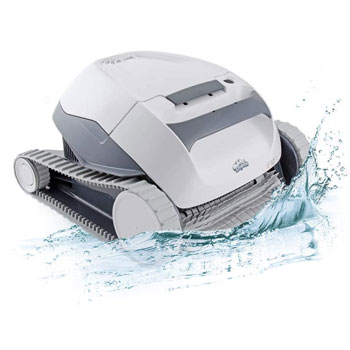 This impressive clean technology robotic pool cleaner is the ultimate cleaning machine for your above ground pool. Naturally, this comes at a higher price, but you don't need any added equipment for it to work. Just plug and let it do its job.
Featuring a top load basket, it is effortless to use and clean. The lightweight, ergonomic design makes it very easy to pull out of the water and use. Developed for above ground pools up to 30 feet it features a simple plug and play operation.
The patented swivel cable design allows it to gets its job done without getting tangled. What makes it exceptional is that it has nylon brushes that scrub bacteria and algae as it vacuums and cleans your pool floor.
The extra-large capacity means that you don't have to empty it before it has covered your entire pool. It comes with a 40-foot cord length and is suitable for vinyl and other delicate above ground pools.
Pros
Combined brushing with the cleaning of fine and rough debris
90% more energy-efficient than suction and pressure cleaners
No added equipment needed – plug and play
Cons
May need to run more than once to cover the whole area of the pool
Purchasing a separate fine filter will get better results
Expensive, but worth it
2. Pentair K50600 Kreepy Krauly Above Pool Cleaner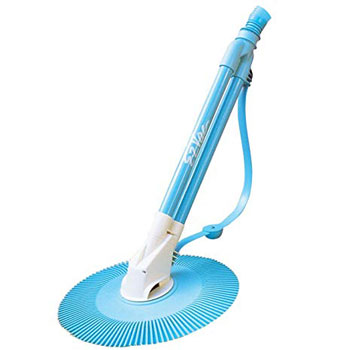 The next cleaner on this list is another one operational moving part cleaner that is designed for vacuuming power and speed. It doesn't have any gears or wheels that require servicing, only a free skimming valve to regulate proper water flow. This ensures quality cleaning and speed while skimming the pool and vacuuming.
It cleans in a random pattern for added coverage, ensuring that the whole pool is thoroughly cleaned. The vacuum is suitable for all above ground pools regardless if they are flat bottomed or dished out. Simply hook it up to the skimmer line and the power of your pump and filter power it.
It comes with a 32-foot hose, but additional segments are available. Your pump must be smaller than 3\4 hp. It is effortless to set up and use. Expect it to go beyond the pool floor and cover the pool walls as well.
Pros
Skimming valve to regulate water flow and speed
Random pattern cleaning for more coverage
Suitable for flat or dished out pool bottoms
Cons
Hose gets twisted easily
Makes a lot of noise when working
3. Intex Automatic Pool Cleaner for Above Ground Pools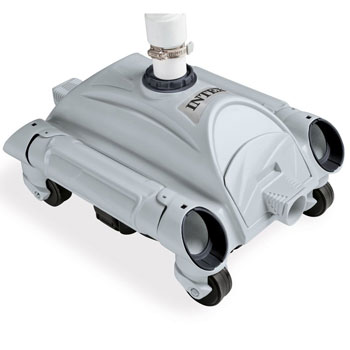 This pool cleaner is developed explicitly for Intex above ground pools, but you can easily use it on one from another manufacturer. It is suitable for any pool with a filter pump with a flow rate between 1,600 GPH to 4,000 GPH.
It gives full coverage of any 24 foot or smaller in diameter pool by automatically reversing directions. Included with the cleaner is a 24 foot 7″ hose that can be attached to your existing pool inlet easily. Applying venture suction it can sweep the pool of leaves and any other debris.
Priced to sell, it's actually an excellent option for those looking for a fast and easy pool cleaning option. If you want a longer hose, you can find additional attachments for sale. Before purchasing, make sure your pool has a filter pump that fits the required flow rate. Also, upon installation, make sure to attach it to the discharge line, not the suction side.
Pros
Inexpensive option if you have a filter pump
Comes with 27' hose
Picks up from small to large debris
Cons
May roll too quickly sometimes missing debris
Takes a long time to clean the pool as it may require two runs
4. Baracuda Zodiac Ranger Suction Above Ground Pool Cleaner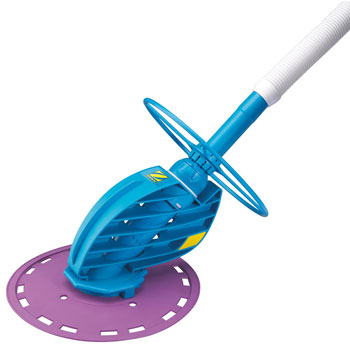 This is a one moving part technology cleaner that eliminates any added noise around your relaxing pool that many of the other options make. Although not recommended for Intex or soft-sided pools, it's an excellent option for all others.
The unique deflector wheel technology prevents it from getting tangled in corners, ladders, or steps. Coming pre-assembled upon delivery, all you have to do is attach it to your skimmer after removing the basket. It comes with 32 feet of hose, but additional sections of tubing are available if necessary.
The Zodiac has a flow keeper valve that allows self-adjusting flow control to regulate the flow of water. It glides on the bottom of the pool, up the sides, and even around steps via its AG Disk. It is effortless to operate and maintain. However, keeping in mind its design and size, it is not suitable for pools under 4 feet.
Pros
Deflector wheel prevents it from getting stuck in difficult to reach places
Self-adjusting flow control valve keeps it moving at just the right speed for performance
Excellent customer support ready to help every step of the way
Cons
Not suitable for pools under 4 feet in depth
Not recommended for soft-sided pools
5. Aquabot Spirit Pool Cleaner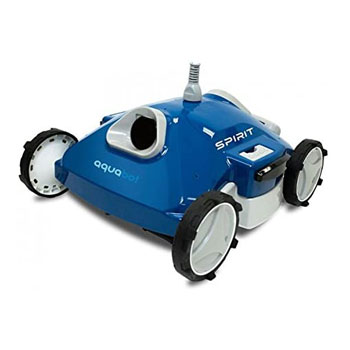 The next pool cleaner is also a plug and play type that doesn't require any additional equipment from you to work. The Aquabot spirit Pool Cleaner features what most need in such a cleaner, a cable that doesn't tangle. It has a 360-degree rotation no-tangle swivel cable that can handle even the most perplexing twists and turns.
Maintenance of this pool cleaner is on the top, making it easy to change filters and empty. It is very lightweight and practical, so you can reduce chemical usage in the pool. The dual ultra-fine filtration system can filter particles down to 2 micros in size. Picking up even the smallest debris, including pollen and pet hair.
The dual impeller high-flow jet propulsion system helps it cover more ground faster, while still managing to pick up anything that along the way. It has a 6-foot power supply cord and a 25-foot cable from the cleaner to the control box. It also comes with two sets of filter bags.
Pros
2-year warranty and 2-year limited warranty – excellent customer support
No pump or filtration system needed
No tangle cord guaranteed
Cons
Doesn't have brushes from deeper cleaning
Expensive – but worth every penny
In order the select the right cleaner from those listed above, it's crucial to understand how they are different and which is best for your above ground pool. Continue reading to find out more.
Benefits of Investing in an Above Ground Pool Cleaner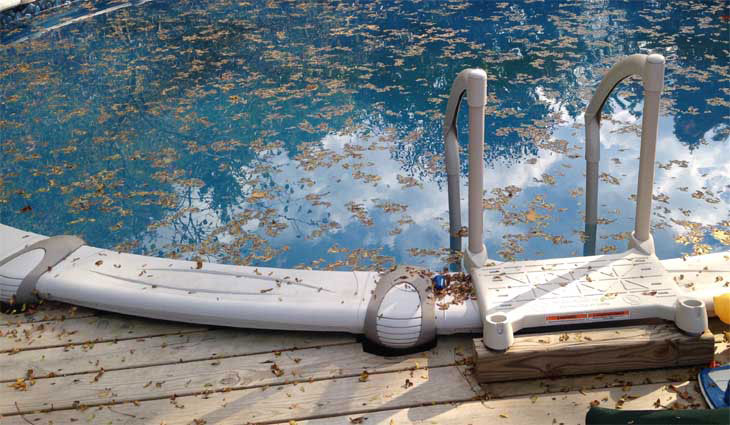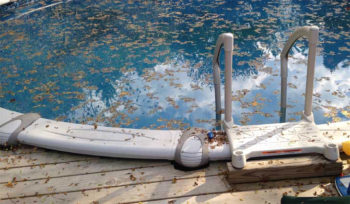 Aside from the obvious benefit of not wearing out yourself leaning over the pool scrubbing and vacuuming it, there are actually several more that you may not have known about. If you have invested in a robotic pool cleaner or pressure-side pool cleaner, you will be reducing filter wear on your system drastically.
If you use a cleaner regularly, the load on your skimmer will be drastically lightened, as less debris will go through it while the robot isn't working. This means you will have to clean it less often, and less gunk to clean.
You may not have thought about is, but cleaners do a great job of dispersing heated pool water better and more evenly than the filtration system alone. Plus, if you have a pool cover, and the cleaner doesn't pose any issues with it, you can run it under the pool cover.
The only drawback of an above ground pool vacuum would be the cost of buying one, as they are considerably more expensive than a manual pool vacuum. But the investment is well worth it. Remember, even if you have an above ground pool cleaner, you will still need to collect debris floating on the water. We recommend the following quality pool skimmers to help you choose one.
How to Choose an Automatic Pool Vacuum Cleaner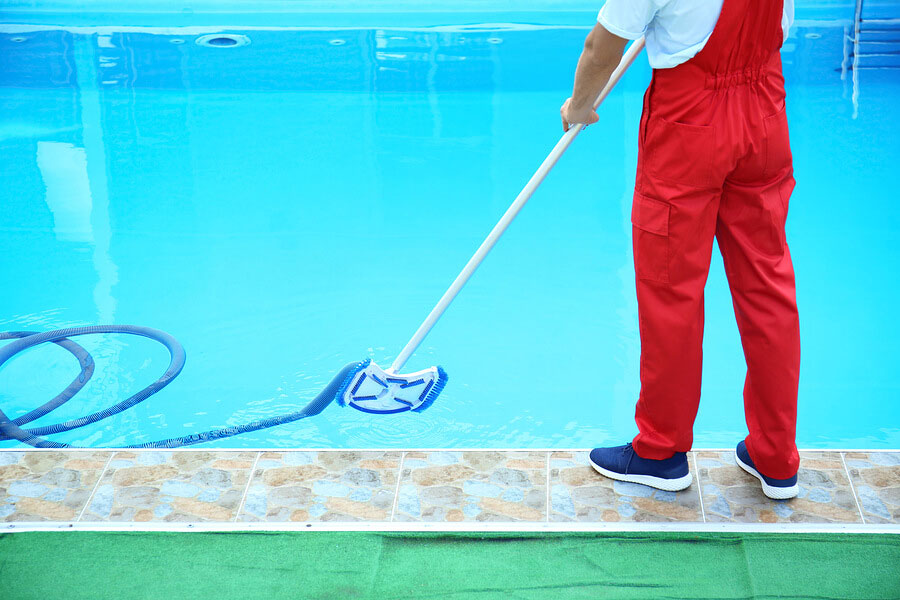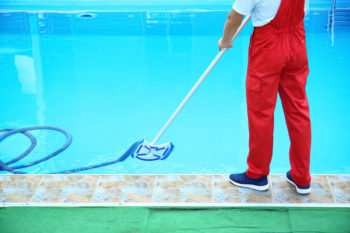 Now that you know what's available on the market and the different types of cleaners available, it's time to choose one that caters to your needs.
Here are several things to consider when purchasing:
Above Ground Pool Specific – there is a big difference between cleaning equipment for inground and above ground pools, and the same goes for cleaners. The cleaner needs to be made specifically for your type of pool.
Above ground pools are made of more delicate materials that can easily rip or get damaged. Also, they are usually flat, have few obstacles, and have 90-degree angles. All of this requires a particular type of equipment made for them.
Size of Above Ground Pool – you can usually purchase additional hosing for the cleaner, but it's good just to buy one that caters to your pool size. Keep in mind that the hose and power cable must be long enough to reach around your entire pool without stretching.
Filtration System – know your pool filtration system specifics if choosing a cleaner that will attach to it. A system that is too strong can damage the robotic vacuum, if not strong enough, it won't get the job done well. Usually, filtration systems for above ground pools are not as powerful as those made for inground pools.
Filter – whether with its own filter bag or using your filtration system, you have to know what type of filter you need. The best way to decide is by merely looking at the debris in your pool. If they are generally leaves, you can use a generic filter. If you have fine particles such as sand, a fine or even ultra-fine filter may be necessary to clean correctly.
Obstacles – does your pool have an odd shape? Are there stairs or steps that the cleaner needs to go around? Hard corners? Consider All of this needs to be considered before purchasing because they have cables or hoses attached to them that can easily get tangled.
There are plenty of tips for buying an above ground pool cleaner, but what it comes down to in the end is what your budget is. This is the type of tool that the more you spend, the better the results you will get, and less time you will spend tending to your pool.
Special Features to Look For

Some features can really improve your cleaners cleaning game.
Brushing ability – Some pool cleaners rely entirely on their suction power to clean. Although this is great, having a brush can add to their cleaning power. If you choose an above ground pool vacuum without a brush check out our pool brush review for brushes ideal for above ground swimming pools.
No-tangle cord and/or hose – There are unique swivel cords that prevent tangling and quality hose that doesn't get twisted. You will spend less time saving your cleaner from going around in circles or staying in one spot if you choose one with this feature.
Weight – Although the cleaner needs to be weighted to get to the bottom of the pool, it must be lightweight enough to take out and move about as well. Considering you will have to lug it out of the water, the lighter, the better.
Warranty – Not all, but especially the more expensive options should come with a warranty and excellent customer service. Should anything happen, you need to have peace of mind knowing that you have someone to turn to for parts, repairs, and replacement.
It may be impossible to get all of these added features, but the more, the better. Some may not even apply to your pool needs. The most important thing to remember is it's best to turn to a trusted manufacturer that has a history of offering quality pool equipment with years in the industry.
Maintenance and Tips for Using your Automatic Pool Vacuum Cleaner
Each cleaner will come with its own clear instructions as to how to use it, maintain it, and store it, but there are some general tips to keep in mind.
Keep the filter clean by emptying it and washing it regularly. The same goes for the pool filter where the cleaner is attached and the collection bag and filter on the vacuum cleaner itself. If you have a fine filter, it's good to always every time as small particles will clog it over time.
If your cleaner has a collection bag, the easiest way to clean it out is to let it dry in the shade before emptying. Once dry, it will be easier to throw out the debris and clean it. Once again, wash after you have cleaned it of debris.
After every use wash your automatic vacuum cleaner with fresh water to prevent chemical buildup. Chemicals and lodged debris will wear it out faster, requiring repairs or replacement.
Look over the above ground pool vacuum for any debris that may be stuck in the wheels, brushes, or gears. You may need to open up your robotic cleaner to look over the engine and other mechanical parts that may have debris lodged in them. You don't have to do this every time, but it's good to look it over every couple of cleaning cycles.
If your vacuum cleaner uses a hose, always flush it out and do a quick wash with fresh water. Leaving pool chemicals inside may cause it to crack over time and get damaged.
Always take it out when adding chemicals to the pool. This can damage parts, brushes, and deteriorate the plastic.
Don't swim with the cleaner in the pool. That's just an accident waiting to happen with cables or a hose floating around.
The crucial thing is to remember that chemicals and sun damage pool tools. Make sure you have a storage area away from direct sunlight and always wash with fresh water before storage. Giving that little bit of added attention to your pool equipment will make them last longer and save you money down the line.
Wrap Up
Don't waste time experimenting with products you are unfamiliar with. Find the best above ground pool vacuum cleaner by doing proper research and knowing what your pool needs. Know the facts about your pool before you start searching for a tool, this way, you know what you need.
Even if you can afford an expensive and high-rated cleaner, that doesn't always mean it's the best one for your pool. So gather the necessary information about your pool before starting your search.
This is why we put together this above ground pool vacuum cleaner review, to guide you on your journey to a cleaner and safer pool. We hope it has been helpful and will share your thoughts in the comments below. Don't forget to come back and check out the many other pool maintenance equipment reviews that our expert team has put together.
Thanks for reading and as always – stay put!