Above ground pools are an excellent choice for smaller yards and cost a fraction of the price of significant inground pool installation, but there are so many options out there it's impossible to choose. Our team has put together a detailed above ground pool review and buying guide to help out. You don't have to read a bunch of guides to find the best above ground pool to fit your budget, needs, and yard.
With so many types, shapes, sizes, and manufacturers out there, it's easy to be suckered into buying a low-quality pool. Even though they are less expensive than inground pools, above ground pools are nonetheless an investment, and you want them to last as long as possible. We've put together a selection of the highest-rated pools by real customers and tips to make the pool last years on end.
Especially with above ground pools, it's not just about turning to a trusted manufacturer. The best way to get the most up-to-date feedback on a product is to ask the customers that are already using it. We've gathered this information to pool together a fantastic list of pool options that customers have deemed to be the most durable, cost-effective, and easy to install.
See The Quick Comparison Chart
Types of Above Ground Pools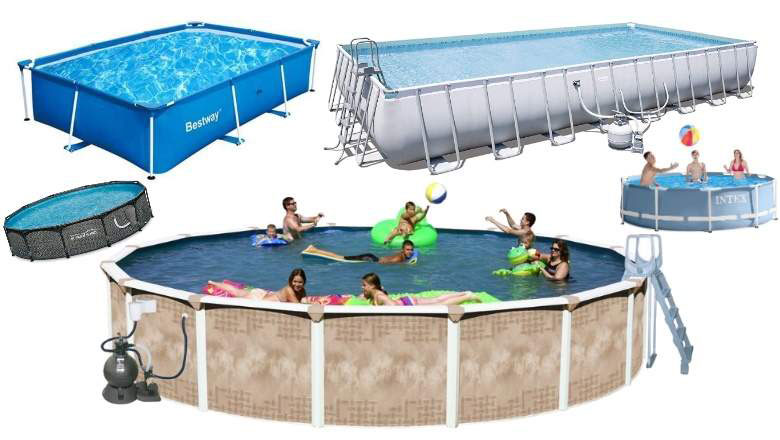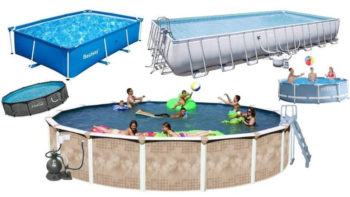 Obviously, there is quite a variety of options available. The critical thing to look for is a corrosive resistant steel frame and durable sidewalls for durability. From there, you can further personalize the pool depending on your yard size, use, and shape.
Swimming Pools come in several shapes, including round, oval, square, and rectangle. Sizes range from very small and shallow suitable for families with small children, to large enough to host a pool party. It depends entirely on your needs and how you plan on using the pool.
Features to look for:
Rust-proof frames – The pool that you choose must have rust-proof or corrosive-proof frames that ensure durability. Otherwise, after a season or two of use, they will rust, requiring replacement.
Tough sidewalls – Although most manufacturers strive for durability, some sidewalls are better than others. Look for lining with 3-ply layers for added strength.
Drain plug – Pools hold a lot of water, and when it's time to drain them can quickly flood your yard. A drain plug that hooks up to your garden hose allows for easy draining and leading the water away from your home and pool to a more appropriate area.
Outlet/Inlet holes – Even if your pool doesn't come with a pump, it is highly recommended you find one that already has an outlet and inlet holes for adding a pump. For proper pool maintenance, a filtration pump is essential to ensure safe water levels.
Added accessories – If you are a first-time buyer, you may want to consider purchasing a pool that has all the necessities included. This will save you time deciding what is necessary, looking for it, and buying it. Though not all included accessories are ideal, they are a great start and give you an idea of what you like and need.
If your pool doesn't come with a pool pump or you are looking to replace the one that the pool comes with, take a look at our reviews on the highest-rated above ground pool pumps.
What is needed for your above ground pool:
There are countless supplies, tools, and accessories needed for any pool. Luckily we have covered as many of them as possible in our ultimate Pool Guides so check them out. Here are the top necessities:
Maintenance Kit – Your pool maintenance kit should include a telescopic pool pole, pool brush, pool vacuum, and skimmer. These are the essentials to spot cleaning and maintaining your pool water clean of debris and bacteria.
Chemicals – As with inground pools, chemicals are essential for proper water quality. There are many options available. The good thing is that with above ground pools you will need fewer chemicals than with an inground.
Pool Pump/Filter – If your pool doesn't already come with a filter pump, you must purchase one. Your pool will most likely already have holes for such an installation. Make sure the pump is powerful enough to provide proper circulation and filtration of your size pool.
Ladder – As pools are above ground, it is difficult to enter without a ladder. There are many ladders available. The good thing about purchasing a ladder rather than have the pool up against a backyard deck is that if you want to restrict access for safety, simply remove it.
Lighting – Though this is not essential, it certainly adds to the experience. There are many pool light options available for added atmosphere and safety. You can't install just any pool lighting on above ground pools. We've put together a thorough review of above ground pool lights to guide you through the available options.
Pool cover – Whether a safety cover, winter cover, or leaf net, pool covers are an essential part of protecting your pool from the elements and debris. They help reduce maintenance, while solar covers are great for maintaining the temperature at a comfortable level.
Ground cloth – It is highly recommended that you do not place your pool directly on the ground. By first spreading a ground cloth before installing the swimming pool, you will protect the floor lining from damage, rips, and wear.
These are some of the essentials and necessities for your above ground pool. You can easily enjoy your pool without most of them, and can gradually invest in each as needed. They will make your swim experience better and safer, all the while making maintenance easier.
Best Above Ground Pools Comparison Chart
PRODUCT
DETAILS

Intex Metal Frame Pool with Pump

Size:

12′ x 30″

Capacity:

1,718 gallons

Made:

Steel frames, PVC sidewalls

Includes:

Filter pump

View On Amazon

Bestway Power Steel Pool

Size:

16′ x 48″

Capacity:

about 5,700 gallons

Made:

Tri-tech material

Includes:

1,000gal Filter Pump, Ground Cloth, Ladder and Pool Cover

View On Amazon

Intex Ultra XTR Pool Set

Size:

16ft X 48"

Capacity:

5, 061 gallons

Made:

High quality galvanized steel 

Includes:

Filter pump, Removable Ladder, Debris Cover,Ground Cloth

View On Amazon

Bestway Steel Pro Rectangular Pool

Size:

7.25ft x 5ft x 17"

Capacity:

317 gallons

Made:

Steel Frame, Tritech Material

Includes:

Pool Only

View On Amazon

Summer Waves Pool Set

Size:

12ft x 33"

Capacity:

1,600 gallon

Made:

Triple layer polyester mesh and heavy gauge PVC material

Includes:

Filter Pump

View On Amazon

Intex Ultra Frame Pool Set

Size:

16ft X 48"

Capacity:

5061 gallons

Made:

Alloy Steel

Includes:

Sand filter pump. Ladder. Ground cloth. Debris cover. Set-up and maintenance DVD

View On Amazon
Best Above Ground Pools – (Updated List)
Below are the leaders when it comes to above ground pools as per customer reviews and feedback. In no particular order, we've gathered their experience and added our two cents in the following six products.
1. Intex Metal Frame Pool with Pump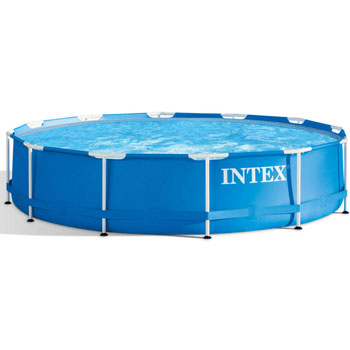 Here we'll discuss the Intex Metal Frame Pool. This is a 12 foot round pool and is 30 inches deep, but there are other sizes if you need something more significant. It is a considerably smaller pool, making it very suitable for families with young children.
With this above ground pool, you get the Krystal Clear Cartridge Filter pump that works with A or C filters. The filter features hydro aeration technology that uses the power of oxygen for circulation and filtration, offering better clarity. It is equipped with a ground fault circuit interrupter for added security if the current is exposed to water. The pump has a 530 GPH and works at 110 – 120V.
The pool features a convenient drain plug that can be connected to a garden hose to lead the water away from the swimming pool. The sidewalls are super durable laminated 3-ply PVC material that is puncture-resistant to ensure durability. There are dual suction outlet fittings where the filter pump can be installed. The pool capacity (90%) is 1,718 gallons and can fit a family comfortably.
Pros
Set up in less than 30 minutes
Includes Krystal Clear Cartridge Filter Pump
Shallow and safe for children
Cons
Pump not very practical for vacuuming
May be shallow for bigger kids or adults
2. Bestway Power Steel Pool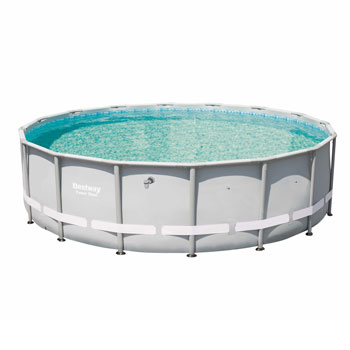 The Bestway Power Steel Pool is made durable and features a light attractive exterior. It features extra-strong sidewalls that are made of 3 separate layers of durable material. On the outside, they are of heavy gauge PVC with polyester mesh laminated between them.
The pool requires minimal assembly and is very easy to set up. It is a 16 foot round pool at 48 inches deep with a water capacity (90%) of 5,145 gallons. You will receive a heavy-duty repair patch kit and features a flow control drain valve for faster draining away from the pool. To keep the legs of the frame firmly positioned, a reinforced rope is included to wrap around the bottom of the liner.
This is a fantastic quality pool that is designed to last longer and offers hours of summer fun. It is constructed of hi-tech durable material and features a superior steel frame design that is corrosion resistant. Although there is no pump included, the pool features 1 inlet and 1 outlet so one can be fitted.
Pros
Very easy and quick to assemble
Attractive light design
Durable construction and materials
Cons
Unsatisfactory customer service
3. Intex Ultra XTR Pool Set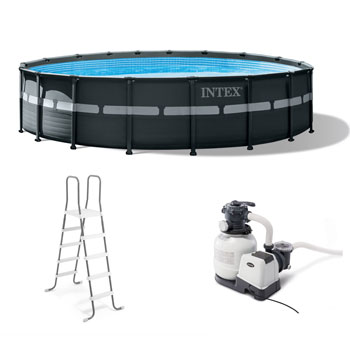 The Intex Ultra XTR Pool Set has everything needed to get you swimming faster. This is an 18 foot round pool at 52 inches deep. It has a water capacity (90%) of 6,981, making it ideal for children and adults alike. The pool set includes a sand filter pump, ground cloth, cover, and ladder.
The frame of the pool is top-quality galvanized steel. It features a precision-engineered loading system that boosts stability, durability, and overall quality. It features inner and outer powder coating making it rust-resistant and extending the pool life.
Included with the pool you receive a 110-120V sand filter pump. The Krystal Clear Sand Filter Pump features a 12-inch in diameter corrosion-resistant tank. It has a system flow rate of 1,600 GPH and features a timer with 1-12 hour preset cycles. You also receive a quality pool cover and a large ground cloth to provide added protection and comfort for your pool.
The ladder that comes with the pool has slip-resistant and hi-impact steps and has a corrosion-resistant frame. It has a weight capacity of 300 lbs., making it one of the most durable on the market.
Pros
Very easy to assemble when instructions are carefully followed
Attractive exterior that suits any backyard
Comes with a Krystal Clear Sand Filter Pump
Cons
The filter and pump not strong enough to keep the pool clean
The ladder is durable but may feel rickety for large adults
4. Bestway Steel Pro Rectangular Pool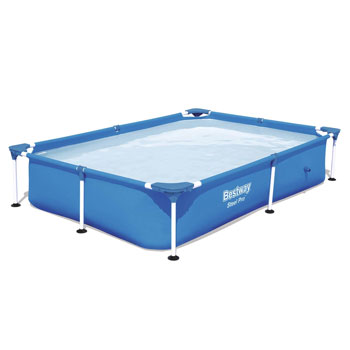 This is a fantastic smaller pool at 7.25 feet by 5 feet at 17 inches depth. The Bestway Steel Pro Rectangular pool is also available in three larger sizes to better fit it to your family's needs. It is easy to set up and uninstall and packs up nicely for storage for when it's not in use.
It features extra-strong sidewalls that are made of 3 separate layers of material for added durability. Both outer layers are heavy gauge PVC material with a laminated polyester mesh between them that helps them withstand regular use and play. While the corrosion-resistant metal frames will withstand the elements.
The pool features a built-in flow control drain that allows you to drain the water from the pool quickly. Just attach it to a garden hose and lead the water away from the pool and house. As it is very shallow, this is the ideal swimming pool for families with small children. It has a water capacity (90%) of 317 gallons and can fit about 4 small children.
Although there is no filter included with the pool, there are ports in the pool sidewalls for adding a pump. Assembly with 2-3 people takes only 10 minutes.
Pros
Very safe for smaller children
Filter ports on the pool if you purchase a pump
Built-in flow control drain valve
Cons
Spare parts not available
Vague instructions
5. Summer Waves Pool Set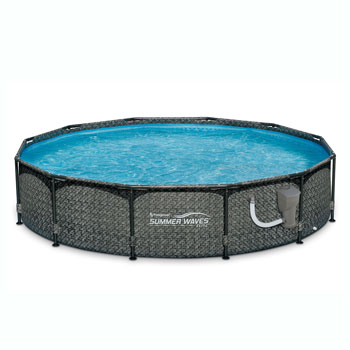 This lovely pool makes our list because users were delighted with the way it looks in their yard and is made very durable. Though more expensive than the others on our list, the Summer Waves Pool Set is worth every penny. It is a 12 foot round pool at 33 inches in depth and has 1,900 gallons capacity, suitable for both children and adults.
This pool set includes a SFX600 filter pump that combines the functions of a skimmer and filter for better results. It directly attaches to the sidewalls of the pool that allows for easier maintenance and to prevent tripping. The pool is constructed with a galvanized steel frame that is durable and rust-resistant.
What sets this pool apart from the rest is its attractive dark herringbone wicker pattern exterior. It is also available in a lighter wicker design. The unit isn't only beautiful but durable as well. A triple-layer heavy gauge PVC and polyester mesh are used to build this pool to withstand weather and human activity.
Pros
Comes with SFX600 Filter Pump
Very pleasing dark wicker design
Durable and well-made
Cons
Pump not powerful enough for the pool size
The plastic pins on the upper frame easily get scratched and may look unattractive
6. Intex Ultra Frame Pool Set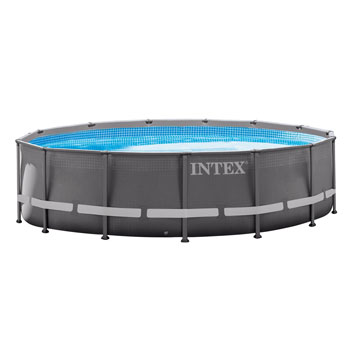 This is complete lighting set to get you swimming in no time. The 16 foot round and 48 inches deep pool set includes a filter pump, ground cloth, ladder, and pool cover. It is designed to be durable and robust to withstand regular use. The steel frames are powder-coated to resist rust and give a more luxurious feel to the pool.
The pool has dual suction outlet fittings that ensure proper water circulation, allowing for better water clarity and hygiene. The included Krystal Clear Cartridge Filter Pump works at 110 – 120V and pumps at 1,200 GPH. The pump is easy maintenance with an easy-clean filter cartridge and conforms to UL and CSA standards.
In the purchase you also receive durable ground cloth to further protect your pool from damage. While the debris cover will protect your pool from falling debris when not in use. The pool sidewalls are of a high-quality puncture-resistant 3-ply material. Designed to look more luxurious, the pool liner features a blue tile print on the inside and attractive gray exterior.
Set up this pool in 45 minutes with the secure lock system that snaps into place with ease, fill up with water, and you are ready to enjoy your pool.
Pros
Beautiful luxurious design
Includes filter, pool cover, ladder, and ground cloth
Easy setup in only 45 minutes
Cons
The filter isn't powerful enough to circulate water
The ladder may be wobbly for some adults
Benefits and Drawbacks of Above Ground Pools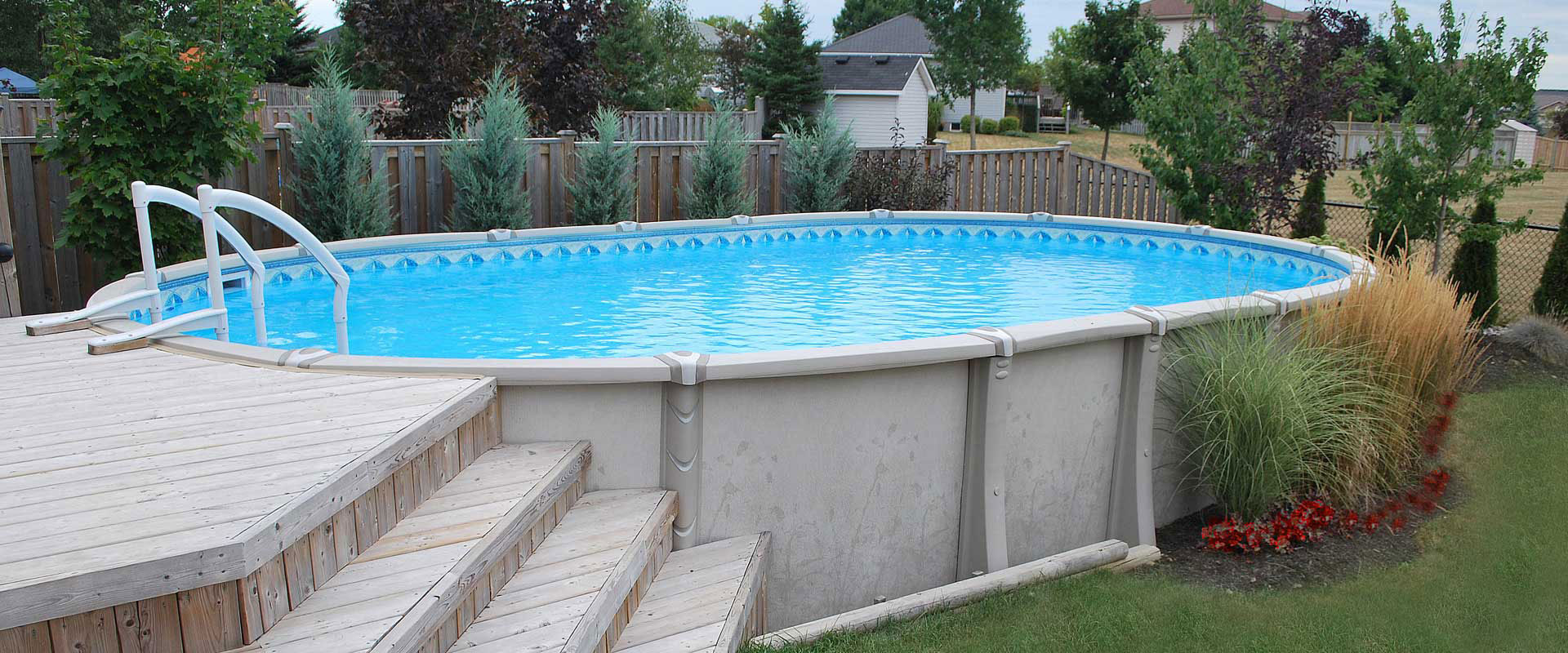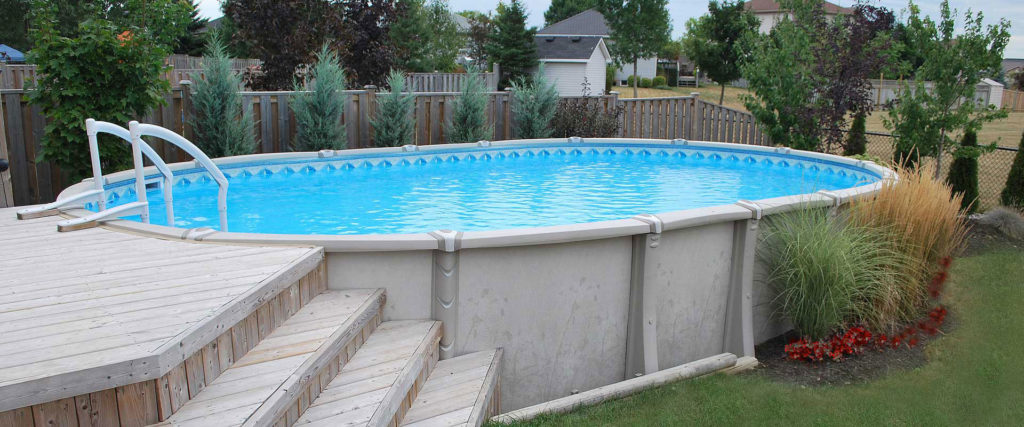 Not everyone has the finances or space to install an inground pool in their backyard. Still, if you want to enjoy water activities in the comfort of your yard, there are plenty of options available. Here are some of the benefits of on-ground pools.
Benefits
Inexpensive – There are many cost-effective options out there. Construction an inground pool is costly, while for a fraction of the money, you can easily purchase an above-ground one.
Taxes – As above ground pools are not permanent fixtures, they are not calculated into your property taxes.
Safer – Unlike inground pools that are easily accessible, above ground pools require a ladder to get in. This makes them safer for children and pets when you don't want the pool to be used.
Space – Above ground pools come in various shapes and sizes. If you have a small yard, you can still find one that will fit and have room to play in the yard. Plus, when you are ready to enjoy the yard, simply put the pool away.
Less Maintenance – Inground pools are low in the ground, making it easy for dirt and grime to be blown in. Due to the height of above ground pools, unless it is under a tree, rarely you will get large debris blown in.
Heating – Heat is easily lost through the earth around inground pools. Above ground pools, especially if you add a solar cover, will lose less heat at night. Usually, a heater is not necessary for above ground pools, unlike with inground ones. If you have your heart set on one, check out our top pool heater review for more information.
Features – Don't think that with an above ground pool, you won't get the features that an inground pool has. You will be able to add any features and comforts that you like.
Portable – If you are moving, you can easily take your investment with you. Have plans for the yard? Simply put the pool away. Tired of its location? Move it somewhere else in the yard. The possibilities are endless.
Installation – Installing an above ground pool can take an hour, at most. Compare that to the full-on construction of an inground pool.
Simpler to Repair/Replace – Have a hole in the pool? Simple, nearly all pools come with a repair kit. Is the damage irreversible? Either replace the lining or purchase a new pool, still easier, cheaper, and faster than repairing or replacing an inground pool.
Maintenance/Usage Costs – Less water, fewer chemicals, less electricity, what else could you want? Maintenance overall is much cheaper and much more straightforward than with an inground pool.
Drawbacks
The benefits outweigh the disadvantages drastically, but we've found several of these too.
Filter Pumps Included – Although it's ideal to buy a pool with everything included, many times we've noticed that the pumps that come with the pools usually aren't adequate to get perfect filtration. This doesn't mean they don't work at all, but may require a little bit more elbow grease on your side.
Level Ground – To install an above ground pool, you must have even hard ground onto which to install the pool. Sometimes this may require a lot of effort if the yard isn't leveled.
Rips – Although these days the manufacturers strive to make the sidewall materials as durable as possible, they can still rip. This means no sharp objects in or around the pool.
Winterizing – Not all of the pools can withstand freezing temperatures and need to be stored away for the winter.
Property Value – Installing an above ground pool does not add to the property value as an inground pool would.
As you can see, the benefits greatly outweigh the drawbacks. Enjoy a variety of sizes, shapes, depths, and designs of above ground pools just as you would with inground pools. Mainly, though, the lower price is what makes them very attractive for households where an inground pool is simply not an affordable option.
Tips to Buy the Best Above Ground Pools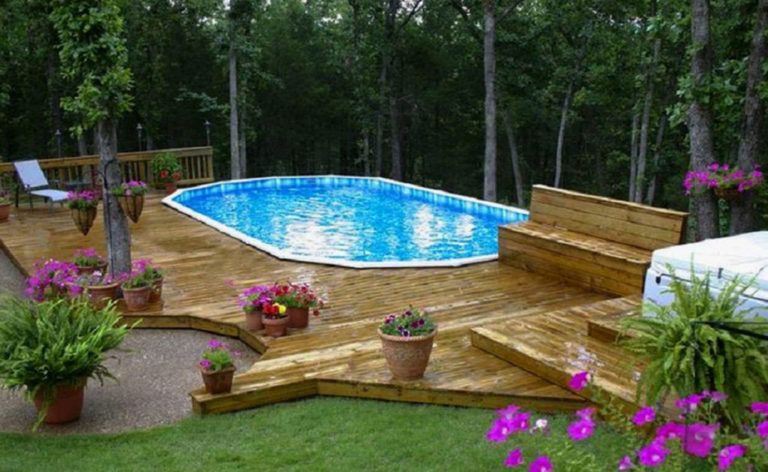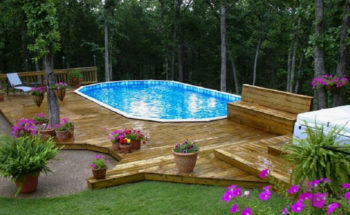 The best way to go about choosing an above ground pool is to ask yourself the following essential questions:
Who is the swimming pool for?
If you have young children, you must consider this and purchase a pool that is shallower and safer for them. If only adults will be using it, then perhaps a more significant and deeper pool will be more suitable. Some people want to use these pools for their pets as well, and this should be taken into consideration when it comes to depth.
How will the pool be used?
There are many uses of pools. Whether it's just to relax or to throw pool parties or perhaps some would like to install an above ground pool for sport. Round pools are most common but are usually more appropriate for fewer people and ideal for relaxing. Oval and rectangle pools are sturdier and are more suitable for swimming laps and fitting a lot more people for pool parties.
With this, we come back to who will use it. If it will be used to entertain children during the summer, safety is critical. Consider the various uses of above ground pools, and decide on a swimming pool that will cover all of your needs.
What is the space you have allotted for installation?
Size and shape are critical. You want to purchase a pool that will not only fit your yard but will allow enough space around it as well. Carefully measure the area in your yard that you have decided would be suitable for your pool before you start shopping.
What is the budget for your above ground pool?
We've come to the most critical point. Even if all else falls into place, if the budget doesn't allow, it merely doesn't. Set a budget not only for the initial investment of the pool but for the maintenance and water as well. A pool is an ongoing investment, and you need to be aware of how much money you will need to spend monthly on water, chemicals, and electricity.
Although the budget is a leading factor, don't merely go for the cheapest pool available in the size you need. Do the research and make sure that your low initial investment doesn't end up costing you a lot more in the end due to bad quality. You don't want to have to invest in a new pool every season. It's better to choose one that will last at least several years.
Other things to consider when buying:
Maintaining social codes – Before installing your above ground pool, it is good to make sure there are no underground systems or power lines below it. There are also water usage codes and electric pump requirements to abide by. Check with your local ordinances to be aware of any laws you need to consider.
Environment – Your yard may simply not be suitable for a pool. Sometimes yards with a lot of trees or rocks will require excessive cleaning that will increase the cost drastically. Also, some counties frown upon the removal of trees, even if it is in your own yard.
Electricity – Having external power is an absolute must for your pool. You will use it to run the filtration pump, lighting, vacuum, and much more. It is vital to have an external power line dedicated exclusively for your pool needs. eTake a look at some of the most cost-effective above ground vacuum cleaners on the market in our review!
Safety – If you have children or pets, it is essential to consider the safety of the pool before you even consider purchasing it. Think about what will be necessary to protect your loved ones. Fences, alarms, lockable stairs and ladders, and covers are all options.
Round vs. Oval and Rectangular Above Ground Pools
One common question is whether there is any significant difference between round and rectangular or oval pools. The round pools are the most abundant, and you will find a wide variety of options available. They are the go-to choice for most, but mainly because they are the least expensive.
If your budget and space allow, an oval or rectangular above ground pool is the better choice. Generally, rectangular pools are considered to be the most durable and sturdier option over round, and even oval pools. Oval pools require additional side support, while the taper corners of the rectangular pools ensure a more durable structure.
Also, oval and rectangular pools are more suitable for slimmer backyards, taking up much less space. Rectangular pools are more fitting for those looking for a pool to do laps in as well. Unfortunately, the downside is that they are more challenging to install, as they require additional support. Also, the circulation of water is more complicated, and there are more spots where water stays still causing algae.
Overall, once again, it does depend on your yard size and budget. Also, consider that for oval and rectangular pools you will need a more powerful pump for better circulation and help with installation.
Installing Above-Ground Pools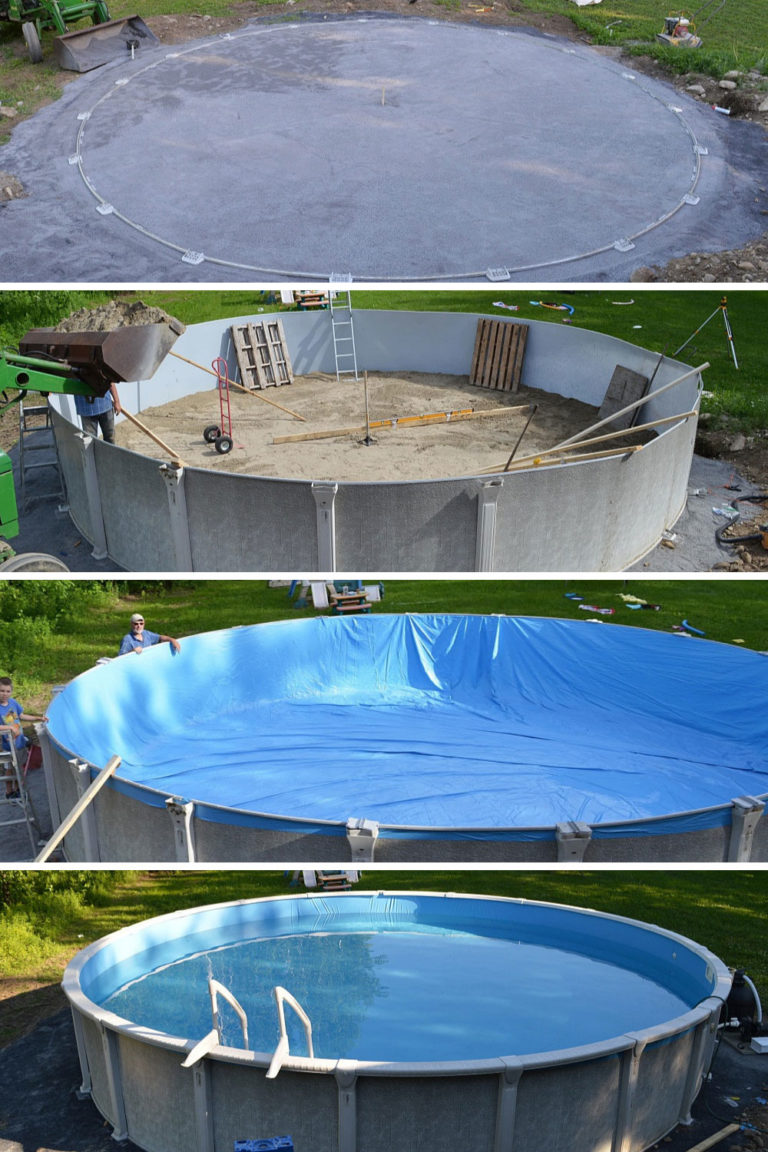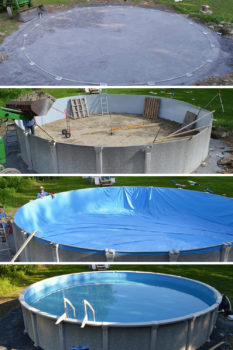 Now that you've selected and purchased your pool, it's time to mount it in your yard. Don't fret, don't stress, generally above ground pool installations are relatively simple. Usually, the pool will come with precise instructions, and as long as you follow them carefully, you should be up in no time.
Here is a general look into what the installation entails:
Select the spot where you would like to install your pool. Ensure there are no overhanging trees or roofs that could potentially add to the debris that falls into the pool. Also, you don't want your pool to be in the shade during the day.
Test the selected spot for your pool. The pool must be leveled to ensure it is stable. Place a board and a level on top and test the area in all directions. If there is more than 2 to 3 inches difference, you will have to level the ground. Do not fill the uneven space with sand or dirt, but rather shovel out. They sift and settle, and may make the pool unstable.
Lay the included protective ground cover over the selected area. If your pool didn't come with one, simply use a large enough tarp. This will protect your pool from damage from small rocks and debris.
Spread your vinyl pool liner over the ground cover. Different pools have different setup steps for connecting the frame and liner. Generally, you join the support pipes to the ones that run around the swimming pool. Then clip the pool liner onto them. Here following the provided instructions is essential.
Once you have your pool all set up, it's time to fill it up using a garden hose. Make sure you push, smooth, and tug at it as necessary to ensure the liner is flat on the bottom. This may take 2-3 people to do correctly. By the time the water level reaches 1-2 inches, it should be smooth. Otherwise, it will get too heavy to continue.
Check if the pool is level again once there are about 2 inches of water. This check is vital to prevent potential pool instability. If it proves to be uneven, you can still even it out if it's nothing major. However, if there is a significant difference, it may be necessary to empty and start again.
Install the filter in the pool pump and hook up the hoses to the pump. Then take the other ends and attach them to the corresponding holes in the pool sidewall.
Your pool is full when the water has reached a few inches below the top frame.
Check if the pump is working and test for leaks. You will need to get in the pool and hold your hand over the outlet and inlet holes to ensure proper suction and blowing.
Calculate the necessary shock for your size pool and treat the water. Dissolve the shock in water and then spread it around the perimeter of the swimming pool. Generally, one pool shock treats approximately 10,000 gallons of water.
Test water quality and pH using a kit or take a sample to your local pool store. We recommend you consult with a local pool dealer if it is your first pool. They can give you great tips regarding the water in your area and how to properly maintain your water quality.
The thing to remember when it comes to installing a soft-sided pool is to follow the instructions that the pool came with. If you take care to read them carefully and have a helping hand, you shouldn't have any issues enjoying your pool in no time.
Above Ground Pool Maintenance
Maintenance of your above ground pool isn't much different from any inground pool, but it requires less energy, elbow grease, and time.
Pump – A pump is essential to keep water circulating to prevent algae and bacteria buildup. Pool pumps have filters that need to be cleaned regularly to avoid overworking them and maintain proper function. Periodically cleaning your pool filter will allow the pump to continuously suck in any debris that may have fallen into the pool. The pool pump also helps spread the chemicals out evenly.
Brush and Skimmer – Although the pump does a great job of keeping your pool clean, don't overlook the benefit of some physical work. Regularly clean your pool with a skimmer to give your pump a break. This is especially important if there are trees near the pool. The buildup of leaves in the swimming pool increases the chances of algae growth. Brushing your pool prevents bacteria and chemical buildup on the walls and the floor.
Chemicals – There are different ways to maintain proper water quality. Research what options are ideal for your needs and health, such as salt, which is easier on the skin and eyes over chlorine. Invest in quality chlorine tablets or an alternative for regular maintenance and pool shock.
Water Test Kit – You can regularly check your water pH at any time. This way, you can take the necessary measures faster to ensure you and your family are safe.
Vacuum or Automatic Cleaner – The choice is yours, as long as you regularly have the bottom of your pool vacuumed. Little feet can bring in a lot of dirt and grime into the pool, so periodically cleaning the bottom can prevent potential rips from small rocks being brought in and keep a high water quality.
Pool Cover – Covering your swimming pool when it is not in use will save you a lot of time on maintenance. Whether you are covering it with a winter cover during the cold months or using a solar blanket to heat it in the summer, it will help keep debris at bay. Take a look at the top above ground pool covers and our detailed buying guide to find one ideal for your pool.
Pool Liners – You don't necessarily have to buy a brand new pool in case your pool liner is damaged. You can either use a patch kit to close up small punctures, or simply replace the liner. We have pooled (pun intended) together the leading above ground pool liners in an extensive review and buying guide.
Daily:
Check water levels.
Check water pH. It should be between 7.4 and 7.6.
Check the chlorine level. It should be between 2.0 and 4.0 ppm.
Empty the skimmer and pump basket.
Check the pressure of the filtration system.
Run the pool cleaner if you have one, or do a quick skimming of the pool.
Weekly:
Vacuum, brush and skim the pool.
Ensure 80 to 120 ppm alkaline level.
Add chlorine tablets.
Check the ladder stability and clean area around the pool.
Monthly:
Ensure calcium hardness is between 200 and 400 ppm.
Shock the pool in the evening.
Look over the pool crevices, ladders, and edges for algae growth. Clean if necessary.
Test cyanuric acid levels. It must be between 30 and 50 ppm.
Using a pool brush or sponge, clean the area around the waterline.
How to Drain Above Ground Pools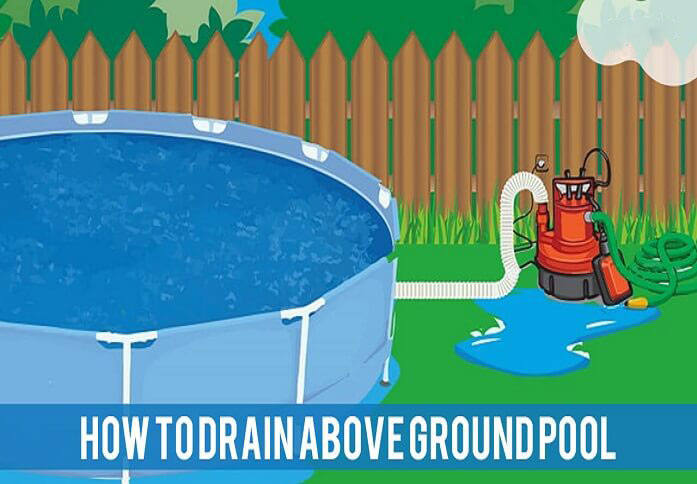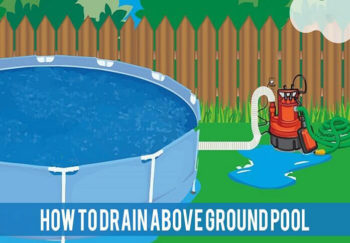 There are several reasons why you need to empty your pool. Either way, it may seem like a daunting task. Knowing how to drain an above ground pool is an essential part of proper pool maintenance, especially if you plan to store it in the winter.
Reasons:
Replacing damaged pool liner.
To replace water for a new swim season. Though this shouldn't be necessary if you have winterized your pool correctly.
For storage, moving, or replacement.
To fix the chemistry of the pool in case of chlorine lock. There really isn't any other solution than to drain a good portion of the water to improve chemical levels in the pool.
How to drain:
Draining is relatively straightforward. If you don't have a pump, a simple garden hose will do the trick. Some pools have quick drain valves that you can attach the hose to that make draining an easy two-step process.
Choose where the water will be displaced. Before you start, check with your local ordinances regarding disposal of pool water. Some may require you to drain the water directly into the sewage system. Don't forget, a LOT of water will be displaced, so choose wisely.
Start a siphon with your garden hose by immersing the garden hose entirely in the water. Cover one end and quickly take the end out of the pool. Point it down below the pool surface.
Remove your hand that is covering the un-submersed end and let the water drain out.
If you will be draining the pool completely, not partially to fix chemical levels, it is best to use a submersible pool pump. You can also use a wet/dry vacuum. If you don't have either at hand, simply use buckets or other containers to remove enough water so the pool can be handled to tip out the rest.
Don't forget that in the emptying process it is unavoidable to get the area around the pool very wet. If you are replacing a liner, make sure that it is dry before continuing with the installation. Otherwise, you risk algae and bacteria buildup on the underside of the pool, which could damage it over time.
Enjoy your Above Ground Pool Safely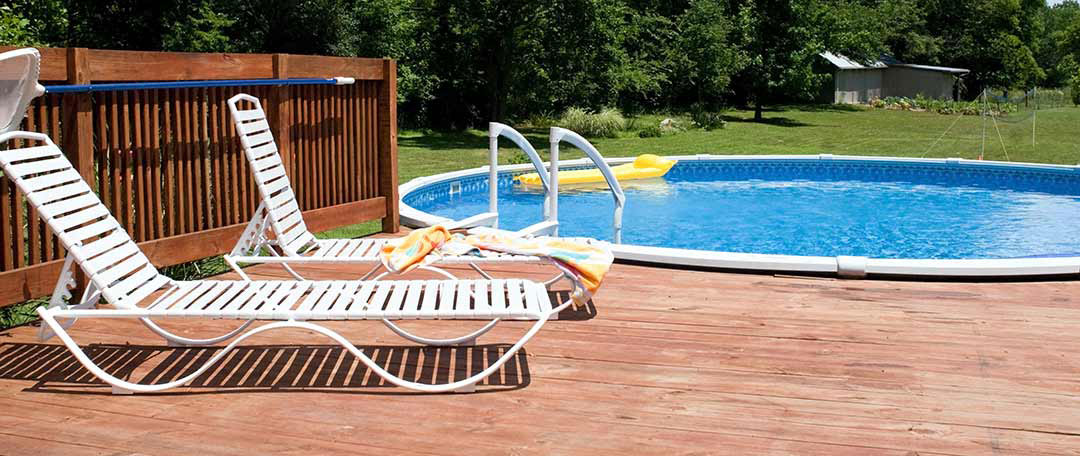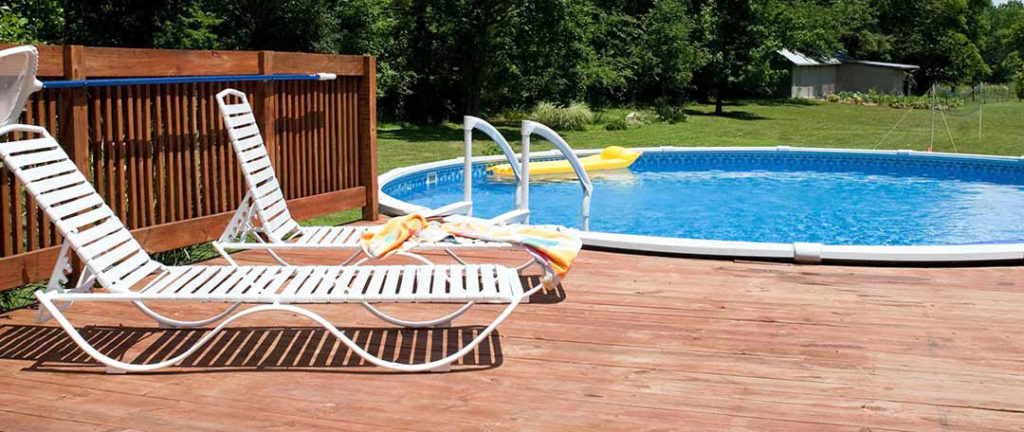 Don't stop at merely installing your above ground pool. Safety is an issue with pools regardless if it is an inground pool or an above ground pool. You will enjoy the same swim experience with your above ground pool as with any inground pool, but this also comes with the same safety concerns.
Here are some essential safety products to consider:
Fencing – There are unique fences available explicitly designed for above ground pools. Although much safer than inground pools, children can still climb up and tip over into the pool even if there is no ladder. There are many inexpensive options available if you have children in the house you want to protect.
Ladders – To use your pool, a ladder is essential. You can choose from one of the top above ground pool ladders we've collected for the buying guide we've put together. You must ensure that the ladder is securely attached to the pool and features handrails for added stability.
Pool Alarm – This is especially important if you have children or pets, although some counties actually require an alarm by law. These alarms will notify you if something large enough to make a splash has irritated the water.
Tips for added pool safety:
Check local pool safety regulations and abide by them.
Avoid slippery materials on decks around the pool or ladders.
Keep all electrical pool equipment safely away from the entrance of the pool.
Always properly maintain your pool and water quality, cover sharp edges, and repair any issues immediately.
Never, EVER, leave children playing in the pool alone.
Install safety measures, especially if you have children or pets.
Pool safety is no joke, and you should take it very seriously. Even if you do not have children think about adding the necessary safety measures in case a neighborhood kid decides to take it upon themselves to test your pool without your knowledge.
Wrap Up
Although less expensive than an inground pool, you mustn't end up wasting money on an above ground pool that doesn't fit your needs. We hope that our comprehensive buying guide will help you buy the best above ground pool. Take care to consider everything we've pointed out before you order, and don't waste money on products that simply don't make the cut.
We put in many hours of research, so you don't have to. Please share your feedback and thoughts about our above ground pool review and any future reviews you are looking forward to reading on our site.
Enjoy the summer and your new exciting memories made in your new above ground pool, and most of all, stay safe! Check back for the latest pool product reviews and buying guides, we are always working towards keeping you informed.
Thanks for reading and as always – stay put!