There is something about a beautifully lit pool that gives it a magical touch. Turns out that the secret is simple. Just get the best LED pool lights to transform the way your pool looks at night and give yourself those extra few hours to enjoy it even after the sun goes down. There are a plethora of benefits of installing quality lights in your pool, aside from pure aesthetics.
Our LED Pool Lights Review will cover the benefits and few drawbacks of LED light installation. We've done lots of research on the products currently available. You will find top customer choices and what we've confirmed as excellent options for your inground pool. Learn about installation, maintenance, and why LED is better than the rest of the options available.
We understand that it can be unnerving if you haven't shopped pool lights before. Whether you are looking to upgrade your pool with lights or replacing burned-out ones, our review will make the process easier. First, let's look at some of the fantastic LED light options available on the market.
See The Quick Comparison Chart
How to Select the Ideal LED Pool Light

There are many unique options available. You must know what you are getting before you end up throwing your money to the wind on something that is not suitable. Understanding pool light options and how each will benefit your pool experience is vital.
Voltage – The first thing to consider is the voltage of the light. There are 12V and 120V lights. Putting in the wrong one could result in irreversible damage to your light system. Before you decide which you prefer, check with your local code, as some require low voltage 12V lights.
If you are installing a 12-volt light, you also need to purchase a transformer to convert the 120-house voltage to 12. If you are replacing current lights, it's essential to check the voltage. You can find this information on the face of the bulb or on the back of the light housing.
The brightness of 12V and 120V is identical. Don't forget that if the length of the cord is more than 100 feet, it may not be suitable to use a 12V, as volts will drop considerably.
Power – The power of the light bulb is measured by watts. The cost of electricity is increased, as wattage gets higher. Standard LED lights range from about 30 watts to 90 watts. A 45-watt LED bulb generates identical light power as a 300-watt incandescent bulb. The difference is that it has 85% less electric costs.
Brightness – Although 12V and 120V are identical in intensity, there are differences when it comes to LED lights. The brightness of lights is measured by lumens, but you won't find this information listed for most products. Usually, it requires a bit more digging in reviews, details, and manufacturer information to get exact numbers.
Face Ring – This may not be one of the most important things to consider, but LED lights have either stainless steel or plastic face ring. It is recommended you choose a stainless steel one for more durability.
Light Bulb Base – Some lights are with a cable and require electrical work, while others are LED bulbs. When it comes to bulbs replacement, you must choose one that will fit your current fixings. There are a wedge, bayonet, and screw in bulbs on the market. Most often, you will find the standard Edison base.
Cord Length – If you are purchasing a wired LED light, then the length of the cable is vital. These cords are attached to the light permanently, and changing them is not recommended. Standard cord lengths are 30, 50, 100, 150, but you will find ones with much shorter cords. An excellent way to determine measures is the length from your pool to power source plus 10 extra feet.
Niche Compatibility – Whether replacing or installing new lights, the compatibility with the fixtures installed. Usually, they will already be installed by your pool contractor. The most popular niches installed are by Sta-Rite, Pentair, and Hayward. Most LED lights are compatible with them but always double-check as not all are.
Remote Control – Does the light come with a remote control? This is especially useful when it comes to color LED lights, as it will be much easier to set the settings with a remote rather than using the ON/OFF switch.
These are the main points to remember when buying. Don't start searching unprepared. You may end up wasting money on bulbs or LED lights that either will not fit your fixings or are simply not suitable for your pool. Not to mention that the wrong voltage application could damage your system permanently.
With the pool lights, you have the pool available even at night. Don't forget that heat evaporates from water drastically at night and can surprise you. This is why we highly recommended that you know the temperature of your pool at all times. We have put together the highest-rated pool thermometers in our review and buying guide to help you be prepared before jumping in.
Best LED Pool Lights Comparison Chart
PRODUCT
DETAILS

Iledlight LED White Spa Light Bulb

Price:

$

Color:

6000K Daylight White

Power:

15 W

Can replace:

100-300W halogen or incandescent bulb

View On Amazon

Roleadro LED Color Pool Light

Price:

$$

Color:

Multiple colors and multiple combination colors

Power:

47W

Can replace:

300w traditional light bulbs

View On Amazon

Iledlight LED Pool Light Bulb

Price:

$$$

Color:

15 modes

Power:

40 W

Can replace:

300-500W traditional bulbs

View On Amazon

SEURON WYZM Color LED Pool Light Bulb

Price:

$$

Color:

16 static color and 2 vivid color

Power:

40 W

Can replace:

300-500W bulb

View On Amazon

Bonbo White LED Spa Bulb

Price:

$$

Color:

6000k Daylight White

Power:

25W

Can replace:

300w traditional light bulbs

View On Amazon

LAMPAOUS LED Color Pool Light Bulb

Price:

$$

Color:

7 Solid Color, 5 Color Show

Power:

35 W

Can replace:

300-watt incandescent bulb

View On Amazon

SEURON LED White Pool Light Bulb

Price:

$$

Color:

11 static color and 2 vivid color

Power:

40 W

Can replace:

300-500W bulb

View On Amazon
Best LED Pool Light Reviews – (Recommended Picks)
1. Iledlight LED White Spa Light Bulb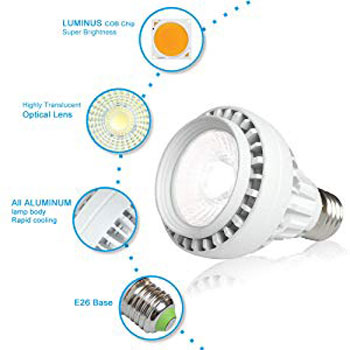 The first product on this list is a white light bulb suitable for pool and spa installations. This 15W LED bulb is proper to replace 100-300W halogen or incandescent bulb. You will immediately notice its high brightness LUMINUS chip feature and be impressed by the power of this small bulb.
It is straightforward to replace the bulb as it features an E26 base. Simply unscrew the old bulb and replace it with this fantastic LED bulb for added savings. It is designed to replace bulbs for Pentair and Hayward light fixtures.
Quality is the focus, and the all-aluminum body says it all. It features fast heat dissipation and long-lasting durability with its certified isolated power supply. The highly translucent optical lens allows for ultra-brightness and impressive results. You will enjoy up to 80% more energy savings than with standard pool light bulbs.
The bulb comes with remote control and 2 years replacement guarantee.
Pros
Ultra-bright white light
Easy replacement bulb for Hayward and Pentair fixtures
2-year guarantee
Cons
Doesn't seem to last long, but the manufacturer sends a replacement
Remote doesn't work well at all
2. Roleadro LED Color Pool Light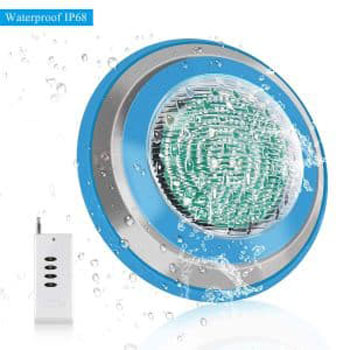 The next pool light we will feature in this list is another color LED light. Unlike the others, though, it is not a bulb, but a wired light that requires a little more electrical knowledge. It is an IP68 waterproof light that works at 47W.
Featuring multiple color combinations, you can easily experiment with the 7 static modes, 5 dynamic modes, and impressive 10-speed levels to get set the mood in your pool. The reliable quality features high-grade stainless steel and silica gel casing. It offers excellent sealing materials to ensure it is watertight. For brighter and uniform light, it features branded LED chips.
This is a light that works at 12V, and quality is guaranteed by the CE ROHS certificate. Keep in mind that for installation, you will need an electronic transformer for 12V. If you have some electrical experience and follow installation instructions carefully, installation shouldn't be a problem.
There is a 30 days no reason refund and a year guarantee. You will receive 1 LED pool light, a remote control, a 6-foot power cord, and a user manual.
Pro
Reliable quality at IP68 waterproof
7 static and 5 dynamic modes, and 10-speed levels
CE ROHS certified
Inexpensive
Cons
Remote doesn't work unless you are on top of the light
The cable is too short
Requires an electronic transformer for 12V
3. Iledlight LED Pool Light Bulb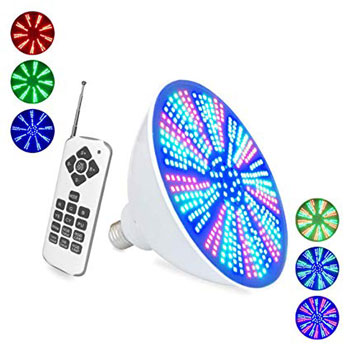 If you are simply replacing your current lights and are looking for a quality light bulb, this is it. This colorful bulb is a suitable replacement on a Pentair or Hayward light fixture. There is no need to deal with cables and electricity. Simply screw the light bulb on, and you are set.
The iledlight bulb works at 120V and features color memory, remote control, or the option for switch control. It has an impressive 15 modes of color experimentation for your pool. They include 7 static and 8 animation modes that you can easily control through your on/off switch or remote control. The 8 animation modes include color jump, color changing, color fade, and color transition.
If the lights are turned off due to power failure, the memory feature will keep your settings saved. Don't worry about overheating with this bulb. It features scientific cooling with irrigation silicone drive and PCB board cooling via an aluminum fin.
This energy-saving bulb replaces up to 300-500W traditional bulbs sold for Hayward and Pentair light fixtures. It supports 85-265VAC input but is not suitable for 12V AC/DC. The best part is it comes with a 2-year money-back and replacement guarantee.
Pros
Easy install wireless bulb doesn't require electrical knowledge
15 color modes with vivid colors
2-year money-back guarantee and fantastic customer service
Cons
Remote doesn't work well, or at all if the light is under 2-3 feet of water
The red color is weak
4. SEURON WYZM Color LED Pool Light Bulb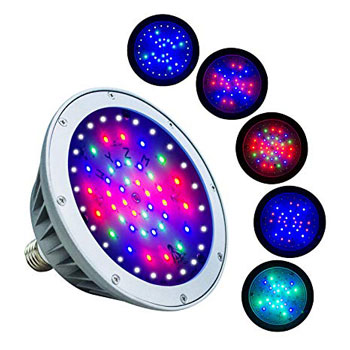 This is another fantastic bulb that is suitable as a replacement to fit Pentair and Hayward pool fixtures. This is a 12V LED pool light, so it is not made for 120V systems. It's a fantastic new-patented design that has many new features. It has a brand new upgraded 100% IP65 waterproof aluminum casing and improved cooling.
The SEURON WYZM bulb can work up to 5 years without the need for a replacement if installed correctly. It is 5.5" high and 6" in diameter, making it suitable for most installations in pool housing, but not for spa fixtures. The bulb does not come with a remote, but you can easily control it via the ON/OFF switch.
The bulb features 11 static color modes, 2 vivid color show modes, and fast switch, medium color changing, single color fade, and smooth color transition modes. You will save up to 50% on energy than with the competitor's light bulbs. Easily replace any 300-500W bulb. The company stands behind the quality of this bulb with a 5-year warranty.
Pros
11 static and 2 vivid color show modes
Fits most pool housing except spa fixtures
5 years money-back guarantee – but the lights don't seem to last very long
Cons
No remote included
Not as bright and vivid as customers expected
5. Bonbo White LED Spa Bulb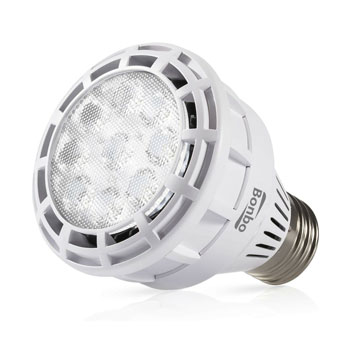 The next product on this list is a white 6000K daylight bulb. It features 25 watts and is suitable for 120V installations. It is easy to install as it has a simple E26 Edison screw socket. Due to its standard size, it is perfectly compatible with most pool light installations and can be an ideal replacement for Pentair or Hayward fixtures.
With an OSRAM LED rating for +10,000 hours of operation, it is a durable and long-lasting option at an affordable price. It has a built-in heat overload protection technology to prevent overheating and longer life. This very environmentally healthy option has zero UV emissions and doesn't have any toxic chemicals as most others on the market do.
You will experience 80% more savings by replacing your standard pool light with this Bonbo LED bulb. It can be installed for any pool up to 10,000 gallons and will burn less electricity, paying for itself. The manufacturer honors a 12-month warranty with a refund or replacement.
Pros
OSRAM LED Rated for 10,000 operational hours
Built-in heat overload
Suitable for +10,000 gallon pools
Cons
Only 1-year warranty
Not dimmable
6. LAMPAOUS LED Color Pool Light Bulb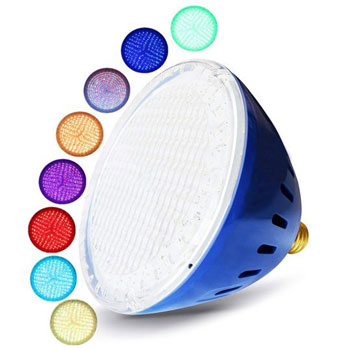 Here we have another fantastic option that is suitable for an easy and fast replacement that doesn't require and electrical work. It features a simple screw-on E26 Edison base, 6.7" diameter, and 5.5" height standard size suitable for Hayward and Pentair fixtures.
It is a 120V AC 35-watt bulb that offers 7 color options with 5 color shows with variable shades and speeds. The lock function allows locking via the power switch to save settings. Although there is no remote control, it is effortless to select settings, lock, and synchronize multiple bulbs with the ON/OFF switch for the lighting. You can also choose to use a LAMPAOUS CPL-120/RPL-120 control system.
The bulb features quality heat dissipation via a micro fan cooling system as well as a plastic optical diffuser to protect the eyes. With the light bulb, you get a 2-year warranty.
Pros
Standard Edison E26 base for easy replacement
Micro fan cooling system for heat dissipation
2 years warranty and excellent customer service
Cons
The bulb is not dimmable
Not very bright
7. SEURON LED White Pool Light Bulb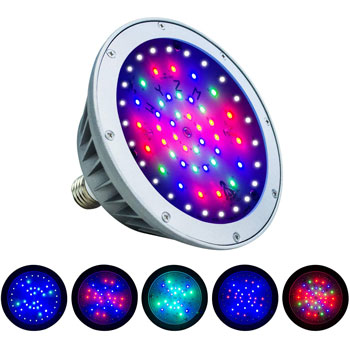 This is another excellent white bulb option. It is a 6000K white bulb that features an E26 standard Edison light socket base. It is suitable for Pentair and Hayward pool fixtures bulb replacement. Therefore, you can easily upgrade your pool to LED lighting for more money savings.
The light features a 45-degree beam angle and is as bright as a 500W halogen bulb. If you are looking for a high-quality light bulb to give your pool that intense bright blue color at night, this is it. Just remember that when upgrading, it is recommended that you put a new gasket in.
This bulb is OSRAM LED rated for the operation of over 60,000 hours and can effortlessly light up a 24,000-gallon pool. Easily control it through the ON/OFF switch. The light will hold the last set mode upon power outage or when turned off. The manufacturer offers a 5-year warranty and high-quality customer service.
Pros
Easy E26 Edison base replacement for Hayward and Pentair fixtures
OSRAM LED rated for +60,000 operational hours
5 years warranty
Cons
Doesn't last very long, but warranty covers replacement
8. WYZM Wireless Control Color LED Pool Light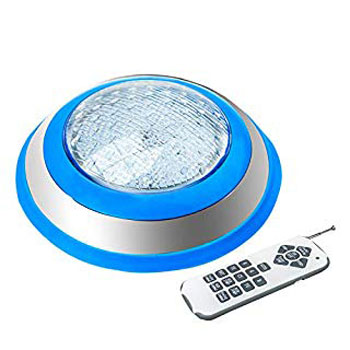 This fantastic color changing pool light is a 12V AC at 35 watts. It features an IP66 waterproof casing and offers 50% less energy consumption than the competitor lights on the market. You can install this light to replace any 300-500W pool light.
It comes with a wireless remote controller that works as far as a 15-meter distance. The casing offers ultra-waterproof resistance. It is made of a resin-filled stainless steel wall mount to ensure durability and long life. Keep in mind that this is a 12V input only, and do not apply for 120V without a transformer.
This light is excellent for an application not only in your pool but also for landscape lighting and gardens. It has +65,000 hours of lifespan and is suitable for medium-sized pools. The light features 15 settings that include 7 solid colors and 9 color shows. It has a power cable and is a standard screw-in direct replacement. With this light you get a 1-year warranty, but not only housing leaks.
Pros
15 light settings with 7 solid colors and 9 color shows
Stainless steel resin-filled wall mount
Suitable for medium-sized pools
Cons
No pure white setting
Dull red
Only 1-year warranty if housing doesn't leak
What are LED Lights and their Benefits


Whether LED is your first choice, or you are planning on replacing your old lights and upgrading to LED, there are plenty of fantastic benefits. Not only do they pay for themselves, but also they last longer and give amazing results.
LED stands for a light-emitting diode. These types of LED lights have been around for quite some time, but it wasn't until recently that they became a go-to option for pools. The emphasis is on green energy, where fewer watts are equivalent to the higher wattage of incandescent lights. A 45-watt LED bulb is equal to a 300 to a 500-watt incandescent bulb. Therefore, you save electricity, and in turn, money.
These lights operate by moving electrons through a semiconductor material. They produce almost no heat and last much longer. A bulb rated at 50,000 will last 50 times longer than any incandescent bulb. It will be 9 times longer lasting than a CFL bulb, and around 23 times longer than halogens.
Benefits
If using incandescent lights by upgrading to LED, you will be in step with the newest standard in swimming pool lighting design.
LED lights last longer than standard pool lighting.
They offer a variety of lighting patterns and colors.
They are strong enough to make pools suitable for night swimming.
An eco-friendly option that saves up to 90% of energy in comparison to standard lights.
These lights pay for themselves over time.
Drawbacks
More expensive than other light options.
It may be required that you buy a transformer if LED is 12V.
Impossible to repair, must replace the entire light.
More than a single light may be too bright for smaller pools.
Overall, they are the preferred choice for those that look to improve their pool and save money while doing it. The sooner you realize the benefits of installing LED pool lighting, the sooner you will be able to start enjoying your pool at night.
Installing Wireless Pool LED Lights
As mentioned above, there are LED lights that come with a cable that needs to be connected to the system, and there are light bulbs that can be replaced. They are screw-on bulbs that are easy to install to get impressive light results and money-saving.
Knowing how to upgrade your pool light to an LED light isn't that difficult at all. Simply follow these steps, and you'll be enjoying your newly lit pool in no time.
Make sure the power is turned off to the pool. Check and double-check.
To make reaching the light fixture easier, you may want to drain some water.
The pilot screw needs to be removed. Each light fixture has different screw locations and screw types. Therefore, you may have first to locate it and determine what screwdriver will be necessary.
Take the light out of the fixture. There should be enough cable to take it out and place it on a towel on the side of the pool.
Before taking any further steps, check the wiring with a multimeter to ensure no electricity is running through.
Once you've tested there's no electricity it is time to take it apart. Remove screws, and any clamps hold it and remove the lens, gasket, and face ring. You will have to take care when taking it apart because parts may have become corroded over time.
Using a dry and clean towel, wipe down debris and dirt. If parts are corroded enough it may mean it's time to replace the face ring and gasket.
And now, the actual installation:
Unscrew the old bulb using a towel. Clean the inside with a dry cloth.
Screw on the new bulb carefully. It's important to be tight but not too much as it may break.
Reassemble the fixture.
Before replacing the light fixture back in its place, turn the power on to test that it works. Most pool lights aren't made to work out of the water, so the test needs to be quick. Make sure you turn the power off again.
Submerge the fixture and ensure that there are no leaks. A leak can be seen if air bubbles are coming out of the edges. If you notice air bubbles coming out, it's time to take the fixture apart again and reassemble.
Once you are sure the fixture is airtight, replace it in the pool wall. First, put the extra wiring back into the wall. Place it in position and line up the screw holes. Replace screws and you are set.
Test the light fixture.
If you feel uncomfortable jumping into the pool and working with wires, you can give your local pool specialist a call.
How Many Lights do you Need?


This depends entirely on your pool size. Most likely, you already have the fixtures set for your inground pool. The most straightforward calculation is about 4.5 watts per square meter. This means that a pool of about 8.5 by 4.5 meters requires 200 watts of light. This means two 100-watt lights will do the trick.
Also, don't overlook the shape of your pool. A rectangle pool may need only 1 light. However, if it is oddly shaped, a second light may be necessary to overcome curves. Darker interior pools may also require added lighting.
Don't forget these conversions when looking for the ideal LED light:
Incandescent lights vs. LED lights
300 watts – 40 watts
400 watts – 48 watts
500 watts – 55 watts
Wrap Up
Upgrading to the best LED pool light for your pool is a crucial step to saving money, getting better and more lighting options, and reducing your pool-related expenses. They may be more pricey initially but the investment will be well worth it.
If you don't have an inground pool, then maybe our review and buying guide of above ground pool lights will be helpful. There you will find the highest rated lights for such pools and tips on how to choose the ideal one for your pool.
There are different types of lights, and our comprehensive LED pool light review will cover them to help you select the ideal one. We've done the hard part and presented you with the necessary information needed to choose the perfect pool light. All you have to do is read and decide what is best for you. Take a look at our many other pool reviews and buying guides for the latest products and collected information on how to choose.
After all, our team works hard to collect the needed information, so you don't have to. We hope our review and buying guide has been helpful. Share your thoughts and questions in the comments below.
Thanks for reading and as always – stay put!