The variety of pool lights gives you a lot of power over how much you spend and the results you get. We've put together a comprehensive list of the best above ground pool lights available on the market today. There are many manufacturers and products available on the market today. This makes it challenging to determine what type of light you need, let alone select the ideal product.
Our expert team of pool professional researchers have put in the legwork and researched the top lights. All of this can be found in our in-depth above ground pool lights review below. You don't have to search all over to determine what kind of light you need to fit your pool, we've put it all in one easy to follow guide.
The best thing about lights for above ground pools is that there is a wide variety of options and prices available. This way, everyone can afford to improve the ambiance and safety of their pool. We've presented a wide range of options below.
See The Quick Comparison Chart
Types of Above Ground Pool Lights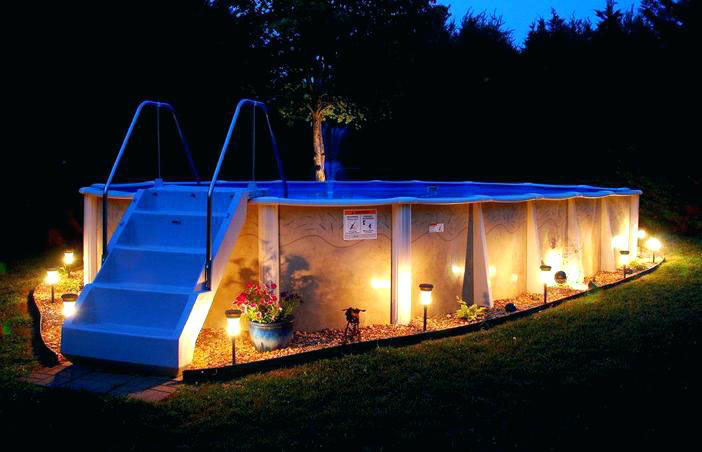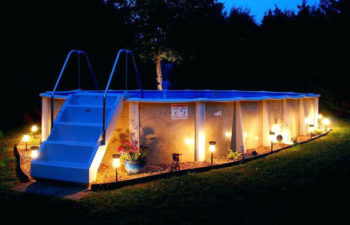 We will separate this portion into two. There are many lighting options for above ground pools. All are great on their own, but some are a better choice when compared to the rest. We understand that budget controls most purchases, but don't fret, there is always quality options in every budget bracket.
Types of Light Options:
Incandescent – These are the oldest types of light options. These are like the standard light bulbs that offer only white light and use up excessive amounts of energy to power. These types of lights are not recommended if you want to save money on electricity.
Halogen – These types of lights produce very bright light and are less expensive than LED lights, and more than incandescent lights. They use up five times more power than LED lights and have a lifespan of 10-15 years. The only option is white light, with no color options.
LED – These are the recommended lights for all household applications in general. They have much lower energy consumption but still produce a very bright light. You may end up paying more but it's worth it. Such lights typically come in up to 20 different colors, and many can be controlled by a remote. The lifespan of LEDs is between 5 and 10 years.
If you have decided on LED, take a look at our top LED pool lights choices and how to select one for your pool. They are the most energy-efficient powerful lights currently on the market, and if you have the budget for the initial investment, they will pay for themselves in no time.
Types of Above Ground Pool Light Installations:
Floating – These are generally relatively inexpensive options as they are either solar or battery powered. They float on the water and provide more ambient light than actually pool illumination. The lighting is uneven, so they are used more for décor.
Magnetic – These types of installations are actually quite beneficial and have excellent results. They are designed to work only on soft-sided pools and cannot attach to metal pools. They consist of 2 parts. One on the inside with the light, the other on the outside connected to a power source. Using magnetic technology, they stick to the wall and allow enough electricity to pass through to illuminate the pool
Over the Rail – Another easy-to-install option to hang the light over the poolside under the rail. The pool light hangs under the water. On the outside, it is connected to a waterproof power source that connects to your electricity.
Water Return Lights – These are probably the most difficult to install, and when we say difficult, just take slightly longer than the rest. Some are powered by the flow of water of the return. Some serve as water return and light that is powered by an electrical cord on the outside. They are the ones that really give a traditional pool feel.
Best Above Ground Pool Lights Comparison Chart
PRODUCT
DETAILS

Esuper Solar LED Inflatable Pool Ball

Price:

$

Color:

Green Red, Blue, White

Dimensions:

14 x 14 x 14"

Weight:

7 ounces

Features:

Floatable, Solar Powered

View On Amazon

Intex Magnetic Pool Wall Light

Price:

$$

Color:

4 color options

Dimensions:

10 x 7.9 x 5.9"

Weight:

2.9 pounds

Features:

Magnetic mounting system, Illuminates up to 24Ft pools

View On Amazon

Pentair 2010-Convertible AquaLuminator

Price:

$$$$

Color:

2 color options

Dimensions:

8.5 x 8.5 x 7.5"

Weight:

5.25 pounds

Features:

25-inch plug-in cord

View On Amazon

UBEGOOD Submersible Color LED Lights

Price:

$

Color:

16 color options

Dimensions:

2.8 x 2.8 x 1.1"

Weight:

11 ounces

Features:

30ft. Signal range

View On Amazon

NiteLighter NL100 LED White Pool Light

Price:

$$$

Color:

Led

Dimensions:

11 x 10 x 7.5"

Weight:

3.9 pounds

Features:

28′ Cord – 1350 Lumens

View On Amazon
Best Above Ground Pool Lights – (Recommended Picks)
After extensive research, we've found the following products, listed in no particular order, to be the highest rated. We not only focus on our personal knowledge of pools but also dig deep into feedback from customers from numerous sources. This way, you don't only get manufacturer information, but real insight as to whether this product will suit your needs.
1. Esuper Solar LED Inflatable Pool Ball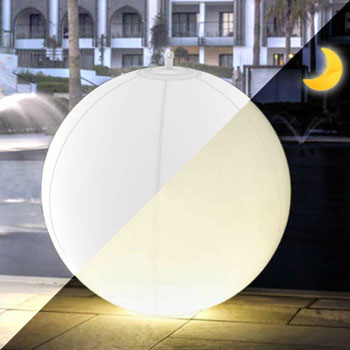 This is a favorite for the kids and anyone looking to give their pool that extra spunk. Though not a pool light to illuminate your pool fully, this decorative light will be the talk of the party. It's an inexpensive 14-inch inflatable vinyl ball that is recharged by the sun to light up at night.
Simply keep the LED inflatable ball to charge in the sun during the day, and it will glow up to 6 to 8 hours at night. There are no batteries, no cables, and no worries about electricity or installation. Just inflate the ball, enjoy it during the day, and let it brighten your nights.
Your pool will never be boring again with the continuously changing 4 LED colors of the ball. The best part is it is made of durable vinyl material and is IP68 waterproof. So it's definitely not a delicate pool light to be careful with, but rather an addition to the fun.
Pros
Very inexpensive option to add a light show in any pool
Made of durable vinyl material that can withstand play, rain, and wind
Excellent customer service
Cons
Cannot control color, speed, or brightness
Not suitable for pool illumination but for decoration and ambiance
2.

Intex Magnetic Pool Wall Light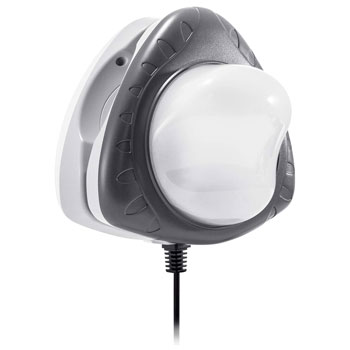 This pool light is explicitly designed for Intex pools. However, it can be installed on any vinyl pool as long as it isn't too thick for the electric current to go through and power the light. Keep in mind this is not a suitable light for above ground pools with metal walls.
This light consists of two parts. Оne is inside the pool and the other on the outside and connected to the power outlet. The two pieces connect via a magnet, and the unique magnetic technology generates a low voltage current to power the light. If the inside part is pushed off its magnetic part outside, it will float up to the surface for the pool for easy re-installation.
As this is an LED light, it will be bright, while still energy-efficient. Via the unique shape of the lens, it will shine longer and stronger. As it is so powerful, a single light can illuminate a pool up to 24 feet in diameter.
The Intex LED Wall Light has a 120V plug and comes with a 12V transformer. You connect it to your power source via a 24-foot waterproof cable. Due to its advanced magnetic technology, it can be installed anywhere in your pool.
Pros
Very bright and energy-efficient
Considerably inexpensive considering the features
Very easy to install
Cons
No ON/OFF switch on the light
Only suitable for thin vinyl pools
3. Pentair 2010-Convertible AquaLuminator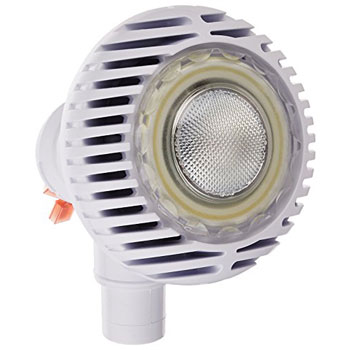 This unit has an entirely different installation than the rest we've listed so far. The Pentair 98600000 2010-Convertible AquaLuminator combines water return and above ground pool light into one. Keep in mind that a pressure cleaner adapter is not included in this package.
Although it does require a bit more work to install than the others in the list do, it is still relatively simple. It is attached to the return fitting of your pool and powered by a 24-inch plug-in cord. It fits nearly all retail pools as most already have a pre-punctured return hole. Simply follow the instructions to install the light, and you have an effortless 2-in-1 function.
Included in the purchase are a bulb, flow detector, gaskets, wall flange, fitting body, and nut. There is a switch to turn it off on the waterproof transformer for ease of use and comes with two color lenses. The light is fitted with energy-efficient quartz light with a rated life of 3,000 hours. It may be the most expensive above ground pool light on our list, but certainly the most durable and practical.
Pro
ON/OFF switch on the transformer
Combination of pool light and pool return
Includes everything necessary for easy installation and use
Cons
Color lenses that come with the package are delicate and crack easily
To reduce water loss during installation, it may be necessary for two people to install
4. UBEGOOD Submersible Color LED Lights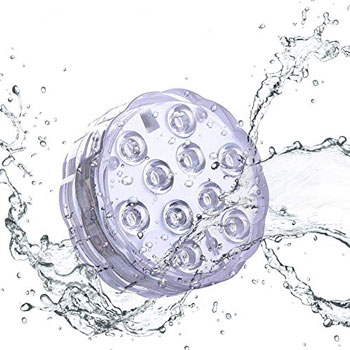 One of the main benefits of LED lights, aside from being so energy-efficient, is that they come available with many color options. The UBEGOOD Submersible LED lights are a perfect inexpensive example of this. Featuring 16 colors with 4 different modes and brightness adjustment, the possibilities are endless.
These are battery-operated lights that come 4 in a pack, each with remote control. They have a variety of uses but are an excellent choice to add ambiance as floaters in your above ground pool. Their unique design allows them to float on the water, adding to the fun of your nighttime swim.
Featuring a water-resistant O-ring and IP67 waterproof, they are further secured by a double-layer waterproof material. Each light requires 3 AAA batteries each and comes with a 24-button remote control that has a 30-foot signal range.
These aren't professional above ground pool lights and offer only ambient light for decoration. Therefore, when the pool is not in use, it is recommended you take them out. Do not leave them in for more than 10 hours. Also, they are waterproof up to 1 meter of water and maybe damaged if you try to weigh them down to the bottom of the pool.
Pros
An inexpensive option to add ambiance to the pool
Easy use and numerous application options
4 lights in a pack with individual remote, but one remote can control all of them
Cons
Not made to last very long
More for decoration and ambiance then pool illumination.
5. NiteLighter NL100 LED White Pool Light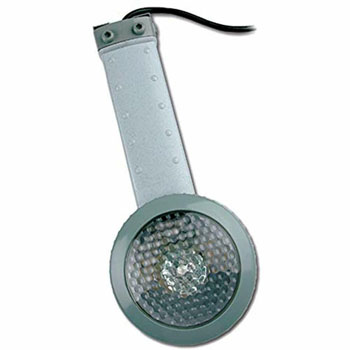 The following product on our list is another outstanding LED light. The NiteLighter White LED Pool Light requires zero effort to install so you can get swimming sooner. It features a 100W LED light and low-voltage transformer rated for outdoors to step current down from 110V to 12V. It is ELT-listed to UL standards.
Simply slip this above ground pool light over the pool wall right under the top rail, and you are set. Instructions for installation are included. Most importantly, make sure that you plug it into the nearest outlet and avoid using extension cords.
To prevent excessive use of electricity or possible damage, the light has an automatic shut-off feature after 2 hours. Although the bulb lasts several years, it's important to note that you don't have to buy a new fixture. The light also comes with a 6-month warranty that is backed by impressive customer service ready to help in any way they can.
Pros
Effortless installation and use
Includes everything for installation and long 28-foot cord
6 months warranty
Cons
No ON/OFF switch.
Not very bright – may need a second one for a larger pool
These are the most searched, highest-rated, and top quality above ground pool lights currently on the market. Please continue reading to determine what type of light is most suitable for your pool and information on benefits, installation, maintenance, and more.
Benefits and Drawbacks of Above Ground Pool Lights

There are few drawbacks to pool lights. In fact, the disadvantages come mainly from selecting the wrong product or improper installation.
Benefits
Safety and Security – This is, by far, the most compelling advantage. Not only seeing where the pool is when it's dark outside but also safely observe children playing in it so you can react faster. In areas where wild animals are abundant, it also adds to the security of knowing there is nothing swimming in the pool already when you jump in.
Looks Good – It's nice to look out in the back yard and see a beautifully lit pool. There's no doubt that a lit pool looks better than a dark spot in your yard. Whether with lights to illuminate it entirely or just decorative light to add to the ambiance.
Extends Swimming Time – Summer days may be long, but when it comes to enjoying your pool, they are never long enough. Enjoy a nighttime dip even when the sun has long disappeared from the sky.
Easy Installation – Above ground pool lights are super simple to install. They require nearly zero effort and knowledge. For the most part, it is a direct plug-and-play.
Inexpensive in Comparison – Most above ground lights are relatively affordable, especially when compared to inground lights.
Drawbacks
Dysfunction – We've found that many people complain about the quality of many pool lights. Unfortunately, after digging deeper and discussing where the problem was, it turned out the lights stopped functioning due to improper installation. As with anything else, it's crucial to follow instructions.
Winterizing – Although many do not, it is highly recommended to remove lights when closing your pool up for winter. The freezing temperature can easily damage them and crack the plastic. Some of the less expensive pool lights also have a limit as to how long they can stay on and cannot be left in the pool when not in use.
Don't Last – This only goes for the least expensive options. Many are simple floating LEDs that are waterproof. Not necessarily designed for long-term use, but for temporary decoration. If you spend less than $40 for a pool light, don't expect it to last years on end. Considering the price, though, it's still not a bad deal.
How to Choose and Features
Choosing a light depends mainly on the pool size, but other factors are essential, as well. Plus, certain features can help you lean towards one product over another. Here is how to select and special added features that could be game-changers:
Pool Size and Shape

– Before shopping for a pool light, it's good to determine what kind you'll need. Consider the power needed and how many will be necessary. Generally, approximately 4.5 watts per square meter are suitable. If you select an LED light, keep in mind that a 40-watt LED light is equivalent to a 300-watt incandescent light.

Attachment

– Some lights attach to the pool through holes designated for filtration, while others use magnets or attach on top of the pool lining. Magnetic lights work only on vinyl pools, while some require a power source nearby. There are also floating lights, but don't depend on them for actually light, as they are mainly for decoration.

Lumen

– Although most pool lights don't have the lumen listed, the power of light cast, it's something to keep in mind. If no lumen is listed, check the feedback of the product. Many people share the size pool they have and how well the light covers it. Some pool lights are for decoration only, while others may even be too strong for smaller swimming pools.

Voltage

– With most above ground pool lights, you will get a transformer, so double-check. Usually, with above ground pools, you don't have to worry about significant electrical installations, and generally, the lights come with everything necessary.

Power Usage

– The higher the wattage, the more electricity the light will use. So if it is a light that is connected to your electrical system, consider an LED light that will reduce operational expenses drastically.

Power Source

– There are several power sources. The most powerful lights are those powered by electricity. Usually, solar lights and battery-operated lights are relatively weaker and are more for ambiance. Return flow lights depend on your pump power. Think about what best suits your current setup.

Understanding Waterproof Ratings

– In descriptions of various waterproof lights, you will get waterproof ratings. Here is a breakdown of all of them to better understand which light is suitable for your pool and needs:
IP65 – Protection against projected water from a nozzle.
IP66 – Protection against powerful jets of water.
IP67 – Protection against immersion at depths of 150m – 1000m for 30 minutes.
IP 68 – Protection against complete immersion in water continuously.
Decide where the pool light will be placed and how deep. To be 100% safe, look for IP68 waterproof rated lights only.
Remote Control

– This is especially important for color lights. For white lights, unless it is for controlling brightness, it's not absolutely necessary. But for programming different modes or colors, it will make your life a lot easier than using the ON/OFF switch.

White or Color

– This comes down to your personal taste. The best way to go is a color option that also has white in the list of colors that you can choose. You'll be amazed at how amusing it is to set the mood in the pool.
There are other more specific features if we break down the different types of lights individually. The key is first to be well acquainted with your pool, the material, the size, and your personal needs, and there's a light out there to fit them.
Installation
As mentioned above, there are a variety of types of lights. Generally, though, for above ground pools there is minimal installation required when it comes to lighting. They are usually plug-and-play type lights and require little electrical knowledge. This is the case especially for solar and battery operated lights. There is a minimal learning curve when it comes to how to install above ground pool lights, and simply following the provided instructions generally does the tick.
Maintenance and Safety Tips
Winterizing your pools requires that you take out the lights and store them. Not everyone does this, but it will guarantee a longer life as the freezing temperatures could damage them. Be sure to wash with fresh water before storage.
Don't forget that if you want your pool to look astonishing, proper lighting goes hand in hand with a thorough cleaning. For that reason alone, we recommend you check out our complete guide to getting the top above ground vacuum cleaner.
Check the integrity of cables for lights powered by electricity. This will prevent a minute problem from becoming dangerous or irreversible.
Don't leave floating pool lights in the pool when not in use if you want them to last. Wash with fresh water every once in a while as pool chemicals tend to deteriorate them.
If not swimming in the pool for an extended time take out hanging and magnetic lights. This is even more important if they are powered by electricity. This will prevent damage and dangers.
If using an extension cord, it has to be powerful enough to handle the power running through it for extended periods. Also, it has to be waterproof safe as it will be outside. If not thick and sturdy enough, it may overload and possibly damage your system.
Follow standard pool safety in general.
Although some above ground pools don't require electricity or cables, it's essential to understand the dangers of underwater pool lighting and how to prevent potential accidents. Power around water is risky, and taking extra precautions is vital.
Wrap Up
Taking the time to research the best above ground pool lights is the best way to go if you want to save money, stress, and lost time enjoying your pool. We believe we've put together the most comprehensive above ground pool review out there. It's essential to make sure you are well informed before jumping into a purchase you may regret.
The variety of fixtures, types, and features makes it difficult to decide, and we hope our review and buying guide has been helpful. Don't forget to share your thoughts and feedback in the comments below. We would love to hear from you!
If you are in the market for a new pool, visit our top-rated above ground pool reviews and buying guide to help you make the right choice for your family. We've put our leading pool specialists on the task of presenting you with only the best of the best.
Thanks for reading and as always – stay put!