Who would have thought that choosing the most necessary tool for maintaining your pool would be so complicated? Currently, there aren't many reviews on telescopic pool cleaning poles out there that cover the leading products on the market. This makes finding the best telescopic pool cleaning poles to fit your pool size and needs time-consuming and frustrating if it's your first time shopping.
Having a pool is a real pleasure, but it does require some hard work to maintain. One tool that will make this job stress-free is a quality pool cleaning pole. The pool needs daily skimming as well as regular vacuuming and scrubbing to prevent bacteria, debris, and algae buildup.
See The Quick Comparison Chart
Features to Look for When Buying a Telescopic Pool Pole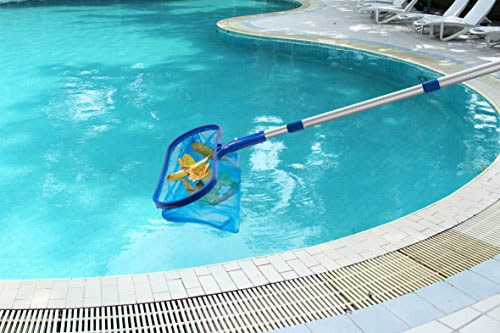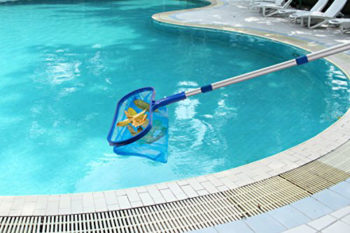 Some essential features make up the ideal telescopic pool pole. Though sometimes it's challenging to get them all in one product, it's best to try to get at least most.
Lightweight – you don't want a weighty pole that will wear you out while cleaning.
Durable material – the more durable, the better because the resistance of the water while you clean the deeper parts of the pool may cause it to bend or even break. Also, the more durable, the more debris you will be able to pick up before having to clean the net.
UV resistant qualities – either that or light-colored handle are essential if you are keeping the pole in the sun. You don't want to burn your hands when you decide to clean. Also, sun damage is inevitable, and this will prolong it.
Universal connector to tools – the size of the end of the pole where the accessories are connected is critical. If you are replacing a pool pole and the size isn't universal or doesn't match your tool connector sizes, it will be useless.
Manufacturer – as with all other purchases, you must buy from a trusted manufacturer. You will get better quality service, and a warranty or money-back guarantee usually back the promised quality.
Locking mechanism – if you purchase a telescopic pole, you want to make sure there is no slippage when you extend it. You will need to apply pressure when brushing and vacuuming, and it's never pleasant to have to readjust length if the cam doesn't hold up. Finding a telescopic pool pole with a locking device that holds tight is critical.
Secure clip for tools – some of the telescopic pool poles come with a simple clip mechanism that makes changing tools fast and easy. Though not necessary, it's a feature that saves a lot of time.
Wall thickness – this comes back to the durability of the pole. The thicker the wall, the more pressure, and the resistance it can handle.
Price – of course, your budget should be on top of this list, however, remember that a pool pole is an investment. If you purchase a cheap one without the proper research, you may end up spending more on having to replace it. Sometimes going for a more expensive option may save you money in the future.
Reviews – in the end, word of mouth is the most suitable way to find the best product for your needs. Before purchasing, read the good and the bad and see if it balances out. Keep in mind that not all are objective and judge for yourself.
How to Decide on Pool Cleaning Poles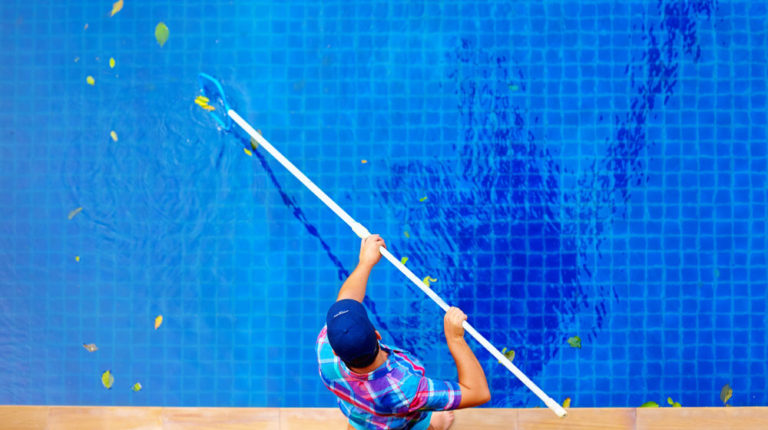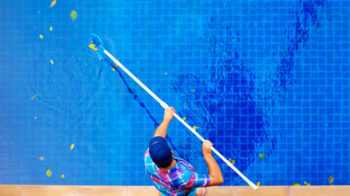 Every pool is different, and surely, out there is a pool pole for it. There are several things to consider before buying:
Size of the swimming pool – is your pool round, rectangular, odd-shaped, wide, narrow, etc.? Choosing your pool size will help determine the length of pole you will need.
Depth of pool – this will also determine how long the pole needs to be. Usually, recreational pools in the back yard are relatively shallow, but make sure you find a pole that will be suitable for the size and depth.
Tools you will be using – are you replacing a pole or are you now looking to purchase accessories to go with it? If you already have tools and are replacing a pole, make sure you find one that the accessories will fit on.
Take a look at our top pool brush reviews and buying guide to find the ideal brush and other tools to fit your newly purchased pool pole.
Safety Tips While Using Pool Cleaning Poles
Never forget that you are cleaning near the water. Slipping in puddles or wet tile around the pool while cleaning could be dangerous, so always be on alert and don't try to overreach with the pole. Bending over the side of the swimming pool could only lead to an unwelcomed swim, so sometimes it's better to go around rather than stretch. Better yet, buy a longer pole.
We know it's nice to give kids a chore around the house, but unless they are responsible enough to take the job seriously, do not send them out to clean the pool using a pool pole. It could quickly turn to a game where they could get hurt or damage to the pole.
When using chemicals, always follow all instructions on how to clean a swimming pool as written on the bottle and use safety gear when necessary. Always store chemicals in a safe, cool, and dark place away from children.
Best Telescopic Pool Cleaning Poles Comparison Chart
PRODUCT
DETAILS

JED 50-560-16 Telescopic Pool Pole

Price:

$$$

Length:

8 to 16 feet

Weight:

2.85 pounds

Constructed:

2 Piece Construction

Specification:

True Commercial Grade" 1.24mm Thickness

View On Amazon

Swimline HydroTools 3-Piece Mailer Telescope Pole

Price:

$

Length:

5 to 15 feet

Weight:

2 pounds

Constructed:

3 Piece Construction

Specification:

Has magnetic insert and anodized handle

View On Amazon

U.S. Pools Supply Professional Telescopic Pool Pole

Price:

$$

Length:

8 to 16 feet

Weight:

Nearly 4 pounds

Constructed:

2 Piece Construction

Specification:

Has an ultra-slip-resistant locking cam – Manufactured of high quality ribbed aluminum

View On Amazon

Aqua Select Telescopic Pool Pole

Price:

$$

Length:

6 to 18 feet

Weight:

Nearly 3 pounds

Constructed:

2 Piece Construction

Specification:

Manufactured of high-quality aluminum – EZ-Clip Release Mechanism

View On Amazon

Ocean Blue Water Products Pro Service Pole

Price:

$$$

Length:

8 to 16 feet

Weight:

3.1 pounds

Constructed:

2 Piece Construction

Specification:

Pro rubber grip handle – 2 no-slip cams

View On Amazon

HydroTools by Swimline Adjustable Fluted Premium Fluted Telescopic Pool Pole

Price:

$$$

Length:

8 to 16 feet

Weight:

2.89 pounds

Constructed:

2 Piece Construction

Specification:

White fluted heavy-duty frame – External locking cam

View On Amazon
Best Telescopic Pool Cleaning Poles – Top Picks
A simple search will show you that there are many options available. Not only in price, but also size, material, features, and much more. What do you need, though? What is a quality pole to price balance that would suit your needs? Below we have put together a list of the most sought after poles on the market. Here they are in no particular order:
1. JED 50-560-16 Telescopic Pool Pole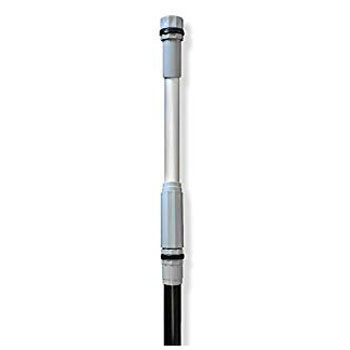 The first product on our list is the ideal addition to help maintain your pool. The JED 560 comes with a newly designed handle and cam, a significant upgrade from the previous models in this line. This telescopic 16 ft. aluminum pool pole weighs only 2.85 pounds, this model may seem too light to be durable, but you will be surprised.
With a smooth finish and deluxe large external cam, it pairs great with the many other JED products. However, you can fit nearly all standard accessories to it even if they aren't by JED. It features a 2-piece construction and extends from 8 feet to 16 feet.
Although ultra-light, both the inner and outer poles are constructed of pure commercial grade aluminum and feature 50% more wall thickness than previous LED models. This makes it very durable and robust enough to use with all accessories, including pool vacuums.
Pros
Very easy to use due to professional locking cam and grip
Won't tire your arms
An extra thick aluminum wall at 1.24 mm
Cons
The black finish gets damaged and scratched over time
Due to the black finish, it becomes difficult to use if left out in the sun
2. Swimline HydroTools 3-Piece Mailer Telescope Pole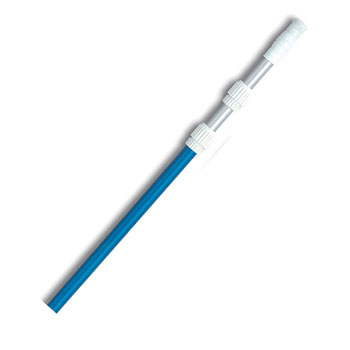 The second product on the list is another option from the Swimline series. This is a slightly longer option extended from 5 to 15 feet and features a 3 piece dual external locking cams. Weighing at 2 pounds, slightly more than the last Swimline product we reviewed, it's still light enough to prevent arm fatigue and make cleaning easy.
This is an excellent product for skimming the pool for leaves and other particles. But if you plan to use it in-depth or with a vacuum or scrubber, you need to take your time and work slowly. Pushing it faster may cause the pole to bend, and possibly even break. It is a very durable option on the less expensive side, but the quality reflects the price.
What we liked, aside from the length and easy locking cams is that at the end of the pole there is a magnetic insert. This makes picking up loose metal objects, such as screws that can cause rust, from the bottom of the pool very easy. It's a nice feature that most people don't realize they need.
Pros
Very easy to use and adjust the length
The magnetic insert makes picking up metal objects from the bottom easy
Blue anodized handle helps prevent overheating when stored out in the sun
Cons
Takes longer to use at depth or vacuuming because it may bend
The tightening mechanism may slip
3. U.S. Pools Supply Professional Telescopic Pool Pole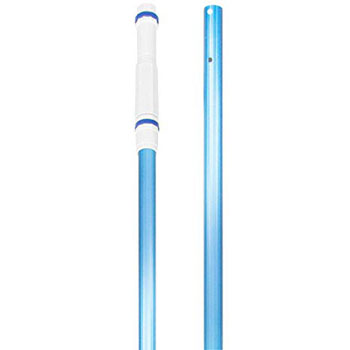 The third product on our list is another U.S. Pools Supply pool pole. This one is a telescopic 16 ft. aluminum pool pole, making it more suitable for bigger and deeper pools. This commercial-grade pole features a two-piece connection, and you can use it with all of your standard accessories as it has a 1-1/4" diameter universal accessory attachment.
What most people like about this particular pool pole is that it has an ultra-slip-resistant locking cam that is easily used. It also doesn't require retightening as we have seen with some other products. It will not slip while you clean and is easily adjusted. One issue that we have found is that once tightened, it's somewhat tricky to release.
Extending from 8 to 16 feet, this high-quality pole is manufactured of high quality ribbed aluminum for added strength and longevity. This is also why they are offering a one-year warranty and excellent customer support.
Pros
No slippage locking feature
Inexpensive commercial grade pole
One year warranty
Cons
Due to its size, it is somewhat heavy at nearly 4 lbs.
Once tightened, its locking feature is difficult to loosen again
4. Aqua Select Telescopic Pool Pole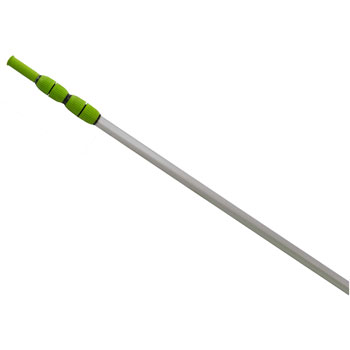 Our next product offers stability, length, and easy use. The Aqua Select pool pole extends from 6 to 18 feet and features a quality rubber grip to prevent slippage and comfort. Manufactured of high-quality aluminum, it is a very lightweight option despite how much it extends. This prevents arm fatigue while cleaning and lets you get the job done faster and easier.
The pole itself is designed to give you more playtime in the pool and less cleaning. It features a unique EZ clip release system that allows you to not only attach to any universal attachment but also change them easily and quickly. It features a quality locking cam and extends at two points of the pole. The locking cam does tend to loosen, so it is necessary to tighten it thoroughly to prevent slippage.
Despite its length, it can reach depths without bending drastically, as long as you work carefully and don't put a lot of weight on it. Overall, its features surpass the price and are a good investment.
Pros
Very lightweight preventing arm fatigue
EZ clip release makes switching attachments easy
Quality made and durable
Cons
The locking mechanism may get loose, so retightening may be necessary
May bend if fully extended and pressure is used at depth
5. Ocean Blue Water Products Pro Service Pole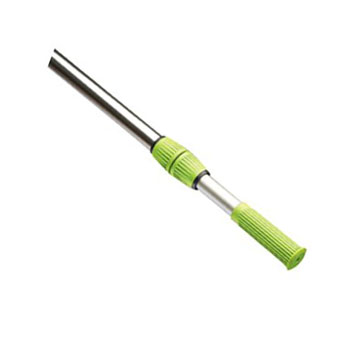 The next product on our list may be one of the most expensive, but you get what you pay for. It's made of durable, heavy-duty aluminum and doesn't give to the pressure even when fully extended to its 16 feet. The two easy locking cams, on the inside and out, make it an ideal choice for those tired of slippage while cleaning as they hold up well under pressure.
The handle of the pole also features a pleasant and attractive green pro-no-slip grip with added padding to make cleaning comfortable. At 3.1 lbs., it's a very lightweight option that extends to suit even larger pools and still prevent arm fatigue.
The pole also features a secure release system that fits all standard attachments and makes exchanging pool tools fast and stress-free. It may be more of an investment, but it will be an investment that will last, all the while making cleaning the pool simpler and faster.
Pros
Pro rubber grip handle for added comfort
2 no-slip cams that lock in to place preventing slippage during use
Handles depth and pressure well without bending even when fully extended
Cons
More expensive
Effortless release system may not fit all pool extensions
6.

HydroTools by Swimline Adjustable Fluted Premium Fluted Telescopic Pool Pole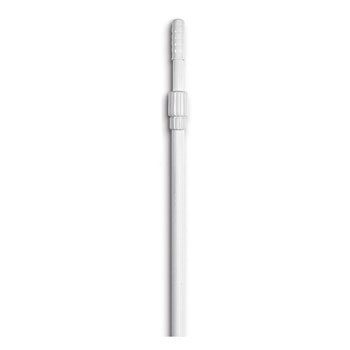 This is a highly sought after pool accessory mainly due to its low price. However, even though it does have some superb features, you do get what you pay for.
It ranges from 8 up to 12 feet and features a white fluted heavy-duty frame that prevents overheating of the handle as well as gives the pole a clean and sleek look. Also, it has a very easy to use external telescopic pool pole locking device, and all you do is twist the pole to lock into place. However, this is where the pole seems to have problems, as it doesn't stick in place well and requires constant tightening.
If you get over the problem with the locking cam, it is a great option. Weighing at 2.89 pounds, slightly more than the previous product on our list, the pole is very light and easy to use. The inner diameter of the pole is 1 inch and fits nearly all pool accessories. Still, before purchasing, check the width just in case.
Pros
Inexpensive telescopic pool pole suitable for smaller pools
White fluted heavy-duty frame prevents rusting and overheating of the handle when out in the sun
Cons
Recommended for skimming only, as it doesn't hold up well in-depth, scrubbing, and vacuuming
External hand band may get loose and slip during use.
Benefits of Pool Cleaning Poles

Proper pool maintenance prevents the buildup of bacteria, algae, and other debris. Your pool will get green in no time and could stain from leaves, sticks, or other debris. Cleaning a green pool after the fact isn't an easy and inexpensive task.
Skimming your pool every day with a net is vital to keep light debris from clogging your pump and keeping the pool clean. We recommend that during pool season you brush twice a week to prevent algae buildup. Lastly, vacuuming at least once a week to pick up any debris and dirt from the bottom of the pool to avoid staining.
Buying a telescopic pool pole will help with each of the above jobs. Investing in an automatic pool vacuum is expensive, and having separate tools for each with their poles takes up space. A single telescopic pole with a universal end is the ideal choice for using all of these tools by simply changing them out, rather than letting it all pile on.
If you choose the right pool pole that is long and durable enough, you will be able to reach the bottom of the pool with ease and save time. It's an absolute essential for every pool.
Although there are pool cleaning robots, they do come at a price, but even so, a cleaning pole is essential for larger objects floating around and for quick cleanup. If you are keen on investing in a robot, take a look at the quality robotic pool vacuum cleaner guide that we've published, for more information.
Drawbacks of Pool Cleaning Poles
They are few, but if you choose the wrong pole, you will be greatly disappointed. Currently, there are many on the market, and not all are made the same. If you have a small pool, this may not be a complicated problem as the length won't be a critical issue.
However, for a broader and deeper pool, a telescopic pole that bends when fully extended or is not durable enough to take the pressure is a waste of money. Also, different manufacturers have different size connection ends for tools, requiring you to purchase tools only from that manufacturer. It is essential to find a quality pole that also features a universal connector for accessories.
The crucial point to keep in mind is that the longer the pole is the more extending parts it has, the more it will wobble and may bend. The longer the pole is, the slower you will have to work due to the resistance of the water and the pressure it puts on the pole at depth.
Finally, you have to keep in mind that owning a telescopic pole won't be enough to keep your pool clean. We suggest you explore the world of the finest suction pool cleaners to learn how to get rid of all other sorts of debris in your swimming pool. Check out our article.
Types of Telescopic Pool Poles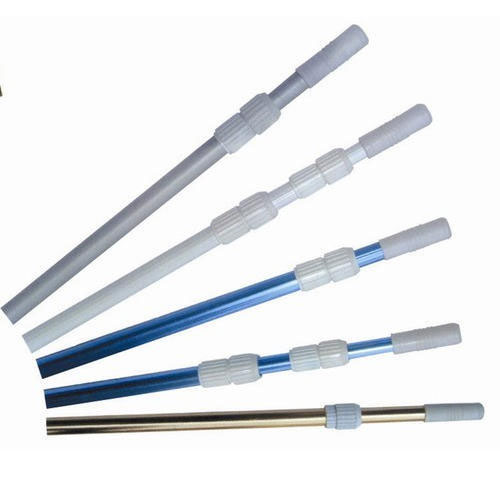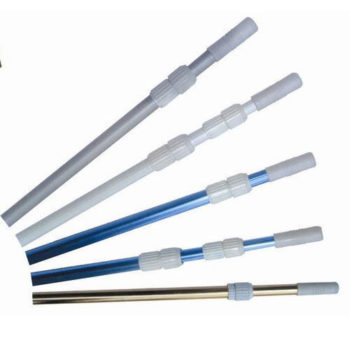 Although there are numerous cleaning tools, there are only a few different options when it comes to telescopic pool poles. Here are several things by which they can be differentiated:
Length – there's a pole manufactured for every pool depth and size. Poles range from 2.5 feet to up to more than 20 feet.
Telescopic extensions – some are one size and do not extend, while there are poles that have anywhere up to 3 parts that extend.
Connector size – you will be attaching different tools to these poles. Though most are universal size, some come in different sizes catering specifically to the accessories of the same manufacturer. This is very important to consider based on the tools you have and those you would like to purchase in the future.
Installation of a Telescopic Pool Pole
There is minimal installation involved. Each pole comes with its features and instructions for extending or changing tools. Usually, there are two or three cams for extending the pole that have one or two locking mechanisms. Follow the instructions for extending and changing tools, and you are set.
Maintenance of your Telescopic Pool Pole
As with everything else concerning your pool, the pole is an investment. It's good to take good care of it if you have found one that fits your needs.
Consider the following tips to make it last longer:
Do not put a lot of pressure on it. Be patient and keep water resistance in mind. The deeper you are cleaning, the more resistance the pole will have to the water, requiring you to work slower. This will prevent it from getting bent or broken.
Don't lift anything substantial with the pole or net. It is not made to lift heavy objects. This is also the reason why children should not be allowed to play with it, as in the process, it tends to become a toy.
When not in use, keep your pool pole in a shady spot near the pool. Even those with UV protection are prone to sun damage over time. Usually, poles have plastic connectors or rubber handles that could crack or break over time.
Wash from chemicals regularly and rinse nets. Chlorine and other additives in the pool can be harsh on the pole, especially with daily use. Wash it with fresh water weekly or biweekly.
Wrap Up
It may seem like something simple, but finding the best among the telescopic pool cleaning poles out there is more stressful than expected. Among the many options are very inexpensive but low-quality products that end up costing you a lot more over time. Choosing the ideal pool pole, to begin with, is the best way to save money and properly maintain your pool.
We hope you have enjoyed our telescopic pool cleaning review and found it useful. We are eager to hear from you, so please share your feedback and anything we have missed in the comments below. Thanks for reading and as always – stay put!